Retromer-Mediated Trafficking of Transmembrane Receptors and Transporters
The Lundbeck Foundation Initiative on Brain Barriers and Drug Delivery, Department of Biomedicine, Aarhus University, 8000 Aarhus C, Denmark
*
Author to whom correspondence should be addressed.
Academic Editor: Arwyn Tomos Jones
Received: 20 May 2015 / Accepted: 29 June 2015 / Published: 6 July 2015
Abstract
Transport between the endoplasmatic reticulum, the Golgi-network, the endo-lysosomal system and the cell surface can be categorized as anterograde or retrograde, describing traffic that goes forward or backward, respectively. Traffic going from the plasma membrane to endosomes and lysosomes or the trans-Golgi network (TGN) constitutes the major retrograde transport routes. Several transmembrane proteins undergo retrograde transport as part of a recycling mechanism that contributes to reutilization and maintenance of a steady-state protein localization. In addition, some receptors are hijacked by exotoxins and used for entry and intracellular transport. The physiological relevance of retrograde transport cannot be overstated. Retrograde trafficking of the amyloid precursor protein determines the distribution between organelles, and hence the possibility of cleavage by γ-secretase. Right balancing of the pathways is critical for protection against Alzheimer's disease. During embryonic development, retrograde transport of Wntless to the TGN is essential for the following release of Wnt from the plasma membrane. Furthermore, overexpression of Wntless has been linked to oncogenesis. Here, we review relevant aspects of the retrograde trafficking of mammalian transmembrane receptors and transporters, with focus on the retromer-mediated transport between endosomes and the TGN.
View Full-Text
►

▼

Figures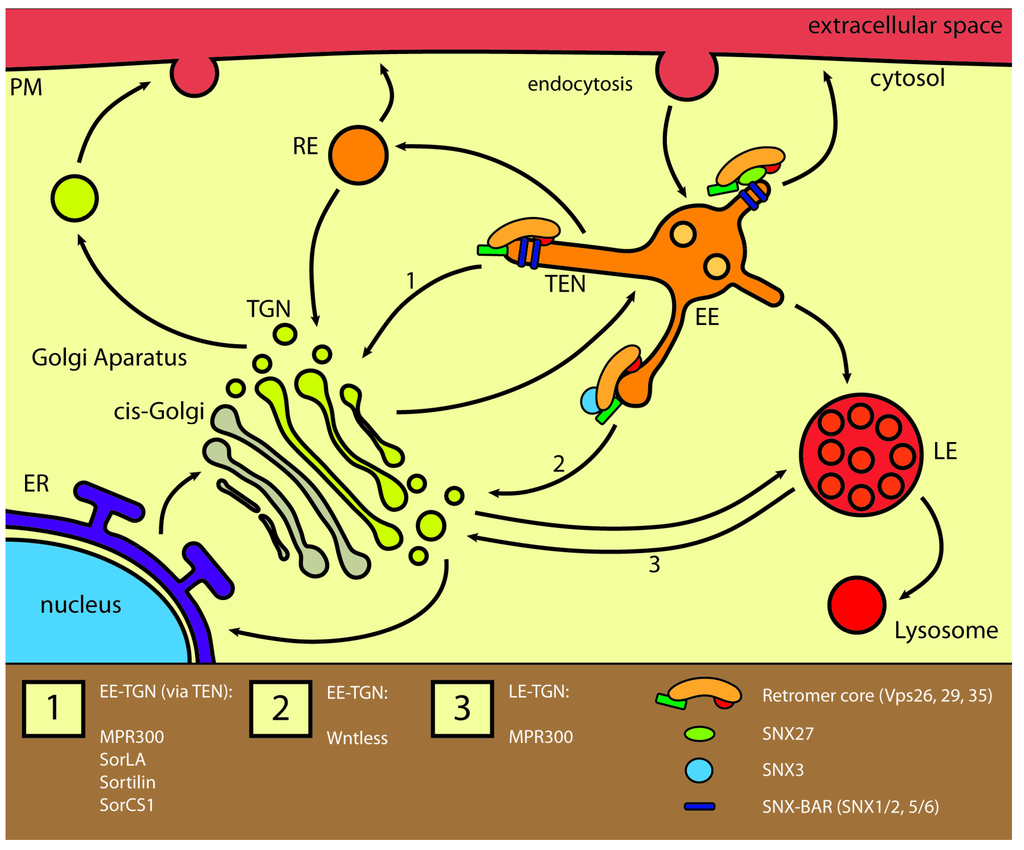 Figure 1
This is an open access article distributed under the
Creative Commons Attribution License
which permits unrestricted use, distribution, and reproduction in any medium, provided the original work is properly cited (CC BY 4.0).

Share & Cite This Article
MDPI and ACS Style
Klinger, S.C.; Siupka, P.; Nielsen, M.S. Retromer-Mediated Trafficking of Transmembrane Receptors and Transporters. Membranes 2015, 5, 288-306.
Related Articles
Comments
[Return to top]