Antioxidant Properties of a Traditional Vine Tea,
Ampelopsis grossedentata
1
Biological Science and Technology, United Graduate School of Agricultural Sciences, Kagoshima University, Kagoshima 890-0065, Japan
2
College of Animal Science and Technology, Hunan Agricultural University, Changsha 410128, China
3
Xiangya School of Public Health, Central South University, Changsha 410128, China
4
Department of Food Science and Biotechnology, Faculty of Agriculture, Kagoshima University, Kagoshima 890-0065, Japan
*
Author to whom correspondence should be addressed.
Received: 28 June 2019 / Revised: 1 August 2019 / Accepted: 7 August 2019 / Published: 9 August 2019
Abstract
Ampelopsis grossedentata
, also called vine tea, has been used as a traditional beverage in China for centuries. Vine tea contains rich polyphenols and shows benefit to human health, but the chemical and antioxidant properties of vine tea polyphenols from different locations remain unclear. This study aims to investigate the chemical and antioxidant properties of vine tea from three major production areas in China including Guizhou, Hunan, and Guangxi Provinces. The highest amount of polyphenol from vine tea was extracted by 70% ethanol at 70 °C for 40 min with ultrasonic treatment. The major compound in vine tea polyphenols (VTP) was determined as dihydromyricetin (DMY) by high-performance liquid chromatography (HPLC) and the content was estimated as 21.42%, 20.17%, and 16.47% of dry weight basis from Hunan, Guizhou, and Guangxi products, respectively. The antioxidant activities were investigated
in vitro
and in culture hepatic cells. VTP and DMY showed strong 1,1-Diphenyl-2-picrylhydrazyl free radical (DPPH) scavenging ability and high oxygen radical absorption capacity (ORAC) value
in vitro
. VTP and DMY also increased the level of nicotinamide adenine dinucleotide phosphate (NADPH):quinone oxidoreductase (NQO1) in HepG2 cells. Moreover, VTP and DMY enhanced the level of nuclear factor erythroid 2-related factor 2 (Nrf2) and reduced the level of Kelch-like ECH-associated protein 1 (Keap1). Taken together, our data demonstrated that the extraction of vine tea by 70% ethanol with ultrasonic treatment is a novel method to efficiently obtain components possessing stronger antioxidant activity. Furthermore, the results from the culture cells suggest that the bioactive component of vine tea might exert the antioxidant activity by activating the cellular Nrf2/Keap1 pathway.
View Full-Text
►

▼

Figures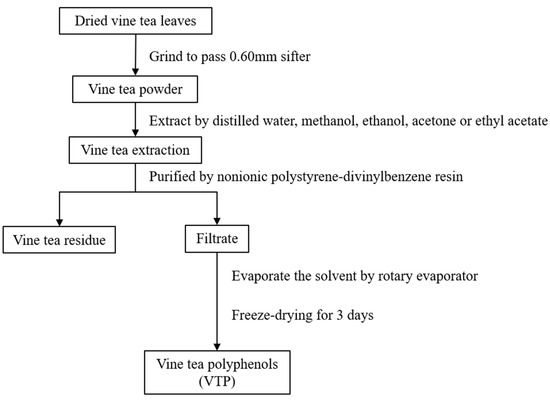 Figure 1
This is an open access article distributed under the
Creative Commons Attribution License
which permits unrestricted use, distribution, and reproduction in any medium, provided the original work is properly cited (CC BY 4.0).

Share & Cite This Article
MDPI and ACS Style
Xie, K.; He, X.; Chen, K.; Chen, J.; Sakao, K.; Hou, D.-X. Antioxidant Properties of a Traditional Vine Tea, Ampelopsis grossedentata. Antioxidants 2019, 8, 295.
Note that from the first issue of 2016, MDPI journals use article numbers instead of page numbers. See further details here.
Related Articles
Comments
[Return to top]