Carnosine Decreases PMA-Induced Oxidative Stress and Inflammation in Murine Macrophages
1
Department of Laboratories, Oasi Research Institute—IRCCS, 94018 Troina, Italy
2
Ralph N. Adams Institute for Bioanalytical Chemistry, University of Kansas, Lawrence, KS 66047-1620, USA
3
Department of Pharmaceutical Chemistry, University of Kansas, Lawrence, KS 66047-1620, USA
4
Department of Drug Sciences, University of Catania, 95125 Catania, Italy
5
School of Biotechnology, Dublin City University, D09W6Y4 Dublin, Ireland
6
Bio-Nanotech Research and Innovation Tower (BRIT), University of Catania, 95125 Catania, Italy
7
Institute of Biochemistry and Clinical Biochemistry, Catholic University of Rome, 00168 Rome, Italy
8
Fondazione Policlinico Universitario A. Gemelli IRCCS, Largo A. Gemelli 8, 00168 Rome, Italy
9
Department of Biomedical and Biotechnological Sciences, University of Catania, 95125 Catania, Italy
10
Department of Life Sciences, University of Modena and Reggio Emilia, 41125 Modena, Italy
11
Center for Neuroscience and Neurotechnology, University of Modena and Reggio Emilia, 41125 Modena, Italy
12
Department of Chemistry, University of Kansas, Lawrence, KS 66047-1620, USA
*
Authors to whom correspondence should be addressed.
†
Consider that the first three should be regarded as joint First Authors.
‡
Current address: Department of Biomedical and Biotechnological Sciences, PhD Program in Neurosciences, University of Catania, 95125 Catania, Italy.
§
Consider that the last two should be regarded as joint Last Authors.
Received: 22 June 2019 / Revised: 23 July 2019 / Accepted: 31 July 2019 / Published: 6 August 2019
Abstract
Carnosine is an endogenous dipeptide composed of β-alanine and L-histidine. This naturally occurring molecule is present at high concentrations in several mammalian excitable tissues such as muscles and brain, while it can be found at low concentrations in a few invertebrates. Carnosine has been shown to be involved in different cellular defense mechanisms including the inhibition of protein cross-linking, reactive oxygen and nitrogen species detoxification as well as the counteraction of inflammation. As a part of the immune response, macrophages are the primary cell type that is activated. These cells play a crucial role in many diseases associated with oxidative stress and inflammation, including atherosclerosis, diabetes, and neurodegenerative diseases. In the present study, carnosine was first tested for its ability to counteract oxidative stress. In our experimental model, represented by RAW 264.7 macrophages challenged with phorbol 12-myristate 13-acetate (PMA) and superoxide dismutase (SOD) inhibitors, carnosine was able to decrease the intracellular concentration of superoxide anions (O
2
−
•) as well as the expression of Nox1 and Nox2 enzyme genes. This carnosine antioxidant activity was accompanied by the attenuation of the PMA-induced Akt phosphorylation, the down-regulation of TNF-α and IL-6 mRNAs, and the up-regulation of the expression of the anti-inflammatory mediators IL-4, IL-10, and TGF-β1. Additionally, when carnosine was used at the highest dose (20 mM), there was a generalized amelioration of the macrophage energy state, evaluated through the increase both in the total nucleoside triphosphate concentrations and the sum of the pool of intracellular nicotinic coenzymes. Finally, carnosine was able to decrease the oxidized (NADP
+
)/reduced (NADPH) ratio of nicotinamide adenine dinucleotide phosphate in a concentration dependent manner, indicating a strong inhibitory effect of this molecule towards the main source of reactive oxygen species in macrophages. Our data suggest a multimodal mechanism of action of carnosine underlying its beneficial effects on macrophage cells under oxidative stress and inflammation conditions.
View Full-Text
►

▼

Figures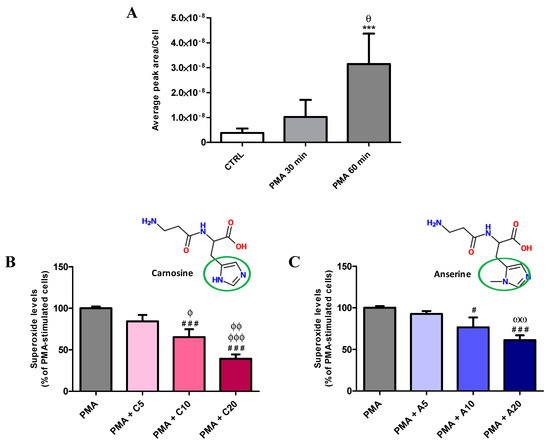 Figure 1
This is an open access article distributed under the
Creative Commons Attribution License
which permits unrestricted use, distribution, and reproduction in any medium, provided the original work is properly cited (CC BY 4.0).

Share & Cite This Article
MDPI and ACS Style
Caruso, G.; Fresta, C.G.; Fidilio, A.; O'Donnell, F.; Musso, N.; Lazzarino, G.; Grasso, M.; Amorini, A.M.; Tascedda, F.; Bucolo, C.; Drago, F.; Tavazzi, B.; Lazzarino, G.; Lunte, S.M.; Caraci, F. Carnosine Decreases PMA-Induced Oxidative Stress and Inflammation in Murine Macrophages. Antioxidants 2019, 8, 281.
Note that from the first issue of 2016, MDPI journals use article numbers instead of page numbers. See further details here.
Related Articles
Comments
[Return to top]