Effect of Propolis on Diet-Induced Hyperlipidemia and Atherogenic Indices in Mice
1
Division of Animal Physiology, Faculty of Science, University of Zagreb, Rooseveltov trg 6, HR-10000 Zagreb, Croatia
2
Laboratory of Chemistry and Food Biochemistry, Faculty of Food Technology and Biotechnology, University of Zagreb, Pierottijeva 6, 10000 Zagreb, Croatia
3
Department of Medical Biochemistry and Hematology, Faculty of Pharmacy and Biochemistry, University of Zagreb, Domagojeva 2, 10000 Zagreb, Croatia
4
Laboratory for Veterinary-Medicinal Products, Croatian Veterinary Institute, Savska cesta 143, 10000 Zagreb, Croatia
5
Clinical Hospital Dubrava, Avenija Gojka Šuška 6, 10000 Zagreb, Croatia
*
Author to whom correspondence should be addressed.
†
These authors contributed equally to this work.
Received: 1 April 2019 / Revised: 9 May 2019 / Accepted: 22 May 2019 / Published: 3 June 2019
Abstract
Obesity, a major health problem worldwide, is associated with increased cardiovascular risk factors, such as dyslipidemia, glucose intolerance, and hypertension. We investigated the antioxidative capacity of the ethanol extract of propolis (EEP) and its effect on the lipid profile, the hepatorenal function, and the atherogenic indices in mice fed with a high-fat diet (HFD). EEP (50 mg/kg) was given orally to mice for 30 days. After the treatments, levels of the serum total triglyceride and cholesterol, the high density lipoprotein (HDL-c) and low density lipoprotein (LDL-c) cholesterols, the serum enzymes, and the metabolites were measured, and atherogenic indices [atherogenic index of plasma (AIP); cardiac risk ratio (CRR); cardioprotective index (CPI); atherogenic coefficient (AC)] were calculated and compared with the antioxidant, the reducing power, the radical-scavenging, and the chelating activity of EEP. The HFD diet with EEP significantly reduced the negative lipid profile and lowered AIP, CRR, and AC and increased CPI in animals on a HFD. In addition, EEP reduced the weight of mice and lipid accumulation in the liver, and it had significant in vitro antioxidative activities. The EEP possesses anti-hyperlipidemic and antioxidant activity and exhibits protective action on the cardiovascular system and hepatorenal functions. Our results contribute towards the validation of the traditional use of propolis as a food supplement in aiding hyperlipidemic disorders.
View Full-Text
►

▼

Figures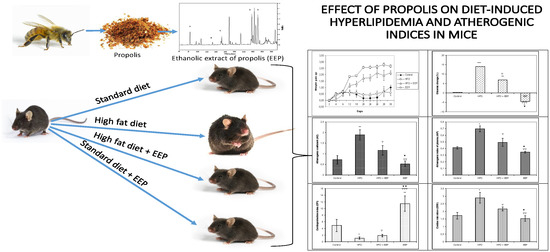 Graphical abstract
This is an open access article distributed under the
Creative Commons Attribution License
which permits unrestricted use, distribution, and reproduction in any medium, provided the original work is properly cited (CC BY 4.0).

Share & Cite This Article
MDPI and ACS Style
Oršolić, N.; Landeka Jurčević, I.; Đikić, D.; Rogić, D.; Odeh, D.; Balta, V.; Perak Junaković, E.; Terzić, S.; Jutrić, D. Effect of Propolis on Diet-Induced Hyperlipidemia and Atherogenic Indices in Mice. Antioxidants 2019, 8, 156.
Note that from the first issue of 2016, MDPI journals use article numbers instead of page numbers. See further details here.
Related Articles
Comments
[Return to top]