Saffron: A Multitask Neuroprotective Agent for Retinal Degenerative Diseases
1
Department of Applied Clinical Science and Biotechnology, University of L'Aquila, Via Vetoio, Coppito II, 67100 L'Aquila, Italy
2
Istituto Nazionale di Biostrutture e Biosistemi (INBB), Via Medaglie d'Oro 305, 00136 Roma, Italy
3
Facolta' di Medicina e Chirurgia, Fondazione Policlinico A. Gemelli, Universita' Cattolica del S. Cuore, 00136 Roma, Italy
*
Authors to whom correspondence should be addressed.
Received: 9 April 2019 / Revised: 10 July 2019 / Accepted: 11 July 2019 / Published: 17 July 2019
Abstract
Both age related macular degeneration (AMD) and light induced retinal damage share the common major role played by oxidative stress in the induction/progression of degenerative events. Light damaged (LD) rats have been widely used as a convenient model to gain insight into the mechanisms of degenerative disease, to enucleate relevant steps and to test neuroprotectants. Among them, saffron has been shown to ameliorate degenerative processes and to regulate many genes and protective pathways. Saffron has been also tested in AMD patients. We extended our analysis to a possible additional effect regulated by saffron and compared in AMD patients a pure antioxidant treatment (Lutein/zeaxanthin) with saffron treatment.
Methods:
Animal model. Sprague-Dawley (SD) adult rats, raised at 5 lux, were exposed to 1000 lux for 24 h and then either immediately sacrificed or placed back at 5 lux for 7 days recovery period. A group of animals was treated with saffron. We performed in the animal model: (1) SDS-PAGE analysis; (2) Western Blotting (3) Enzyme activity assay (4) Immunolabelling; in AMD patients: a longitudinal open-label study 29 (±5) months in two groups of patients: lutein/zeaxanthin (19) and saffron (23) treated. Visual function was tested every 8 months by ERG recordings in addition to clinical examination.
Results:
Enzymatic activity of MMP-3 is reduced in LD saffron treated retinas and is comparable to control as it is MMP-3 expression. LD treated retinas do not present "rosettes" and microglia activation and migration is highly reduced. Visual function remains stable in saffron treated AMD patients while deteriorates in the lutein/zeaxanthin group.
Conclusion:
Our results provide evidence of an additional way of action of saffron treatment confirming the complex nature of neuroprotective activities of its chemical components. Accordingly, long term follow-up in AMD patients reveals an added value of saffron supplementation treatment compared to classical antioxidant protocol.
View Full-Text
►

▼

Figures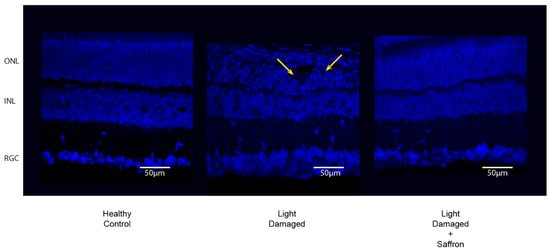 Figure 1
This is an open access article distributed under the
Creative Commons Attribution License
which permits unrestricted use, distribution, and reproduction in any medium, provided the original work is properly cited (CC BY 4.0).

Share & Cite This Article
MDPI and ACS Style
Di Marco, S.; Carnicelli, V.; Franceschini, N.; Di Paolo, M.; Piccardi, M.; Bisti, S.; Falsini, B. Saffron: A Multitask Neuroprotective Agent for Retinal Degenerative Diseases. Antioxidants 2019, 8, 224.
Note that from the first issue of 2016, MDPI journals use article numbers instead of page numbers. See further details here.
Related Articles
Comments
[Return to top]