Liver Injury Induced by Carbon Tetrachloride in Mice Is Prevented by the Antioxidant Capacity of Anji White Tea Polyphenols
1
Chongqing Collaborative Innovation Center for Functional Food, Chongqing University of Education, Chongqing 400067, China
2
Chongqing Engineering Research Center of Functional Food, Chongqing University of Education, Chongqing 400067, China
3
Chongqing Engineering Laboratory for Research and Development of Functional Food, Chongqing University of Education, Chongqing 400067, China
4
College of Biological and Chemical Engineering, Chongqing University of Education, Chongqing 400067, China
5
Environment and Quality Inspection College, Chongqing Chemical Industry Vocational College, Chongqing 401228, China
6
College of Food Science, Southwest University, Chongqing 400715, China
*
Author to whom correspondence should be addressed.
†
These authors contributed equally to this work.
Received: 5 February 2019 / Revised: 5 March 2019 / Accepted: 12 March 2019 / Published: 14 March 2019
Abstract
Anji white tea is a unique variety of green tea that is rich in polyphenols. In this study, the effect of Anji white tea polyphenols (AJWTP) on the prevention of carbon tetrachloride (CCl
4
)-induced liver injury through its antioxidant properties was studied. Biochemical and molecular biology methods were used to analyze the serum and liver tissue of mice. The antioxidant capacity and liver injury preventive effect of AJWTP were determined, and the mechanism was elaborated. The results showed that AJWTP decreased the serum levels of aspartate aminotransferase (AST), alanine aminotransferase (ALT), triglyceride (TG), and total cholesterol (TC) in mice with liver injury, it increased the activities of superoxide dismutase (SOD) and glutathione peroxidase (GSH-Px) in the serum and liver tissue of mice with liver injury, and it also decreased the amount of malondialdehyde (MDA). Further quantitative polymerase chain reaction (qPCR) results showed that AJWTP upregulated the mRNA expression of
Cu/Zn-SOD
,
Mn-SOD
, catalase (
CAT
), and nuclear factor of kappa light polypeptide gene enhancer in B-cell inhibitor alpha (
IκB-α
) and downregulated the expression of nuclear factor κ-light-chain-enhancer of activated B-cells (
NF-κB
), cyclooxygenase-2 (
COX-2
), inducible nitric oxide synthase (
iNOS
), interleukin-1 beta (
IL-1β
), and tumor necrosis factor alpha (
TNF-α
) in the liver tissue of mice with liver injury. Therefore, AJWTP produces sufficient antioxidant action to prevent liver injury, and the effect increases with the increase in AJWTP concentration. The effect of 200 mg/kg AJWTP was similar to that of the same concentration of the drug (silymarin) used for the treatment of liver injury. This indicates excellent potential for the development and utilization of AJWTP because it is an active substance with excellent antioxidant effects and can prevent liver injury.
View Full-Text
►

▼

Figures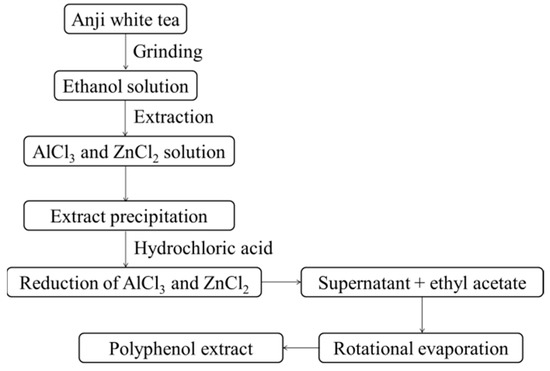 Figure 1
This is an open access article distributed under the
Creative Commons Attribution License
which permits unrestricted use, distribution, and reproduction in any medium, provided the original work is properly cited (CC BY 4.0).

Share & Cite This Article
MDPI and ACS Style
Wang, R.; Yang, Z.; Zhang, J.; Mu, J.; Zhou, X.; Zhao, X. Liver Injury Induced by Carbon Tetrachloride in Mice Is Prevented by the Antioxidant Capacity of Anji White Tea Polyphenols. Antioxidants 2019, 8, 64.
Note that from the first issue of 2016, MDPI journals use article numbers instead of page numbers. See further details here.
Related Articles
Comments
[Return to top]