Interplay between Oxidative Stress and Platelet Activation in Coronary Thrombus of STEMI Patients
1
Department of Cardiovascular, Respiratory, Nephrology, Anaesthesiology and Geriatric Sciences, Sapienza University of Rome, 00161 Rome, Italy
2
Department of Internal Medicine and Medical Specialties, Sapienza University of Rome, 00161 Rome, Italy
3
Interventional Cardiology Unit, Santa Maria University Hospital, 05100 Terni, Italy
4
Department of Medico-Surgical Sciences and Biotechnologies, Sapienza University of Rome, Corso della Repubblica 79, 04100 Latina, Italy
5
Department of AngioCardioNeurology, IRCCS Neuromed, 86077 Pozzilli, Italy
*
Author to whom correspondence should be addressed.
Received: 15 May 2018 / Revised: 24 June 2018 / Accepted: 28 June 2018 / Published: 3 July 2018
Abstract
Background: Platelet activation and oxidative stress seem to play a key role in coronary thrombus formation and are associated with thrombus burden in ST-elevation myocardial infarction (STEMI). However, the interplay between oxidative stress and platelet activation has not been fully elucidated. Materials and Methods: For 32 patients with STEMI undergoing primary percutaneous coronary intervention (PPCI) and 10 patients with stable angina (SA) and oxidative stress, as assessed by NADPH isoform 2 activity (soluble Nox2-derived peptide, sNox2-dp), levels of oxidized low-density lipoproteins (oxLDLs) and platelet activation markers such as soluble CD40 Ligand (sCD40L) and soluble P-selectin (sP-selectin) were measured in the retrieved material (coronary thrombi plus blood waste) of STEMI patients and in intracoronary blood of SA patients, respectively, and in peripheral blood samples of both groups. Results: In aspirated thrombi and blood waste of STEMI patients we found higher serum levels of sNox2-dp, oxLDLs, sCD40L, and sP-selectin, as compared to the intracoronary blood samples of SA patients. Moreover, in thrombi and blood waste of STEMI patients, a direct correlation between markers of oxidative stress and of platelet activation was found. Also, in STEMI patients a progressive increase of oxidative stress and platelet activation markers was observed according to the thrombus score burden. STEMI patients showed higher peripheral blood Nox2 activity and oxLDL levels as compared to SA patients. Conclusion: This study shows a close relationship between oxidative stress and platelet activation in the intracoronary blood waste and aspirated thrombi of STEMI patients, suggesting a role of oxidative stress in promoting thrombus formation and growth.
View Full-Text
►

▼

Figures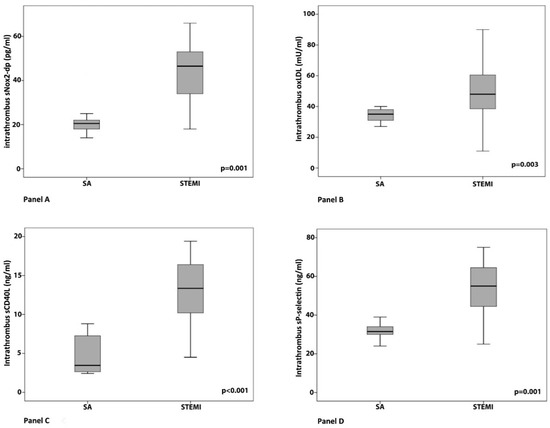 Figure 1
This is an open access article distributed under the
Creative Commons Attribution License
which permits unrestricted use, distribution, and reproduction in any medium, provided the original work is properly cited (CC BY 4.0).

Share & Cite This Article
MDPI and ACS Style
Calvieri, C.; Tanzilli, G.; Bartimoccia, S.; Cangemi, R.; Arrivi, A.; Dominici, M.; Cammisotto, V.; Viceconte, N.; Mangieri, E.; Frati, G.; Violi, F. Interplay between Oxidative Stress and Platelet Activation in Coronary Thrombus of STEMI Patients. Antioxidants 2018, 7, 83.
Note that from the first issue of 2016, MDPI journals use article numbers instead of page numbers. See further details here.
Related Articles
Comments
[Return to top]