Open Access This article is
freely available
re-usable
Review
Vitamin E as an Antioxidant in Female Reproductive Health
1
Faculty of Pharmacy, Universiti Teknologi MARA (UiTM) Puncak Alam Campus, Selangor 42300, Malaysia
2
Faculty of Medicine, Universiti Teknologi MARA (UiTM) Sg. Buloh Campus, Selangor 42300, Malaysia
*
Author to whom correspondence should be addressed.
Received: 11 December 2017 / Accepted: 25 January 2018 / Published: 26 January 2018
Abstract
:
Vitamin E was first discovered in 1922 as a substance necessary for reproduction. Following this discovery, vitamin E was extensively studied, and it has become widely known as a powerful lipid-soluble antioxidant. There has been increasing interest in the role of vitamin E as an antioxidant, as it has been discovered to lower body cholesterol levels and act as an anticancer agent. Numerous studies have reported that vitamin E exhibits anti-proliferative, anti-survival, pro-apoptotic, and anti-angiogenic effects in cancer, as well as anti-inflammatory activities. There are various reports on the benefits of vitamin E on health in general. However, despite it being initially discovered as a vitamin necessary for reproduction, to date, studies relating to its effects in this area are lacking. Hence, this paper was written with the intention of providing a review of the known roles of vitamin E as an antioxidant in female reproductive health.
Keywords:
vitamin E; reproduction; antioxidant; tocopherol; tocotrienol
1. Vitamin E
Vitamin E was first discovered by Evans and Bishop in 1922, and it was initially denoted as an "anti-sterility factor X" that was necessary for reproduction [
1
]. Since then, vitamin E has been well characterized as a powerful lipid-soluble antioxidant through extensive research. The antioxidant activities of vitamin E were reported following findings on its ability to scavenge reactive oxygen species (ROS) in cellular membranes [
2
,
3
,
4
].
1.1. Sources of Vitamin E
Vitamin E, which consists of a mixture of tocopherols (TOCs) and tocotrienols (TCTs), is available in a number of foods and plants, ranging from edible oils to nuts. Some vitamin E-containing foods include wheat, rice bran, barley, oat, coconut, palm and annatto [
5
,
6
]. Other sources include rye, amaranth, walnut, hazelnut, poppy, safflower, maize and the seeds of grape and pumpkins. Vitamin E derivatives have also been detected in human milk [
7
] and palm dates (
Phoenix canariensis
) [
8
]. Among the many sources of vitamin E, rice bran, palm oil and annatto oil have been described as the richest sources of TCTs [
9
].
1.2. Structure of Vitamin E
Vitamin E consists of a mixture of tocopherols (TOCs) and tocotrienols (TCTs) that are synthesized by plants from homogenestic acid [
10
]. These substances are present in eight different homologues; namely, α-tocopherol, β-tocopherol, γ-tocopherol, δ-tocopherol, α-tocotrienol, β-tocotrienol, γ-tocotrienol and δ-tocotrienol [
11
]. The four TOC homologues (α-, β-, γ-, δ-TOC) have a fully saturated 16-carbon isoprenoid sidechain, while TCT homologues have a similar isoprenoid chain, containing three double bonds (an unsaturated side chain). The TOC homologues are named with respect to the position and number of the methyl groups on the phenol ring. The α-, β-, γ- and δ-homologues contain three, two, two and one methyl groups, respectively (
Figure 1
). These structural differences and the isomerism determine the biological activity, with α-homologues being the most biologically active [
12
]. However, it has been reported that light, temperature, and oxygen availability could promote rancidity in vegetable oils [
13
]. According to a study [
13
], soybean oil that was stored in the dark for 56 days had increased peroxide value. In addition, its exposure to light in a 12 h light/darkness cycle over for 56 days resulted in an increase in peroxide values of around 1473%.
2. Reproductive Disorders: The Risk Factors
Oxidative Stress (OS) as One of the Risk Factors in Reproductive Disorders
3. Antioxidants and Their Roles in Reproductive Disorders
Vitamin E as an Antioxidant in Female Reproduction: The Reported Studies
4. Conclusions
Vitamin E has received much attention in recent years due to its ability to improve reproductive health. As discussed in the present paper, vitamin E has been reported to exert beneficial effects as an antioxidant against the reproductive disorders. Hence, it is highly recommended for women to consume vitamin E regularly, especially those who are in their reproductive age. However, available study reports on the effects of vitamin E on reproduction, pregnancy, and preimplantation embryonic development are still lacking. Many future studies are necessary in order to gain a greater understanding of the antioxidative role of vitamin E, especially with respect to female reproductive health.
Acknowledgments
We are deeply grateful to the Ministry of Higher Education (MOHE) Malaysia for providing the financial support through the Fundamental Research Grant Scheme (FRGS) (600-IRMI/FRGS 5/3 (037/2017). Thanks are given to all staff and members of the Faculty of Pharmacy, UiTM Selangor, Puncak Alam Campus, and the Faculty of Medicine, UiTM Selangor, Sg. Buloh Campus, Malaysia for all the assistance and support given in the completion of this paper.
Author Contributions
All authors contributed equally to the completion of this paper. Siti Syairah Mohd Mutalip conceived the idea, collected sources of information, and initiated and contributed to manuscript writing. Mohd Hamim Rajikin and Sharaniza Ab-Rahim contributed to manuscript analysis and review; as well as contributed to the manuscript writing.
Conflicts of Interest
The authors declare no conflict of interest.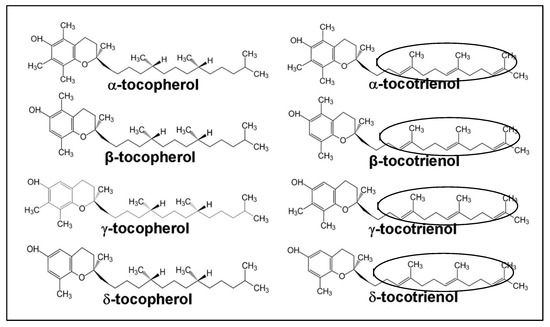 Figure 1.
Structure differences between tocopherols (TOCs) and tocotrienols (TCTs). TOCs have saturated side chains, while TCTs have unsaturated side chains. The latter are shown by the presence of three double bonds in TCTs (circled) [
14
].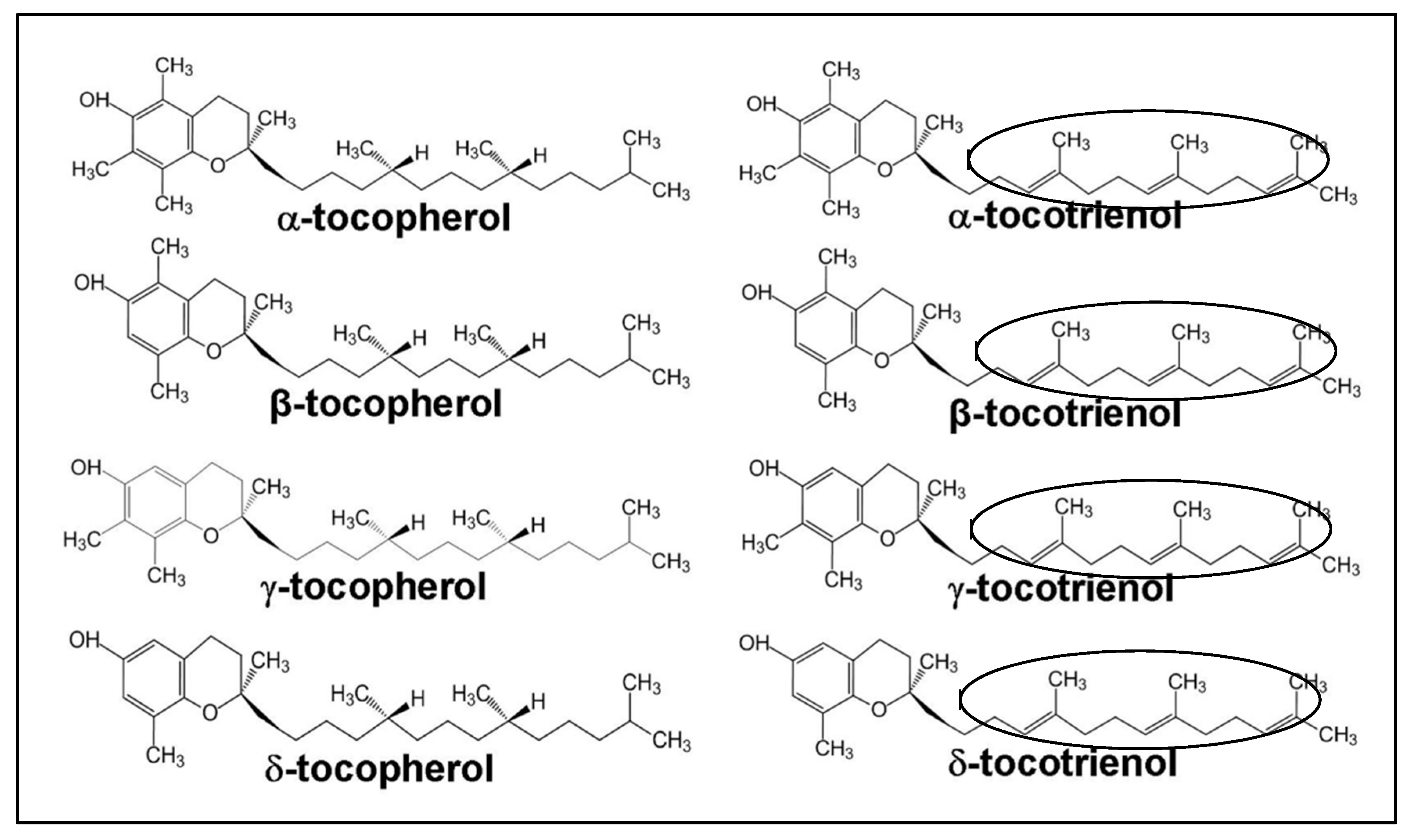 © 2018 by the authors. Licensee MDPI, Basel, Switzerland. This article is an open access article distributed under the terms and conditions of the Creative Commons Attribution (CC BY) license (http://creativecommons.org/licenses/by/4.0/).