The Addition of Manganese Porphyrins during Radiation Inhibits Prostate Cancer Growth and Simultaneously Protects Normal Prostate Tissue from Radiation Damage
1
Department of Biochemistry and Molecular Biology, University of Nebraska Medical Center, Omaha, NE 68198, USA
2
Department of Gastrointestinal Surgery, Union Hospital, Tongji Medical College, Huazhong University of Science and Technology, Wuhan 430022, China
*
Author to whom correspondence should be addressed.
Received: 10 January 2018 / Revised: 20 January 2018 / Accepted: 21 January 2018 / Published: 25 January 2018
Abstract
Radiation therapy is commonly used for prostate cancer treatment; however, normal tissues can be damaged from the reactive oxygen species (ROS) produced by radiation. In separate reports, we and others have shown that manganese porphyrins (MnPs), ROS scavengers, protect normal cells from radiation-induced damage but inhibit prostate cancer cell growth. However, there have been no studies demonstrating that MnPs protect normal tissues, while inhibiting tumor growth in the same model. LNCaP or PC3 cells were orthotopically implanted into athymic mice and treated with radiation (2 Gy, for 5 consecutive days) in the presence or absence of MnPs. With radiation, MnPs enhanced overall life expectancy and significantly decreased the average tumor volume, as compared to the radiated alone group. MnPs enhanced lipid oxidation in tumor cells but reduced oxidative damage to normal prostate tissue adjacent to the prostate tumor in combination with radiation. Mechanistically, MnPs behave as pro-oxidants or antioxidants depending on the level of oxidative stress inside the treated cell. We found that MnPs act as pro-oxidants in prostate cancer cells, while in normal cells and tissues the MnPs act as antioxidants. For the first time, in the same in vivo model, this study reveals that MnPs enhance the tumoricidal effect of radiation and reduce oxidative damage to normal prostate tissue adjacent to the prostate tumor in the presence of radiation. This study suggests that MnPs are effective radio-protectors for radiation-mediated prostate cancer treatment.
View Full-Text
►

▼

Figures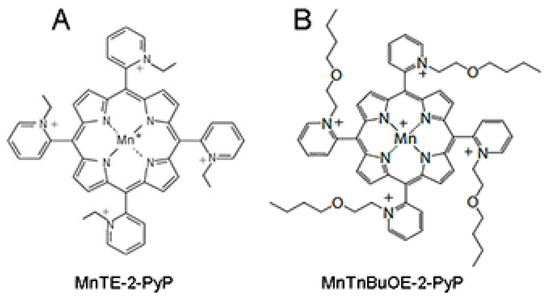 Figure 1
This is an open access article distributed under the
Creative Commons Attribution License
which permits unrestricted use, distribution, and reproduction in any medium, provided the original work is properly cited (CC BY 4.0).

Share & Cite This Article
MDPI and ACS Style
Chatterjee, A.; Zhu, Y.; Tong, Q.; Kosmacek, E.A.; Lichter, E.Z.; Oberley-Deegan, R.E. The Addition of Manganese Porphyrins during Radiation Inhibits Prostate Cancer Growth and Simultaneously Protects Normal Prostate Tissue from Radiation Damage. Antioxidants 2018, 7, 21.
Note that from the first issue of 2016, MDPI journals use article numbers instead of page numbers. See further details here.
Related Articles
Comments
[Return to top]