Open Access This article is
freely available
re-usable
Review
A Survey of Feature Set Reduction Approaches for Predictive Analytics Models in the Connected Manufacturing Enterprise
1
Department of Industrial and Manufacturing Engineering, University of Wisconsin–Milwaukee, Milwaukee, WI 53211, USA
2
Rockwell Automation, Inc. Milwaukee, WI 53204, USA
*
Author to whom correspondence should be addressed.
Received: 9 January 2019 / Accepted: 22 February 2019 / Published: 27 February 2019
Abstract
:
The broad context of this literature review is the connected manufacturing enterprise, characterized by a data environment such that the size, structure and variety of information strain the capability of traditional software and database tools to effectively capture, store, manage and analyze it. This paper surveys and discusses representative examples of existing research into approaches for feature set reduction in the big data environment, focusing on three contexts: general industrial applications; specific industrial applications such as fault detection or fault prediction; and data reduction. The conclusion from this review is that there is room for research into frameworks or approaches to feature filtration and prioritization, specifically with respect to providing quantitative or qualitative information about the individual features in the dataset that can be used to rank features against each other. A byproduct of this gap is a tendency for analysts not to holistically generalize results beyond the specific problem of interest, and, related, for manufacturers to possess only limited knowledge of the relative value of smart manufacturing data collected.
Keywords:
connected enterprise; smart manufacturing; big data; machine learning; data reduction; predictive analytics
1. Introduction
In exploring recent advancements in manufacturing and industry, interested practitioners and researchers might find themselves deciphering a series of seemingly related, sometimes interchangeable, but actually distinct terms that mean different things to different parties in different contexts. In some cases, specific terminology might be used in one part of the world whereas another term is employed elsewhere. Consider the following examples, representative but not exhaustive, that are commonly seen today.
2. Methodology
2.1. Data Collection
Articles in this review can be broadly categorized into two groups. The first group consists of featured articles that receive analysis and discussion as pertaining to the motivations and/or objective of this research. The second group consists of background or supporting work that provides context to the introduction, justification to the motivations, or theoretical foundations to techniques or algorithms referenced in the first group.
The process of identifying articles for the first group began with broad queries into databases of scholarly literature using a series of topically relevant keywords. The following keywords were used, typically in pairs but sometimes in groups of three or more: ["big data"], ["smart manufacturing"], [manufacturing], ["machine learning"], [deep learning], ["deep learning"], ["fault detection"], ["fault prediction"], ["fault diagnosis"], ["data reduction"], ["feature selection"], ["feature reduction"], ["instance selection"], and ["instance reduction"]. Quotation marks indicate that the phrase was searched in its entirety. Thus, the keyword ["deep learning"] would not return the phrase "deep neural network learning" but the keyword [deep learning] would.
Academic or scholarly databases searched include ScienceDirect, Institute of Electrical and Electronics Engineers (IEEE), Taylor & Francis, SpringerLink, Google Scholar, and the University of Wisconsin—Milwaukee library system. Time parameters were set for 2008 through 2018.
The keywords employed in database searches were selected to initially catch a wide scope of articles and then converge towards articles focusing more directly on the motivations and objective of the review.
A second means of identifying articles was to survey citations in articles identified in the database searches. For example, if a database search identified a survey paper on the use of machine learning for smart manufacturing, it would be possible that the articles cited therein might pose some relevance. The intent is not to duplicate work but rather to complement it. Returning to the previous example, a list of articles analyzed from an algorithmic perspective on which machine learning technique was employed could be relevant to this review by seeing how those same papers approach the human dimension of the project.
To identify citations in the second category of articles, the process was ad hoc and tailored to the specific algorithm or technique that warranted additional background. This category made no restrictions to time window because many techniques employed today have their theoretical foundations in decades past. For example, much of the initial, exploratory research into human limitations in processing information took place decades ago.
2.2. Data Analysis
The first layer of analysis consisted of broadly categorizing or organizing the reviewed articles. In keeping with the general search methodology, this resulted in three general groups, selected for their intuitive sense in logically flowing from a broad, high-level search and then converging on the motivations and objective for the review.
The first category explores big-data models for general industrial applications, specifically those featuring machine learning or deep learning.

The second category focuses specifically on big data analyses and frameworks as applied to scenarios specific to smart manufacturing. Two subtopics emerged in the search results: fault detection and fault prediction.

The third category addresses data reduction tools and techniques.
The three categories listed above came about partly by design and partly post hoc. From the beginning, the question of interest was data reduction, specifically feature filtration and prioritization. Upon conducting a high-level analysis of articles captured by queries described in
Section 2.1
, it became clear that it would be appropriate to organize by papers explicitly focused on data reduction and those not. Clearly, a paper that is explicitly on the topic of data reduction will cover the subject. However, this review is also interested in how articles approach the topic of data reduction as a step contained within some problem of interest, when the paper is not explicitly about data reduction. This would have resulted in two categories. It subsequently became clear upon examination that, of the papers not explicitly focused on data reduction, they could be subdivided into those focused on a specific manufacturing application and those focused on general applications independent of a specific problem type. This yielded the three categories that ultimately form the organization of
Section 3
.
The second layer of analysis consisted of identifying which articles merit discussion and how to organize that discussion.
The predominant theme for analyzing articles in the first category, general industrial applications, was the degree to which the article focused on enterprise capabilities that enable organizational competencies versus approaches or methodologies that relate to human competencies. The first two motivations for this research are predominantly organizational competencies that are developed by a combination of high-level, enterprise capabilities and low-level, individual competencies. Of interest to this review was whether the reviewed articles gave treatment to the research motivations and, if so, whether that treatment focused on the organizational or the individual competencies.
The focus for analyzing articles in the second category, specific manufacturing applications, was the extent to which data reduction was explicitly performed and, if so, the extent to which that reduction step received treatment in terms of analysis or generalizability. The working hypothesis was that most research would be focused on a specific application or problem of interest, with the input data treated in secondary fashion, being a means to some end and not as potentially an end unto itself. The reasoning behind the working hypothesis is that practitioners and researchers alike have priorities of work; solving the problem of interest is typically Priority #1. Time-constrained efforts to complete the task at hand can sometimes cause both researchers and practitioners alike to miss valuable nuggets of insight that could provide useful in subsequent future work.
The focus for the third category was the context for the data reduction and the type of data reduction performed. If the context was outside of the manufacturing realm, the question was if it would be possible to extend the technique to manufacturing contexts. If already contextualized within manufacturing, the question was how generalizable it might be to other contexts or if the technique was unique to the specific scenario or case study.
Within each section, individual articles receive commentary in isolation. Each section concludes with observations and discussion on themes contained in more than one paper therein. Finally,
Section 4
provides consolidated observations and discussion for the entire set of reviewed literature.
3. Literature Survey
3.1. Big Data Approaches for General Industrial Applications
Existing research into big data utilization for general industrial applications may be broadly generalized to contain valuable work and insight into the state of technology, current challenges, and methodologies or high-level frameworks for big-data analytical projects. The following section contains examples that, while not intended to be exhaustive, are representative of the body of literature on the subject. These examples are reviewed with specific interest in how they treat the research motivations from the human versus the architectural or technological dimension.
However, employment of machine learning algorithms to deal with the problem of high dimensionality can lead the analyst directly into one of the main challenges associated with machine learning that the paper identifies, which is that interpretation of results can be difficult. Especially when the model is intended to support real-time monitoring of parameters with respect to proximity to some threshold, the practical usefulness of the model is diminished when large numbers of irrelevant or redundant features are input into the model simply because the machine learning algorithm can accommodate them.
Note the distinction in feature learning. Deep learning models do not explicitly engineer and extract features. Rather, they are learned abstractly. This is both an advantage and a tradeoff. The blessing is that model performance is typically superior. The tradeoff is in the transparency, traceability, and front-end verifiability of results.
A first observation is that there is not uniform agreement with regard to the question of dimensionality. At one extreme, the question is treated as a non-issue, to be handled by the machine learning algorithm selected. Other articles addressed the question at a high-level as important but always within the context of the larger problem-solving approach and not to the level of detail that would be useful to the data scientist.
A third observation is gap identified by more than one researcher, which is the lack of holistic generalization of results beyond the specific, local problem under examination. This is related to manufacturers' limited knowledge of the relative utility or value contained among the different elements of the vast volumes of data that they collect in a somewhat mutually-reinforcing way. A lack of knowledge regarding the data landscape makes it difficult to generalize a dataset's utility from one application to the next. On the same token, not taking incremental steps to analyze projects after the fact for relevance and generalizability to other contexts perpetuates the deficiency in institutional knowledge.
3.2. Big Data Approaches for Specific Manufacturing Applications
This section moves from the higher level of general industrial or manufacturing applications to approaches geared towards specific smart manufacturing applications. The following literature instances fall into one of two subcategories: fault detection and fault prediction. Fault detection and fault prediction are important areas of interest, and it is not surprising that predictive analytics projects gravitate to those topics. Predictive analytics in any the context will naturally gravitate to the dominant interests or challenges facing decision makers in that context, and, for manufacturers, key performance indicators (KPIs) associated with cost, quality, and time are negatively influenced by faults in machinery or output. Most manufacturing processes involve some form of creation or assembly at a given stage followed by some manner of inspection or validation before moving on to the next stage. Components are assembled into some final product, which itself undergoes functional testing prior to distribution to the customer. Machine downtime for unscheduled maintenance will negatively impact cycle time and, by extension, cost. Undetected malfunctions or nonconformities in machinery can lead to defective products escaping from one stage of manufacture to the next. There is an ever-present need to reduce defective products, which creates a natural partnership between smart manufacturing and predictive analytics. It is therefore unsurprising that much of the literature in predictive analytics in the manufacturing context will be applied to case studies in either fault detection or fault prediction.
It will be observed that different publications employ different frameworks, techniques, models, or methodologies to address specific manufacturing applications, often addressing specialized subproblems or challenges. The focus in the ensuing section is how, from the human data scientist perspective, these analyses approach the challenge posed by big data. Is the big data challenge one of an excessive number of diverse features that may contain hidden predictive potential? Is the challenge one of data volume, with exceedingly large numbers of records produced? Neither? Both? Additionally, this review will analyze the ensuing articles with an eye towards knowledge management, or the extent to which there is opportunity to generalize beyond the specific problem of interest.
3.2.1. Fault Detection
Just as in Jia et al. (2016), Xiong et al. (2016)'s method is applied to fault diagnosis among rotating machinery in a large-scale petrochemical enterprise.
This method is appropriate when features and the target are both binary; a limitation is the method is not suitable for data in other forms. This required the target to be transformed from a continuous yield percentage to a categorical classification. A second possible limitation is that each variable is tested independently of the others, with no consideration for interaction. It is logically possible that a feature could have a poor Cohen's kappa coefficient but could interact with other features to produce an overall better model. An advantage of the approach, though not specifically discussed in the article, is that Cohen's kappa coefficient scores for each feature may be preserved from one analysis to the next and analyzed to see if they harbor latent relationships that might point to root causes of inadequate tool-chamber and not simply forecast it.
3.2.2. Fault Prediction
Of interest to this review is to note that the aforementioned approach is in the context of an organization's ability to perform active preventive maintenance and not in the context of how a data scientist goes about performing his or her analysis. For example, 'data collection' in the context that Wan et al. describe refers to the required service-oriented architecture to integrate data from diverse sources. To the data scientist, 'data collection' is the employment of that architecture in identifying and obtaining specific data elements for model inclusion.
3.3. Frameworks for Data Reduction
It should be noted that this framework is at the institutional level and not at the level of the data scientist. The data reduction layers are presented as automated processes applied to the raw source data and not dependent on a specific project or problem of interest.
The approach can be extended to any signal-style continuous data source from which samples are taken, although the implication is that the lower the sampling rate, the less likely that these new features will provide value. These constructed features are applied to case studies of tool and chamber matching and defect level prediction. A reasonable extension might be to apply the approach to machine diagnostic information for active preventive maintenance.
From a feature selection or dimensionality perspective, which is of most interest to this review, the ten features are calculated every time the signal transitions from one steady state to another. For relatively static signals, this will result in a manageable feature set; for more dynamic signals or for large time windows, the number of calculated features may become prohibitively large. This could be alleviated by adding an additional layer of features that employ various means to aggregate the values of the ten calculated features over the entire span of time.
Of greatest interest to this review is the second category, feature selection, and two approaches seen in this section merit further discussion in relation to each other. The first approach, the TSFRESH approach, generates a list of up to 794 features from a single time series and, using statistical independence as the test, reduces the feature set by eliminating the features that do not exhibit a significant statistical dependence with the response. Using this approach, a model with N time series inputs would have 794 N features extracted by TSFRESH. Even if TSFRESH then filters out 50% of the features, there still could remain many hundreds of features in the model. This could be an excessive number of features that strains the capacity of the analyst to truly grasp what is going on or pinpoint the critical relationship(s) of interest. Extending the approach to include subsequent filter(s) could be a step in remedying this challenge.
The second approach of interest is the use of optimization heuristics to obtain a near-optimal subset of features for the problem at hand. It might be a reasonable extension to TSFRESH to incorporate a second filter that seeks to better optimize the feature set with respect to the objective function, possibly using a heuristic such as simulated annealing. This would also add the dimension of feature interaction, which is currently not present in the TSFRESH statistical independence filter.
A final observation from the third category of reviewed literature is that the set of literature on reducing or filtering the features that might go into a machine learning model is reasonably robust but is relatively less robust concerning the prioritization of the remaining features. This implies a gap in terms of approaches to quantitatively or qualitatively stack features against each other. An alternative explanation is that such approaches exist but were simply not employed in the reviewed literature. This seems unlikely, as, the benefit of such capability would be to see how a particular feature of interest fares in its utility from one problem to the next. In smart manufacturing, the same features of data are continually collected and used repeatedly in different analyses. It may be of interest to know which of those features tend to be valuable in harboring predictive power and which ones tend not to.
4. Discussion
This paper reviewed existing research into frameworks or approaches for big-data analytics as applied to three levels of projects, with increasing degrees of precision or detail. The first level reviewed was a high-level look at frameworks for general industrial applications. The second level focused specifically and local, lower-level smart manufacturing applications of fault detection and fault prediction. Finally, the third and most specialized level looked at approaches specifically oriented towards data reduction.
In each section, articles were discussed individually as they pertain to the motivation for this research and their applicability to the CE. At the end of each section, discussion followed to summarize any observations across the set of articles within the section and relate them to each other. The final level of discussion is to look at the full picture and identify any observations, trends, or commonalities that span the three levels.
The first observation is that there is a dichotomy in how the same verbiage can be applied to different contexts. Terms like 'framework', 'big data', and 'predictive analytics' in some cases are contextualized as architecture required to build organizational competencies and in other cases as approaches or methodologies to build individual competencies.
In the context of organizational competencies for big data analytics, much consideration is made as to the architecture for where the data exists, how it moves from one location to the next, and at which level or echelon the analysis takes place. In general, there is some layer or module at which the initial data is generated or collected but then options for what to do with it. Data may be migrated to a cloud-based data center and analyzed in a consolidated location, or it may be analyzed at local nodes. Whether to analyze at the edge or in the cloud will typically be a function of resources and of the time window available to perform corrective action. Actions that require real-time processing for quick action might not be performed at the cloud level because, by the time data is captured, cleaned, pre-processed, and run through a model, the window to correct an identified fault may have already passed. On the other hand, if there is sufficient time between the data collection point and the decision point, such as a manufacturing process in which there might be a gap of hours or days between assembly line procedures and testing, then analysis at the cloud level might be suitable.
It should be noted that, from an organizational competency perspective, the infrastructure is a prerequisite to the development of individual competencies in the form of data scientist best practices. However, it is those data scientist best practices that become contributing factors to other organizational competencies such as knowledge management and decisions on long term data retention. There is an iterative and cyclic relationship such that organizational competencies produce individual competencies which then build and reinforce other organizational competencies.
A second observation across the three sections of reviewed literature is that there was a conspicuous absence of any discussion of the generalization of results beyond the specific problem of interest. This is true on both the 'front' end and the 'back' end of the articles reviewed. In other words, upon conclusion of the experiment or analysis, there was no discussion in any reviewed article of knowledge management or steps to generalize results from an input data perspective. There was certainly discussion about future research opportunities in generalizing an overall approach or algorithm, but in no cases did that discussion manifest itself the form of practical reflection on a feature set's utility for the problem of interest and prospects for utility in other scenarios. Similarly, during model formulation, there was no discussion of institutional knowledge that might play a role in feature selection. Only one reviewed paper referenced a data screening decision that was made based on prior work. The context in that situation was 21 possible signals to use as model inputs, of which seven were selected based on reviewed literature.
This observation is not intended as a negative criticism of any past work. It is quite natural to expect that this might be the case because finite resources drive priorities, and in a fast-paced world there is often little time to breathe between the completion of one project and the start of another. Given this reality, there appears to be value in anything that can facilitate the creation and preservation of institutional knowledge in this domain.
A third observation is that feature selection approaches in most cases were performed using a single technique at a single point in the model building process. Feature filtration using Kullback–Leibler divergence reduced features sets of 1460 and 1460 to 198 and 175, respectively. Feature filtration using Cohen's kappa was stated as a step in one case study, but no results were provided as to how many features were filtered out. A combination of PCA and subject matter expertise reduced a feature set of 1000 to 16, although it was not clearly identified how many of those features were reduced from PCA and how many from subject matter expertise. In the case of TSFRESH, statistical hypothesis tests for independence filter out features that are statistically independent, reducing 4764 features to 623.
A natural next step for any of these techniques is to explore the possibility to layer one technique after another depending on how many features remain after a given filter. In the case of 1000 features reduced to 16, it is possible to successively iterate through all 65536 subsets of features to arrive at an optimal subset with minimal effort. In the case of 4764 features reduced to 623, however, this is computationally impractical. It is unlikely that the optimal subset of the 623 remaining features would be all 623 of those features; a layered approach to continue to weed out features would be a value-added step to analyses with large numbers of features remaining. This is especially true if there is the desire for the model and its results to be understandable and digestible on the human side of the enterprise. Furthermore, what is understandable and digestible to the data scientist may be neither understandable nor digestible to the decision maker. Communication and visualization are critical components to the human element, particularly for decision makers who may not have background in the technical aspects of data science.
5. Conclusions
The papers reviewed are not intended to represent an exhaustive list of all existing research on the subject. However, it is believed that the reviewed examples do provide a representative sample of the sort of research currently performed in this discipline.
A conclusion that may be drawn from the first general observation in
Section 4
is that there is value in having a standard set of terminology when speaking about the big data environment in order to distinguish when one is referring to organizational capabilities or individual competencies. In the reviewed literature, terms like 'framework' or 'data collection' carried wide variance in their meaning depending on the context. It is likely that standard terms will be settled on over time, either bottom-up from common use or top-down from professional organizations in industry, academia, or government. At this point, it may suffice simply to be aware of the different contexts in which the topic may be broached. Attention to detail is always a good rule of thumb in any endeavor, and that may be a good temporary solution for now.
A second conclusion, following from the second general observation in
Section 4
, is that a generalized approach to provide clarity as to what input data is valuable and what input data is not valuable, perhaps with both a quantitative and qualitative dimension, can shape analysis decisions in the big-data environment. Those decisions might be localized to the problem of interest, as in deciding which features to include in the model. Those decisions might also extend to larger, resource-oriented decisions, such as start-up priorities for transitioning from a legacy manufacturing facility to a CE. From a knowledge management standpoint, there is value in building institutional knowledge regarding features that perform poorly as well as features that perform well. Knowing which features tend to habitually appear in good solutions and which features habitually appear in bad solutions, if such knowledge exists, would be tremendously helpful in long term data capture and storage decisions.
Finally, the third general observation in
Section 4
lends itself to the conclusion that there is room for additional research into practical means for feature filtration and prioritization. On the surface, there appears to be no reason why the single-layer filtration techniques employed in the reviewed articles cannot be extended into a series of hierarchical filters. One possible limitation would be that several of the techniques employ similarly-themed filters that may produce only limited improvement when performed in sequence. For example, filtering once by Cohen's kappa and then by testing for statistical independence might not produce substantial improvement. However, following the initial filtration by way of Cohen's kappa with an optimization heuristic such as simulated annealing or genetic algorithm to find an optimal or near-optimal subset of features might be a promising avenue to explore.
It is also worth exploring, from a knowledge management standpoint, feature reduction and selection techniques that preserve as much interpretability as possible. It has already been discussed that PCA is a common approach, but the reduction in dimensions from M to K, where K < M, will necessarily take away the physical meaning from those K features. Techniques in feature reduction that preserve the nature of the original features are a value-added contribution to this question.
In closing, manufacturing in the 21st century is a highly competitive enterprise, and the business value in exploiting 21st century technologies in smart manufacturing, IIOT, Industry 4.0, and the CE cannot be overstated. At the core of this opportunity for the individual manufacturer is the untapped potential held in the volumes of smart manufacturing data collected and stored in its data repositories. For an organization to develop as a core competency a methodological approach or process to build and continually develop institutional knowledge about the data landscape at its disposal, it would move the body of input data for any given predictive analytics project from simply a means to an end to an end unto itself. This is something of a paradigm shift, but one that can produce meaningful advantage to the organization that harnesses it.
Future research will develop and explore the potential for frameworks of this nature in the smart manufacturing context.
Author Contributions
Conceptualization, P.M.L., W.O, and F.P.M.; methodology, P.M.L.; software, N/A; validation, P.M.L., W.O. and F.P.M.; formal analysis, P.M.L.; investigation, P.M.L.; resources, F.P.M.; data curation, N/A; writing—original draft preparation, P.M.L.; writing—review and editing, P.M.L., W.O., F.P.M.; visualization, N/A.; supervision, W.O.; project administration, W.O.; funding acquisition, N/A.
Funding
This research received no external funding.
Conflicts of Interest
The authors declare no conflicts of interest.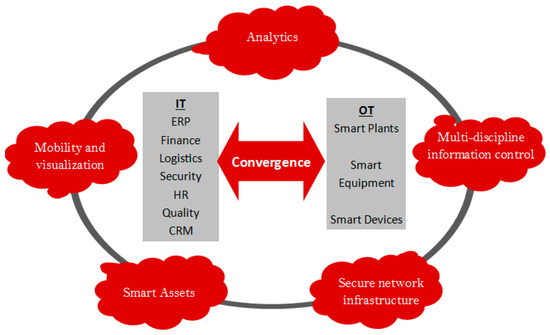 Figure 1. The Connected Enterprise strategy—enabling information technology (IT)—operational technology (OT) convergence.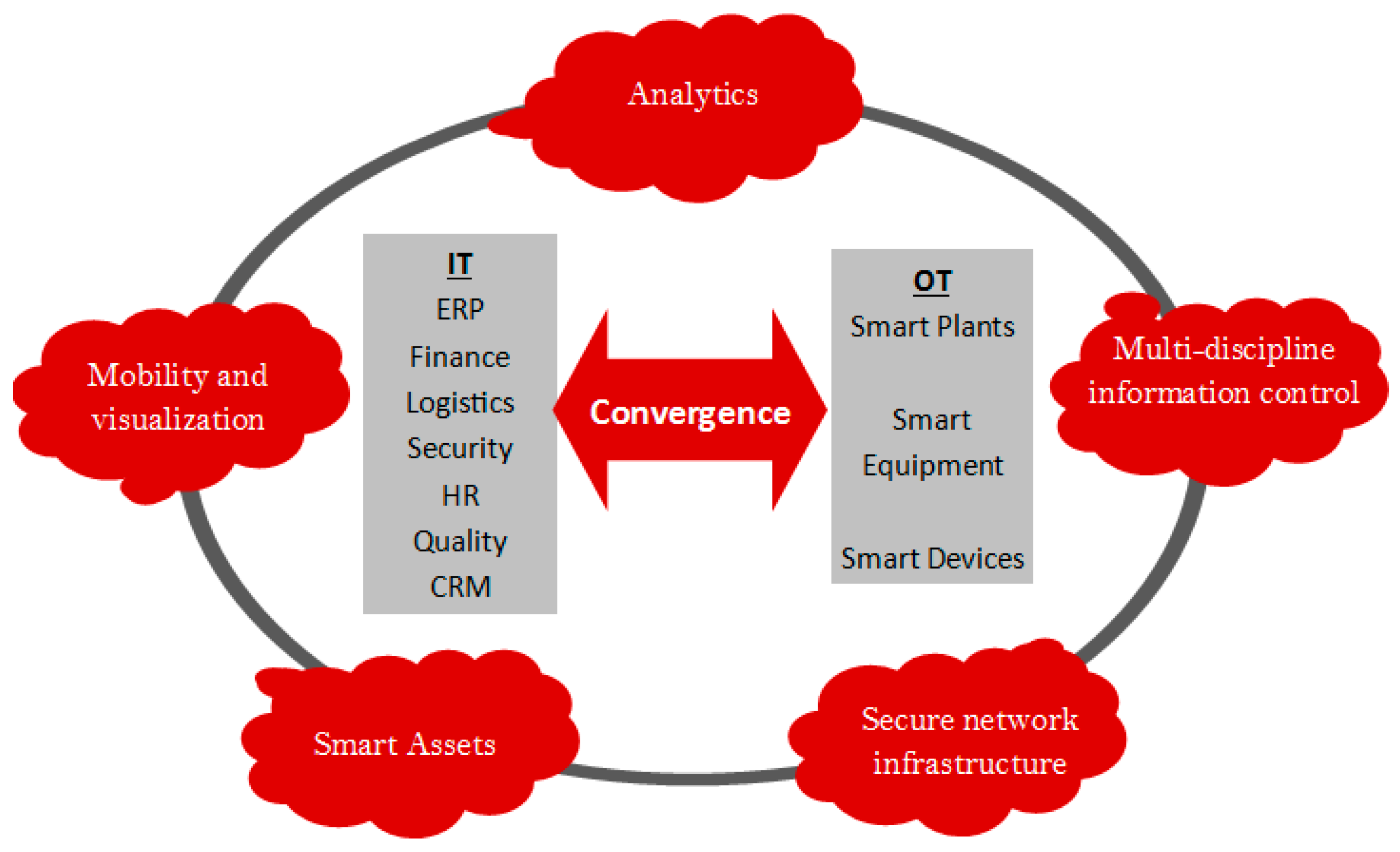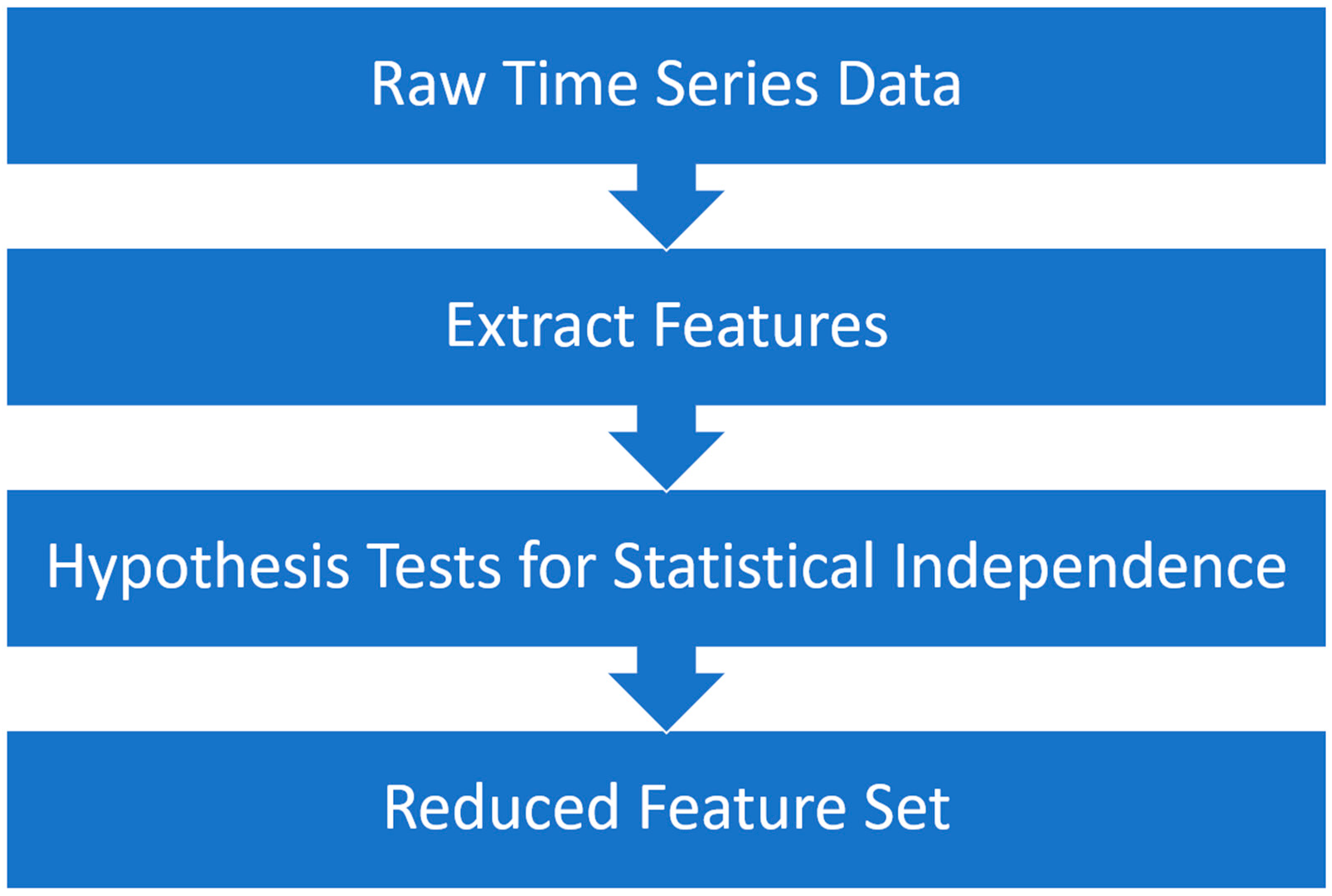 | Technique | Feature Learning | Model Construction | Model Training |
| --- | --- | --- | --- |
| Traditional Machine Learning | Features are identified, engineered and extracted manually through domain expert knowledge. | Models typically have shallow structures (few hidden layers) and are data-driven using selected features. | Modules are trained step by step. |
| Deep Learning | Features are learned by transforming the data into abstract representations. | Models are end-to-end, high hierarchies with nonlinear combinations of numerous hidden layers. | Model parameters are trained jointly. |
| Author(s) | Focus |
| --- | --- |
| Wuest et al. [26] | Key challenges for global manufacturing industry |
| Alpaydin [33] | Machine learning overview |
| Wang et al. [35] | Deep learning for smart manufacturing |
| Tao et al. [2] | Data-driven smart manufacturing |
| Flath and Stein [39] | Data science "toolbox" for industrial analytics |
| Authors(s) | Focus | Explicit Data Reduction Step |
| --- | --- | --- |
| Kumar et al. [40] | Enterprise-level architecture; methodology to address class imbalance | No |
| Bahga and Madiseti [43] | Enterprise-level architecture | No |
| Tamilselvan and Wang [46] | Case study: Machine health states—DBN | No |
| Jia et al. [48] | Case study: Fault characterization—DNN | No |
| Banerjee et al. [50] | Case study: Fault signal identification—SVM | Discussed, not implemented |
| Xiong et al. [56] | Methodology: Information fusion to reconcile conflicting evidence in fault detection | No |
| Khakifirooz et al. [58] | Case study: Yield enhancement–Bayesian inference | Yes |
| Lee [59] | Enterprise-level architecture; Case study: Fault detection and classification—SVR, RBF, DBL-DL | No |
| Wan et al. [64] | Enterprise-level architecture; Methodology: Real-time and offline components; Case study: Fault prediction—Neural Network | No |
| Munirathinam & Ramadoss [65] | Enterprise-level architecture | Yes |
| Ji and Wang [67] | Enterprise-level architecture; Simulated proof of concept case study: Fault prediction for shop floor scheduling | No |
| Rolfe et al. [68] | Case study: Lubrication defects in cold forging process—NN | No |
| Perzyk and Kochanski [69] | Ductile cast iron quality—NN | No |
| Kilickap et al. [70] | Micro-milling parameter optimization—NN | No |
| Changqing et al. [71] | Alloy flow behavior-NN | No |
| Arnaiz-Gonzalez et al. [72] | Dimensional error in precision machining—NN | No |
| de Lacalle et al. [73] | High speed machining of moulds | No |
| Liu and Li [76] | Manufacturing freeform surfaces | No |
| Author(s) | Focus |
| --- | --- |
| Habib ur Rehman, et al. [87] | High level/Institutional framework |
| Jeong et al. [90] | Feature selection meta-heuristic (simulated annealing) |
| Lalehpour, Berry, and Barari [93] | Sample reduction |
| Ma and Cripps [89] | Shape preservation with data reduction for 3D surface points |
| Ul Haq, Wang, and Djurdjanovic [94] | Feature extraction from streaming signal data |
| Christ, Kempa-Liehr, and Feindt [95] | Feature extraction and selection from time series data |
| Wang et al. [99] | Clustering algorithms to extract representative data instances |
| Nikolaidis, Goulermas, and Wu [102] | Instance reduction based on distance from class boundaries |

© 2019 by the authors. Licensee MDPI, Basel, Switzerland. This article is an open access article distributed under the terms and conditions of the Creative Commons Attribution (CC BY) license (http://creativecommons.org/licenses/by/4.0/).