Open Access This article is
freely available
re-usable
Article
Transient Liquid Phase Bonding of Copper using Sn Coated Cu MWCNT Composite Powders for Power Electronics
1
Department of Materials Science and Engineering, University of Seoul, Seoul 130-743, Korea
2
Lightweight Materials Technology Center, Gyeongbuk Technopark, Yeongju, Korea
*
Author to whom correspondence should be addressed.
Received: 31 December 2018 / Accepted: 31 January 2019 / Published: 4 February 2019
Abstract
:
In this paper, a novel transient liquid phase bonding material was fabricated by consequent electroless plating of Cu and Sn on a multi-walled carbon nanotube (MWCNT). The resulting Sn-Cu-MWCNT composites were used to join the Cu interconnects at 260 °C. After 8 min of reflow time, a complete transformation of Cu3Sn intermetallic compound (IMC) occurred, leaving a Cu/MWCNT-Cu3Sn/Cu joint capable of withstanding the high operating temperature. Due to flake-like morphology, the Sn-Cu-MWCNT composite particles were well packed with lesser voids. The shear strength of the Cu/Cu3Sn-MWCNT/Cu joint was measured as 35.3 MPa, thus exhibiting the scope for replacing conventional transient liquid phase (TLP) powders in the future.
Keywords:
Transient liquid phase (TLP) bonding; Cu
3
Sn-multi-walled carbon nanotube; shear test
1. Introduction
As the advancement in the electronic era proceeds, power devices are finding their scope in automotive, aerospace, and electronics industries. In recent years, the incorporation of new semiconductor materials like SiC, GaAs, Si
3
N
4
, and AlN in power devices demands stable interconnects with high operating temperatures (>250 °C) [
1
]. Therefore, the conventional low melting point solders such as Sn-Pb, SnAgCu, and Sn-Bi cannot be used for power electronic devices [
2
]. Currently, these power devices are interconnected using thermo-compression joining [
3
], high temperature soldering [
4
], and nano Ag paste sintering [
5
]. However, the major drawbacks in these methods are (1) high joining temperature, which enhances the interface diffusion; (2) high applied pressure, which damages the semiconductor substrates; and (3) high manufacturing cost.
An intermetallic compound (IMC) layer bonding technique named transient liquid phase (TLP) bonding surpassed the above difficulties. In this method, a low melting temperature metal is sandwiched and melted between high temperature parent metal to make a joint. The reaction between low temperature metal with the parent metal results in the formation of IMC with a high melting temperature. Devices interconnected using TLP bonding method can withstand an operating temperature higher than the joining temperature [
6
]. Many successful TLP joints, such as Cu/Sn/Cu [
7
], Ag/Sn/Ag [
8
], Ni/Sn/Ni [
7
], and Cu/Sn-Bi/Cu [
9
], are well-established. The major limitation in TLP bonding is the longer joining duration and brittle fracture of IMC, which deteriorate the joint stability [
6
]. Recently, the use of Sn coated Cu powders in TLP joining reduced the joining duration [
10
]. However, enhancing the strength of Cu-Sn IMC in TLP bonding remains unsolved.
Carbon nanotubes (CNT) [single-walled carbon nanotube (SWCNT) and multi-walled carbon nanotube (MWCNT)] composites are effective in enhancing the electrical, thermal, and mechanical properties of metals and hence exist as potential candidates in electronic packaging [
11
,
12
,
13
,
14
]. CNTs are used in electrically conductive epoxy resins [
12
]. Ni coated CNTs are effectively used in solder joints [
13
], and Cu coated CNTs are used in through-silicon via (TSV) filling [
14
]. In the present work, Sn coated Cu-MWCNT powders are fabricated by consecutive Cu and Sn electroless plating and employed as interconnected material for TLP joining of Cu. The formation of IMC's after joining, the strength of the joints, and their fracture surfaces were examined.
2. Materials and Methods
2.1. Electroless Plating of MWCNT
2.1.1. Electroless Plating of Copper on MWCNT
Multi-walled carbon nanotubes (60–100 nm diameter, 1–2 µm) purchased from Tokyo Chemical Industry Co. Ltd. were boiled in 1:3 mixed acid solution of HNO3 and HCl at 100 °C for 10 min and subsequently rinsed with distilled water until the pH approached neutral (pH = 7). The chemicals used in the electroless deposition were purchased from Daejung, Korea. The surface activation of MWCNT was performed using a palladium activation solution. The purpose of surface activation was to incorporate the Pd nuclei on the MWCNT surface, which initiates copper nucleation during coating. The MWCNT was stirred in solution containing 0.055 MF tin II chloride (SnCl2), 0.003 M palladium II chloride (PdCl2), and 0.5 M hydrochloric acid (HCl) for 12 h at 40 °C. The MWCNT were washed with distilled water, rinsed in sodium hypophosphite (NaPO2H2) for 10 minutes, and subsequently washed with distilled water. Copper coated MWCNT were obtained by stirring the surface activated MWCNTs in a copper electroless bath for 1 h. The bath was composed of 0.042M of copper II sulfate pentahydrate (CuSO4 • 5H2O), 0.0029 M of nickel II sulfate heptahydrate (NiSO4 • 7H2O), 0.242 M of sodium hypophosphite (Na2H2PO2 • H2O), 0.060 M of sodium citrate (Na3C6H5O7), 0.51 M of boric acid (H3BO3) with minor poly ethylene glycol (PEG 6000) addition, and few drops of sodium hydroxide were added to maintain a pH of 9. The solution was maintained at 50 °C. The copper coated MWCNT were filtered and washed with distilled water and dried in the oven at 60 °C. After coating, the powders were weighed using analytical balance and the weight gain (δ) percent was calculated [(δ% = ((W2 − W1)/W1) × 100], where W1 is the initial weight of the MWCNT powders and W2 is the weight of the powders after copper coating (grams).
2.1.2. Electroless Plating of Sn on Cu-MWCNT Composite Powders
The tin solution bath composition was adopted from Hu et al. [
15
]. Stirred in 80 mL of stilled water were 0.2 M thiourea (CH
4
N
2
S), 0.0014 M of ethylene diamine tetra acetic acid (EDTA), 0.0038 M of hydroquinone (C
6
H
6
O
2
), 0.2 M of sodium hypophosphite (Na
2
PO
2
H
2
), 0.0042 M of methane sulphonic acid (CH
4
O
3
S), and 15 mL/L glycol (CH
2
OH)
2
. Separately, 2 g of stannous chloride was mixed in 1mL of HCl. The latter was added to the former solution drop-wise and stirred to obtain a clear solution. The Cu-MWCNT composite powders were added to the Sn electroless plating bath and stirred for 2 h at room temperature. The Sn coated Cu-MWCNT composite powders were filtered, washed subsequently with distilled water, and dried in the oven. The weight of Sn coating was controlled by varying the ratio of Cu-MWCNT powders to stannous chloride in grams. The weight gain percentage after coating was calculated using the formula as described above. The mass percent of Cu and Sn in the coating were maintained at approximately 62% and 38%, respectively. The powders were then characterized using XRD using Cu K-α spectrum with wavelength of 1.5406 A (Bruker AXS GmbH-D8 DISCOVER, Karlsruhe, Germany) and analytical scanning SEM (JEOL JSM-6010PLUS, Tokyo, Japan) attached with energy dispersive spectrometer (EDS).
2.2. Transient Liquid Phase Joining
Copper substrates (20 mm × 10 mm × 1 mm) were polished and cleaned in 5% HNO3 to remove any surface impurities. The Sn coated Cu-MWCNT composite powders were mixed with 10 wt% Rosin mildly activated (RMA) type sparkle flux (Senju Metal Industry. Co. Ltd) to form a paste. The paste was printed using 150 µm thick stainless-steel stencil and sandwiched between top and bottom copper substrates. The samples were joined in air at 260 °C for 3, 5, and 8 min at 10 MPa applied pressure. After joining, the samples were cut cross-sectional, ground using 800, 1200, and 2400, grit SiC papers, and polished with diamond paste. The microstructure of the joints was analyzed using SEM and EDS. Shear test samples were fabricated by stencil printing of TLP paste with a thickness of 150 µm on copper substrate with a dimension of 20 mm × 10 mm × 1 mm. Copper die with dimensions of 3 mm × 3 mm × 2 mm were placed on the top of the stencil printed TLP paste and joined with an effective bonding area of 9 mm2. The strength of the joint was tested using shear tester (Rhesca) at the rate of 1mm/min at room temperature.
3. Results and Discussions
Characterization of Sn-Cu Coated MWCNT
4. Conclusions
In this study, a novel approach was adopted to achieve MWCNT integrated Cu-Sn IMC interconnection in TLP bonding. Sn and Cu were successfully coated on MWCNT through electroless plating. The Cu to Cu TLP joint was achieved using Sn coated Cu-MWCNT composite powders at 260 °C with10 MPa applied pressure. Reflow time of 8 min was sufficient to form graphene integrated Cu3Sn IMC. Unlike conventional TLP bonding using powders, large voids were not observed. The Cu/MWCNT-Cu3Sn/Cu joints showed shear strength of 35.3 MPa, which is higher than conventional Cu/Sn foil/Cu joints. A fracture occurred along the intergranular regions of Cu3Sn IMC, whereas fine dimples were present along the transgranular region due to pull out of MWCNT.
Author Contributions
Conceptualization, experiments, and paper writing—S.H.R.; D.H.J. and W.S.J. helped in shear testing; J.P.J. supervised and directed the research.
Acknowledgements
This work was supported by the Korea Institute of Energy Technology Evaluation and Planning (KETEP) and the Ministry of Trade, Industry & Energy (MOTIE) of the Republic of Korea (No. 20172020109280).
Conflicts of Interest
The authors declare no conflict of interest.
Figure 1. XRD analysis of (a) Cu-MWCNT (multi-walled carbon nanotube) composite; (b) Sn coated MWCNT composite.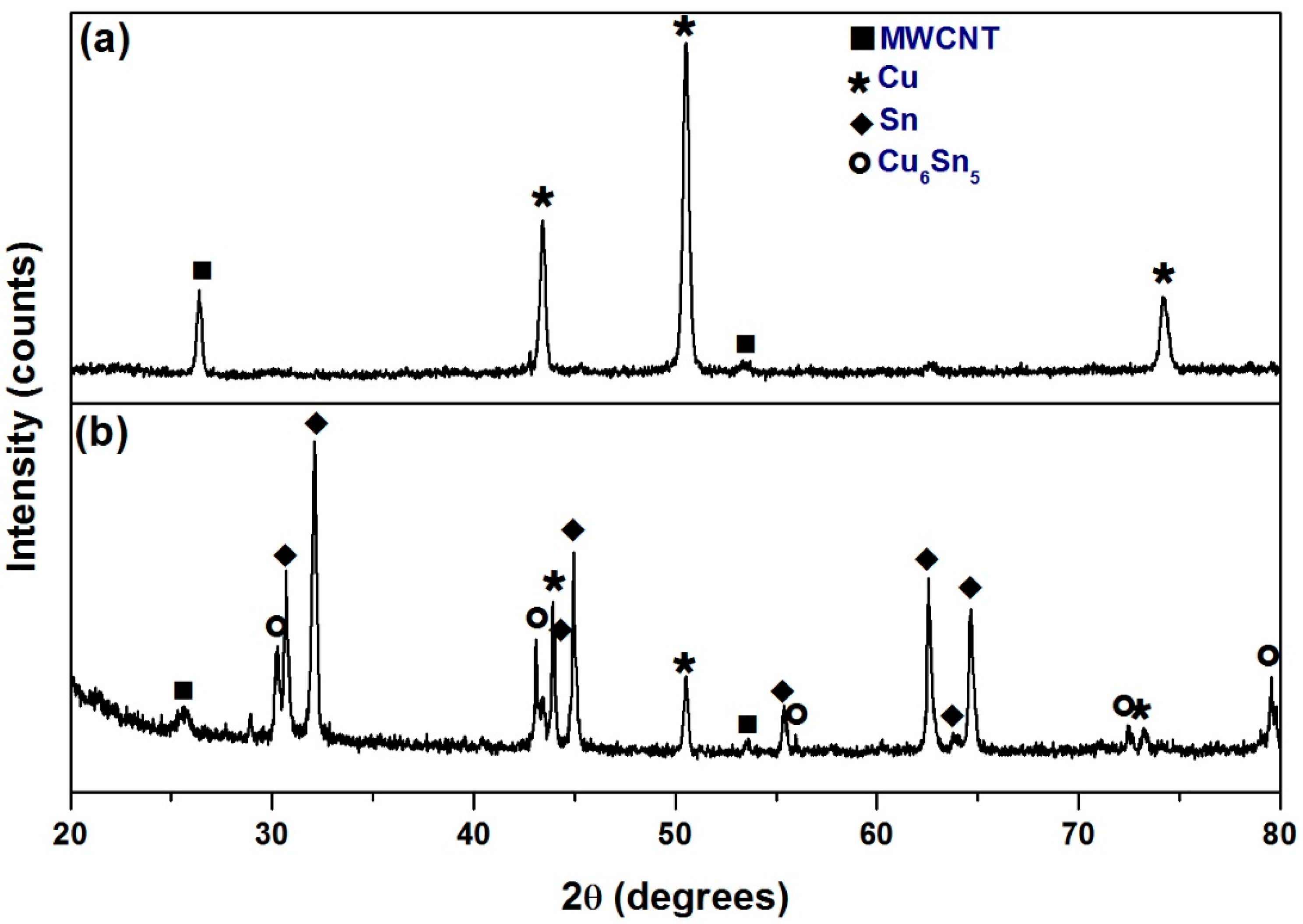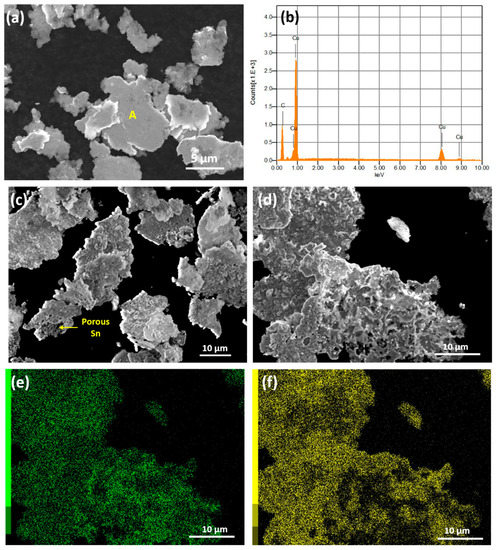 Figure 2. SEM analysis of powders (a) Cu-MWCNT composite; (b) energy dispersive spectrometer (EDS) analysis of point A; (c) and (d) Sn coated Cu-MWCNT composite; (e) and (f) EDS elemental mapping of Cu and Sn, respectively.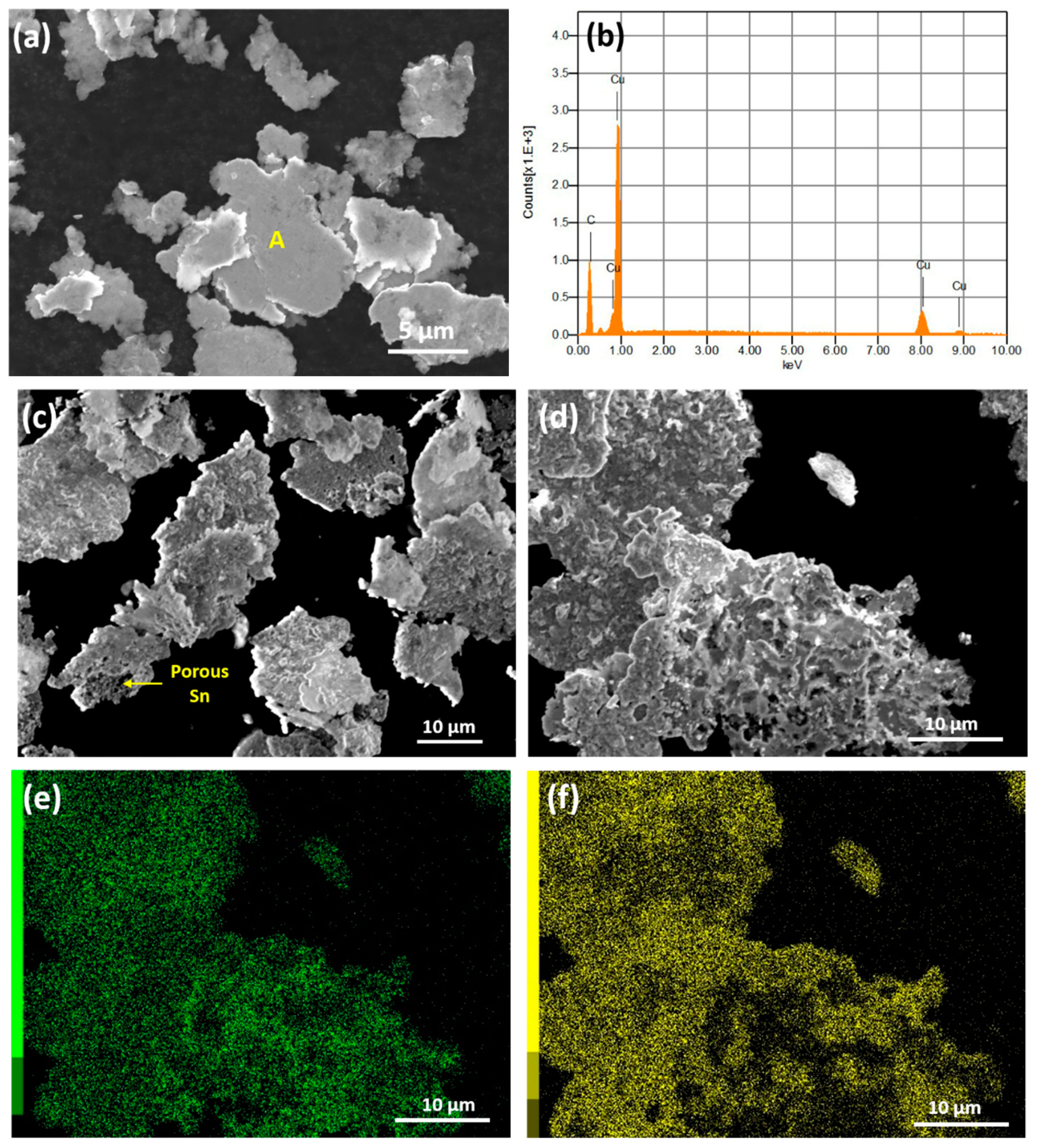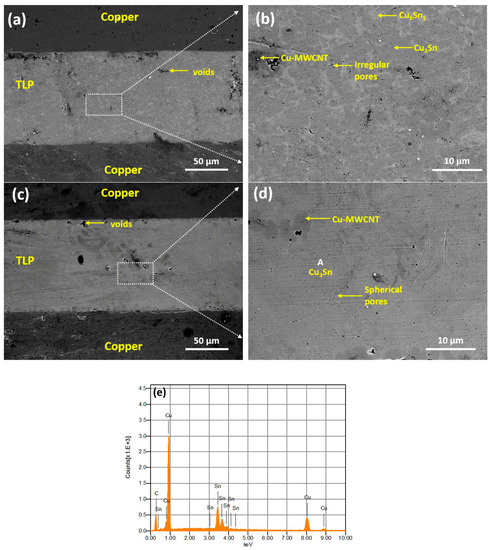 Figure 3. Cross-sectional SEM microstructure of Cu/Sn-Cu-MWCNT/Cu transient liquid phase (TLP) joint at 260 °C. (a) Low and (b) high magnification image of TLP bonding joint at 5 min; (c) and (d) low and high magnification image of TLP bonding joint at 8 min respectively; (e) EDS analysis corresponding to point A.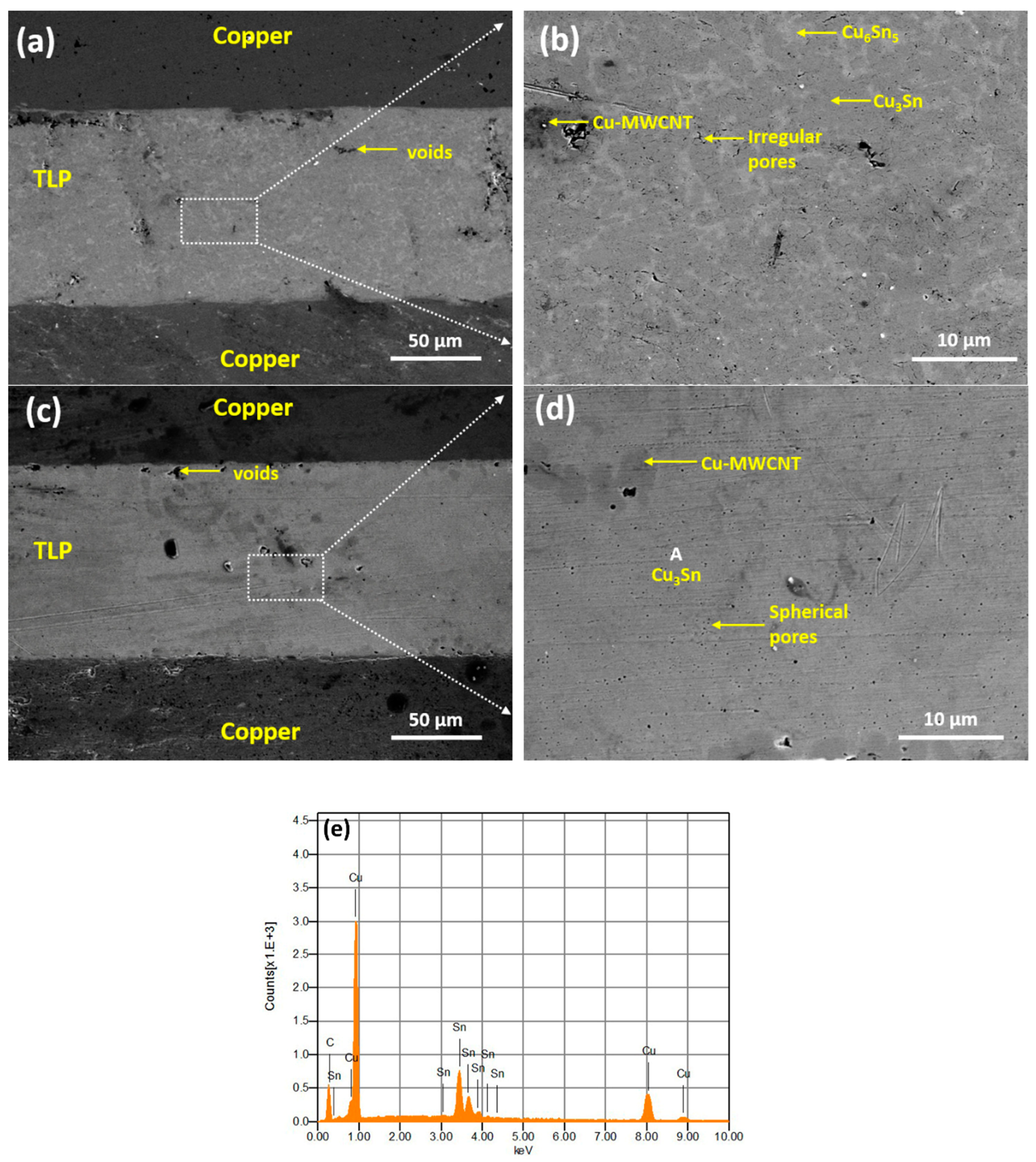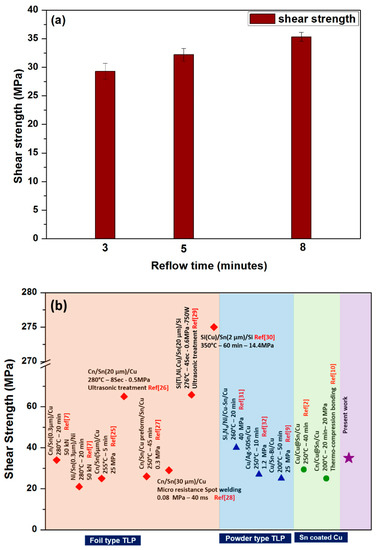 Figure 5. (a) Shear strength of Cu/Sn-Cu-MWCNT/Cu TLP bonding joint at 260 °C as a function of reflow time; (b) Comparison of the shear strength data in the present work with the literature.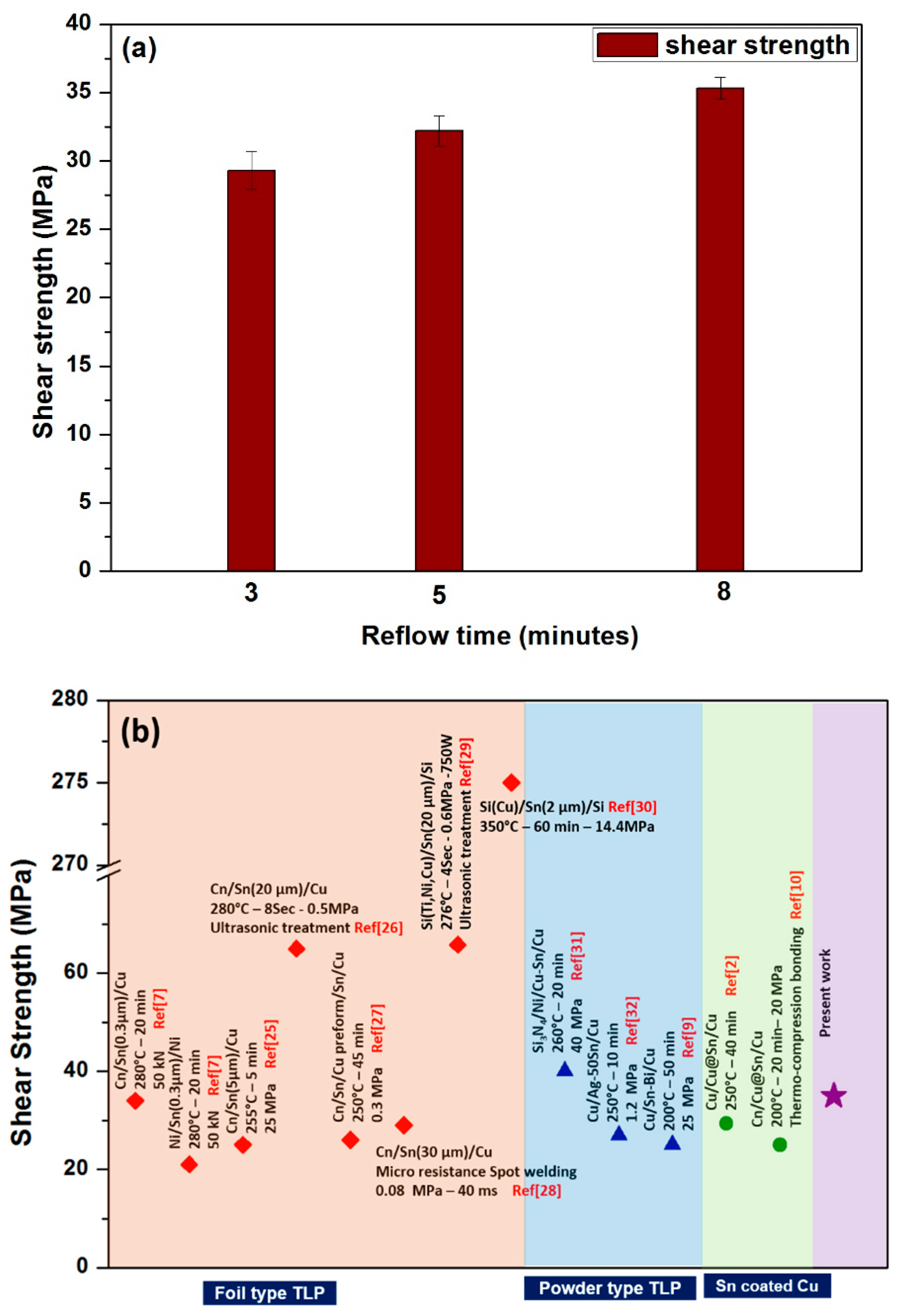 Figure 6. Fracture surfaces of the Cu/Sn-Cu-MWCNT/Cu joint for different reflow times (a) 5 min and (b) 8 min.


© 2019 by the authors. Licensee MDPI, Basel, Switzerland. This article is an open access article distributed under the terms and conditions of the Creative Commons Attribution (CC BY) license (http://creativecommons.org/licenses/by/4.0/).