Open Access This article is
freely available
re-usable
Article
SymCHM—An Unsupervised Approach for Pattern Discovery in Symbolic Music with a Compositional Hierarchical Model
1
Faculty of Computer and Information Science, University of Ljubljana, Ljubljana 1000, Slovenia
2
School of Computer Science, University of Birmingham, Edgbaston, Birmingham B15 2TT, U.K
*
Author to whom correspondence should be addressed.
Academic Editor: Meinard Müller
Received: 13 September 2017 / Accepted: 1 November 2017 / Published: 4 November 2017
Abstract
:
This paper presents a compositional hierarchical model for pattern discovery in symbolic music. The model can be regarded as a deep architecture with a transparent structure. It can learn a set of repeated patterns within individual works or larger corpora in an unsupervised manner, relying on statistics of pattern occurrences, and robustly infer the learned patterns in new, unknown works. A learned model contains representations of patterns on different layers, from the simple short structures on lower layers to the longer and more complex music structures on higher layers. A pattern selection procedure can be used to extract the most frequent patterns from the model. We evaluate the model on the publicly available JKU Patterns Datasetsand compare the results to other approaches.
Keywords:
music information retrieval; compositional modelling; pattern discovery; symbolic music representations
1. Introduction
The contributions of this paper are as follows: the compositional hierarchical model for symbolic music analysis that can learn hierarchical melodic structures in an unsupervised manner is presented. An application of the model to the task of finding repeated patterns and sections is evaluated. The improved pattern extraction and merging approach from knowledge encoded in the model (SymCHMMerge) is proposed and analysed.
2. The Symbolic Compositional Hierarchical Model
The Symbolic Compositional Hierarchical Model (SymCHM) is derived from the CHM [
40
,
41
], which in turn was inspired by an approach for object categorization in computer vision, named the learned Hierarchy of Parts (lHoP) [
42
]. The SymCHM provides a hierarchical representation of a symbolic music piece, from individual notes on the lowest layer, up to complex musical patterns on higher layers. It is based on a hierarchical decomposition of music into atomic blocks, denoted as parts (not to be confused with 'voice' or 'vocal/instrumental part'. This denomination is used to retain the consistency in relation to the lHoP). According to their musical complexity, parts are structured across several layers, whereby parts on higher layers form compositions of parts on lower layers. A part can therefore describe a simple individual event as well as a complex composition of events. While events in the original compositional hierarchical model represent spectral audio features (frequencies, pitch partials and pitches), the SymCHM models notes and their compositions into melodic patterns.
2.1. Model Description
2.1.1. Compositional Layers
The SymCHM consists of an input layer and several compositional layers . Each compositional layer contains a set of parts , which are formed as compositions of parts from the previous layer . The parts on the layer may form any number of compositions on the layer , which enables their effective reuse and thus learning of compact models, as shown later in this paper. A hierarchy of parts is illustrated in
Figure 1
.
The SymCHM retains part definitions of the original CHM model. The i-th composition on the layer , denoted , is defined as:
is a composition of
K
parts from the layer , called subparts. The composition is governed by parameters and , which model relationships between the subparts. In contrast to most existing hierarchical and deep approaches, the CHM encodes compositions in a relative rather than absolute manner. This is achieved by encoding the relative distance (offset) between each subpart , from the first subpart , called the central part. The offset is encoded as a Gaussian with parameters and . In SymCHM, offsets are modelled in semitones in the pitch domain (a semitone is the smallest musical interval commonly used in Western tonal music), thus a composition encodes the semitone distance between patterns represented by various subparts. Currently, the standard deviation is set to a small fixed value, which does not allow for deviations from the offset encoded by . In future work we may relax this condition to potentially achieve similar robustness as in chromatic to morphetic pitch translation [
43
]. As an example, the part in
Figure 1
represents a composition of two subparts with offset 2 (), meaning its pattern is a concatenation of two sub-patterns spaced two semitones apart. All compositions and their parameters () are learned in an unsupervised manner as explained in
Section 2.2
.
Such relative encoding of knowledge enables the model to learn position-independent concepts, which in turn enables learning of compact models from small datasets, which still generalize well [
41
]. This is an advantage over most neural network deep approaches, which encode concepts in an absolute manner and therefore need very large datasets to train properly.
2.1.2. Activations: Occurrences of Patterns
An activation of a part corresponds to the presence of the concept it encodes (melodic pattern in SymCHM) in the model input. An activation has three components: location and onset time, which map the relative pattern representation onto a specific MIDI (Musical Instrument Digital Interface technical standard) pitch and a time position within the input sequence of events (thus making it absolute) and magnitude, representing its strength.
A part will activate at a given location if all of its subparts are activated with magnitude greater than zero (this condition is relaxed with hallucination, which we introduce later in this section). A part can concurrently activate at different locations and times, which indicates multiple occurrences of its concept in the input representation. In terms of the repeated pattern discovery task, each activation of a part can be observed as a pattern occurrence: a repetition of the pattern encoded by the observed part.
More formally, the activation
A
is defined as a triplet of location, time and magnitude. The activation location and the time of the part are defined as:
The compositions therefore propagate their locations and onset times upwards through the hierarchy. Such propagation can be usefully employed as an indexing mechanism and allows for a top-down analysis of activations.
The activation magnitude represents the strength of the composition's match with the input and is defined as a weighted sum of subpart magnitudes:
where the weights are defined by the match between the learned and the observed relative subpart pitch locations and bounded by the difference in their activation times:
The motivation behind the usage of function introduced in Equation (
3
) is retained from neural-network-based architectures: it provides a saturated output with the maximum limited to one. Any other function could be used to calculate the magnitude of the activation, but the hyperbolic tangent function possesses several interesting properties: it is a monotonically increasing function with a smooth gradient and has a value close to one as it approaches infinity. Since the activation magnitudes are directly used to calculate activations on a higher layer, the output of the function needs to be normalized.
The parameter represents the maximal difference between activation times of two subparts (time distance of two patterns) which still produces an activation. Such a limit must be imposed in order to avoid a combinatorial explosion of possible compositions. If subpart activations fall within this time window, their activation magnitude is calculated according to the match between their observed () and their learned (, ) relative pitch distances. A part will activate with maximal magnitude when its subparts activate at pitch distances according to the learned representation encoded by and . Note that onset times do not directly influence the activation magnitude. Thus, the activation strength of a pattern is not dependent on the temporal distance between its sub-patterns (within ) and remains the same whether they are adjacent or separated by other events, allowing for gaps between sub-patterns.
2.1.3. The Input Representation and Input Layer
A symbolic music representation encoding note pitches and onset times represents input to the SymCHM. Any symbolic encoding that includes these values can be used, such as MusicXML, MIDI or text-based representations; the latter two are also available for the MIREX pattern discovery task. We can thus define the input representation as a set of note onset (e.g., in seconds) and note pitch (e.g., MIDI pitch) tuples .
The input layer of SymCHM models such a symbolic music representation. It consists of a single atomic part , which activates for all note events as:
Thus, the activation locations are equal to note pitches, the onset times to note onsets, while the magnitude is assumed to be 1 for all events (it can also represent note dynamics, if greater importance is to be put on accented notes).
An example of a learned hierarchy is shown in
Figure 1
. The part is activated for each input note event. The parts on the first layer represent intervals, e.g., represents a minor second (offset one semitone) and is activated for all such intervals in the input regardless of gaps, with notes spaced maximally apart. represents a sequence of note events defined by a series of offsets [0,0,1,2,−7,−12,4,4,5,−3,−12,7] and is activated at MIDI locations 65 and 70.
2.2. Constructing a Hierarchy of Parts
The model is built layer-by-layer with unsupervised learning on a single or multiple musical pieces. In the 'intra-opus' pattern discovery task experiment described in this paper, we build a model for each musical piece separately.
The learning process is an optimization problem, where for each layer a set of all possible part compositions of the layer is searched for a minimal subset of compositions that covers a maximal amount of events in the training set. The learning process is driven by statistics of part activations that capture regularities in the input data. It consists of two main steps: (1) finding a set of all possible compositions, denoted candidate compositions, and (2) selecting compositions that explain a maximal amount of events in the training set.
To construct a new layer , a set of new candidate compositions , which will be considered for inclusion in the new layer, is first formed (Step 1). This set of candidate compositions is obtained by inferring the hierarchy with the training data and generating activations of parts layer-by-layer from to , as explained in
Section 2.3
. The candidate compositions for layer are generated from histograms of co-occurrences of part activations within the time window (see also Equation (
4
)). Frequent co-occurrences indicate the presence of underlying patterns. New compositions are formed from combinations of parts where the number of co-occurrences exceeds the learning threshold . The composition parameter is estimated from the corresponding histogram.
The candidate compositions are thus constructed as a relative structure of two co-occurring part activations, both occurring within the time window . This procedure is repeated on all consecutive layers, where activations of parts co-occurring within the time window on a previous layer compose new part candidates on the next layer . Since the model allows for partial overlapping of the covered structure (e.g., in
Figure 1
), the structures on these layers represent 3–4 music events. Consequently, the candidate compositions include all combinations of part pairs representing structures of – music events.
In the second step, a subset of compositions from that covers a maximum number of events in the input data is selected. As the problem of selecting a set of compositions from which optimally cover the input data is NP (nondeterministic polynomial time) complete, a greedy approach, which selects a subset of compositions and leaves a minimal amount of events in the input uncovered, was introduced in [
41
].
The composition selection uses part coverage as a measure of the part's suitability for selection. The coverage of the part can be obtained by projecting its activations to the input layer and observing the covered events. For a single activation of the part at the time
T
and the location
L
, coverage is defined as the union of coverages of its subparts:
When the input layer is reached, the coverage is defined by the presence of an event at the given location and time as:
Based on coverage, the greedy composition selection approach is defined as follows:
the coverage of each part from is calculated as a union of events in the training data covered by all activations of the part,

parts are iteratively added to the new layer by choosing the part that adds most to the coverage of the entire training set in each iteration. This ensures that only compositions that provide enough coverage of new data with regard to the currently selected set of parts will be added,

the algorithm stops when the additional coverage falls below the learning threshold .
The learning procedure is repeated for each layer until a desired number of layers is reached. The reader should note that the number of layers governs the maximal length of encoded patterns, as discussed in the evaluation.
2.3. Inferring Patterns
A learned model captures the repetitive patterns in the training data, which are relatively encoded and may be observed through an inspection of the model's parts on its various layers. When a trained model is presented with new input data, the learned patterns may be located in the input through the process of inference. Inference calculates part activations on the input data (and thus absolute pattern positions) according to Equations (
2
) and (
3
). They are calculated bottom-up layer-by-layer, whereby the input data activates the layer . As already mentioned, the activation of a part represents a specific occurrence of the pattern it represents in the input. An activation has three components: location and onset time, which map the relative pattern onto a specific set of pitches within the input sequence of events (thus making it absolute), and magnitude, representing its strength. A part can concurrently activate at different locations, which indicates multiple occurrences of the represented pattern in the input representation.
Inference may be exact or approximate, where in the latter case two additional mechanisms, hallucination and inhibition, enable the model to find patterns with deletions, changes or insertions, thus increasing its predictive power and robustness.
2.3.1. Hallucination
As described in
Section 2.1
, a part activation is produced only if all subparts activate with magnitude greater than zero at locations which approximately correspond to the structure encoded by the part. This conservative behaviour may be relaxed by hallucination. It enables a part to produce activations even when the structure it represents is incomplete or modified in the input (e.g., missing notes, added notes, changed pitch, changed note order). Hallucination is important, as it enables the model to find variations of patterns represented by individual parts. The missing information is obtained from knowledge acquired during learning and encoded in the model structure. Using hallucination, the model generates activations of parts most fittingly covering the input representation, where notes which are not present, but are encoded in the model, are hallucinated. It is implemented by changing the conditions under which a part may activate. With hallucination, a part may activate even if all of its subparts are activated, when the percentage of events it represents, covered in the input, exceeds a hallucination threshold . Thus, if we set to one, the default behaviour is obtained, while lowering its value leads to increased hallucination and tolerance to changes in patterns.
The hallucination threshold influences the number of discovered patterns and identified pattern occurrences. When lowered, the amount of activations increases, as parts may activate on incomplete matches, thus producing activations which would otherwise not be generated. Additionally, if used during learning, the number of parts on lower layers will decrease, as parts added to a layer will have higher coverage due to more activations.
2.3.2. Inhibition
Inhibition in our model is a hypothesis refinement mechanism, which reduces the amount of redundant activations. An activation of a part is inhibited (removed) when one or multiple parts cover a large part of the same events in the input, but with stronger magnitude. More formally, activation of the part is inhibited when the following conditions are met:
and
The represents activation coverage (Equation (
6
)), activation magnitude (Equation (
3
)) and controls the strength of inhibition. If is set to zero, no inhibition occurs; the larger its value, the more activations are inhibited and propagated less between model layers. Notably, only activations with magnitude larger than that of the part are considered in the inhibition process.
Besides reducing the number of activations and output patterns, the inhibition mechanism can also be used for producing alternative explanations of the input. If activations of the strongest pattern which inhibits other competing hypotheses are removed from the model, the next best hypothesis is selected during inference, thus providing an alternative explanation with different pattern occurrences to appear in the model's output.
3. Pattern Selection with SymCHM
The SymCHM model can be trained on a single or multiple symbolic music representations. It learns a hierarchical representation of patterns occurring in the input, where patterns encoded by parts on higher layers are compositions of patterns on lower layers. The inference produces part activations which expose the learned patterns (and their variations) in the input data. Shorter and more trivial patterns naturally occur more frequently, longer patterns less frequently. On the other hand, longer patterns may entirely subsume shorter patterns. Occurrences of melodic patterns in a given piece are discovered by observing activations of the learned model's parts, where each activation of a part is interpreted as an occurrence of the pattern encoded by the part.
To use the model for the discovery of repeated patterns and sections task, we need to select which of the found patterns will be provided in the model's output. In this Section, we present two approaches for a pattern selection.
3.1. Basic Selection
In a basic pattern selection, we output all patterns of sufficient complexity, as encoded by parts starting from the layer
L
up to the highest layer
N
. First, we select all parts from the layers . Since parts on higher layers are compositions of parts on lower layers, we exclude all parts which are subparts of a composition on a higher layer to avoid redundancy. The final selection of parts can be formulated as:
Inference is then performed on a music piece and activations of the selected parts represent the found patterns and their locations in the piece. Hallucination and inhibition are applied during inference to provide balance between producing hypotheses which partially match the input representation (hallucination) and the amount of competitive hypotheses produced (inhibition).
3.2. SymCHMMerge: Improved Pattern Selection
An analysis of the basic pattern selection algorithm showed lack of diversity in the found patterns, as the patterns were often very similar and overlapping. We improved the algorithm by merging redundant patterns and adjusting the learning and inference parameters, and named the resulting model SymCHMMerge.
3.2.1. Merging Redundant Patterns
Since parts in our model are learned in an unsupervised manner, several parts may represent similar and overlapping patterns (e.g., patterns shifted by a few notes). Inhibition reduces redundant activations of such parts, however it is usually not enforced strongly, as it could overly reduce the number of activations and found patterns. To reduce the number of such overlapping patterns, we merge them into single, longer patterns.
Let represent a pattern occurrence defined by the projection of the activation
A
of the part onto the layer . represents the set of all such pattern occurrences discovered by activations of the part:
Two pattern occurrences and , produced by the parts and , are taken to be redundant, if they overlap significantly. We express this by calculating the Jaccard similarity coefficient and compare it to a threshold :
We aim to merge redundant pattern occurrences of two parts if they frequently produce overlapping patterns. Therefore, we calculate the proportion of such patterns produced by the two parts as:
If the proportion exceeds a threshold , all redundant pattern occurrences of the two parts are merged.
For evaluation, the thresholds and were both set to 0.5, meaning that pattern occurrences produced by two parts had to share at least 50% of events in the input layer and appear together in at least 50% of cases, to be merged.
3.2.2. Increasing Diversity
To address the problem of pattern diversity, we needed to increase the number of patterns found by the model. This was achieved with three simple adjustments. First, we lowered the candidate selection thresholds in the greedy phase of the learning process to add more parts to each layer (evaluation showed that on average 16% more parts were added). Second, more layers were considered when searching for pattern occurrences, and third, hallucination was increased during inference. All these modifications could also be made with the basic pattern selection approach; however, they would result in an even higher number of redundant patterns. With SymCHMMerge, redundant occurrences are merged and thus the diversity of the found patterns increases.
4. Evaluation
We evaluated the proposed model for the discovery of repeated themes and sections task in symbolic monophonic music pieces. Since we are searching for patterns within a given piece (and not across the entire corpus) the model was built independently for each piece and inferred on the same piece. All model parameters were kept constant during all evaluations and were not tuned to each specific case. The parameters were set to the values defined in
Table 1
. The parameter limiting the time span of activations was set to events. The values and short descriptions of parameters are also listed in
Table 1
. The values for the and parameters are based on the stable performance achieved in the range around 0.5 for (see the Sensitivity to parameter values subsection. The and values were set to the majority thresholds of 50% and were not tuned. The parameter value was retained from the original spectral CHM where it was evaluated empirically.
Table 2
shows the performance of SymCHM on the MIREX 2015 discovery of repeated themes and sections task. To compare SymCHM to SymCHMMerge, the
Table 2
also includes the results of their evaluation on the publicly available JKU Patterns Development Dataset (PDD) [
44
]. Detailed results of SymCHMMerge on this dataset are shown in
Table 3
.
The JKU PDD dataset (the dataset is publicly available on this link:
https://dl.dropbox.com/u/11997856/JKU/JKUPDD-Aug2013.zip
) consists of five pieces:
Bach's Prelude and Fugue in A minor (BWV(Bach-Werke-Verzeichnis) 889): 731 note events, 3 patterns, 21 pattern occurrences,

Beethoven's Piano Sonata in F minor (Opus 2, No. 1), third movement: 638 note events, 7 patterns, 22 pattern occurrences,

Chopin's Mazurka in B flat minor (Opus 24, No. 4): 747 note events, 4 patterns, 94 pattern occurrences,

Gibbons' "The Silver Swan": 347 note events, 8 patterns, 33 pattern occurrences,

Mozart's Piano Sonata in E flat major, K. 282-2nd movement: 923 note events, 9 patterns, 38 pattern occurrences.
5. Conclusions
In the paper, we presented the compositional hierarchical model for pattern discovery in symbolic music representations. The model calculates a hierarchical representation of melodic patterns in a music corpus with a statistically-based learning algorithm. It can be viewed as a transparent deep architecture, combining the ability of unsupervised learning of multi-layer hierarchies with a transparent structure that enables insight into the learned concepts. The inference process with hallucination and inhibition mechanisms enables the search for pattern variations.
We evaluated the model in the MIREX evaluation campaign and its improved pattern selection algorithm on the JKU PDD dataset, where we show that we can obtain favourable results with the improved version of the model. We showed that the model can be used for finding patterns in symbolic music and that it can learn to extract patterns in an unsupervised manner without hard-coding the rules of music theory. We have also demonstrated the transfer of the model from classification tasks based on audio representations to pattern extraction in the symbolic domain. The results obtained by the model are not on par with the best two performing algorithms. Nevertheless, the proposed model performs better than several other proposed approaches. As discussed in
Section 4.5
, this evaluation contains many potential drawbacks, but it is currently the best approximation for pattern discovery evaluation. The definition of the 'pattern' itself is elusive and may contain many different explanations, varying from strictly music-theoretical, to mathematical formalization. The human perception of patterns in music itself is too difficult to explain and incorporate in a single formalized task. However, with the proposed model, we have demonstrated that a deep transparent architecture can tackle the pattern discovery by employing unsupervised learning and may thus better approximate how listeners recognize patterns than the rule-based systems. Due to its transparency, the model is not only applicable to tasks where a single output is provided, but can also be used for exploration and pattern discovery by an expert. The model produces multiple hypotheses on several layers, which can be used as reference points in a deeper semi-automatic music analysis. We believe this further strengthens the model's usefulness to the wider MIR community.
In our future work, we will focus on improving the model. We plan to include event duration into pattern selection and merging and adapt the model for polyphonic pattern discovery. We could also introduce pattern ranking, similar to [
32
], and add music theory rules, as discussed in
Section 4.4
. The model's output could further be optimized by supervised training of model parameters, especially the number of layers in the hierarchy and the layers in the model's output. However, a sufficiently large annotated dataset is needed for such an optimization, significantly larger than the datasets currently used to evaluate the pattern discovery task.
The proposed approach can also be applied to identify similar and inexact patterns across larger corpora. We plan on evaluating the model in an inter-opus pattern discovery task, aiding the current research in tune family identification and folk music analysis. To tackle classification tasks, the model can be observed as a feature generator; thus, its output can be employed as an input to tune family analysis, similarity comparison or composer identification.
Author Contributions
M.P., A.L. and M.M. conceived of and designed the experiments. M.P. performed the experiments. M.P. and M.M. analysed the data. M.P., A.L. and M.M. wrote the paper.
Conflicts of Interest
The authors declare no conflict of interest.
Abbreviations
The following abbreviations are used in this manuscript:
| | |
| --- | --- |
| CHM | Compositional Hierarchical Model |
| SymCHM | Compositional Hierarchical model for Symbolic music representations |
| SymCHMMerge | An extension of the SymCHM using a pattern merging technique |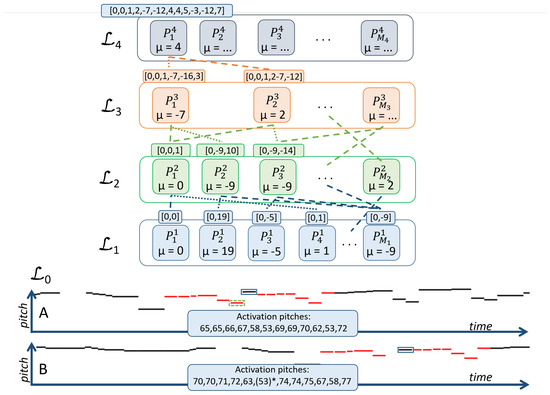 Figure 1. The symbolic compositional hierarchical model. The input layer corresponds to a symbolic music representation (a sequence of pitches). Parts on higher layers are compositions of lower-layer parts (depicted as connections between parts, the parameter is given in semitones). The structure of a part is displayed above each part in the figure, represented by a sequence of pitch values relative to the first subpart (e.g., [0,0,1] for the part ). A part may be contained in several compositions, e.g., is a part of compositions and . The entire structure is transparent, thus we can observe the entire sub-tree of the part . A part activates, when (a part of) the pattern it represents is found in the input. As an example, activates twice (Inputs A and B), however there are differences in the found patterns. Pattern A is positioned five semitones higher than B; Pattern B is missing one event (dotted green rectangle); and the pitch of one event (blue rectangle) differs between the two patterns.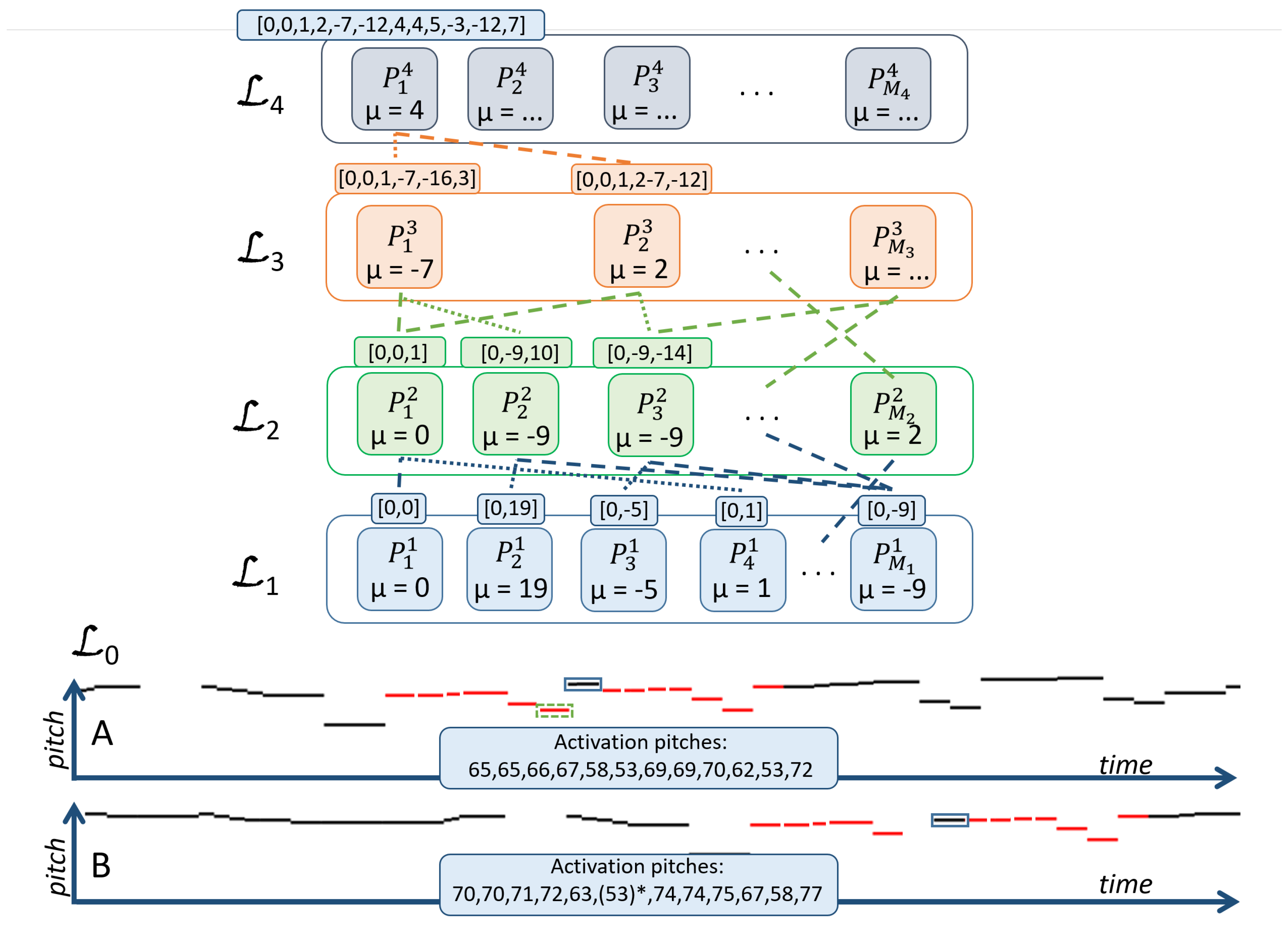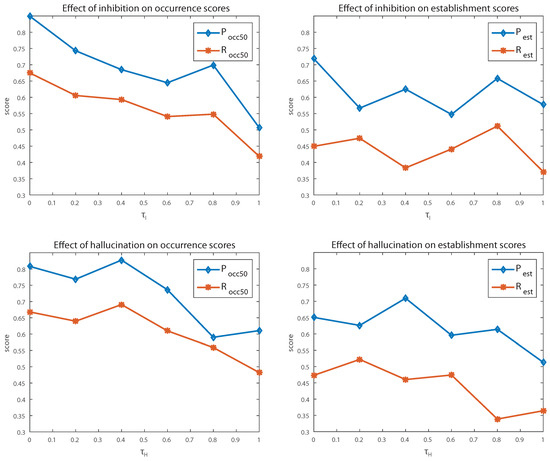 Figure 2. Sensitivity of the model to changes of the hallucination parameter (top) and the inhibition parameter (bottom). When one parameter was varied, all others remained fixed.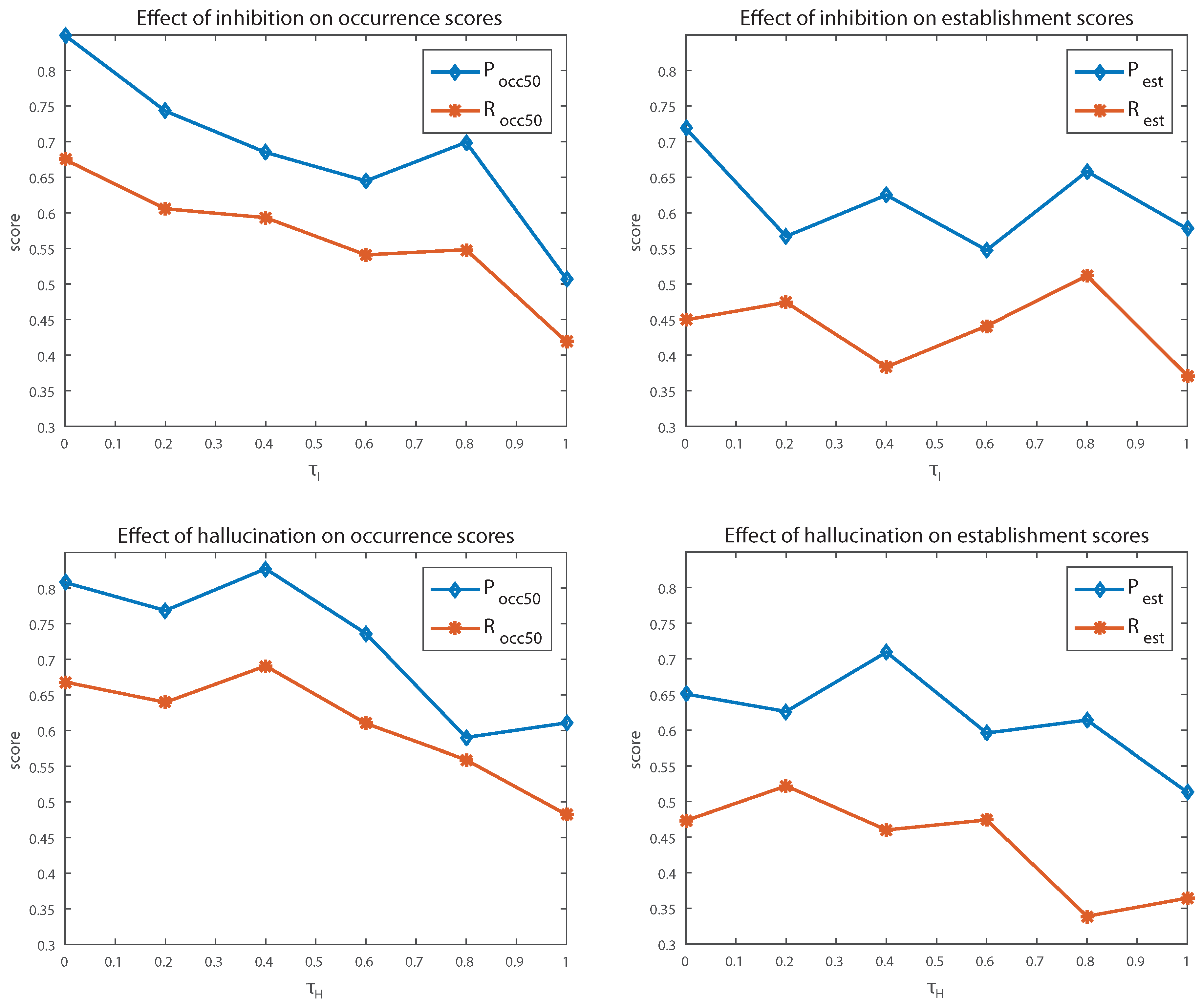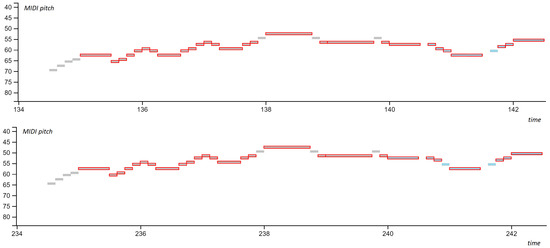 Figure 3. An incomplete pattern match of two pattern occurrences in Bach BWV 889 Fugue in A minor (from the JKU PDD dataset). Two pattern occurrences are presented in the figure (top and bottom). A piano roll representation is shown where the reference annotation is coloured in grey and the identified pattern occurrences outlined with red borders. Even though similar, events on the right side (shown in light blue) are not part of the reference annotations, however they are included in the model's patterns due to their co-occurrence with other events.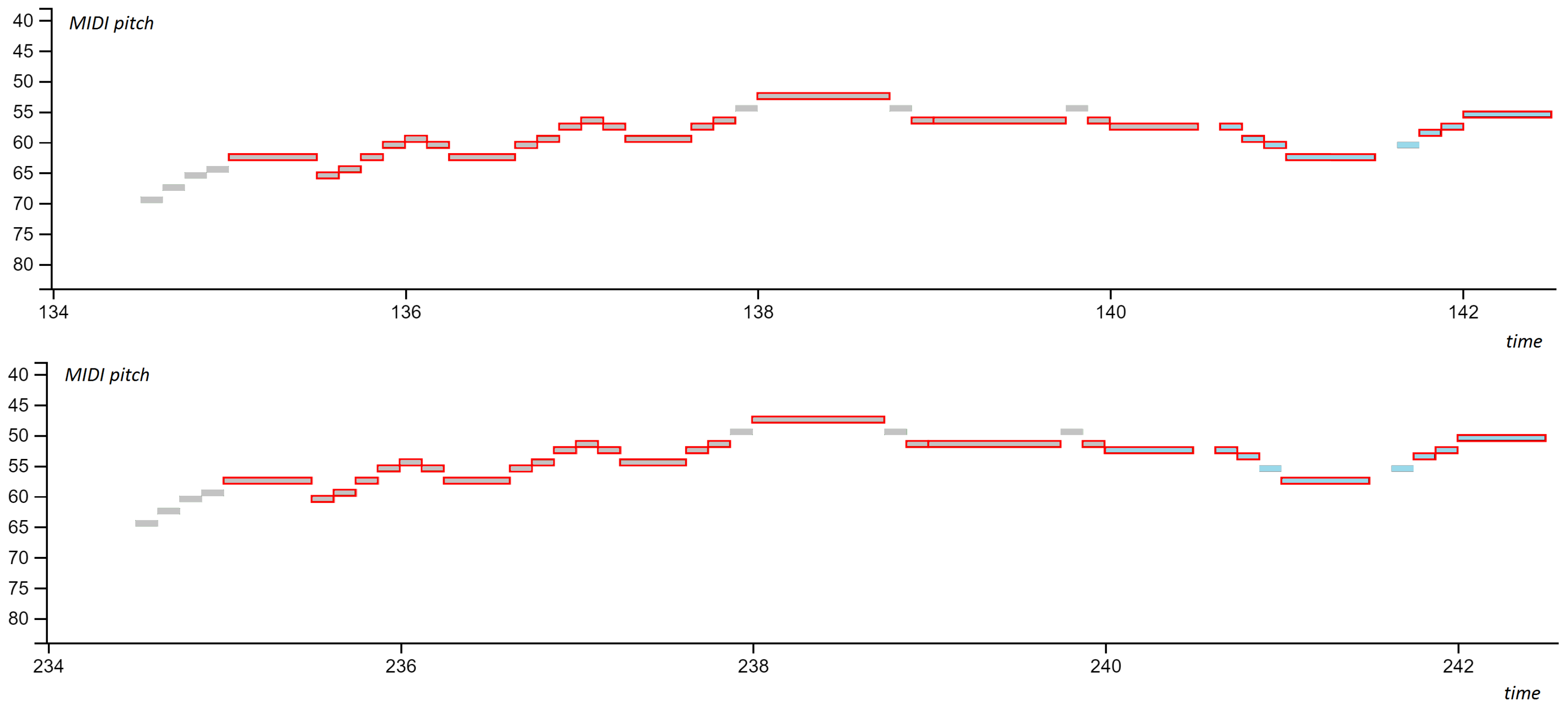 | Parameter | Description | Value |
| --- | --- | --- |
| | Hallucination parameter retaining the activation of a part in an incomplete presence of the events in the input signal | 0.5 |
| | Inhibition parameter reducing the number of competing activations | 0.4 |
| | Redundancy parameter determining the the necessary amount of overlapping pattern occurrences in order for the occurrences to be merged | 0.5 |
| | Merging parameter determining the amount of redundant pattern occurrences needed for two patterns to be merged into one | 0.5 |
| | Learning threshold for added coverage which needs to be exceeded in order for a candidate composition to be retained while learning the model | 0.005 |
| | Window limiting the time span of activations, defined per layer | |

Table 2. Evaluation of SymCHM, SymCHMMerge and Music Information Retrieval Evaluation eXchange (MIREX) results of other proposed approaches for the discovery of repeated themes and sections task on the JKU Patterns Development Dataset (PDD) and JKU Patterns Testing Dataset (PTD), denoted as MIREX 2015.
| | | | | | | | |
| --- | --- | --- | --- | --- | --- | --- | --- |
| Algorithm | | | | | | | |
| SymCHM MIREX 2015 | 53.36 | 41.40 | 42.32 | 81.34 | 59.84 | 67.92 | |
| NF1 MIREX 2014 | 50.06 | 54.42 | 50.22 | 59.72 | 32.88 | 40.86 | |
| DM1 MIREX 2013 | 52.28 | 60.86 | 54.80 | 56.70 | 75.14 | 62.42 | |
| OL1 MIREX 2015 | 61.66 | 56.10 | 49.76 | 87.90 | 75.98 | 80.66 | |
| VM2 MIREX 2015 | 65.14 | 63.14 | 62.74 | 60.06 | 58.44 | 57.00 | |
| SymCHM JKU PDD | 67.92 | 45.36 | 51.01 | 93.90 | 82.72 | 86.85 | |
| SymCHMMerge JKU PDD | 67.96 | 50.67 | 56.97 | 88.61 | 75.66 | 80.02 | |
| | | | | | | | |
| SymCHM MIREX 2015 | 37.78 | 73.34 | 62.48 | 67.24 | 10.64 | 6.50 | 5.12 |
| NF1 MIREX 2014 | 33.28 | 54.98 | 33.40 | 40.80 | 1.54 | 5.00 | 2.36 |
| DM1 MIREX 2013 | 43.28 | 47.20 | 74.46 | 56.94 | 2.66 | 4.50 | 3.24 |
| OL1 MIREX 2015 | 42.72 | 78.78 | 71.08 | 74.50 | 16.0 | 23.74 | 12.36 |
| VM2 MIREX 2015 | 42.20 | 46.14 | 60.98 | 51.52 | 6.20 | 6.50 | 6.2 |
| SymCHM JKU PDD | 51.75 | 78.53 | 72.99 | 75.41 | 25.00 | 13.89 | 17.18 |
| SymCHMMerge JKU PDD | 52.89 | 83.23 | 68.86 | 73.88 | 35.83 | 20.56 | 25.63 |

Table 3. A detailed list of JKU Patterns Development Dataset results for the SymCHMMerge approach. The and columns represent the number of annotated patterns and the number of discovered patterns respectively. Song names are shortened, using a four letter abbreviation of the composer's name.
| | | | | | | | | | |
| --- | --- | --- | --- | --- | --- | --- | --- | --- | --- |
| Piece | | | | | | | | | |
| bach | 3 | 2 | 100.00 | 66.67 | 80.00 | 100.00 | 45.65 | 62.68 | |
| beet | 7 | 7 | 65.81 | 60.02 | 62.78 | 80.71 | 80.71 | 80.71 | |
| chop | 4 | 5 | 47.95 | 49.81 | 48.86 | 62.36 | 51.96 | 56.69 | |
| gbns | 8 | 3 | 78.16 | 35.49 | 48.81 | 100.00 | 100.00 | 100.00 | |
| mzrt | 9 | 8 | 47.88 | 41.39 | 44.40 | 100.00 | 100.00 | 100.00 | |
| Average | 6.2 | 5 | 67.96 | 50.67 | 56.97 | 88.61 | 75.66 | 80.02 | |
| Piece | | | | | | | | | |
| bach | 62.96 | 41.97 | 50.37 | 100.00 | 45.65 | 62.68 | 100.00 | 66.67 | 80.00 |
| beet | 77.38 | 64.95 | 70.62 | 79.24 | 72.44 | 75.69 | 0.00 | 0.00 | 0.00 |
| chop | 46.96 | 39.92 | 43.15 | 57.00 | 46.29 | 51.09 | 0.00 | 0.00 | 0.00 |
| gbns | 81.82 | 34.33 | 48.37 | 100.00 | 100.00 | 100.00 | 66.67 | 25.00 | 36.36 |
| mzrt | 57.21 | 47.54 | 51.93 | 79.92 | 79.92 | 79.92 | 12.50 | 11.11 | 11.77 |
| Average | 65.27 | 45.74 | 52.89 | 83.23 | 68.86 | 73.88 | 35.83 | 20.56 | 25.63 |

© 2017 by the authors. Licensee MDPI, Basel, Switzerland. This article is an open access article distributed under the terms and conditions of the Creative Commons Attribution (CC BY) license (http://creativecommons.org/licenses/by/4.0/).