South Atlantic Surface Boundary Current System during the Last Millennium in the CESM-LME: The Medieval Climate Anomaly and Little Ice Age
1
Department of Physical Oceanography, Oceanographic Institute of the University of São Paulo, São Paulo 05508-120, Brazil
2
National Center for Atmospheric Research, Boulder, CO 80307, USA
*
Author to whom correspondence should be addressed.
Received: 16 May 2019 / Revised: 28 June 2019 / Accepted: 3 July 2019 / Published: 9 July 2019
Abstract
Interocean waters that are carried northward through South Atlantic surface boundary currents get meridionally split between two large-scale systems when meeting the South American coast at the western subtropical portion of the basin. This distribution of the zonal flow along the coast is investigated during the Last Millennium, when natural forcing was key to establish climate variability. Of particular interest are the changes between the contrasting periods of the Medieval Climate Anomaly (MCA) and the Little Ice Age (LIA). The investigation is conducted with the simulation results from the Community Earth System Model Last Millennium Ensemble (CESM-LME). It is found that the subtropical South Atlantic circulation pattern differs substantially between these natural climatic extremes, especially at the northern boundary of the subtropical gyre, where the westward-flowing southern branch of the South Equatorial Current (sSEC) bifurcates off the South American coast, originating the equatorward-flowing North Brazil Undercurrent (NBUC) and the poleward Brazil Current (BC). It is shown that during the MCA, a weaker anti-cyclonic subtropical gyre circulation took place (inferred from decreased southern sSEC and BC transports), while the equatorward transport of the Meridional Overturning Circulation return flow was increased (intensified northern sSEC and NBUC). The opposite scenario occurs during the LIA: a more vigorous subtropical gyre circulation with decreased northward transport.
View Full-Text
►

▼

Figures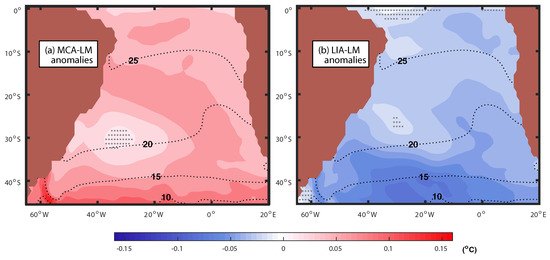 Figure 1
This is an open access article distributed under the
Creative Commons Attribution License
which permits unrestricted use, distribution, and reproduction in any medium, provided the original work is properly cited (CC BY 4.0).

Share & Cite This Article
MDPI and ACS Style
Marcello, F.; Wainer, I.; Gent, P.R.; Otto-Bliesner, B.L.; Brady, E.C. South Atlantic Surface Boundary Current System during the Last Millennium in the CESM-LME: The Medieval Climate Anomaly and Little Ice Age. Geosciences 2019, 9, 299.
Note that from the first issue of 2016, MDPI journals use article numbers instead of page numbers. See further details here.
Related Articles
Comments
[Return to top]