Metal Distribution and Short-Time Variability in Recent Sediments from the Ganges River towards the Bay of Bengal (India)
1
Centro de Investigaciones Costeras—Universidad de Atacama (CIC-UDA), Avenida Copayapu 485, Copiapó (Atacama) 1530000, Chile
2
Cátedra UNESCO/UNITWIN/WiCop, Facultad de Ciencias del Mar y Ambientales, Universidad de Cádiz, Polígono Río San Pedro s/n, 11510 Puerto Real (Cádiz), Spain
3
Department of Ecotoxicology, Santa Cecília University (UNISANTA), Santos, São Paulo 11000, Brazil
*
Author to whom correspondence should be addressed.
Received: 29 April 2019 / Revised: 4 June 2019 / Accepted: 5 June 2019 / Published: 11 June 2019
Abstract
The Ganges River receives inputs from highly populated cities of India (New Delhi, Calcutta, among others) and a strong influence of anthropogenic activities until reaching the Bay of Bengal. It is a seasonal river with 80% of discharges occurring between July and October during monsoon. The land-based activities next to the shore lead to discharges of untreated domestic and industrial effluents, inputs of agricultural chemicals, discharges of organic matter (cremations), and discharges of chemicals from aquaculture farms. In spite of the UNESCO declaring Human Patrimony the National Park Sundarbans, located in the delta, contamination has increased over time and it dramatically intensifies during the monsoon period due to the flooding of the drainage basin. Vertical element distribution (Cd, Co, Hg, Ni, Pb, and Zn) was studied in sediments collected in different stations towards the Hügli Estuary. Results determined no vertical gradient associated with the analyzed sediment samples, which informs about severe sediment dynamic in the area that probably relates to tidal hydrodynamics and seasonal variation floods. The multivariate analysis results showed different associations among metals and in some cases between some of them (Co, Zn, Pb, and Cu) and the organic carbon. These allow the identification of different geochemical processes in the area and their relationship with the sources of contamination such as discharge of domestic and industrial effluents and diffuse sources enhanced by the monsoons. Also, an environmental risk value was given to the studied area by comparing the analyzed concentrations to quality guidelines adopted in other countries. It showed an estimated risk associated with the concentration of the metal Cu measured in the area of Kadwip.
View Full-Text
►

▼

Figures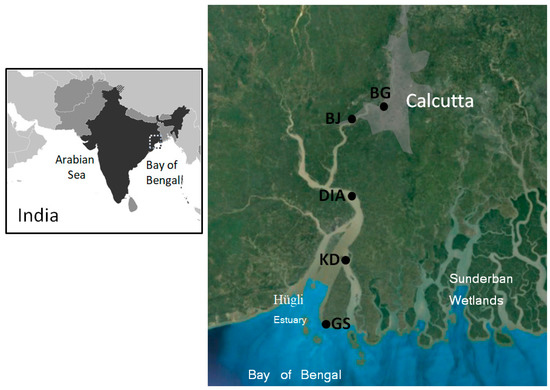 Figure 1
This is an open access article distributed under the
Creative Commons Attribution License
which permits unrestricted use, distribution, and reproduction in any medium, provided the original work is properly cited (CC BY 4.0).

Share & Cite This Article
MDPI and ACS Style
Bonnail, E.; Antón-Martín, R.; Riba, I.; DelValls, T.Á. Metal Distribution and Short-Time Variability in Recent Sediments from the Ganges River towards the Bay of Bengal (India). Geosciences 2019, 9, 260.
Note that from the first issue of 2016, MDPI journals use article numbers instead of page numbers. See further details here.
Related Articles
Comments
[Return to top]