Former Foodstuff Products in
Tenebrio Molitor

Rearing: Effects on Growth, Chemical Composition, Microbiological Load, and Antioxidant Status

1

Department of Veterinary Sciences, University of Pisa, Viale delle Piagge 2, 56124 Pisa, Italy

2

Interdepartmental Research Center "Nutraceuticals and Food for Health", University of Pisa, Via del Borghetto 80, 56124 Pisa, Italy

3

Department of Agricultural, Food and Environmental Science, University of Perugia, Borgo XX Giugno 74, 06100 Perugia, Italy

4

Department of Pharmacy, University of Pisa, Via Bonanno 6, 56124 Pisa, Italy

*

Author to whom correspondence should be addressed.

Received: 28 June 2019 / Revised: 19 July 2019 / Accepted: 23 July 2019 / Published: 25 July 2019
Simple Summary
Insects represent a possible alternative nutrient source for food and feed purposes. Insects could be reared on a feed basis alternative to conventional ones of animal origin and could help to face the rising demand of proteins. Mealworm could be reared directly on former foodstuff products allowing to reduce waste materials and enhance profits in several sectors. This study demonstrates that Tenebrio molitor rearing can be done on leftovers and by-products with proficient outcomes and high-quality final products. However, rearing substrates must be carefully selected in order to maximize the outcomes in relation to the prefixed goals.
Tenebrio molitor
(mealworm) larvae represent one of the most interesting edible insects and could be reared on alternative feeds, such as former foodstuff products (FFPs). In the present work, five different FFPs (brewery spent grains, bread and cookie leftovers, and mixes of brewer's spent grain or bread with cookies) were employed as feeding substrates. Larvae's growth performances, chemical composition, microbial loads, and antioxidant status were determined. Chemical compositions of the substrates affected all the tested parameters. Brewery spent grains-fed larvae showed a faster growth period and higher crude protein and carbohydrate contents. The use of cookies as a single substrate or their addition to spent grains or bread increased the lipids contents, while growth was delayed. Microbial loads were partially affected by the fed diet. The antioxidant status of larvae showed different concentrations of tocopherols isoforms (δ, γ, α) in relation to the diet; however, no differences were detected in relation to the global antioxidant capacity (2,2-azinobis-(3 ethylbenzothiazoline-6-sulfonic acid), ABTS reducing activity; 1,1-diphenyl-2-pircydrazyl, DPPH radical scavenging activity; ferric reducing ability, FRAP). Results point out a high plasticity of mealworm larvae and the potential to tailor the final outcomes in relation to the substrate employed. Mealworms could be practically reared on FFPs to produce food-feed with high nutrient values.
View Full-Text
►

▼

Show Figures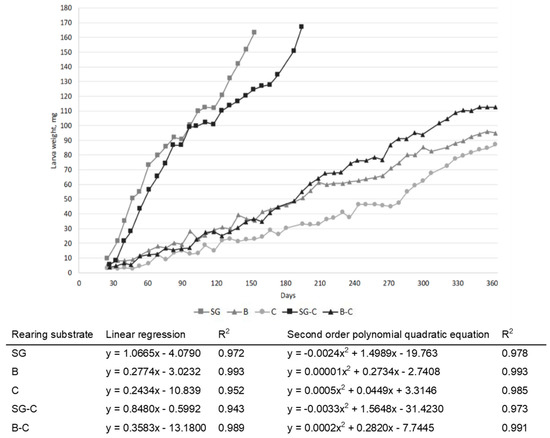 Figure 1
This is an open access article distributed under the
Creative Commons Attribution License
which permits unrestricted use, distribution, and reproduction in any medium, provided the original work is properly cited

MDPI and ACS Style
Mancini, S.; Fratini, F.; Turchi, B.; Mattioli, S.; Dal Bosco, A.; Tuccinardi, T.; Nozic, S.; Paci, G. Former Foodstuff Products in Tenebrio Molitor Rearing: Effects on Growth, Chemical Composition, Microbiological Load, and Antioxidant Status. Animals 2019, 9, 484.
Show more citation formats
Show less citations formats
Note that from the first issue of 2016, MDPI journals use article numbers instead of page numbers. See further details
here
.