The Use of Garlic Oil for Olfactory Enrichment Increases the Use of Ropes in Weaned Pigs
1
Pathobiology and Production Sciences, Animal Welfare Science and Ethics, Royal Veterinary College, Hawkshead Lane, Hatfield AL9 7TA, Hertfordshire, UK
2
Centre for Equine and Animal Science, Writtle University College, Chelmsford CM1 3RR, Essex, UK
*
Author to whom correspondence should be addressed.
Received: 25 February 2019 / Revised: 1 April 2019 / Accepted: 3 April 2019 / Published: 5 April 2019
Simple Summary
Pigs are highly intelligent and can be prone to tail biting behavior if their environment is lacking in complexity, which is a serious welfare concern. For disease control and hygiene, pigs are often kept in semi-barren environments to separate them from their faeces; this may include slatted floors. Slatted pens are also cheaper to maintain with straw being expensive in many countries. To make the environment less barren, pigs are required by law to have environmental enrichment or "toys". In this study, we designed a novel enrichment consisting of garlic-scented rope. We compared the pigs' current enrichment with either unscented or garlic-scented ropes for two weeks after weaning. We found that the pigs spent more time interacting with the garlic rope and that more pigs used it. Pigs also showed a preference for the rope with 84% of focal pigs choosing the garlic over the control rope. When the garlic ropes were re-sprayed on day 8, we saw an increase in the number of pigs using the garlic rope and the time spent interacting with it. This indicates that this caught their interest again as interactions had decreased over time. This might be useful to encourage pigs to use this enrichment.
Abstract
Pig producers are required to provide environmental enrichment to provide pigs the opportunity to perform investigative and manipulative behaviours (EU directive 2001/93/EC). Preventing enrichment from losing its novelty and decreasing the rate at which animals become habituated is important to maintain use of enrichment over time. A comparative study was formulated to identify whether weaner pigs housed in a semi-barren environment displayed a preference for olfactory enrichment compared to non-scented enrichment. Pigs (
n
= 146) were selected at 28 days old from two different batches (
n
= 76 and
n
= 70) and divided into pens. All pigs were given a control and a treatment (garlic scented) rope. Behavioural observations and rope interactions were assessed through direct observation. Throughout the entire study, the length of interaction with the garlic device was significantly higher (
p
< 0.02), indicating that there was a preference for olfactory enrichment compared to an odourless device. There was no significant occurrence of tail, ear, or flank biting in both batches. Weaner pigs showed a preference towards olfactory enrichment. Although habituation began to occur, this effect was mitigated by re-spraying the ropes, which resulted in increased interactions.
View Full-Text
►

▼

Figures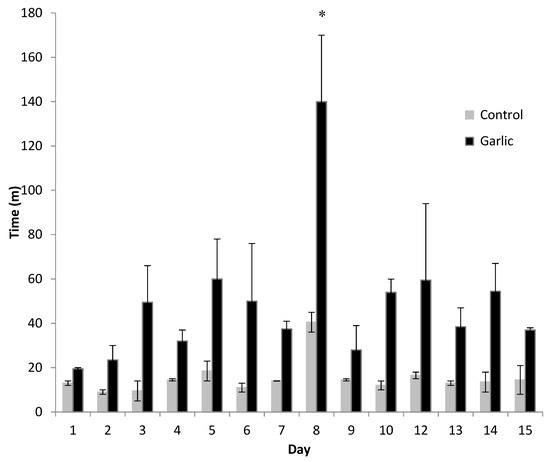 Figure 1
This is an open access article distributed under the
Creative Commons Attribution License
which permits unrestricted use, distribution, and reproduction in any medium, provided the original work is properly cited (CC BY 4.0).

Share & Cite This Article
MDPI and ACS Style
Blackie, N.; de Sousa, M. The Use of Garlic Oil for Olfactory Enrichment Increases the Use of Ropes in Weaned Pigs. Animals 2019, 9, 148.
Note that from the first issue of 2016, MDPI journals use article numbers instead of page numbers. See further details here.
Related Articles
Comments
[Return to top]