Dietary Sea Buckthorn Pomace Induces Beige Adipocyte Formation in Inguinal White Adipose Tissue in Lambs
Department of Animal Sciences and Veterinary Medicine, Shanxi Agricultural University, Taigu 030801, China
*
Authors to whom correspondence should be addressed.
Received: 25 March 2019 / Revised: 14 April 2019 / Accepted: 17 April 2019 / Published: 24 April 2019
Simple Summary
Heat production is important for the survival of young animals, especially for those born in a cold winter. During this process, both brown and beige adipose tissues play an important role. Sea buckthorn is a natural source of bioactive compounds and has multiple health benefits. The aim of this study was to determine whether dietary sea buckthorn pomace supplementation could affect beige cell formation in lambs. Here, we found that dietary sea buckthorn pomace could promote beige adipocyte formation, increase mitochondrial numbers, and improve insulin sensitivity in inguinal white adipose tissue. These results will be useful for increasing heat production through modulation of beige cell formation in young lambs.
Abstract
The sea buckthorn contains substantial amounts of bioactive compounds. The objective of this study was to investigate the effects of dietary sea buckthorn pomace (SBP) on sheep beige adipocyte formation. A total of thirty lambs were equally divided into three groups and fed with diets containing different levels of SBP: 0% SBP (Control), 7.8% SBP (7.8SBP), and 16.0% SBP (16SBP). The results showed that dietary SBP affected inguinal adipocytes' size distribution, and increased both UCP1 protein content (
p
< 0.05) and mitochondrial numbers (
p
< 0.05). mRNA expression of peroxisome proliferator-activated receptor gamma coactivator 1α (PGC-1α), nuclear respiratory factor 1, and mitochondrial transcription factor A were increased when animals were subjected to 16% SBP (
p
< 0.05). Supplementation with 16% SBP increased CCAAT/enhancer-binding protein β content (
p
< 0.05) and PR domain containing 16 mRNA abundance (
p
< 0.05). Consistently, inguinal white adipose tissue (iWAT) from the 16SBP group exhibited increased insulin sensitivity, which was associated with elevated glucose transporter 4 abundance (
p
< 0.05). Importantly, AMP-activated protein kinase (AMPK) was activated in the 16SBP group (
p
< 0.05). Collectively, these results suggest that dietary SBP promotes iWAT browning in lambs, which might be through the activation of the AMPK–PGC-1α–UCP1 signaling pathway.
View Full-Text
►

▼

Figures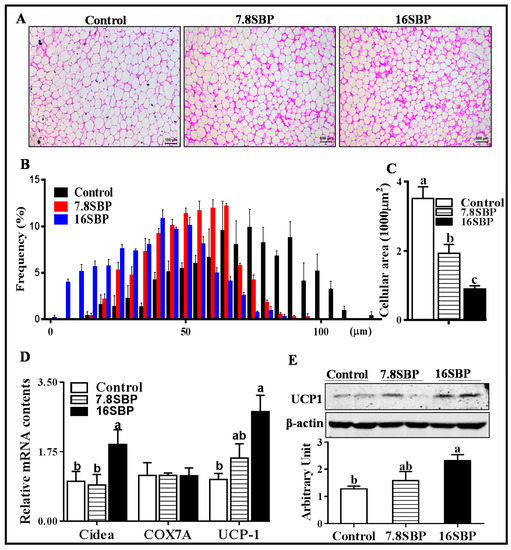 Figure 1
This is an open access article distributed under the
Creative Commons Attribution License
which permits unrestricted use, distribution, and reproduction in any medium, provided the original work is properly cited (CC BY 4.0).

Share & Cite This Article
MDPI and ACS Style
Zhang, T.; Deng, B.; Zhang, R.; Qin, X.; Zhang, J.; Zhao, J. Dietary Sea Buckthorn Pomace Induces Beige Adipocyte Formation in Inguinal White Adipose Tissue in Lambs. Animals 2019, 9, 193.
Note that from the first issue of 2016, MDPI journals use article numbers instead of page numbers. See further details here.
Related Articles
Comments
[Return to top]