Effect of Dietary Hemp Seed on Oxidative Status in Sows during Late Gestation and Lactation and Their Offspring
National Research Development Institute for Animal Biology and Nutrition, IBNA Balotesti, Calea Bucuresti nr. 1, Balotesti, 077015 Ilfov, Romania
*
Author to whom correspondence should be addressed.
Received: 4 March 2019 / Revised: 13 April 2019 / Accepted: 15 April 2019 / Published: 25 April 2019
Simple Summary
Hemp seeds are rich in polyunsaturated fatty acids as well as other bioactive compounds. Using dietary hemp seeds as late gestation and lactation supplementation for sows and early life supplementation for piglets, we found that the indicators of oxidative status were improved in both sows and offspring. Besides the significant improvement in the antioxidant defense system of the sows, our assessment of dietary intervention resulted in an array of increased antioxidative status markers for their progeny. In addition, this could be translated into increased adaptability to the upcoming weaning stage.
This study shows the antioxidant effect of a dietary hemp seed diet rich in ω-6 polyunsaturated fatty acid (PUFA) on oxidative status in sows during late gestation and lactation and their offspring. Ten pregnant sows were divided into two groups and fed either a control diet (CD) or a hemp diet (HD) containing 2% hemp seed meal for a period of 10 days before farrowing and 5% throughout the lactation period (21 d). After farrowing, 16 of their resulting piglets were divided into two groups: control group CD (eight piglets derived from control sows) and HD group (eight piglets derived from HD sows), respectively. Blood collected from sows and piglets at day 1, 7 and 21 was used for the measurement of antioxidant enzymes (catalase (CAT), superoxide dismutase (SOD), glutathione (GPx)), nitric oxide production (NO), lipid peroxidation (thiobarbituric acid reactive substances—TBARS), reactive oxygen species (ROS) generation and total antioxidant capacity (TAC) in plasma. The results showed a significant improvement in the oxidative status of sows fed HD throughout lactation compared with CD. Similarly, in piglets, HD positively influenced the activities of antioxidant enzymes, TAC and NO levels and significantly decreased lipid peroxidation in plasma until weaning, in comparison with the CD group. This study suggests the potential of hemp seed diet to improve the overall antioxidant status of the lactating sows and their progeny.
View Full-Text
►

▼

Show Figures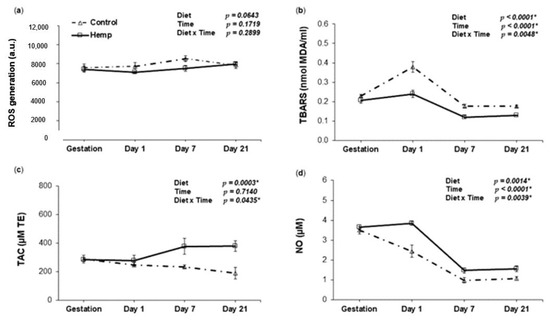 Figure 1
This is an open access article distributed under the
Creative Commons Attribution License
which permits unrestricted use, distribution, and reproduction in any medium, provided the original work is properly cited

MDPI and ACS Style
Palade, L.M.; Habeanu, M.; Marin, D.E.; Chedea, V.S.; Pistol, G.C.; Grosu, I.A.; Gheorghe, A.; Ropota, M.; Taranu, I. Effect of Dietary Hemp Seed on Oxidative Status in Sows during Late Gestation and Lactation and Their Offspring. Animals 2019, 9, 194.
Show more citation formats
Show less citations formats
Note that from the first issue of 2016, MDPI journals use article numbers instead of page numbers. See further details
here
.