Comparison of Defined Course Doses (DCDvet) for Blanket and Selective Antimicrobial Dry Cow Therapy on Conventional and Organic Farms
1
Unit of Veterinary Public Health & Epidemiology, Institute of Food Safety, Food Technology and Veterinary Public Health, University of Veterinary Medicine, 1210 Vienna, Austria
2
ZuchtData EDV-Dienstleistungen GmbH, 1200 Vienna, Austria
3
Data, Statistics and Risk Assessment, Austrian Agency for Health and Food Safety (AGES), 8010 Graz, Austria
*
Author to whom correspondence should be addressed.
Received: 19 June 2019 / Revised: 18 September 2019 / Accepted: 18 September 2019 / Published: 20 September 2019
Simple Summary
The general public is increasingly concerned about using antibiotics to treat animals in food production systems. It is vital that sick animals should be treated and that veterinarians should have treatment options available to prevent unnecessary suffering. Nevertheless, farmers and veterinarians are working together to reduce antibiotic use. In Austria, antibiotics can only be obtained from veterinarians and any antimicrobials dispensed must be reported to the authorities. This study aimed to compare antibiotic use on dairy farms, using a standardised unit, the Defined Course Dose. The most common bacterial infection in dairy cows is mastitis (udder infection). For decades, the use of antibiotic treatments to prevent or cure mastitis during the dry period (approximately 4–8 weeks when cows are not milked) has been routine. However, the need to reduce antibiotic use has seen farmers and veterinarians consider a more selective use of these drugs, only using them in cows proven to have bacterial infections, rather than treating all cows in a "blanket" approach. This study determined that farmers choosing a selective approach used fewer antibiotics overall than those using blanket treatment. No difference was found between conventional and organic dairy farms with respect to antibiotic use at drying off.
Antimicrobial use in livestock production is a controversial subject. While antimicrobials should be used as little as possible, it is still necessary, from both an animal health and welfare point of view, to treat infected animals. The study presented here aimed to analyse antimicrobial use on Austrian dairy farms by calculating the number of Defined Course Doses (DCD
vet
) administered per cow and year for dry cow therapy. Antimicrobial use was analysed by production system and whether farmers stated that they used blanket dry cow therapy (i.e., all cows in the herd were treated) or selective dry cow therapy (i.e., only cows with a positive bacteriological culture or current/recent history of udder disease were treated). A statistically significant difference (
p
< 0.001) was determined between antimicrobial use for blanket (median DCD
vet
/cow/year: 0.88) and selective dry cow therapy (median DCD
vet
/cow/year: 0.41). The difference between antimicrobial use on conventional and organic farms for dry cow therapy as a whole, however, was not statistically significant (
p
= 0.22) (median DCD
vet
/cow/year: 0.68 for conventional; 0.53 for organic farms). This analysis demonstrates that selective dry cow therapy leads to a lower overall use of antimicrobials and can assist in a more prudent use of antimicrobials on dairy farms.
View Full-Text
►

▼

Show Figures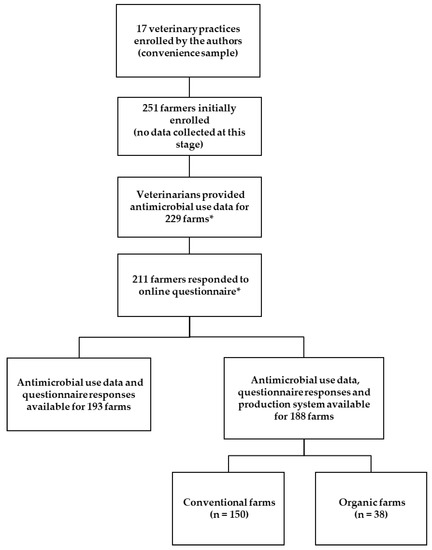 Figure 1
This is an open access article distributed under the
Creative Commons Attribution License
which permits unrestricted use, distribution, and reproduction in any medium, provided the original work is properly cited

MDPI and ACS Style
Firth, C.L.; Käsbohrer, A.; Egger-Danner, C.; Fuchs, K.; Pinior, B.; Roch, F.-F.; Obritzhauser, W. Comparison of Defined Course Doses (DCDvet) for Blanket and Selective Antimicrobial Dry Cow Therapy on Conventional and Organic Farms. Animals 2019, 9, 707.
Show more citation formats
Show less citations formats
Note that from the first issue of 2016, MDPI journals use article numbers instead of page numbers. See further details
here
.