Factors Affecting Canine Obesity Seem to Be Independent of the Economic Status of the Country—A Survey on Hungarian Companion Dogs
Department of Ethology, ELTE Eötvös Loránd University, 1117 Budapest, Hungary
*
Author to whom correspondence should be addressed.
Received: 29 June 2020 / Revised: 21 July 2020 / Accepted: 22 July 2020 / Published: 24 July 2020
Simple Summary
Obesity is an ever-growing epidemic among people and their pets. Recently, more and more studies investigated the risk factors of dog obesity, but most of them only included data from high-income Western countries. We surveyed Hungarian dog owners about their dogs' body conditions and social and demographic factors that might affect it. Factors affecting canine body condition seem to be similar to those of high-GDP (Gross Domestic Product) countries, suggesting that these findings are more or less universal. Older dogs are more likely to be overweight/obese than younger ones. Joint activity and sports performed with the owner, even on a hobby level decrease the likelihood of obesity, and the main source of calories (kibble, human leftovers, or raw food) also had an effect on body condition. These findings support that the main risk factors of dog obesity are the ones controlled by the caretakers of dogs, therefore it is important to educate dog owners about how they can prevent the development of this condition.
For a companion dog, the most important environmental factor is the owner, who is responsible for providing everything that is necessary for the health and welfare of the dog. Still, one of the most often compromised measures of an average companion dog is its body condition, with overweight and obese animals representing a growing welfare problem around the world. Using an extensive online survey that was distributed among Hungarian dog owners, we wanted to know whether those obesogenic factors that were identified mostly in high-GDP countries' pet dog populations would hold their relevance in a much lower average income country as well. We found several associations between the body condition of canine companions and various demographics, environmental and behavioral factors. Older dogs reportedly had an accelerating propensity for being overweight. Joint activity and performing dog sports both reduced the likelihood of being an overweight dog. Main food types also had significant associations with the body condition of dogs—meanwhile, the feeding of commercial dog food (kibble) and/or leftovers of human meals coincided with being overweight, dogs that were fed (fully, or at least partly) with raw food were less likely overweight. In the case of owner-reported behavioral problems, the food-related issues (stealing food, overeating, etc.) were clustered to a dimension together with problem behaviors such as excessive barking and overt aggression. Beyond showing a good agreement with earlier surveys on associated factors with canine obesity, our study revealed some interesting new details that could be used in the prevention of overweight problems in dogs.
View Full-Text
►

▼

Show Figures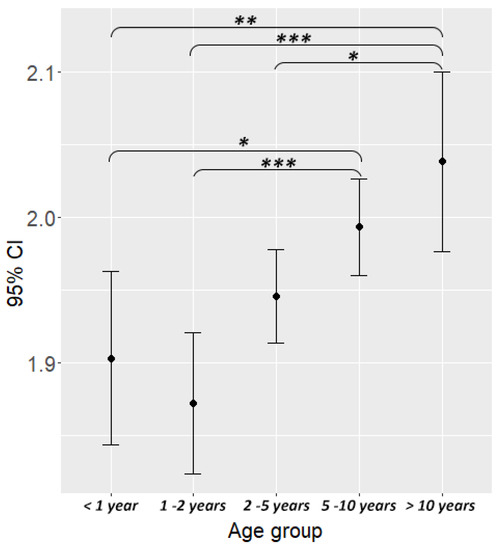 Figure 1
This is an open access article distributed under the
Creative Commons Attribution License
which permits unrestricted use, distribution, and reproduction in any medium, provided the original work is properly cited

MDPI and ACS Style
Orsolya Julianna, T.; Kata, V.; Vanda Katalin, J.; Péter, P. Factors Affecting Canine Obesity Seem to Be Independent of the Economic Status of the Country—A Survey on Hungarian Companion Dogs. Animals 2020, 10, 1267.
Show more citation formats
Show less citations formats
Note that from the first issue of 2016, MDPI journals use article numbers instead of page numbers. See further details
here
.