Cafeteria-Type Feeding of Chickens Indicates a Preference for Insect (
Tenebrio molitor

) Larvae Meal

1

Department of Animal Science, University of São Paulo, Piracicaba, SP 13418-900, Brazil

2

Radioentomology and Food Irradiation Laboratory, Center of Nuclear Energy in Agriculture, Piracicaba, SP 13416-000, Brazil

3

Agricultural Sciences Institute, Federal University of Minas Gerais, Montes Claros, MG 39404-547, Brazil

*

Author to whom correspondence should be addressed.

Received: 15 January 2020 / Revised: 8 February 2020 / Accepted: 11 February 2020 / Published: 6 April 2020
Simple Summary
The use of insects as an alternative ingredient in the feed industry is a promising solution to optimize animal production systems worldwide. These insect-derived products are seen as novel sources of animal origin protein, especially in avian and aquatic species diets, which are sustainable in production and desirable as nutrient-rich feed ingredients. In order to be used in feed formulations for poultry, the nutritional composition of the insect products and the effects on performance of chickens must be known. In the present study, we investigated whether broilers displayed a preference (or not) for Tenebrio molitor larvae meal, evaluating ingredient acceptability and birds' performance. After a few days of being offered insect meal in a cafeteria-type study, chickens developed a clear preference for this ingredient compared to usual feed ingredients, especially extruded semi-whole soybean meal (high protein content). Additionally, there was an indication that T. molitor meal consumption by the chickens improved feed conversion. We conclude that T. molitor meal is a promising protein ingredient for poultry diets. Overall, although insect-derived products are still under regulation processes all around the world, the increasing knowledge concerning this topic indicates that insects could be a suitable alternative as feed source in the animal industry.
This study aimed to determine whether broiler chickens display a preference for
Tenebrio molitor
larvae (TM) meal by evaluating ingredient acceptability and birds' performance. Sixty 14-day-old male chickens were assigned into two treatment groups (5 birds/pen,
n
= 6) in a cafeteria-type study: the control (C) group, and the TM group. Each pen was equipped with one bell drinker and four through feeders allocated side by side; all feeders of the C group contained a complete standard diet whereas each feeder of the TM group contained one of the following ingredients: ground corn, extruded semi-whole soybean, vitamin-mineral supplement mixture, and TM meal. Feed intake was recorded daily and growth was monitored periodically up to day 32. Chickens which had access to individual feed components showed a delay to display preference for TM, but consumed, overall, up to 50% of the total intake as TM meal. Feed intake and growth performance were lower in all periods for TM group (
p
< 0.02), whereas feed conversion ratio was improved on days 22–28 and days 29–32 of age (
p
< 0.01). Data from bivariate and multidimensional analysis indicate that birds started to reach a balance of ingredient intake at 25 days of age, showing a high correlation between consumption of each ingredient and the day of the experiment. Chickens exhibited a preference for
T. molitor
meal, resulting in improved feed efficiency, which allows us to conclude that it can be a suitable feed alternative for poultry.
View Full-Text
►

▼

Show Figures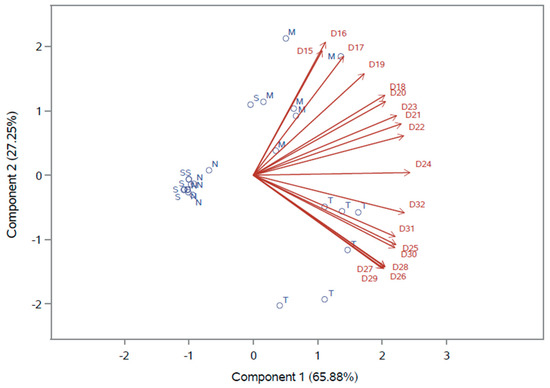 Figure 1
This is an open access article distributed under the
Creative Commons Attribution License
which permits unrestricted use, distribution, and reproduction in any medium, provided the original work is properly cited

MDPI and ACS Style
Nascimento Filho, M.A.; Pereira, R.T.; Oliveira, A.B.S.; Suckeveris, D.; Burin Junior, A.M.; Mastrangelo, T.A.; Costa, D.V.; Menten, J.F.M. Cafeteria-Type Feeding of Chickens Indicates a Preference for Insect (Tenebrio molitor) Larvae Meal. Animals 2020, 10, 627.
Show more citation formats
Show less citations formats
Note that from the first issue of 2016, MDPI journals use article numbers instead of page numbers. See further details
here
.