Determination of Praziquantel in
Sparus aurata

L. after Administration of Medicated Animal Feed

1

Department of Veterinary Medicine, University of Sassari, 07100 Sassari, Italy

2

Department of Chemistry and Pharmacy, University of Sassari, 07100 Sassari, Italy

*

Author to whom correspondence should be addressed.

Received: 13 February 2020 / Revised: 19 March 2020 / Accepted: 20 March 2020 / Published: 21 March 2020
Simple Summary
The present study aimed to determine the praziquantel concentration in Sparus aurata muscle after oral administration of medicated feed. The in-feed treatment is commonly used in aquaculture breeding because it allows the treatment of a large fish population without stress. However, no residue limit exists for praziquantel in fish for human consumption, so the purpose of this work was to verify if this drug was able to accumulate in fish tissues after this treatment. The high-sensitivity analytical method developed in this work permitted to identify and quantify low concentrations of the drug in gilthead sea bream muscle, after the above-mentioned treatment. This method can be useful to competent authorities in evaluating the appropriate withdrawal time in fish treated with praziquantel and intended for human consumption.
Praziquantel (PZQ) is an anthelmintic drug used in humans and animals against Platyhelminthes and in aquaculture in the Far East. Medicated feed is one of the most convenient forms of oral administration of drugs in aquaculture because it allows to treat a large population of fish in an easy way. However, this treatment may lead to residues in fish intended for human consumption. In this study, a liquid chromatography with tandem mass spectrometry (LC-MS/MS) method was developed in order to verify the presence of PZQ in samples of
Sparus aurata
after oral administration of feed treated with PZQ. The method was validated according to international guidelines. It showed good recoveries, selectivity and sensitivity (LOD and LOQ were 3.0 and 9.3 ng/g, respectively), with precision and matrix effect values ≤ 15%. This method could also be applied to determine PZQ residue in other fish species and thus to evaluate the appropriate withdrawal time in treated fish intended for human consumption.
View Full-Text
►

▼

Show Figures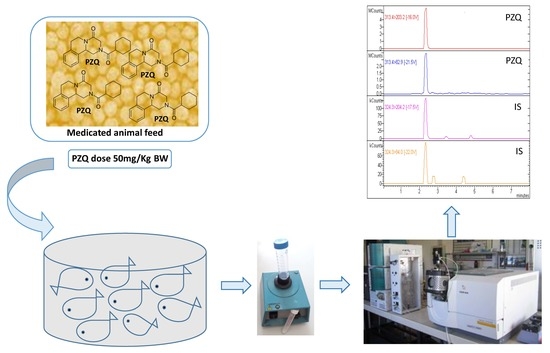 Graphical abstract
This is an open access article distributed under the
Creative Commons Attribution License
which permits unrestricted use, distribution, and reproduction in any medium, provided the original work is properly cited

MDPI and ACS Style
Baralla, E.; Varoni, M.V.; Nieddu, M.; Demontis, M.P.; Merella, P.; Burreddu, C.; Garippa, G.; Boatto, G. Determination of Praziquantel in Sparus aurata L. after Administration of Medicated Animal Feed. Animals 2020, 10, 528.
Show more citation formats
Show less citations formats
Note that from the first issue of 2016, MDPI journals use article numbers instead of page numbers. See further details
here
.