Effects of Dietary Supplementation of Lauric Acid on Lactation Function, Mammary Gland Development, and Serum Lipid Metabolites in Lactating Mice
1
Guangdong Provincial Key Laboratory of Animal Nutrition Control, College of Animal Science, South China Agricultural University, Wushan Road No.483, Guangzhou 510642, Guangdong, China
2
National Engineering Research Center for Breeding Swine Industry and UBT Lipid Suite Functional Fatty Acids Research Center, South China Agricultural University, Wushan Road No.483, Guangzhou 510642, Guangdong, China
3
School of Pharmacy and Food Science, Zhuhai College of Jilin University, Caotang, Zhuhai 519041, Guangdong, China
*
Author to whom correspondence should be addressed.
Received: 21 February 2020 / Revised: 17 March 2020 / Accepted: 19 March 2020 / Published: 22 March 2020
Simple Summary
Milk secreted from mammary glands is an important nutrition source for offspring after parturition. Mammary gland development and lactation ability have important effects on the growth and health of the offspring. Many studies have demonstrated that external factors, including the environment and nutrition influence the development of mammary glands. Lauric acid is a fatty acid that has many nutritional and physiological properties. In this study, we investigated the effects of dietary supplementation of lauric acid on lactation function and mammary gland development in lactating mice. We found that dietary supplementation of lauric acid during lactation might enhance the mammary development to promote the lactation function of mice. Through the study of mice, we hoped that the results could be applied to animal feed development and animal breeding production.
Our previous studies demonstrated that lauric acid (LA) stimulated mammary gland development during puberty. However, the roles of LA on lactation in mice remain indeterminate. Thus, the aim of this study was to investigate the effects of dietary LA supplementation on lactation functioning and to study the potential mechanisms during lactation. in vivo, there was no effect of 1% LA dietary supplementation during lactation on the feed intake or body weight of breast-feeding mice. However, maternal LA supplementation significantly expanded the number of mammary gland alveoli of mice during lactation and the average body weight of the offspring, suggesting that LA supplementation enhanced the development and lactation function of the mammary glands. in vitro, 100 μM of LA significantly increased the content of triglycerides (TG) in the cell supernatant of induced HC11 cells, however, with no effect on the expression of the genes associated with fatty acid synthesis. LA also activated the phosphatidylinositol 3-kinase (PI3K)/protein kinase B (Akt) signaling pathway. LA dietary supplementation significantly expanded the serum levels of lipid metabolites, including sphingomyelin and other metabolites with the sn-2 position of C12 and sn-1 position of C18 in the TG of the lactating mice. Taken together, dietary supplementation of LA during lactation could promote the lactation function of mice, which might be related to increasing the development of the mammary glands and alternation of serum lipid metabolites. These findings provided more theoretical and experimental basis for the application of lauric acid in the development of mammary glands and lactation function of lactating animals.
View Full-Text
►

▼

Show Figures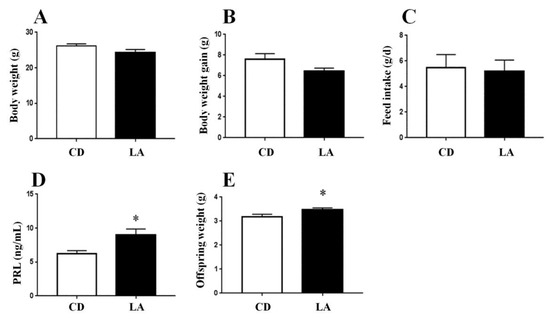 Figure 1
This is an open access article distributed under the
Creative Commons Attribution License
which permits unrestricted use, distribution, and reproduction in any medium, provided the original work is properly cited

MDPI and ACS Style
Yang, L.; Yang, Q.; Li, F.; Yi, W.; Liu, F.; Wang, S.; Jiang, Q. Effects of Dietary Supplementation of Lauric Acid on Lactation Function, Mammary Gland Development, and Serum Lipid Metabolites in Lactating Mice. Animals 2020, 10, 529.
Show more citation formats
Show less citations formats
Note that from the first issue of 2016, MDPI journals use article numbers instead of page numbers. See further details
here
.