The Prophylactic Use of Bovine Colostrum in a Murine Model of TNBS-Induced Colitis
1
Department of Veterinary Medicine, University of Perugia, Via San Costanzo 4, 06126 Perugia, Italy
2
Department of Veterinary Medicine, University of Milano, Via dell'Università 6, 26900 Lodi, Italy
3
L'Arca Veterinary Clinic, Viale Antonio Gramsci, 141/E, Cortona, 52044 Arezzo, Italy
4
Department of Pharmaceutical Sciences, University of Perugia, Via A. Fabretti 48, 06123 Perugia, Italy
5
Department of Chemistry, Biology and Biotechnology, University of Perugia, Via Elce di Sotto 8, 06123 Perugia, Italy
*
Author to whom correspondence should be addressed.
Received: 6 February 2020 / Revised: 6 March 2020 / Accepted: 14 March 2020 / Published: 15 March 2020
Simple Summary
Colostrum is the first milk secreted by the mammary glands, and it is very rich in bioactive components. Recently, the importance of bovine colostrum (BC) as a nutraceutical product has been emerging with regards to gastrointestinal diseases. One of the most widespread gastrointestinal disorders is the inflammatory bowel disease (IBD), a multifactorial chronic condition that has a powerful impact on the social life of millions of people. Because current therapy protocols neither ensure complete recovery from IBD nor are free of secondary side effects, the present study assessed the impact of a short-term prophylactic oral administration of BC in a murine model of TNBS-induced colitis. BC administration was both well tolerated and did not induce any pathological symptoms. It considerably modulated the response to inflammation through modifications of the TLR4 and cytokines gene expression profiles as well as that of the intestinal microbiota. Although further studies are needed to develop a precise therapeutic protocol of BC administration, it seems to have the potential to be used as a natural supplement in the treatment of IBD.
This study investigated the effects of a short-term administration of bovine colostrum (BC) in a TNBS model of induced colitis. Colitis was induced by TNBS treatment after seven days of BC (BC group, n = 12) or saline (control group, n = 12) administration in mice. Clinical signs, histopathological characteristics, expression levels of Toll-like receptor 4 (TLR4), pro- and anti-inflammatory cytokines, and microbial composition were assessed. BC was well tolerated and did not induce any histological damage or clinical symptoms. After TNBS treatment, the BC group showed a reduction in body weight (BW) loss compared to Control (
p
< 0.05). Moreover, expression levels of TLR4 (
p
< 0.01), Interleukin-1β (IL-1β;
p
< 0.001), Interleukin-8 (IL-8;
p
< 0.001), and Interleukin-10 (IL-10;
p
< 0.001) were lower in mice administered with BC. Finally,
Escherichia coli
were higher (
p
< 0.05), while Enterococci (
p
< 0.001),
Lactobacillus
spp. (
p
< 0.001), and
Bifidobacterium
spp. (
p
< 0.05) were lower in Control than BC group. This study confirms that pre-treatment with BC modulates the expression of genes and the count of microbes involved in the etiopathogenesis of colitis.
View Full-Text
►

▼

Show Figures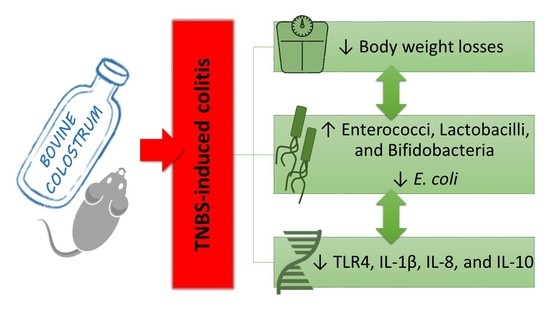 Graphical abstract
This is an open access article distributed under the
Creative Commons Attribution License
which permits unrestricted use, distribution, and reproduction in any medium, provided the original work is properly cited

MDPI and ACS Style
Menchetti, L.; Curone, G.; Filipescu, I.E.; Barbato, O.; Leonardi, L.; Guelfi, G.; Traina, G.; Casagrande-Proietti, P.; Riva, F.; Casano, A.B.; Piro, F.; Vigo, D.; Quattrone, A.; Brecchia, G. The Prophylactic Use of Bovine Colostrum in a Murine Model of TNBS-Induced Colitis. Animals 2020, 10, 492.
Show more citation formats
Show less citations formats
Note that from the first issue of 2016, MDPI journals use article numbers instead of page numbers. See further details
here
.