Splenic Gene Expression Signatures in Slow-Growing Chickens Stimulated in Ovo with Galactooligosaccharides and Challenged with Heat
1
Department of Animal Biotechnology and Genetics, UTP University of Science and Technology, Mazowiecka 28, 85-084 Bydgoszcz, Poland
2
Department of Agricultural and Food Sciences, University of Bologna, Via del Florio 2, 40064 Ozzano dell'Emilia, Italy
3
Department of Agricultural, Environmental and Food Sciences, University of Molise, Via F. de Sanctis snc, 86100 Campobasso, Italy
*
Author to whom correspondence should be addressed.
Animals 2020, 10(3), 474; https://doi.org/10.3390/ani10030474 (registering DOI)
Received: 7 February 2020 / Revised: 5 March 2020 / Accepted: 9 March 2020 / Published: 12 March 2020
Simple Summary
The exposure of animals to excessive heat leads to heat stress, heat stroke, or even death. The first negative effects of heat exposure occur in the gut. The elevated temperature leads to damage in intestinal walls and shifts in the composition of intestinal microbiota. In effect, the gut content (mainly intestinal microbiota and their metabolites) leaks through compromised intestinal walls into milieu of the body. Prebiotics (e.g., GOS—galactooligosaccharides) can be used to mitigate the negative effects of the heat stress in poultry. GOS that are delivered in ovo on day 12 of egg incubation stimulates the development of healthy intestinal microbiota in a chicken embryo. Healthy intestinal microbiota enhances the barrier function of the gut and the immune system. Chickens were originally domesticated in southeast Asia and are therefore genetically adapted to handle high temperatures. However, genetic selection towards performance leads to sensitization to high ambient temperature. In this paper, we studied slow-growing chickens with a reputation for heat resistance. We used in ovo stimulation with the GOS prebiotic that was delivered in ovo to promote healthy gut microbiota. In this manner, we combine genetics and environment to describe a model of heat resistance in poultry.
Galactooligosaccharides (GOS) that are delivered in ovo improve intestinal microbiota composition and mitigate the negative effects of heat stress in broiler chickens. Hubbard hybrids are slow-growing chickens with a high resistance to heat. In this paper, we determined the impact of GOS delivered in ovo on slow-growing chickens that are challenged with heat. The experiment was a 2 × 2 × 2 factorial design. On day 12 of incubation, GOS (3.5 mg/egg) was delivered into the egg (n = 300). Controls (C) were mock-injected with physiological saline (n = 300). After hatching, the GOS and C groups were split into thermal groups: thermoneutral (TN) and heat stress (HS). HS (30 °C) lasted for 14 days (days 36–50 post-hatching). The spleen (n = 8) was sampled after acute (8.5 h) and chronic (14 days) HS. The gene expression of immune-related (
IL-2, IL-4, IL-6, IL-10, IL-12p40,
and
IL-17
) and stress-related genes (
HSP25, HSP90AA1, BAG3, CAT,
and
SOD
) was detected with RT-qPCR. Chronic HS up-regulated the expression of the genes:
IL-10
,
IL-12p40
,
SOD
(
p
< 0.05), and
CAT
(
p
< 0.01). GOS delivered in ovo down-regulated
IL-4
(acute
p
< 0.001; chronic
p
< 0.01),
IL-12p40
,
CAT
and
SOD
(chronic
p
< 0.05). The obtained results suggest that slow-growing hybrids are resistant to acute heat and tolerant to chronic heat, which can be supported with in ovo GOS administration.
View Full-Text
►

▼

Show Figures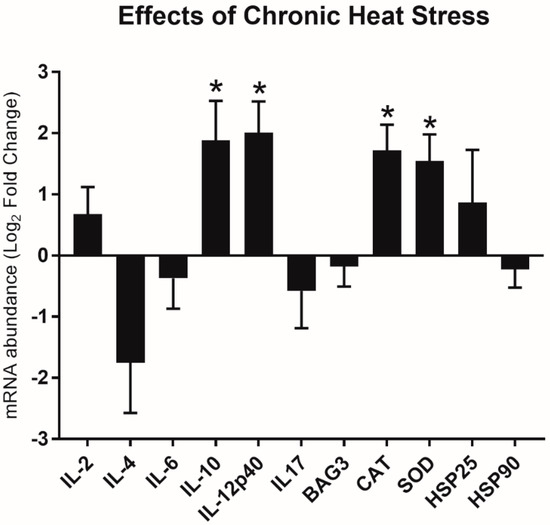 Figure 1
This is an open access article distributed under the
Creative Commons Attribution License
which permits unrestricted use, distribution, and reproduction in any medium, provided the original work is properly cited
MDPI and ACS Style
Pietrzak, E.; Dunislawska, A.; Siwek, M.; Zampiga, M.; Sirri, F.; Meluzzi, A.; Tavaniello, S.; Maiorano, G.; Slawinska, A. Splenic Gene Expression Signatures in Slow-Growing Chickens Stimulated in Ovo with Galactooligosaccharides and Challenged with Heat. Animals 2020, 10, 474.
Show more citation formats
Show less citations formats
Note that from the first issue of 2016, MDPI journals use article numbers instead of page numbers. See further details
here
.