Open Access This article is
freely available
re-usable
Article
First Molecular Evidence of
Anaplasma bovis
and
Anaplasma phagocytophilum
in Bovine from Central Punjab, Pakistan
1
State Key Laboratory of Veterinary Etiological Biology, Key Laboratory of Veterinary Parasitology of Gansu Province, Lanzhou Veterinary Research Institute, Chinese Academy of Agricultural Sciences, Xujiaping 1, Lanzhou 730046, Gansu, China
2
Department of Parasitology/One Health Laboratory/Center for Advanced Studies in Agriculture and Food Security, University of Agriculture, Faisalabad 38000, Pakistan
3
Jiangsu Co-innovation Center for Prevention and Control of Important Animal Infectious Diseases and Zoonoses, Yangzhou 225009, Jiangsu, China
Received: 6 August 2019 / Accepted: 4 September 2019 / Published: 17 September 2019
Abstract
:
Obligate intracellular bacteria belonging to the genus
Anaplasma
spp. are responsible for causing a hemolytic disease called anaplasmosis in animals, as well as in humans. This study was aimed at the molecular identification and genetic analysis of responsible causative agents of anaplasmosis beyond those already reported. A survey was performed during July and August 2018 in the Jhang District, Punjab, Pakistan. Four hundred and fifty blood samples from asymptomatic, tick-infested cattle were collected on FTA cards and tested for the
Anaplasma
spp. presence using nested-polymerase chain reaction (PCR) methods. The 16S ribosomal RNA gene sequences generated from the positive samples were used for genetic analysis of
Anaplasma
spp. The nested-PCR results showed the presence of two
Anaplasma
spp. with an overall prevalence rate of 10.44%, where the prevalence of
A. bovis
and
A. phagocytophilum
was 7.78% and 2.66%, respectively. The study portrayed new molecular data on the prevalence of
Anaplasma
spp. in the studied cattle population, indicating a potential threat to the human population as well.
Keywords:
Anaplasma bovis
;
Anaplasma phagocytophilum
; nested-PCR; bovine; Pakistan
2. Results
Out of 450 bovine blood samples, 47 samples (10.44%) were positive for
Anaplasma
infection. The overall prevalence rate observed for
A. bovis
was higher than that of
A. phagocytphilum
, which was 7.78% and 2.66%, respectively. Sequencing results of the 16S rRNA gene from the positively detected, randomly selected PCR products confirmed the presence of the
Anaplasma
infection in the screened samples that were correctly amplified earlier. The tree constructed on the basis of the 16S rRNA gene explains the phylogenetic relationship (
Figure 1
).
Nucleotide sequence accession numbers.
Accession numbers received from NCBI GenBank for 16S rRNA gene sequences of
A. phagocytophilum
are MN216239 and MN216240, while the 16S rRNA gene sequence of
A. bovis
is MN216233-38.
4. Methods
4.1. Sample Collection
In the present study, blood samples were collected randomly on Whatman FTATM Classic Cards from 450 tick-infested but asymptomatic cattle during July and August 2018 from Jhang District in Punjab, Pakistan. Blood was collected from the jugular vein using 10 ml disposable syringes and transferred to the Whatman® FTA cards (GE Healthcare Limited, Buckinghamshire HP7 9NA, UK) and allowed to air-dry. Sample collection and animal treatments complied with the Animal Ethics Procedures and Guidelines and was approved by the Animal Ethics Committee of the Punjab Livestock Department, Pakistan. The FTA cards were shipped to Lanzhou Veterinary Research Institute at the Chinese Academy of Agricultural Sciences Lanzhou, China for further processing.
4.2. DNA Extraction
Genomic DNA was extracted from the FTA cards using the QIAamp DNA Mini Kit (Qiagen, Hilden, Germany) according to the manufacturer's instructions. The DNA concentration was determined with a Nano-Drop 2000 spectrophotometer (Nanodrop Technologies®, Wilmington, DE, USA). DNA was stored at −20 °C until further analysis.
4.3. PCR Amplification
Nested PCR was carried out to detect
Anaplasma
infection from the collected bovine samples. During the first round, genomic DNA from field blood samples was amplified using the primers EE1 and EE2 [
36
]. The PCR products were used as templates for the second round using the
A. bovis
specific primers AB1f and AB1r, which generate a product of 551 bp, and the
A. phagocytophilum
specific primers SSAP2f and SSAP2r, which generate a product of 641 bp [
13
]. The reactions were performed in a final volume of 50 µL, containing 1.0 mM of each primer, 5 µL of PCR buffer, 4 µL of deoxynucleoside triphosphates, 0.25 µL of TaKaRa Taq (5 µ/mL) (TaKaRa, China), and 1 µL of DNA sample. Reactions were conducted in an automated DNA C1000 Thermal Cycler (Bio-Rad, Beijing, China). For the EE1 and EE2 primers, the cycling conditions were denaturation for 4 min at 94 °C, followed by 94 °C for 30 s, 62 °C for 30 s, and 72 °C for 30 s. The annealing temperature (62 °C) was stepped down four times by 2 °C every two cycles. The final annealing temperature used was 54 °C for 28 cycles, followed by a final extension for 5 min at 72 °C. For the nested PCR, 2 µL of the product from the first amplification was used for amplification with specific primers; the amplification consisted of 40 cycles, each of 1 min at 94 °C, 1 min at 55 °C, and 1 min at 72 °C. Cattle genomic DNA and distilled water were used as negative and blank controls, respectively. The PCR products were subjected to electrophoresis on 1% agarose gel containing 0.5 g/ml ethidium bromide and visualized under UV light.
DNA Sequencing and Data Analysis
Positive PCR products amplified by primers SSAP2f/2r and AB1f/AB1r were excised from the gel and purified using the AxyPrep DNA Gel Extraction Kit (Axygen, USA). The DNA fragments were cloned into pGEM-T vector (Promega, Madison, WI).
Escherichia coli
Trans 5α (TaKaRa, China) was transformed and plasmid DNA from the selected clones was identified using PCR with the set of primers T7 (5'-TAATACGACTCACTATAG GG-3') and SP6 (5'-ATTTAGGTGACACTATAG-3') to verify the presence of correct inserts in selected clones and then sequenced by Sangon Biotech Company (Shanghai, China). The obtained sequences were analyzed by a BLAST search in GenBank for determining the accuracy of the PCR method.
4.4. Phylogenetic Analysis
For genotyping, obtained sequences of
A. phagocytophilum
and
A. bovis
were aligned using the MegAlign component of the DNAStar software program (Version 4.0 DNAStar, Madison, USA). After alignment with related
Anaplasma
spp. 16S rDNA sequences retrieved from GenBank, parts of the cloning vector region were removed manually. The resulting sequences were then submitted to the GenBank database. A phylogenetic tree was generated based on the cloned sequences and the related
Anaplasma
spp. 16S rDNA sequences in GenBank by using the neighbor-joining method [
37
].
5. Conclusions
The present study provides the first evidence of
A. bovis
and
A. phagocytophilum
as potential causative agents of bovine anaplasmosis in Pakistan; of which the latter alarms for its own health significance. A comprehensive molecular epidemiological investigation is required for appropriate disease mapping in the country which can help devise control strategies for ticks and tick-transmitted diseases of livestock and public health significance.
Author Contributions
H.Y. and Z.L. designed this study and critically revised the manuscript; M.S.S. participated in sample collection; N.I., M.U.M., J.Y., Q.N. and G.G. performed the experiments, data analysis, and drafted the manuscript. All authors read and approved the final manuscript.
Funding
This study was financially supported by the National Key R&D Program of China (2017YFD0501200, 2016YFC1202000); 973 Program (2015CB150300); NSFC (No:31402189, No:31372432); ASTIP, FRIP (2014ZL010), CAAS; NBCIS (CARS-38); Jiangsu Co-Innovation Center for the Prevention and Control of Important Animal Infectious Disease and Zoonose, and the State Key Laboratory of Veterinary Etiological Biology Projects.
Conflicts of Interest
The authors declare no conflict of interest.
Ethics Approval and Consent to Participate
Animal treatments and sample preparation complied with the Animal Ethics Procedures and Guidelines, and was approved by the Animal Ethics Committee of Punjab Livestock Department, Pakistan.
Availability of Data and Materials
Sequences submitted in the GenBank database under accession numbers are as follows:
A. phagocytophilum
: MN216239 and MN216240; and
A. bovis
: MN216233, MN216234, MN216235, MN216236, MN216237 and MN216238.
Abbreviations
| | |
| --- | --- |
| PCR | polymerase chain reaction |
| DNA | deoxyribonucleic acid |
Figure 1.
Phylogenetic analysis of the sequences of the 16S rRNA gene using the neighbor-joining method. The optimal tree with the sum of branch length = 1.36582012 is shown. The evolutionary distances were computed using the maximum composite likelihood method. The pathogens identified in the present study are marked in bold, where circles and triangles indicate
A. bovis
and
A. phagocytophilum
, respectively.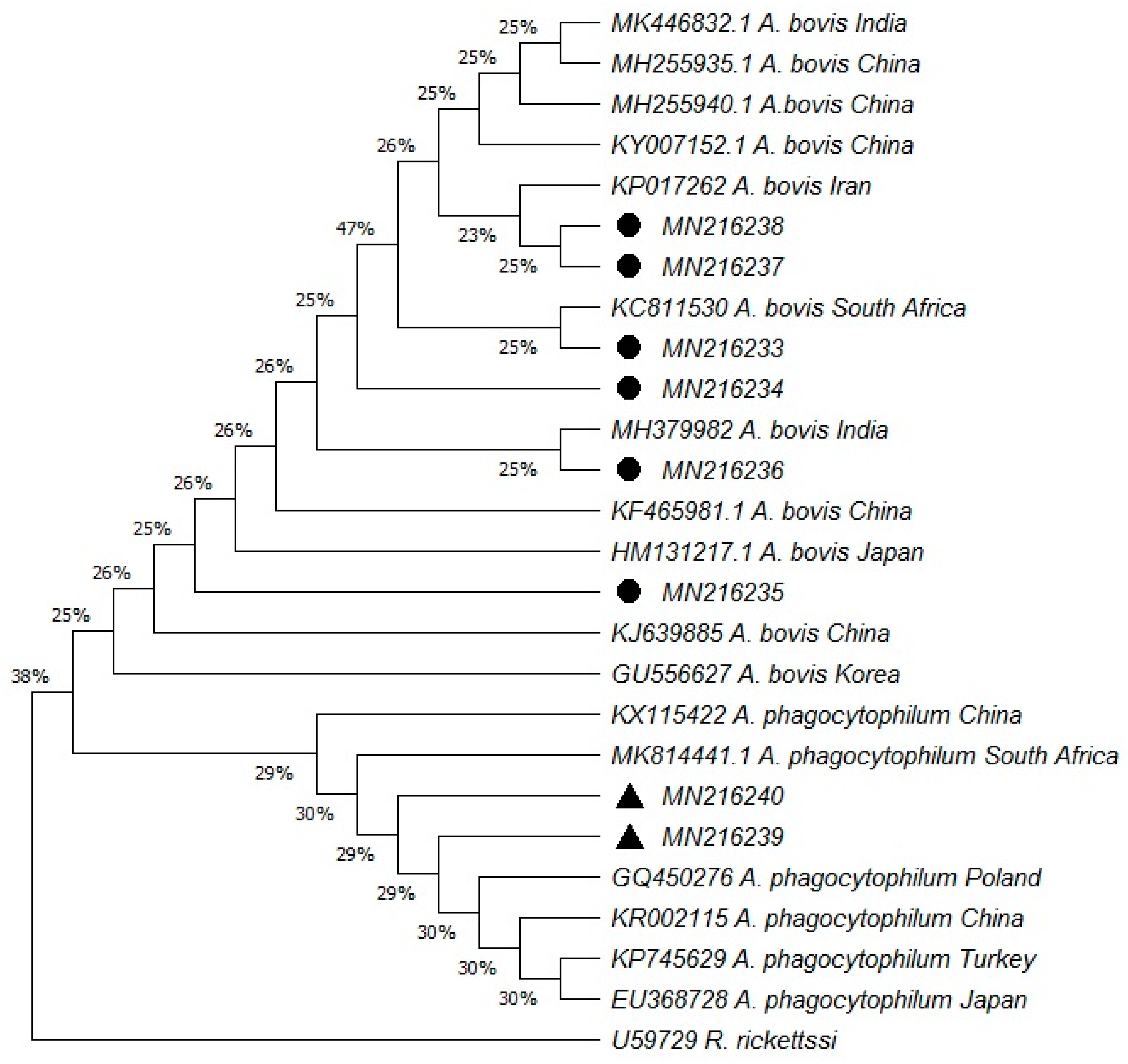 © 2019 by the authors. Licensee MDPI, Basel, Switzerland. This article is an open access article distributed under the terms and conditions of the Creative Commons Attribution (CC BY) license (http://creativecommons.org/licenses/by/4.0/).