Open Access This article is
freely available
re-usable
Review
Zika Virus Trafficking and Interactions in the Human Male Reproductive Tract
Departamento de Ciências da Saúde, Universidade Salgado de Oliveira, Juiz de Fora, Minas Gerais, CEP 36036-000, Brazil
Received: 21 March 2018 / Accepted: 2 May 2018 / Published: 11 May 2018
Abstract
:
Sexual transmission of Zika virus (ZIKV) is a matter of great concern. Infectious viral particles can be shed in semen for as long as six months after infection and can be transferred to male and female sexual partners during unprotected sexual intercourse. The virus can be found inside spermatozoa and could be directly transferred to the oocyte during fertilization. Sexual transmission of ZIKV can contribute to the rise in number of infected individuals in endemic areas as well as in countries where the mosquito vector does not thrive. There is also the possibility, as has been demonstrated in mouse models, that the vaginal deposition of ZIKV particles present in semen could lead to congenital syndrome. In this paper, we review the current literature to understand ZIKV trafficking from the bloodstream to the human male reproductive tract and viral interactions with host cells in interstitial spaces, tubule walls, annexed glands and semen. We hope to highlight gaps to be filled by future research and potential routes for vaccine and antiviral development.
Keywords:
Zika virus; sexual transmission; male reproductive tract; human reproduction
1. Introduction
It becomes clear from this brief introduction that the MRT is an appropriate site for replication and persistence of several viruses, including arboviruses that are endemic in tropical countries posing a serious threat to populations in which unprotected sexual intercourses occur. The aim of the present review is to address the trafficking of ZIKV from the human blood to the MRT and its interactions with cells, secretions and immune responses, and to highlight the gaps in our current understanding of ZIKV interactions within the human MRT. We hope that a better understanding of ZIKV infections in males will contribute to the definition of new research goals, better reproductive recommendations and new strategies for vaccine development in a Zika threatened world.
2. A Brief Historical Perspective of ZIKV Sexual Transmission
3. Interactions of ZIKV in the Male Reproductive Tract
3.1. Zika Virus Interactions in the Testis
3.1.1. Zika Virus and the Hematotesticular Barrier
One intriguing characteristic of ZIKV infection is the long time required for viral clearance from the bloodstream [
57
,
58
]. Detection of ZIKV RNA in blood samples for up to 120 days was reported in males in a cohort study [
55
]. The persistence is longer in the cell fraction than in plasma [
59
,
60
], suggesting that the virus can evade innate and adaptive antiviral immune responses favoring its intracellular persistence. ZIKV RNA is detected up to 81 days in erythrocytes in the presence of a robust humoral response with neutralizing antibodies against the virus [
37
], and for approximately 150 days in white blood cells, the latter exhibiting a higher viral load than platelets [
59
]. Similar results have been reported for other flaviviruses such as West Nile virus and Dengue virus [
61
,
62
,
63
,
64
]. These findings not only point to the potential for blood transfusion transmission of ZIKV, which was suspected early in the outbreak in French Polynesia [
65
] and in Brazil [
66
], but also shows that ZIKV has plenty of time to cross blood–tissue barriers in the male body reaching immune privileged sites such as the testis and establishing a reservoir for persistent infection (
Figure 2
).
On reaching the testicles, circulating ZIKV particles would need to transmigrate through the endothelium lining of the capillary network to reach the interstitial space. There is no clear demonstration that the virus infects endothelial cells in the testicular vasculature (
Figure 2
), but ZIKV has been shown to infect endothelial cells from many tissues, including from aortic and coronary artery where productive infection is established [
67
,
68
,
69
]. In human brain microvascular endothelial cells, ZIKV infection activates genes involved in viral persistence, cell survival, inhibition of apoptosis, and the production of chemokines, among others [
70
]. ZIKV evades the interferon-α (IFN-α) antiviral effect, induces host cell survival mechanisms, replicates and spreads in monolayers, even when the virus is inoculated in low numbers. These endothelial cells remain 100% viable and highly productive of viral particles. Even so, they retain their capacity to control the paracellular flow of molecules. Exactly the opposite is seen in endothelial cells infected with Dengue virus [
71
,
72
], which may cause hemorrhagic syndromes not commonly seen in ZIKV infected patients.
ZIKV particles are released to the adluminal and luminal surfaces of the monolayers of human brain microvascular endothelial cells proving that, at the end of the replication cycle, the virus can be delivered to the brain, an immune privileged site. It is possible that a similar process could take place in the testis. ZIKV particles persisting in the male blood would adsorb to and enter the apical surface of the endothelial cells lining the capillaries in the testis, replicate in their cytoplasm and be released in the basolateral membrane that faces Leydig cells, macrophages, dendritic cells and fibroblast in the interstitial space.
Some evidence suggests that this might be the case. It has been demonstrated that endothelial cells have several receptors for flaviviruses, including AXL, a receptor from the tyrosine kinase family which is a co-receptor and entry facilitator for ZIKV in humans [
69
,
73
,
74
]. Signaling through this receptor is known to suppress innate immune responses and favor viral replication [
75
]. Hamel and co-workers [
76
] were the first to identify ZIKV innate immune receptors in human dermal fibroblasts (TLR3), immature dendritic cells (DC-SIGN) and keratinocytes (AXL). Additionally, endothelial cells are capable of sensing viral RNA through RIG-I and plasmacytoid DCs through TLR7 resulting in the production of pro-inflammatory cytokines [
77
]. If present in interstitial cells in the testis, they could facilitate ZIKV infection. In support of this hypothesis, epithelial cells and fibroblasts from different species and tissues, including vascular endothelial cells, were permissive to ZIKV and able to replicate it to high titers [
78
]. The fact that chloroquine inhibits ZIKV infection of these cells in vitro [
79
] suggests that this drug could help control viral replication in blood–tissue barriers.
3.1.2. Zika Virus Interactions with Cells Present in the Testicular Interstitial Spaces
3.1.3. Zika Virus Interactions in the Peritubular Space and the Seminiferous Tubule Wall
3.2. Zika Virus in the Epididymis
The human epididymal epithelial lining (
Figure 2
) expresses the AXL co-receptor for ZIKV [
92
] and this could result in the infection of these cells by free ZIKV particles arriving from the seminiferous tubules, as has been already detected in mouse models [
99
]. Viral replication in the epididymal epithelium would amplify the infection in the MRT and could be a plausible explanation for the high viral loads detected in semen. In one study, the viral load in semen was 100,000 times higher (8.6 × 10
10
copies/mL) than that in whole blood [
28
].
As described above in the testis, the virus could also reach the epididymis from the blood and infected interstitial cells such as macrophages and DCs and gain access to the spermatozoa in the epididymal lumen. Here, the virus could adsorb to the membranes of spermatozoa or infect these cells in the acute phase of the disease when spermatozoa traffic for approximately 12 days in the lumen of the epididymis [
55
].
The DC population in the normal epididymal intertubular space is primarily composed of immature plasmacytoid and myeloid DCs [
100
]. These cells change to mature phenotypes upon persistent inflammation of the epididymis and could affect the integrity and permeability of the fragile BEB (Blood–Epididymis Barrier) promoting a Th17 inflammatory response during the course of ZIKV infection, as has been demonstrated for other infectious agents [
101
]. As a result of inflammation, DCs could meet self-antigens present on spermatozoa, capture and present them to auto-reactive T cells increasing the chances for fertility disorders. This hypothesis has yet to be tested in long term follow up studies of ZIKV-infected males. The development of new methods with higher sensitivity to detect ZIKV RNA in the epididymis of mouse will probably contribute to further studies of the interactions of ZIKV in this organ in humans [
102
].
3.3. Zika Virus in the Prostate Gland and in the Seminal Vesicle
Evidence that these anatomical sites might be permissive to ZIKV comes from two studies of ZIKV shedding in vasectomized men. In these cases, the surgical procedure cuts and seals the ductus deferens that carries spermatozoa from the testis and epididymis towards these glands. Therefore, the source of the virus would have to be ahead of the surgical incision in the prostate, seminal vesicles or bulbourethral glands. One cannot rule out a possible role of urethral epithelium in ZIKV replication in the MRT.
3.4. Zika Virus in Semen
The detection of infectious virus particles has not always been successful and might be due to technical issues. Negative cultures might reflect the absence of infective particles, technical inadequacy, insufficient technical skills, viral neutralization, viral persistence inside semen cells, viral destruction by processing, among other possibilities. A good approach is to free all possible ZIKV particles present in the cell fraction before inoculation onto the cell layer in vials.
4. Conclusions
ZIKV, a sexually transmitted virus, invades the male reproductive tract and interacts with immune cells, germ cells and spermatogonia being detected inside motile spermatozoa and posing a serious threat to human reproduction. Long term shedding of high loads of infectious viral particles in semen suggests that this virus can persist in the male reproductive tract. Detailed studies are needed to identify the location of host cells permissive for ZIKV replication in the male reproductive tract, the viral reservoirs and the extent of viral shedding and infectivity in the male population. Further research is also needed to determine if the virus infects and replicates in annexed glands and in the urethral epithelium. Some of the immune responses elicited by ZIKV in the male reproductive tract have been described, but there is much more still to be discovered about viral immune evasion and persistence in this anatomical site to pave the road for appropriate vaccine and antiviral development.
Conflicts of Interest
The author declares no conflict of interest.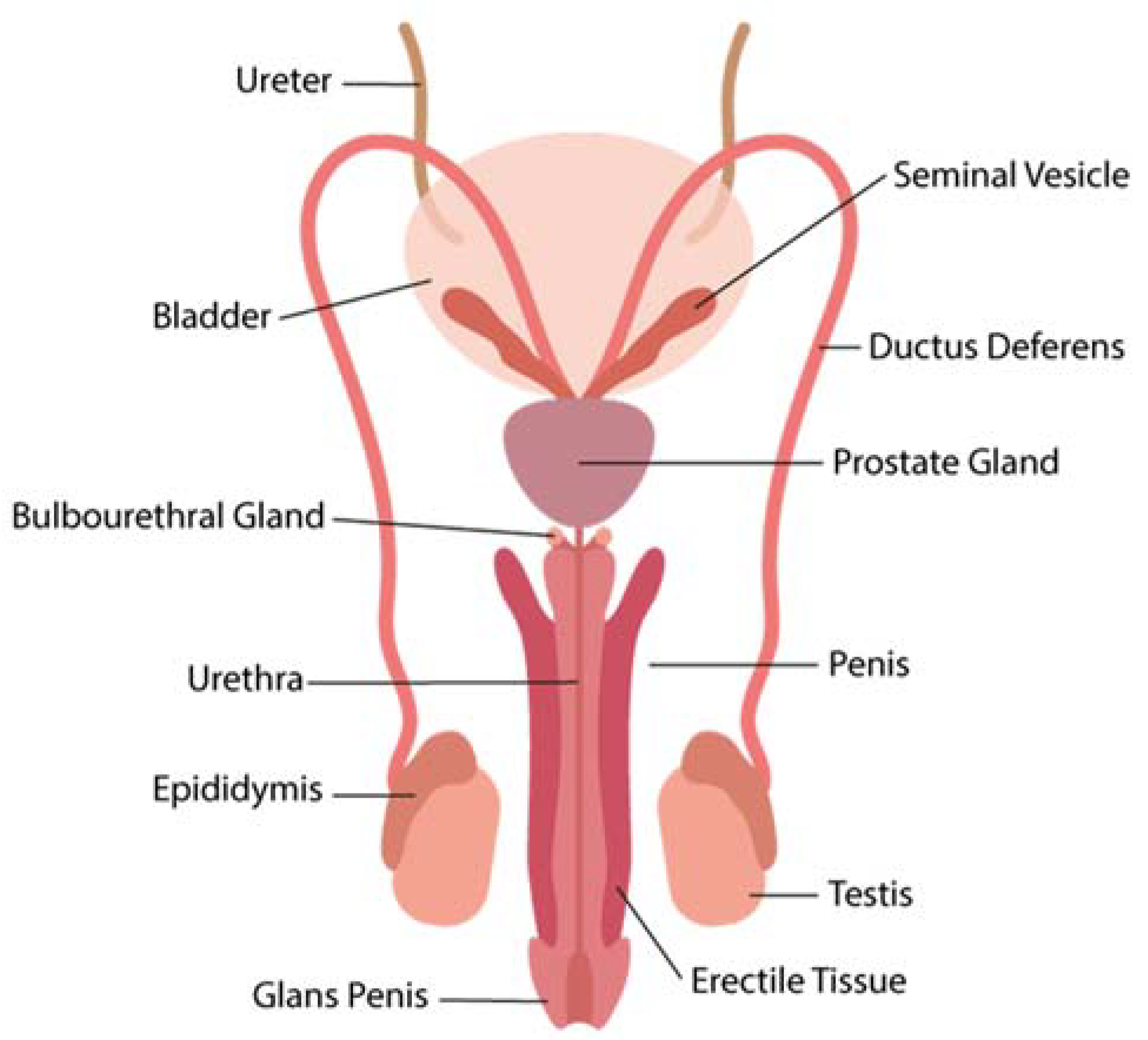 | Date | Advances | Reference |
| --- | --- | --- |
| May 2011 | First report of ZIKV probable sexual transmission | [16] |
| May 2014 | Two cases of probable sexual transmission reported | [26] |
| February 2015 | Infectious ZIKV particles detected in semen samples | [27] |
| March 2016 | High viral load reported in semen sample | [28] |
| May 2016 | Zika virus presence in semen confirmed | [29] |
| April 2016 | Zika RNA found in semen of asymptomatic blood donors | [30] |
| April 2016 | First report of male-to-male sexual transmission | [31] |
| July 2016 | First report of Zika RNA in cervical mucus | [32] |
| July 2016 | First report of suspected female-to-male sexual transmission | [33] |

© 2018 by the author. Licensee MDPI, Basel, Switzerland. This article is an open access article distributed under the terms and conditions of the Creative Commons Attribution (CC BY) license (http://creativecommons.org/licenses/by/4.0/).