Open Access This article is
freely available
re-usable
Review
Design and Fabrication of a Responsive Carrier Component Envelope
1
College of Design, National Yunlin University of Science and Technology, Taipei 10607, Taiwan
2
School of Electrical Engineering, Computing and Mathematical Sciences, Curtin University, Bentley, WA 6102, Australia
†
Current address: 123 University Road, Section 3, Douliou, Yunlin 64002, Taiwan, R.O.C.

‡
These authors contributed equally to this work.

Received: 28 February 2019 / Accepted: 11 April 2019 / Published: 15 April 2019
Abstract
:
Responsive architecture comprises the creation of buildings or structural elements of buildings that adapt in response to external stimuli or internal conditions. The responsiveness of such structures rests on addressing constraints from multiple domains of expertise. The dynamic integration of geometric, structural, material and electronic subsystems requires innovative design methods and processes. This paper reports on the design and fabrication of a responsive carrier component envelope (RCCE) that responds by changing shape through kinetic motion. The design of the RCCE is based on geometry and structure of carrier surfaces populated with a kinetic structural component that responds to external stimuli. We extend earlier prototypes to design a modular, component-driven bottom-up system assembly exploring full-scale material and electronic subsystems for the expansion and retraction of a symmetric polar array based on the Hobermann sphere. We test the kinetic responsiveness of the RCCE with material constraints and simulate responses by connecting the adaptive components with programmable input and behavior. Finally, a concrete situation from practice is presented where 16 fully-functional components of the adaptive component are assembled and tested as part of an interactive public placemaking installation at the Shenzhen MakerFaire Exhibition. The RCCE experimental prototype provides new results on the design and construction of an adaptive assembly in system design and planning, choice of fabrication and assembly methods and incorporation of dynamic forms. This paper concludes that the design and assembly of an adaptive structural component based on RCCE presents results for designing sensitive, creative, adaptable and sustainable architecture.
Keywords:
responsive architecture; kinetic envelope; adaptive design; interactive architecture; moveable facade components; carrier component structures; sensor interaction; digital fabrication
Author Contributions
Conceptualization, T.-W.C. and S.D.; methodology, T.-W.C.; software development, S.D.; validation, T.-W.C. and H.-Y.H.; formal analysis, all authors; writing—original draft preparation, S.D.; writing—review and editing, T.-W.C.; visualization, H.-Y.H.; supervision, T.-W.C.; project administration, H.-Y.H.; and funding acquisition, T.-W.C.
Funding
This research was funded by Idea Factory, YunTech, Taiwan and Curtin University, Australia.
Acknowledgments
The project was undertaken in collaboration between Idea Factory (Yunlin, Taiwan) and Code Lab (Perth, Australia) under the supervision of OneWork.io (Taipei, Taiwan), a startup company with expertise on Internet of Things (IoT).The authors acknowledge the contributions of the team leader of the project "Dynamic Cloud" Huei-Sheng Yu (onework.io) and the following participants: Andrei Smolik and Rex Auyeung (Curtin University); Tsai-Ling Hsieh, Yeong-Shenn Lee, Yun-Ru Chen and Chun-Yen Chen (Idea Factory, YunTech); Wayne Lin and Monica Shen (x.factory).
Conflicts of Interest
The authors declare no conflict of interest.

Figure 1. Carrier component structure: (a) detailed design of a discrete carrier surface as a support structure; and (b) aggregation of a single adaptive component over the surface.


Figure 2. (a) Design rendition of responsive envelope on carrier surface; and (b) adaptive component triggering closed and open states through motion.


Figure 3. The design development of the adaptive component simulation of the scissor truss motion using a spring system simulation.


Figure 4. Detailed design modeling of polar array assemblies based on the expansion and contraction principles of a Hobermann sphere.


Figure 5. Physical prototype models with variational play to understand the stages of motion from closed to open.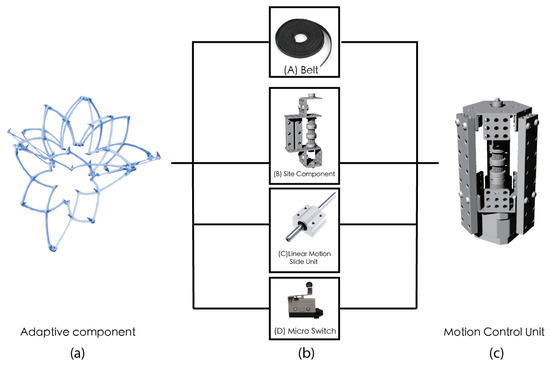 Figure 6. (a) Adaptive component configuration prototype model based on the scissor truss; (b) MakeBlock components for kinetic motion; and (c) central motion control unit.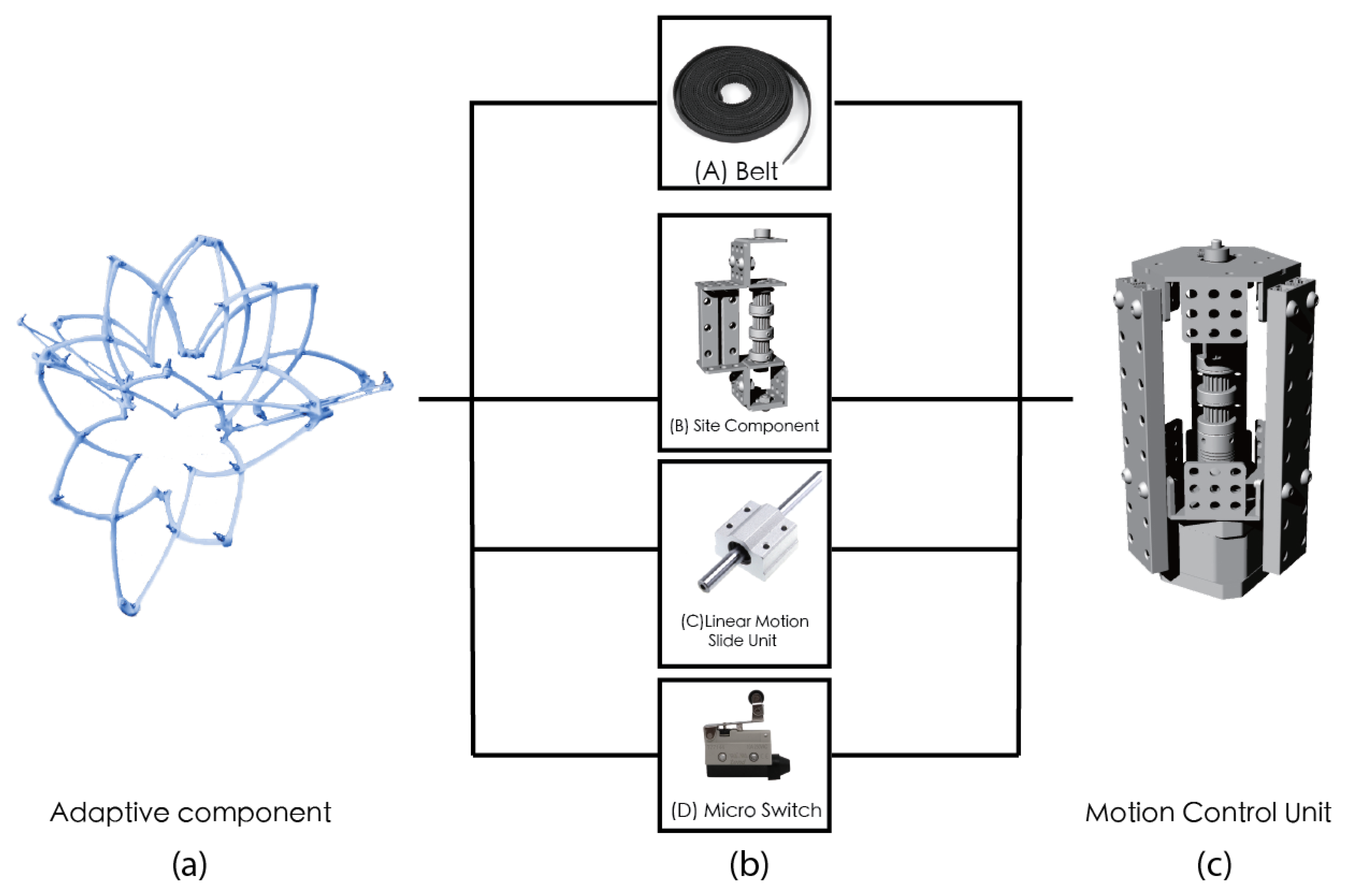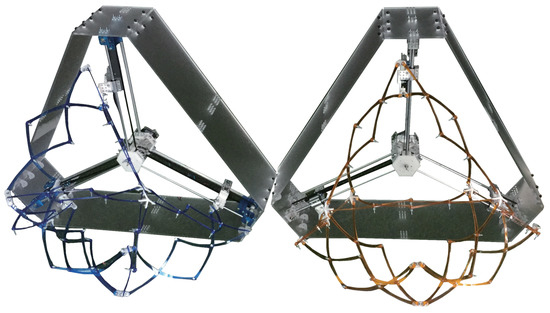 Figure 7. Early component configuration prototype models for kinetic components based on the scissor truss.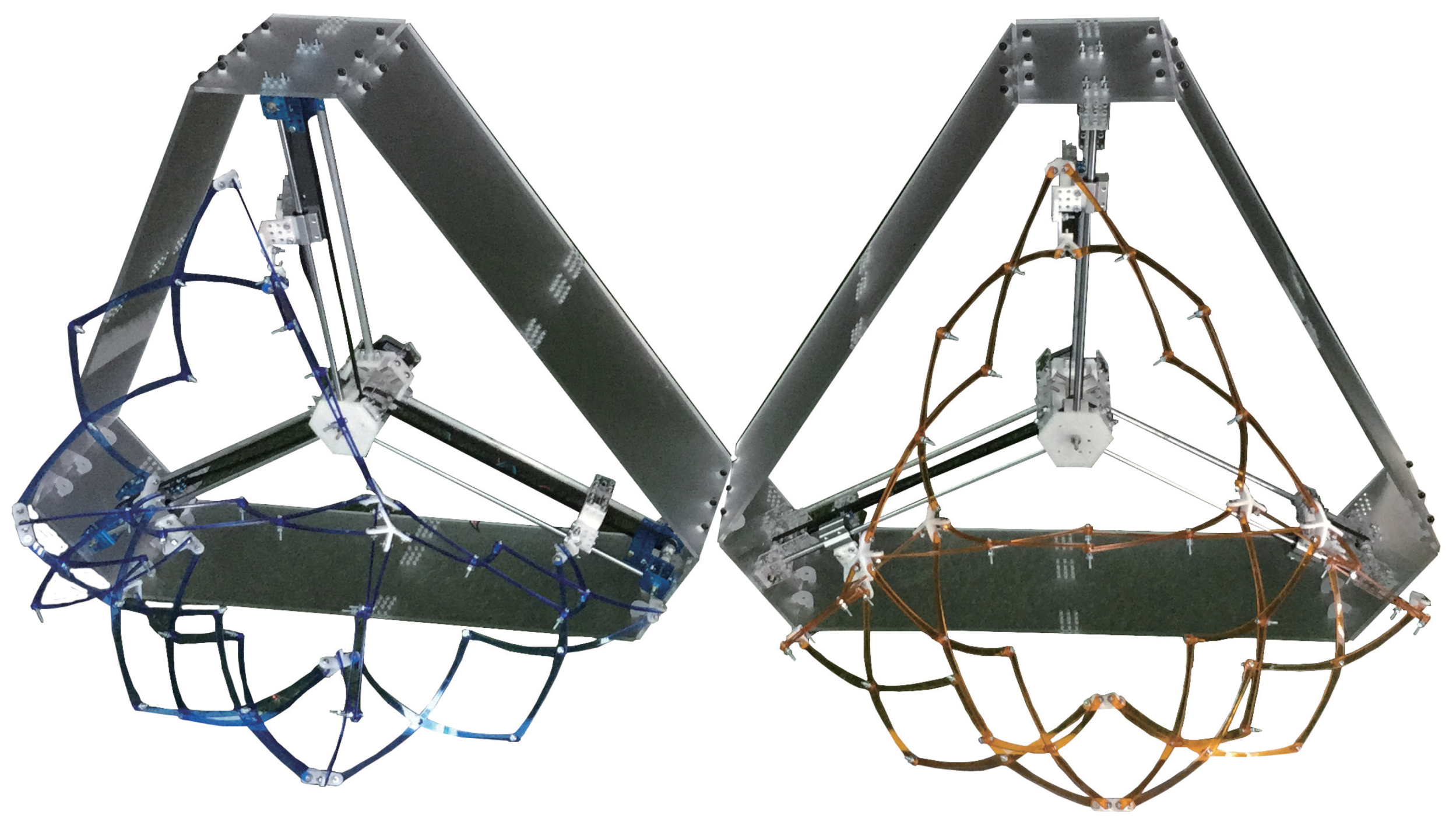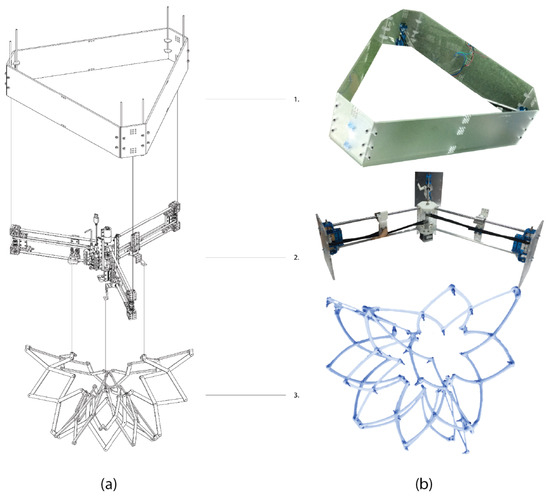 Figure 8. (a) RCCE design was done in three subcomponents comprising connectors, motion bars and scissor truss configuration; and (b) view of the final adaptive component assembly and fabrication.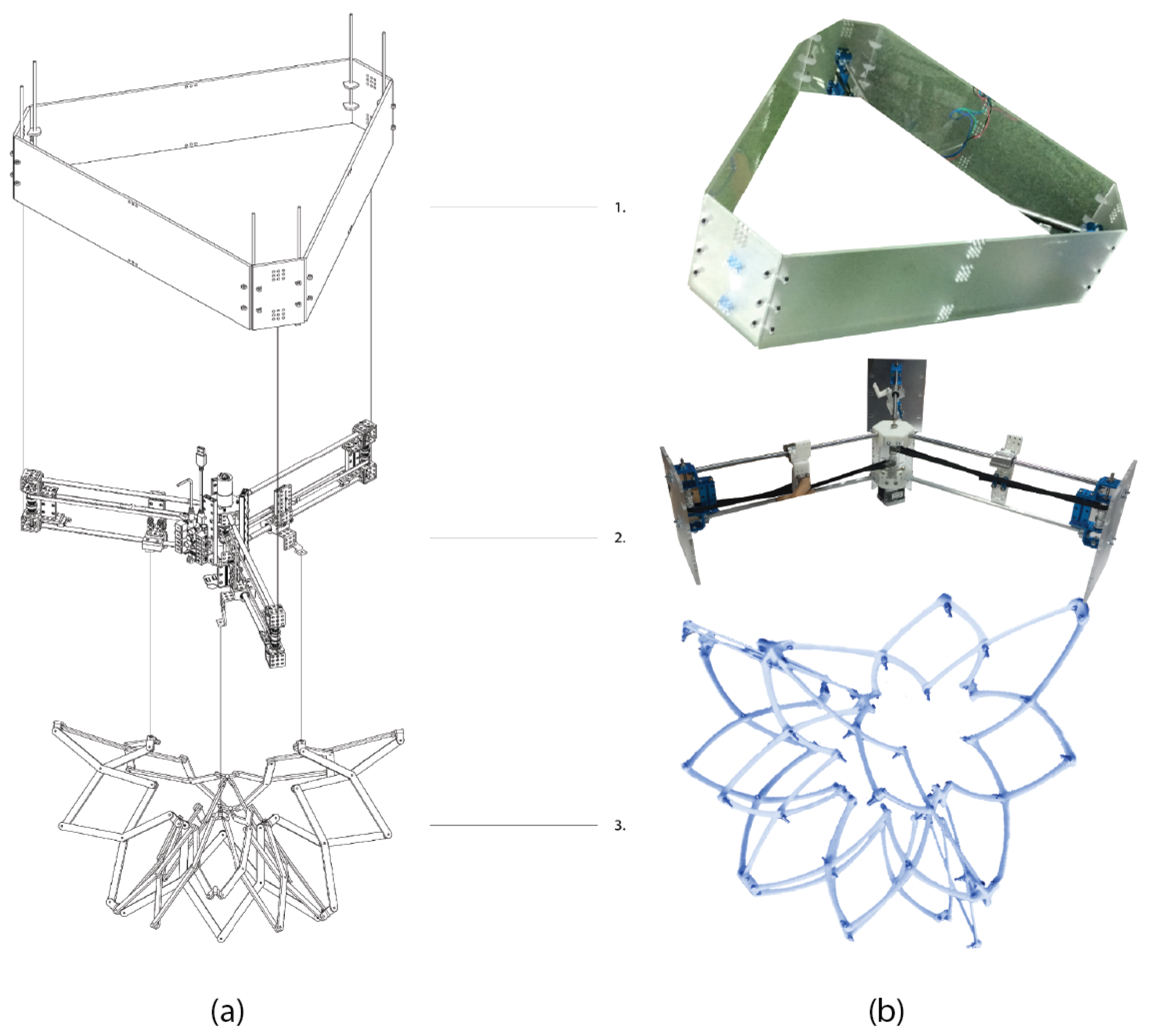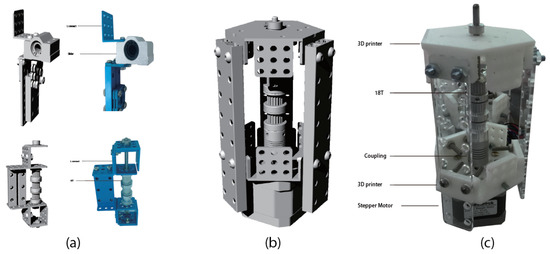 Figure 9. (a) Three subcomponents comprising connectors, motion bars and scissor truss configuration; (b) RCCE motion control unit; and (c) component assembly and fabrication.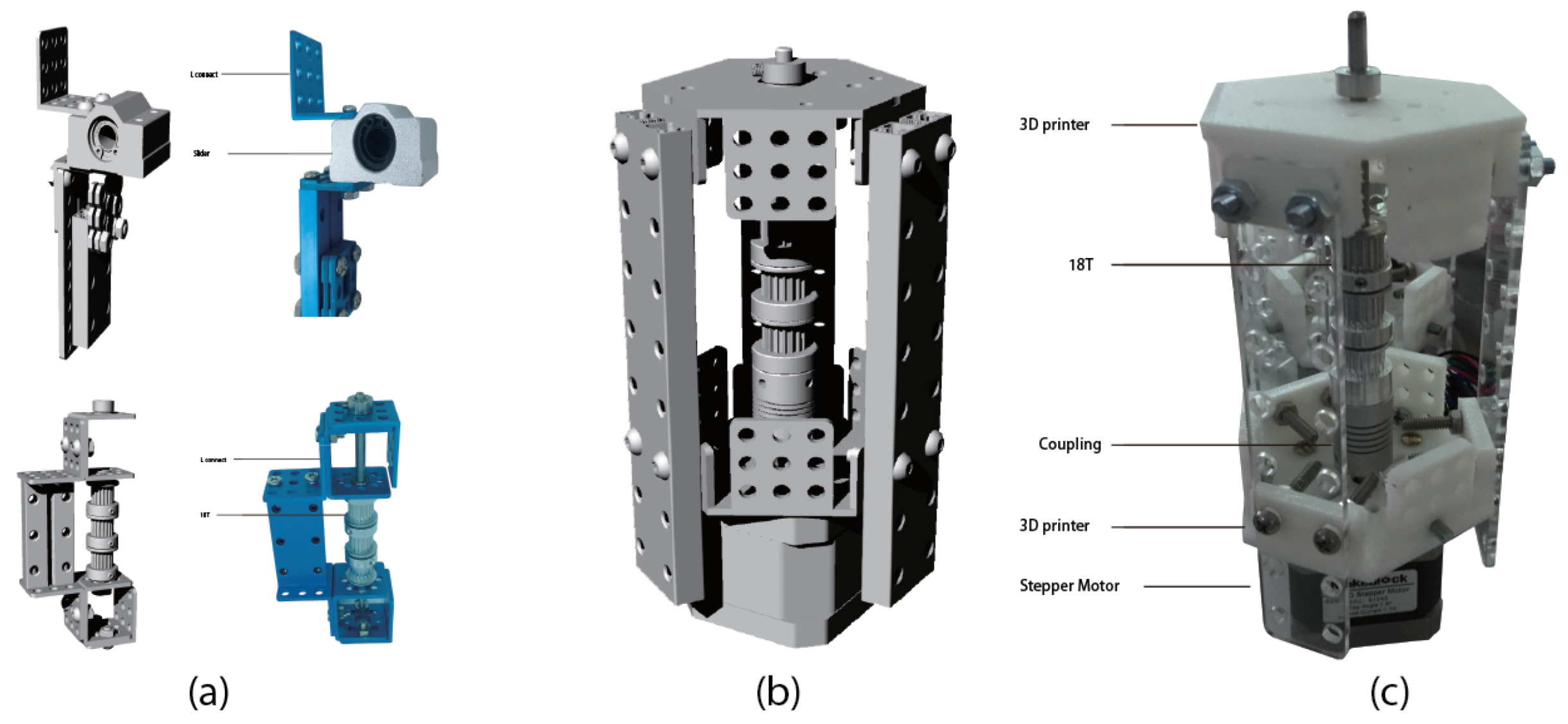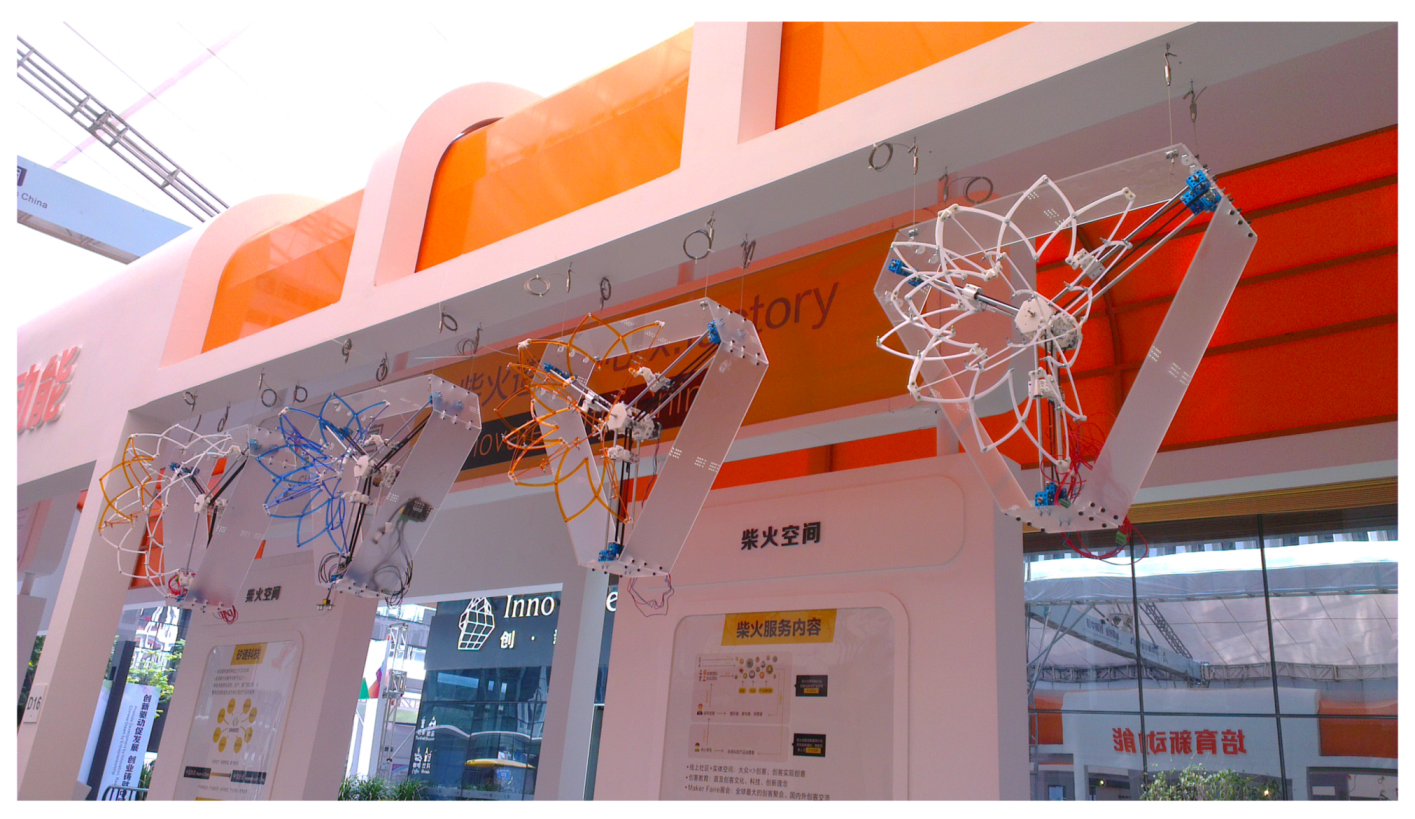 Figure 11. Full-scale RCCE prototype: Installation of RCCE on site at Shenzhen MakerFaire Exhibition.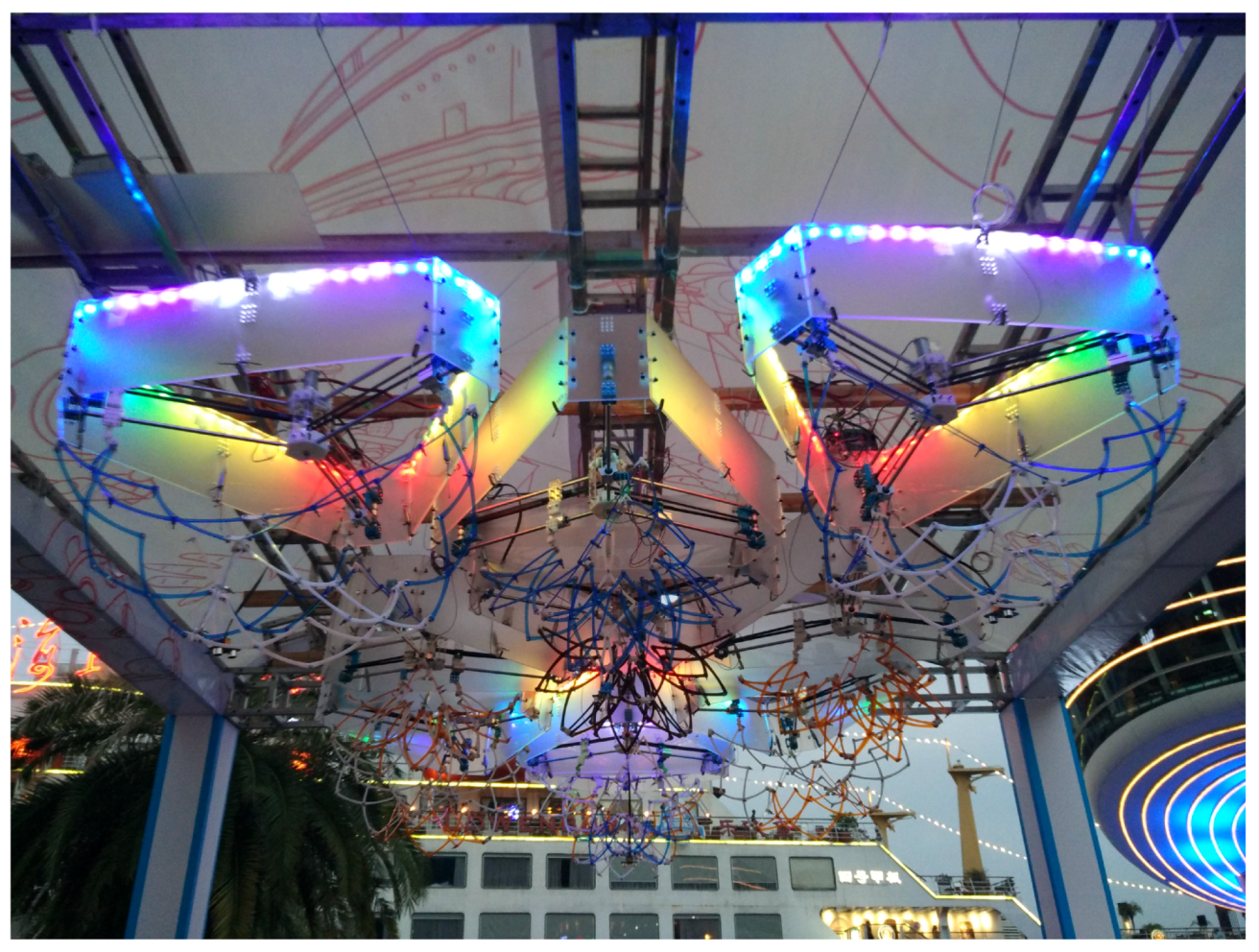 Figure 12. The outcomes of our research: (left) design research into the carrier component structures; (middle) detailed design, fabrication and assembly of a single adaptive component; and (right) public installation of an RCCE prototype at the Shenzhen MakerFaire Exhibition.


© 2019 by the authors. Licensee MDPI, Basel, Switzerland. This article is an open access article distributed under the terms and conditions of the Creative Commons Attribution (CC BY) license (http://creativecommons.org/licenses/by/4.0/).