Open Access This article is
freely available
re-usable
Article
Processing–Microstructure Relation of Deformed and Partitioned (D&P) Steels
1
Department of Mechanical Engineering, The University of Hong Kong, Hong Kong 999077, China
2
Shenzhen Institute of Research and Innovation, The University of Hong Kong, Shenzhen 518057, China
*
Author to whom correspondence should be addressed.
Received: 22 May 2019 / Accepted: 19 June 2019 / Published: 20 June 2019
Abstract
:
An ultrastrong and ductile deformed and partitioned (D&P) steel developed by dislocation engineering has been reported recently. However, the microstructure evolution during the D&P processes has not yet been fully understood. The present paper aims to elucidate the process–microstructure relation in D&P process. Specifically, the evolution of phase fraction and microstructure during the corresponding D&P process are captured by means of X-ray diffraction (XRD) and electron backscatter diffraction (EBSD). Subsequently, the effect of partitioning temperature on dislocation density and mechanical properties of D&P steel is investigated with the assistance of uniaxial tensile tests and synchrotron X-ray diffraction. It is found that a heterogeneous microstructure is firstly realized by hot rolling. The warm rolling is crucial in introducing dislocations, while deformation-induced martensite is mainly formed during cold rolling. The dislocation density of the D&P steel gradually decreases with the increase of partitioning temperature, while the high yield strength is maintained owing to the bake hardening. The ductility is firstly enhanced while then deteriorated by increasing partitioning temperature due to the strong interaction between dislocation and interstitial atoms at higher partitioning temperatures.
Keywords:
D&P steel; processing; microstructure; phase transformation; dislocation density; mechanical properties
1. Introduction
Strong and ductile metallic materials are ideal to develop high-performance yet energy-efficient structural components for many applications [
1
,
2
]. Unfortunately, strength and ductility are, in general, mutually exclusive in metallic materials [
3
,
4
]. Sustained effort has been paid to overcome the strength–ductility trade-off of structural materials. Alloying by the addition of cobalt and titanium is an effective way to simultaneously improve the strength and ductility. Nevertheless, this strategy is not cost-efficient for the industrial application and not sustainable for the limited resources on earth [
5
]. Developing novel thermal-mechanical process to tune the microstructure is an alternative way to resolve such trade-off. For example, quenching and partitioning (Q&P) treatment enables a dual-phase microstructure of retained austenite embedded and martensite matrix has been successfully applied to medium Mn steel, austenitic stainless steel, and martensitic stainless steel [
6
,
7
,
8
]. The retained austenite can provide transformation-induced plasticity (TRIP) effect to improve strain hardening rate, delaying the onset of necking and leading to the high strength and good ductility [
9
]. Recently, a novel dislocation engineering concept was employed to introduce intensive dislocations in a deformed and partitioned (D&P) steel that achieves an ultrahigh yield strength (~2.2 GPa) without compromising ductility (uniform elongation is up to ~16%) [
10
]. In general, strength tends to increase as dislocation density increases by resisting dislocation motion. However, ductility, which requires the glide of dislocations, is deteriorated by abundant dislocations [
11
]. Opposite to such traditional view, the D&P steel demonstrates that a high dislocation density can simultaneously introduce ultrahigh yield strength as well large ductility [
10
]. The D&P steel shows a dual-phase heterogeneous microstructure with metastable retained austenite embedded in a highly dislocated martensitic matrix [
10
,
12
]. The retained austenite provides TRIP effect upon deformation [
9
]. Intensive dislocations not only provide dislocation hardening for high strength but promote ductility by glides of mobile dislocations [
10
,
13
].
The excellent mechanical properties are tailored by the corresponding D&P process. However, the evolution of microstructure during the D&P process has not yet been fully understood, which are crucial to the industrialization of the D&P steel. Meanwhile, the effect of partitioning parameters on the properties of D&P steel has not yet been discussed. Therefore, the present study investigates the contribution of different processing step of the D&P process, especially the partitioning temperature, on microstructure evolution and consequently mechanical properties of the D&P steel.
2. Materials and Methods
The investigated D&P steel has a chemical composition of Fe-10Mn-0.47C-0.7V-2Al (in wt %).
Figure 1
is a schematic illustration on the thermal-mechanical processing route to produce the D&P steel. The as-received ingot is firstly homogenized at 1150 °C for 2.5 h, followed by hot rolling (HR) down to a thickness of 4 mm. The hot rolled sheet is further warm rolled (WR) at 750 °C with a total thickness reduction of 50% and is then intercritical annealed (IA) at 620 °C for 5 h. Afterwards, the sheet is further subjected to cold rolling (CR) with a thickness reduction of 30%, giving the final thickness of about 1.4 mm. The specimens subjected to HR, WR, IA, and CR are named as "Deformed" samples for brevity. Finally, Deformed samples are tempered at various temperatures for carbon partitioning from martensite to austenite to optimize austenite stability. Specimens tempered at 200 °C, 300 °C, and 400 °C are referred to D&P200, D&P300, and D&P400, respectively.
The evolution of phase fraction during the whole thermomechanical process is monitored by X-ray diffraction (XRD) carried out on a Rigaku diffractometer (Rigaku Corporation, Tokyo, Japan) operating in the reflection mode with Cu Kα radiation (wavelength = 1.542 Å). Scanning is performed from 40 to 100 degree at a counting rate of 0.01°·s
−1
. Diffraction peaks including (110)α, (200)α, (211)α, (200)γ, (220)γ, and (311)γ are selected to determine the phase fraction of austenite and martensite. The cross-section along rolling direction (RD) of samples is mechanically polished down to 1 µm followed by electrical polishing in a solution of 20% perchloric acid and 80% acetic acid (vol %) for XRD measurement and further microstructure observation. The microstructure is captured by electron backscatter diffraction (EBSD) with an LEO 1530 FEG SEM (Zeiss, Oberkochen, Germany) operated at 20 kV with a step size of 0.25 µm. Vickers hardness measurements are conducted on the electropolished samples with a peak load of 200 gf at ambient temperature. Dog-bone-shaped tensile specimens with a gauge length of 12 mm, thickness of 1.4 mm, and width of 4 mm are machined from the tempered sheets. Tensile tests are performed using a universal tensile testing machine under a strain rate of 10
−3
s
−1
at room temperature. To determine the dislocation density of the martensitic matrix of the D&P steel, synchrotron X-ray diffraction with a wavelength of 0.0688 nm, and a two-dimensional (2D) detector are performed on the electropolished samples at the BL14B beamline of Shanghai Synchrotron Radiation Facility (SSRF) (Shanghai, China). The 2D X-ray diffraction pattern is converged to intensity-2theta profiles by Fit2d for further calculation. The modified Williamson–Hall method is employed to obtain the dislocation density from the synchrotron X-ray profiles [
14
].
5. Conclusions
The present work investigates the phase transformation and microstructure evolution during the D&P process. The effect of partitioning temperatures on mechanical properties of D&P steel is also addressed. The present results show that the hot rolling process can result in an initial single-phase heterogeneous microstructure. The following warm rolling is highly effective in introducing dislocations. Intercritical annealing reduces the residual stress by partially recovering dislocations, which facilitates the cold rolling at room temperature. The subsequent cold rolling enables the deformation induced martensitic transformation. Partitioning tunes the mechanical behaviors by influencing the dislocation density and austenite stability. The increase of partitioning temperature slightly changes the austenite stability because the strong interaction between dislocations and carbon atoms restricts the carbon partitioning from martensite to austenite grains. Bake hardening compensates the reduction of strength after partitioning process, enables the ultrahigh yield strength of D&P steels.
Author Contributions
M.H. proposed the project and supervised all the work. L.L. performed the experimental testing and characterization. B.H. made the material. The paper was written by L.L., B.H. and M.H.
Funding
This research was funded by the National Natural Science Foundation of China (grant number U1764252, U1560204), Research Grants Council of Hong Kong (grant number 17255016, 17203014 and 17210418), and seed fund for Basic Research of HKU (grant number 201711159029).
Acknowledgments
Authors acknowledge the experimental support from the BL14B beamline at Shanghai Synchrotron Radiation Facility, Shanghai, China.
Conflicts of Interest
The authors declare no conflict interest.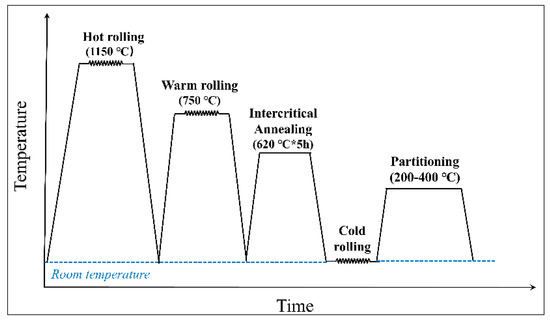 Figure 1. The schematic illustration on the thermal-mechanical processing route to produce the deformed and partitioned (D&P) steel.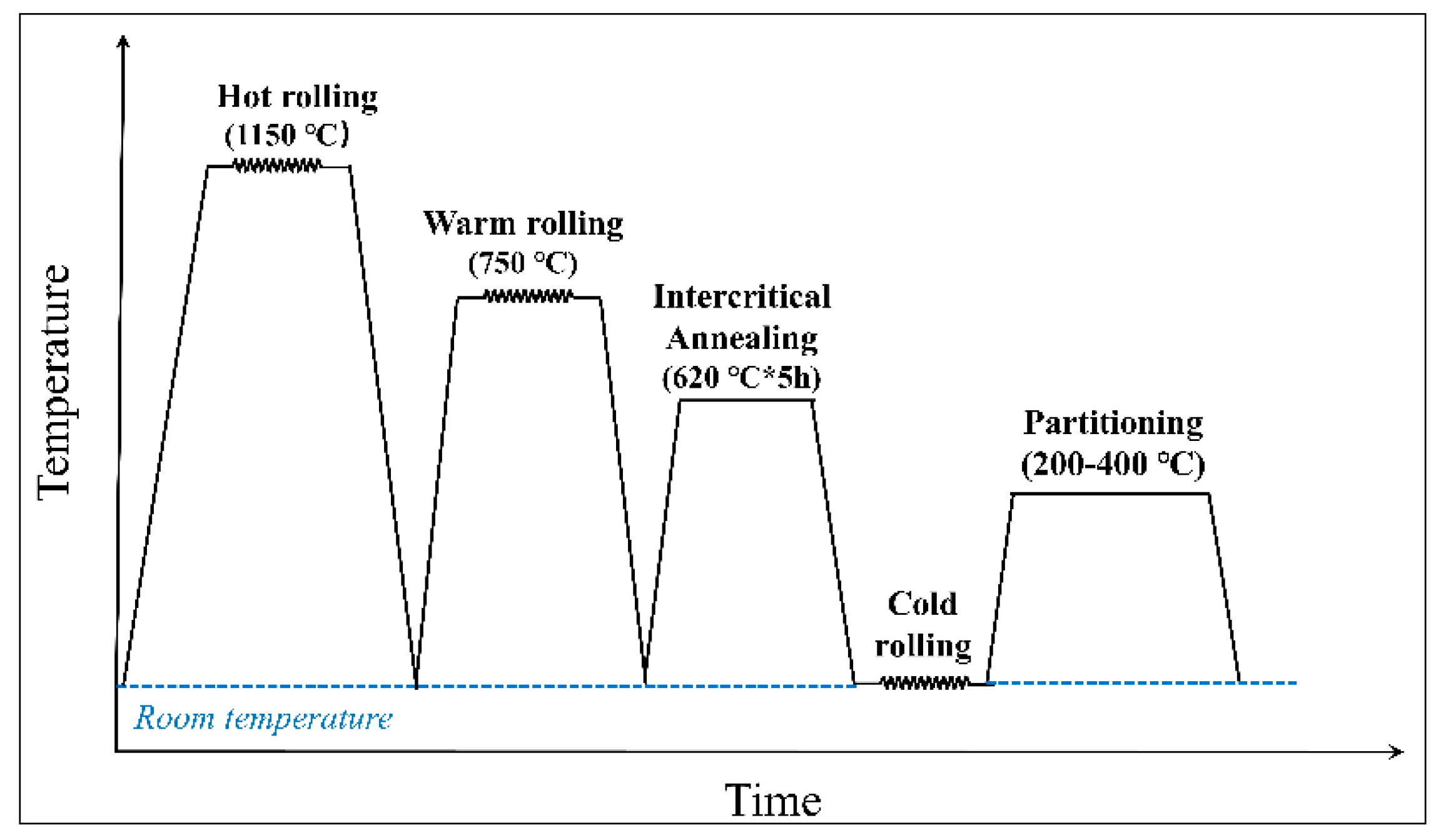 Figure 2. (a) The evolution of austenite phase fraction during HR (hot rolling), WR (warm rolling), and IA process (intercritical annealed). (b) The phase fraction and increment of carbon content of austenite in Deformed, D&P200, D&P300, and D&P400 samples.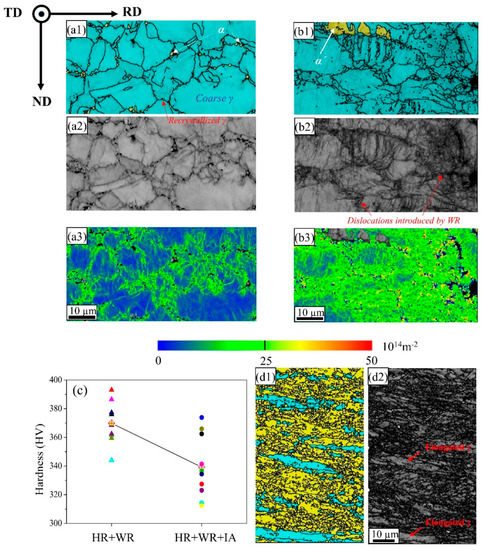 Figure 3. The microstructure of (a1,a2,a3) HR sample and (b1,b2,b3) HR+WR sample. (c) The Vickers hardness (HV) of HR+WR sample and HR+WR+IA sample. The microstructure of (d1,d2) D&P samples partitioned at 300 °C for 6 min. (a1, b1 and d1 are electron backscatter diffraction (EBSD) phase maps, wherein yellow and blue colors represent martensite/ferrite and austenite, respectively; a2, b2 and d2 are EBSD band contrast maps; a3 and b3 are the distribution of geometrically necessary dislocations (GND) densities of austenite matrix estimated based on the kernel average misorientation (KAM)). RD: Rolling direction; ND: Normal direction; TD: Transverse direction.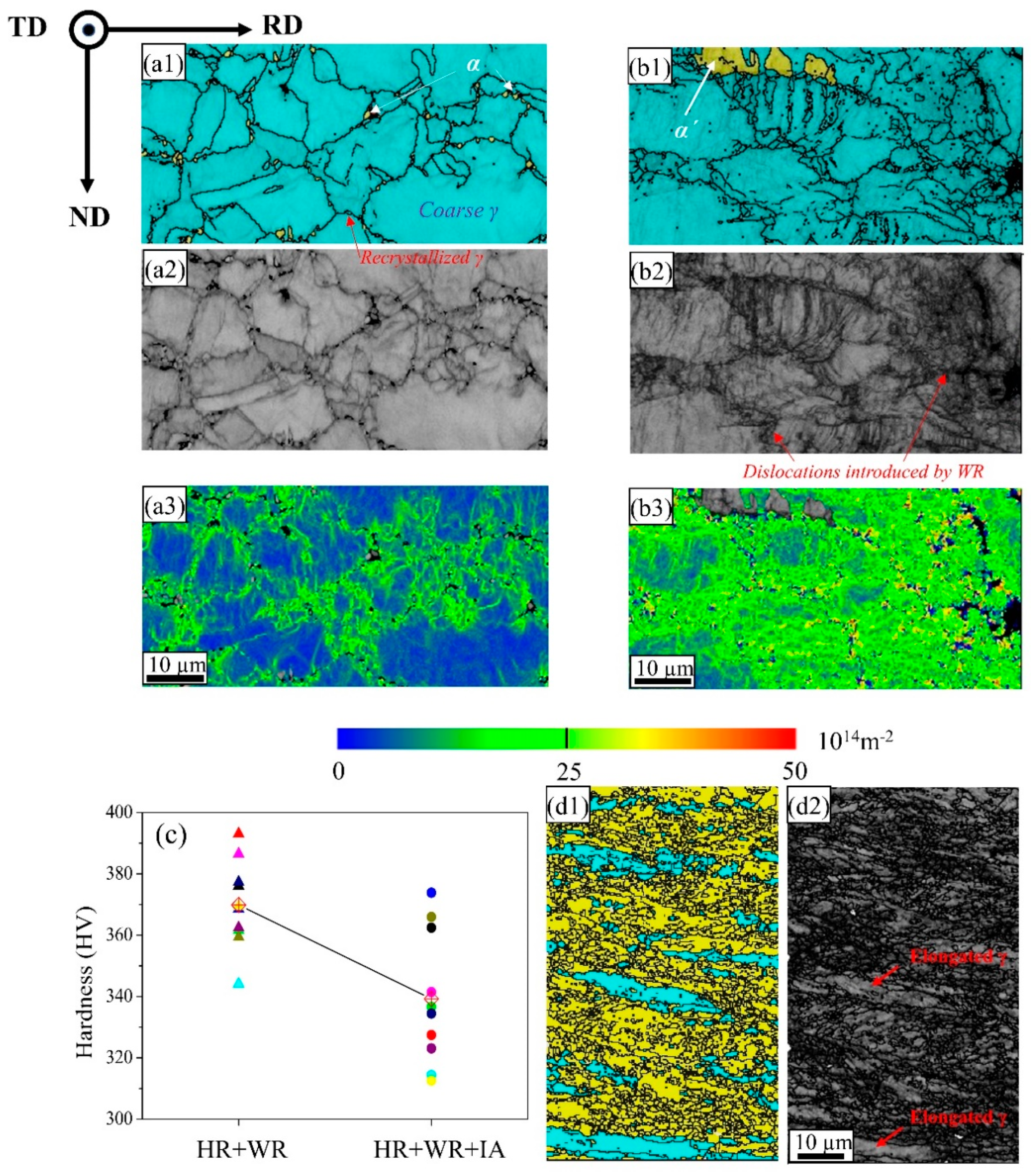 Figure 4. (a) The engineering stress–strain curves of D&P steels. (b) Effect of partitioning temperature on the ductility of D&P steels.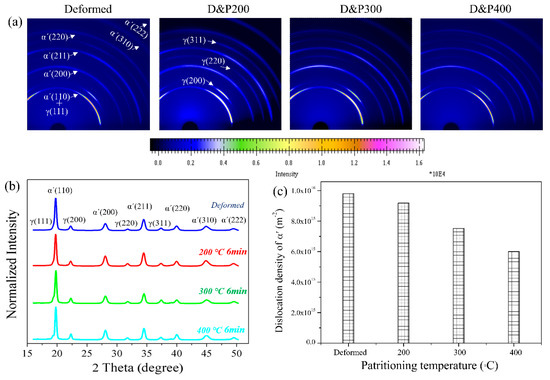 Figure 5. (a) 2D synchrotron X-ray diffraction patterns of D&P steels processed at different partitioning temperatures. Images have been colorized with high contrast to highlight the Debye diffraction rings. (b) 1D synchrotron X-ray diffraction profiles (intensity-2 theta curves) converged by 2D diffraction patterns. (c) The dislocation density of the martensitic matrix in D&P steels.

© 2019 by the authors. Licensee MDPI, Basel, Switzerland. This article is an open access article distributed under the terms and conditions of the Creative Commons Attribution (CC BY) license (http://creativecommons.org/licenses/by/4.0/).