Open Access This article is
freely available
re-usable
Article
Microstructures and Hardness Prediction of an Ultrafine-Grained Al-2024 Alloy
1
Key Laboratory of Functional Materials and Applications of Fujian Province, Xiamen University of Technology, Xiamen 361024, China
2
Engineering Materials, School of Engineering, University of Southampton, Southampton SO17 1BJ, UK
*
Author to whom correspondence should be addressed.
Received: 16 October 2019 / Accepted: 29 October 2019 / Published: 1 November 2019
Abstract
:
High-pressure torsion (HPT) is a high efficiency processing method for fabricating bulk ultrafine-grained metallic materials. This work investigates microstructures and evaluates the corresponding strengthening components in the center of HPT disks, where effective shear strains are very low. An Al-4.63Cu-1.51Mg (wt. %) alloy was processed by HPT for 5 rotations. Non-equilibrium grain and sub-grain boundaries were observed using scanning transmission electron microscopy in the center area of HPT disks. Solute co-cluster segregation at grain boundaries was found by energy dispersive spectrometry. Quantitative analysis of X-ray diffraction patterns showed that the average microstrain, crystalline size, and dislocation density were (1.32 ± 0.07) × 10−3, 61.9 ± 1.4 nm, and (2.58 ± 0.07) × 1014 m−2, respectively. The ultra-high average hardness increment was predicted on multiple mechanisms due to ultra-high dislocation densities, grain refinement, and co-cluster–defect complexes.
Keywords:
high-pressure torsion; Al-Cu-Mg alloy; solute segregation
1. Introduction
High-pressure torsion (HPT) is a type of advanced severe plastic deformation processing (SPD) that can fabricate bulk metallic materials with ultrafine-grained microstructures and a high dislocation density [
1
,
2
]. HPT produces heterogeneous microstructures across the radius of the discs [
2
,
3
]. Compared to other SPD techniques, HPT has a higher efficiency for grain refinements and a good potential to improve the strength of metallic materials.
Al-Cu-Mg alloys, especially 2024-T351 alloys, are typically applied on lower wing structures of aircrafts because of their low mass density and good damage tolerance [
4
,
5
]. The hardness evolution, dislocation behavior, and grain refinement during HPT processing of Al-2024 alloys have been recently investigated [
6
]. Grain refinement to nano scales with high angle misorientations leading to superplastic deformation through boundary sliding has been reported [
7
].
During artificial ageing after conventional processing, S (Al
2
CuMg)-phase precipitates contribute to strength increase [
5
,
8
,
9
,
10
]. Research using atom probe tomography (i.e., three-dimensional atom probe technique) showed that Cu-Mg co-clusters are responsible for rapid hardening of Al-2024 alloy at room temperature and very low temperatures [
11
]. In HPT processing, Cu-Mg co-clusters segregate to form co-cluster–defect complexes, which further improve the strength and hardness of Al-2024 alloys [
12
,
13
]. It has been shown that increases in hardness near the edge of the HPT disk result from high dislocation densities, strong grain refinement, precipitation, and short-range order (SRO) complexes. However, no such investigation has as yet been carried out for the center of HPT disks, where effective shear strains are very low. The main objective of this paper is to characterize the inhomogeneous microstructures and to evaluate the corresponding strengthening components near the center of an HPT disk.
2. Materials and Methods
This work was carried out on Al-2024 discs with dimensions of 9.8 mm diameter and 8.5 ± 0.2 mm height. Samples were subjected to HPT for 5 rotations under a pressure of 6 GPa and a speed of 1 r/min. Further details of the HPT processing are provided in [
14
].
After HPT, some samples were ground and polished to 80μm thickness using SiC papers and punched small slices with 3 mm diameter at the center of the disk and at 2.5 mm distance from the center. Both 5r-HPT slices and Al-2024 T351 slices were then dimpled to ~10 μm using a Model 656 dimple grinder (Gatan Inc. USA. A Gatan PIPS II Model 695 precision ion polishing system) was used to achieve the thin foils [
15
]. Liquid N
2
was used to stabilize temperature at −180 °C. The scanning/transmission electron microscope (S/TEM) tests were carried out at 200 kV using a FEI TalosTMF200S microscope (FEI, Brno-Černovice, Czech Republic), equipped with energy dispersive spectrometry (EDS, Oxford Instrument, High Wycombe, UK).
Some 5r-HPT samples were carefully punched to obtain central disks 5 mm in diameter across the disk center and polished to a mirror-like surface. X-ray-diffraction (XRD) was conducted using a Siemens D5000 diffractometer (Bruker, Germany) at 0.02°/s. Further details of XRD experimental methods of the XRD spectra are described in [
12
,
13
]. In order to calculate the microstrain and diffraction domain size (i.e., crystalline size), the collected data was performed by full-peak refinement using the software Materials Analysis Using Diffraction (MAUD, version 1.999, L. Lutterotti, Italy). Vickers hardness was performed across the radius within this area of the disk with a load of 500 g for a dwell time of 15 s (0.5 mm interval between two dots along the radius).
4. Discussion
The overall average hardness predicted by this model at the center area is 232 ± 7 HV, which is within the error margin and equal to the measured hardness near the center, which averaged 230 HV. This close correspondence indicates that the present model is solid. It is noted that the predicted (and measured) hardness consists of strongly increased dislocation hardening of 31 HV, grain boundary hardening of 43 HV, and hardening due to co-clusters and cluster–defect complexes, with the latter (co-clusters and cluster–defect complexes) at ~107HV providing the strongest overall contribution to the hardness at the center.
5. Conclusions
An Al-2024 T351 alloy was processed by high-pressure torsion for 5 rotations. The hardness increases with distance from the center of the HPT-processed disk, and this inhomogeneous hardness was caused by heterogeneous microstructures across the radius of the HPT disks. STEM-EDS showed solute atoms and clusters were segregated to grain boundaries. The origin of the hardness increment (~90 HV) in the center areas is attributed to the combination of dislocation hardening, grain refinement hardening, and hardening due to co-clusters and cluster–defect complexes.
Author Contributions
Conceptualization, Y.C.; formal analysis, Y.C.; funding acquisition, Y.C. and H.Z.; investigation, Y.T. and N.H.; supervision, H.Z., N.G., and M.J.S.; writing—original draft, Y.C.; writing—review and editing, Y.C., N.G., and M.J.S.
Funding
This work was supported by the National Natural Science Foundation of China (Grant No. 51601162), Fujian Natural Science Foundation (Grant No. 2017J01490 and No. 2019J01870), Xiamen Municipal Bureau Science and Technology Project (Grant No. 3502Z20179025). The corresponding author thanks the Program for Innovative Research Team in Science and Technology in Fujian Province University (IRTSTFJ) and Program for Oversea High-Level Personnel of Xiamen ([2016] 314-03).
Acknowledgments
We greatly appreciate Zhiyang Yu and Jingjing Sun for help with STEM/TEM.
Conflicts of Interest
The authors declare no conflict of interest. The funders had no role in the design of the study; in the collection, analyses, or interpretation of data; in the writing of the manuscript, or in the decision to publish the results.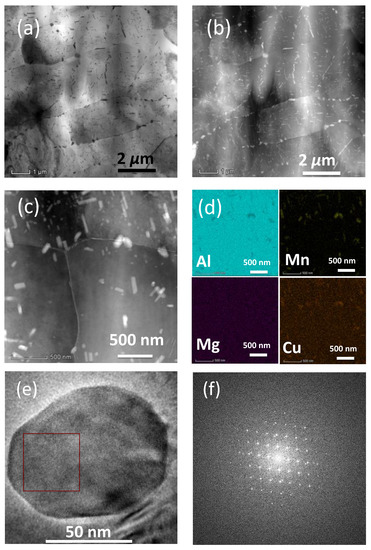 Figure 1. Microstructures of the T351 Al-4.63Cu-1.51Mg (wt.%) alloy without processing high-pressure torsion: (a) scanning transmission electron microscopy bright field (STEM-BF) image; (b) scanning transmission electron microscopy dark field (STEM-DF) image; (c) scanning transmission electron microscopy high-angle annular dark field (STEM-HAADF) image; (d) energy dispersive spectrometry (EDS) mappings of different solute elements; (e) high resolution TEM image of Al7Cu2Mn phase (f) corresponding fast Fourier transform (FFT) image of the square area in (e).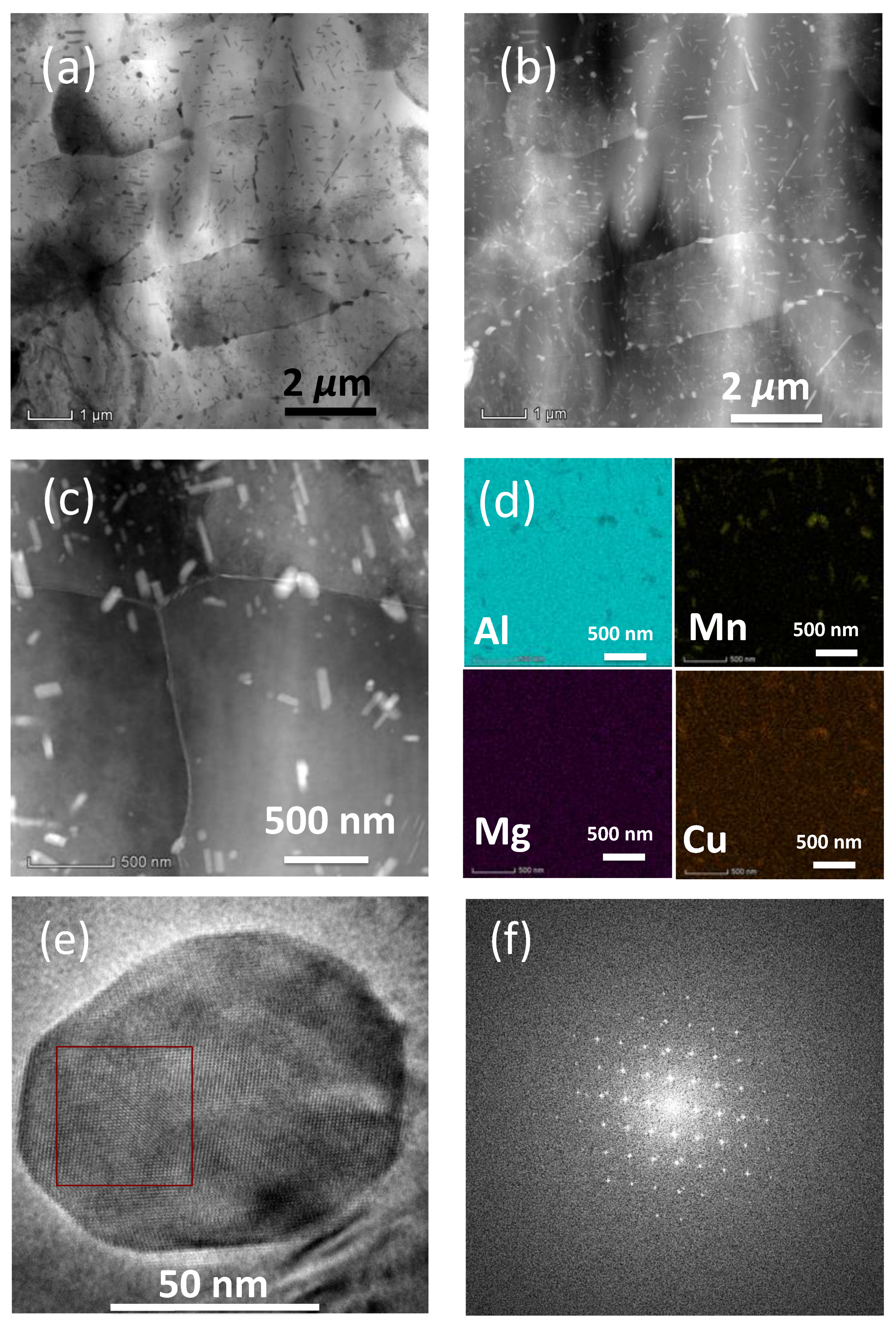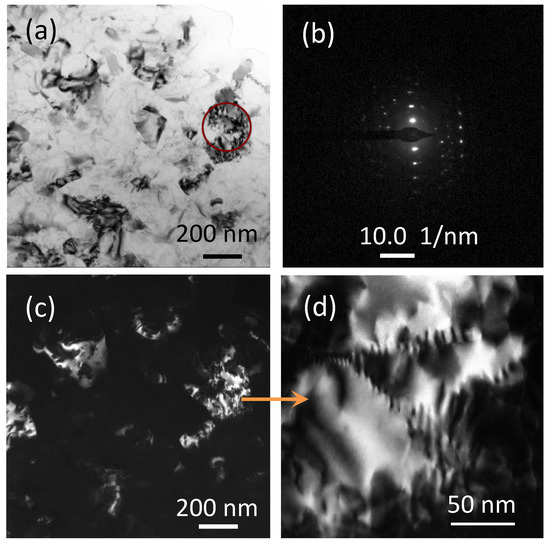 Figure 2. Microstructures of the 5r high-pressure torsion (5r-HPT) center sample: (a) transmission electron microscopy bright field (TEM-BF) image; (b) selected area diffraction of red circle in (a); (c) transmission electron microscopy dark field TEM-DF image; (d) enlarged area in (c).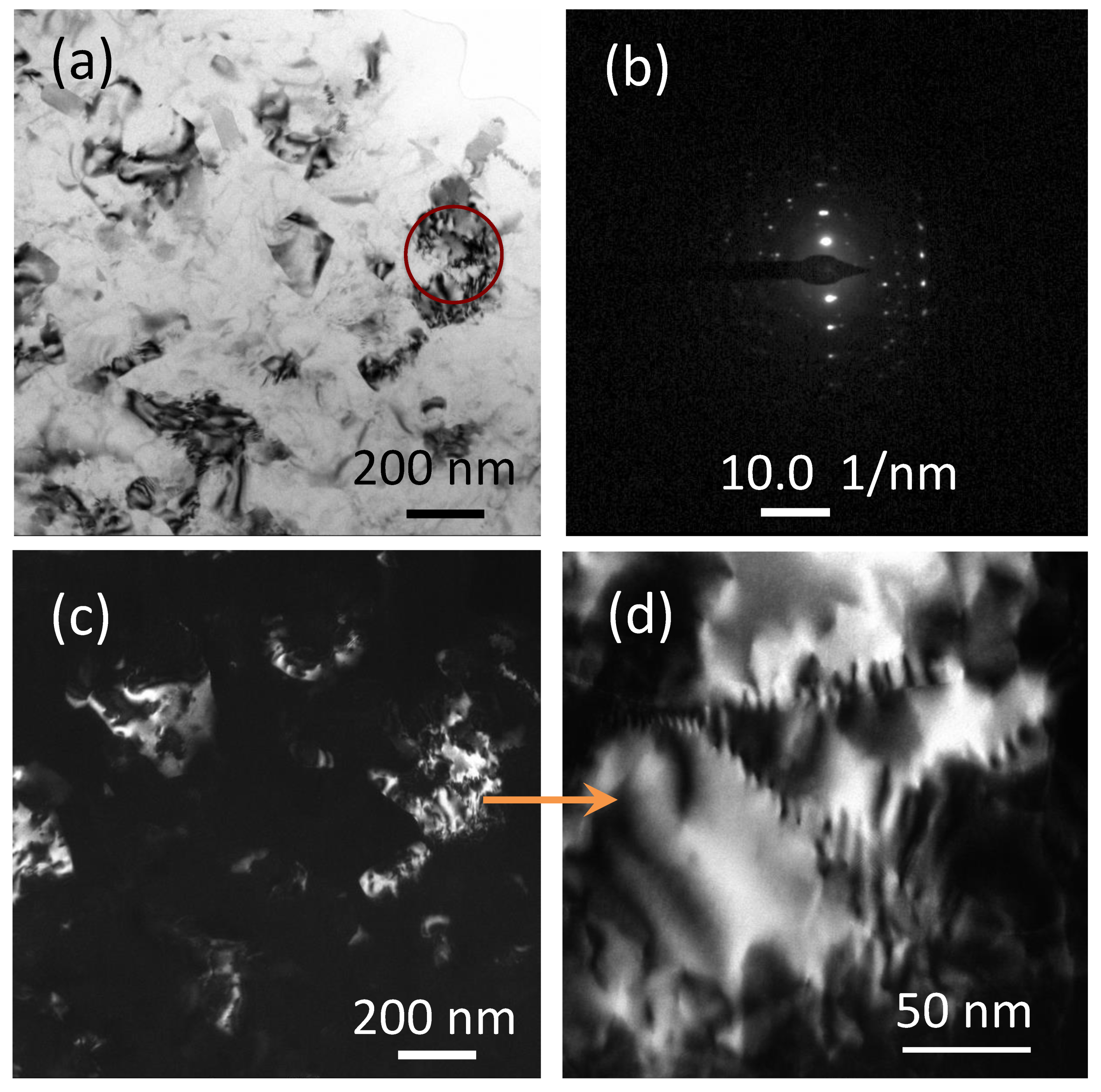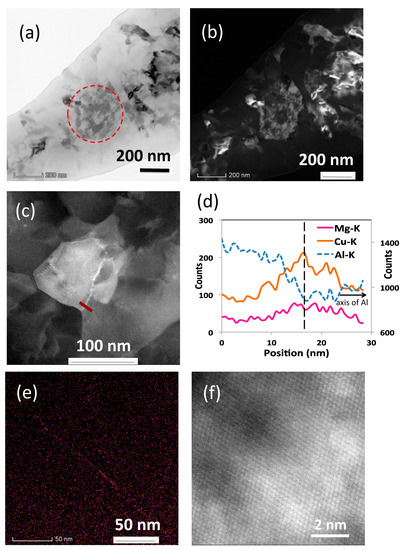 Figure 3. STEM images of 5r-HPT center sample: (a) BF image; (b) annular dark field (ADF) image (a,b) (i.e., at disk center); (c) HAADF image; (d) line profiles of Al, Cu, and Mg across the grain boundary in (c), the red line; (e) EDS mappings of Cu-Mg co-clusters around a grain boundary; (f) the high-resolution atomic image (c–f) (i.e., at 2.5 mm to the disk center).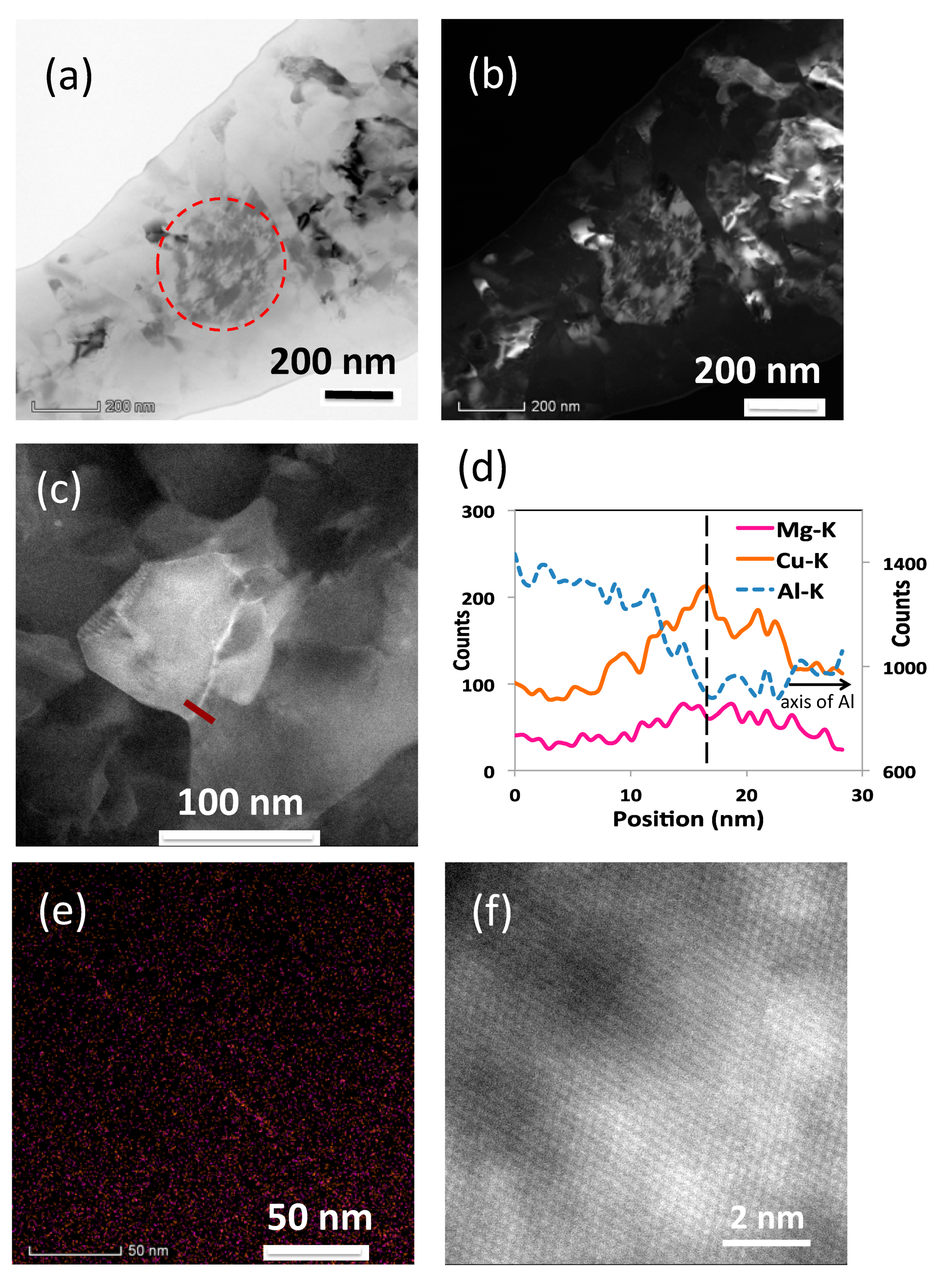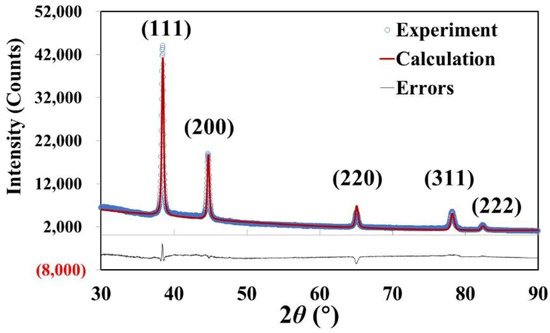 Figure 4.
X-ray diffraction of a 5r-HPT sample punched in the central area (0 <
r
< 2.5 mm,
r
is the distance to disk center). The experimental data is the blue circle, while the red solid line is the simulated pattern. The difference between experimental data and the simulated pattern is under the diffraction pattern.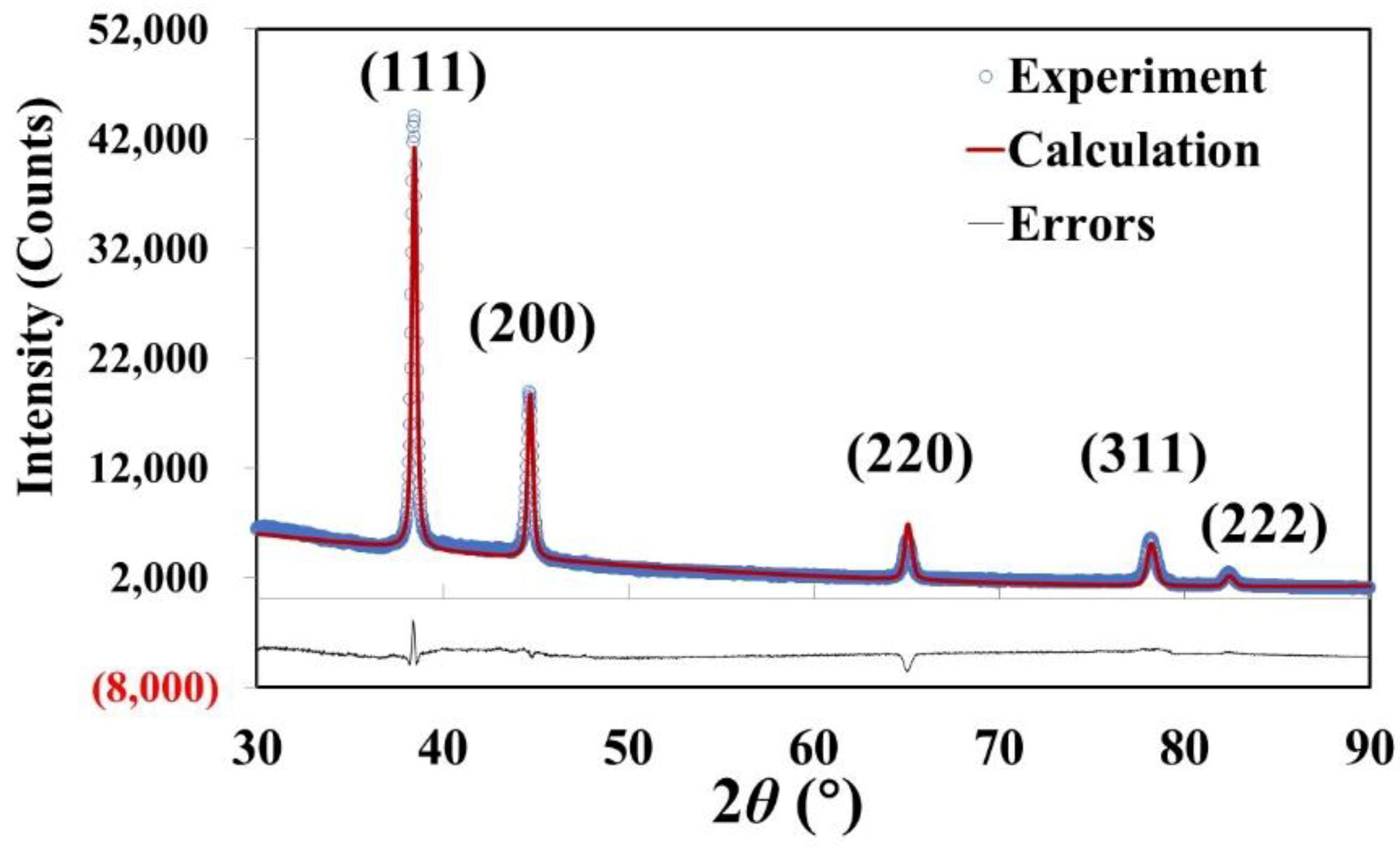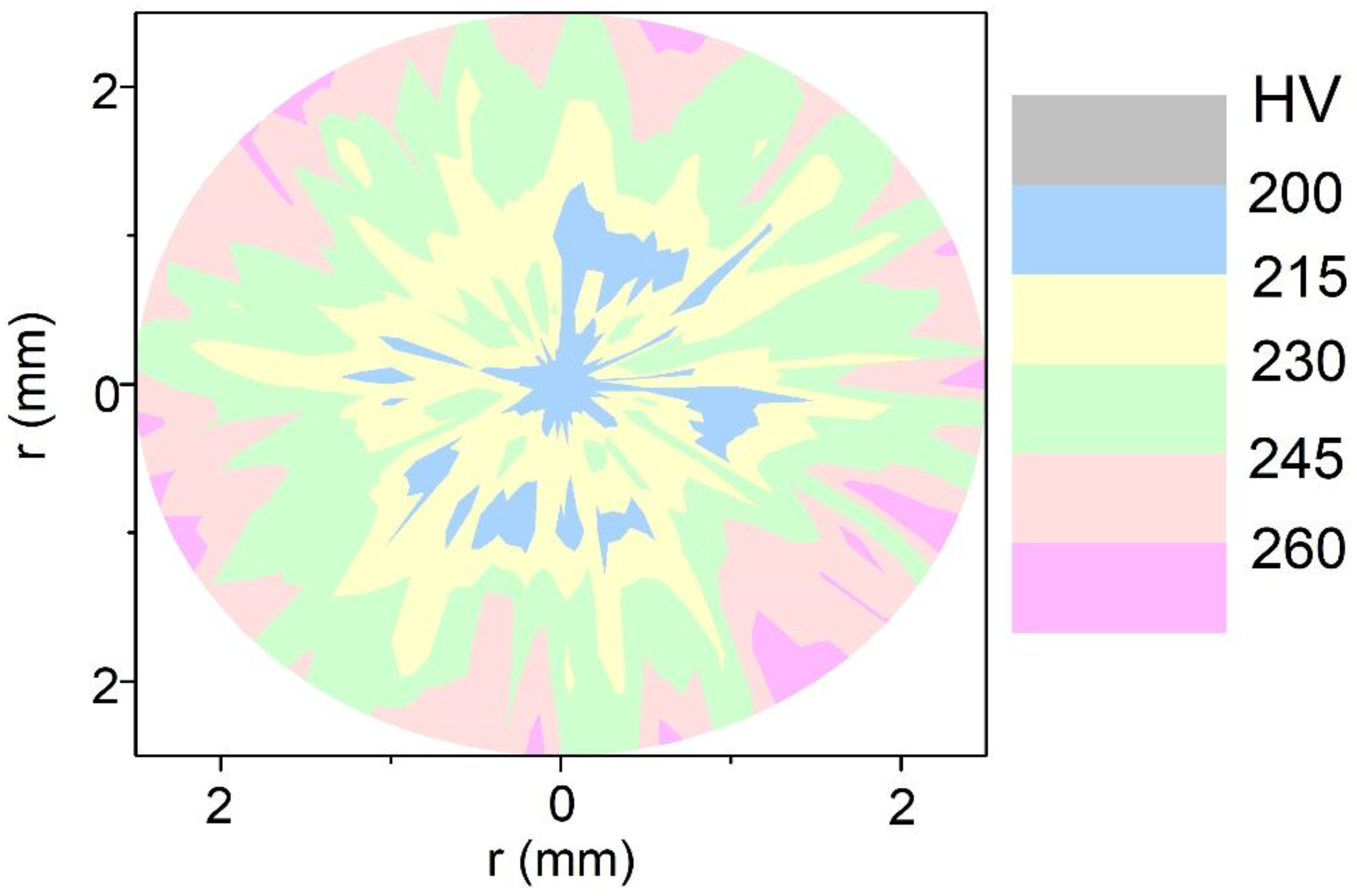 © 2019 by the authors. Licensee MDPI, Basel, Switzerland. This article is an open access article distributed under the terms and conditions of the Creative Commons Attribution (CC BY) license (http://creativecommons.org/licenses/by/4.0/).