Open Access This article is
freely available
re-usable
Article
Sliding Contact Wear Damage of EBM built Ti6Al4V: Influence of Process Induced Anisotropic Microstructure
1
Department of Mechanical, Industrial, and Manufacturing Engineering, Youngstown State University, Youngstown, OH 44555, USA
2
Department of Mechanical and Nuclear Engineering, Pennsylvania State University, University Park, PA 16801, USA
3
Department of Civil/Environmental and Chemical Engineering, Youngstown State University, Youngstown, OH 44555, USA
*
Author to whom correspondence should be addressed.
Received: 17 November 2017 / Accepted: 9 February 2018 / Published: 13 February 2018
Abstract
:
Process-induced directional microstructure is identified as one of the key factors of anisotropic mechanical properties. This directional property significantly affects surface contact fatigue and corrosion of electron beam melting (EBM) built biomedical implants. In the current study, material removal on EBM built titanium (Ti6Al4V) subjected to reciprocating motion of commercially pure titanium spherical slider is investigated to identify the influence of the process-induced layered structure and environments on wear damage. Specimens developed by two different build orientations are mechanically stimulated using different sliding directions with nominally elastic normal load in dry, passivating, and synovial environments. It was noticed that EBM orientation significantly changes wear behavior in ambient environment. Wear resistance of mill-annealed Ti6Al4V was improved in passivating environment. Implications to improve useful life of orthopedic implants are discussed.
Keywords:
sliding contact fatigue; electron beam melting; microstructure; medical implants
Acknowledgments
The authors gratefully acknowledge many valuable discussions with several colleagues at Industrial Engineering and Materials Science and Engineering, and the financial support of University Research Council at Youngstown State University and Precision Printed Parts Network (P3N) grant from Ohio Economic Development Agency.
Author Contributions
Jae Joong Ryu supervised the work and took a major part to the writing process. Sanjay Shrestha performed main mechanical characterizations and data analysis, and took a part to the writing process. Guha Manogharan contributed in AM processing and characterization. Jai K. Jung performed image data processing and took a part to the writing process.
Conflicts of Interest
The authors declare no conflict of interest.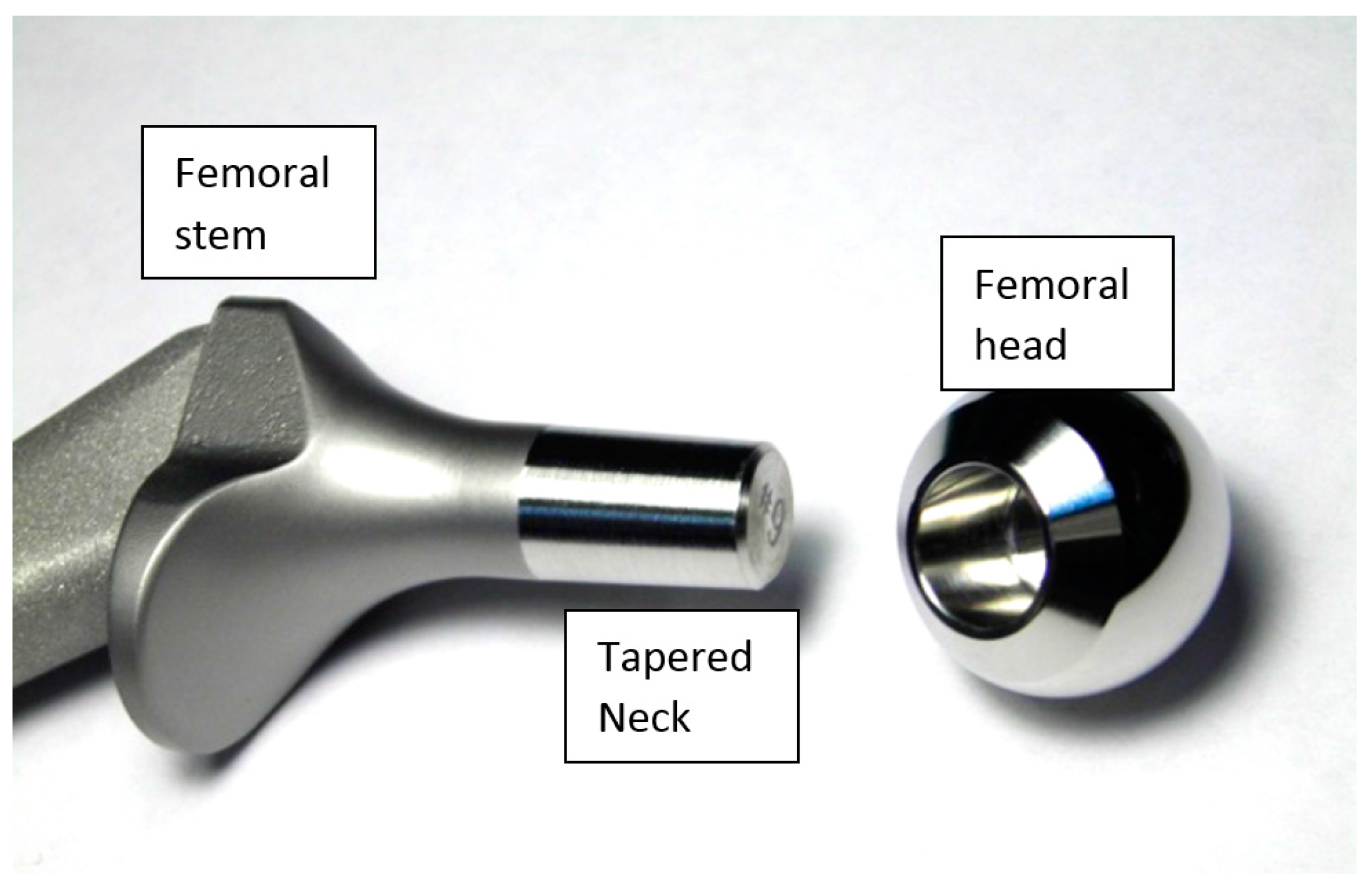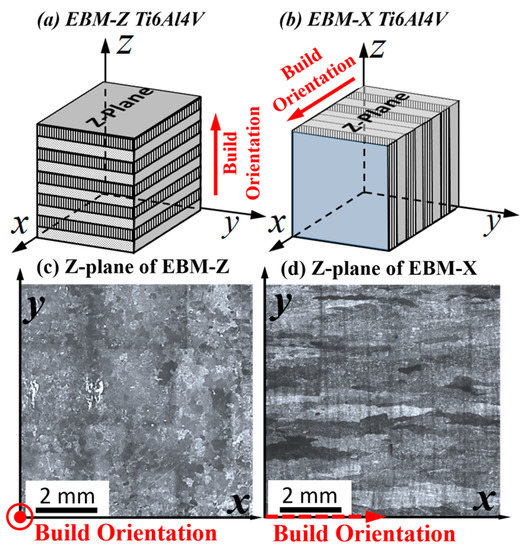 Figure 2. Graphical illustration of specimen preparation: (a) Electron beam melting (EBM) layered in Z direction (EBM-Z); (b) EBM layered in X-direction (EBM-X); (c) equiaxed grain morphology of EBM-Z Ti6A14V; (d) columnar grains of EBM-X Ti6Al4V.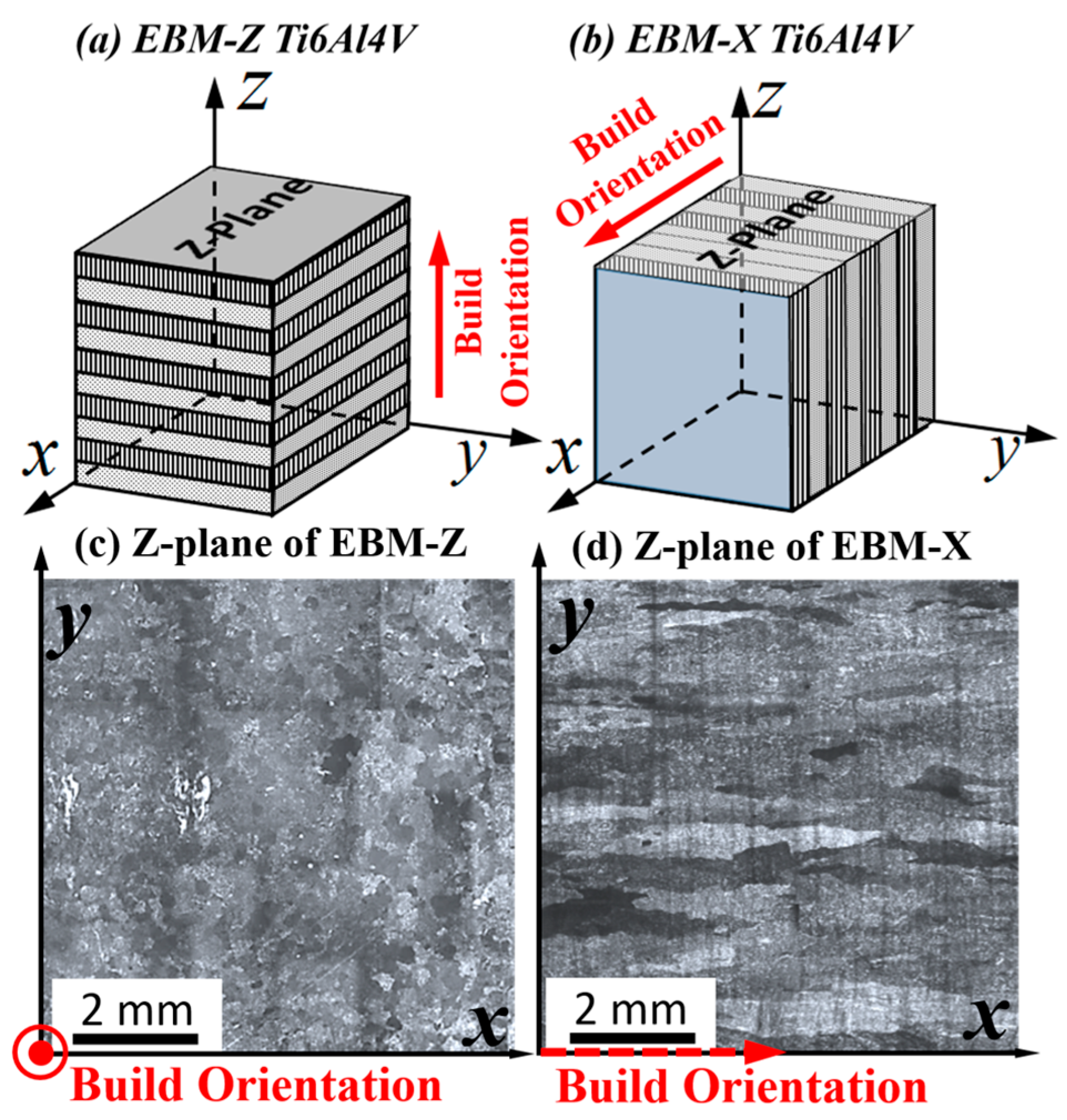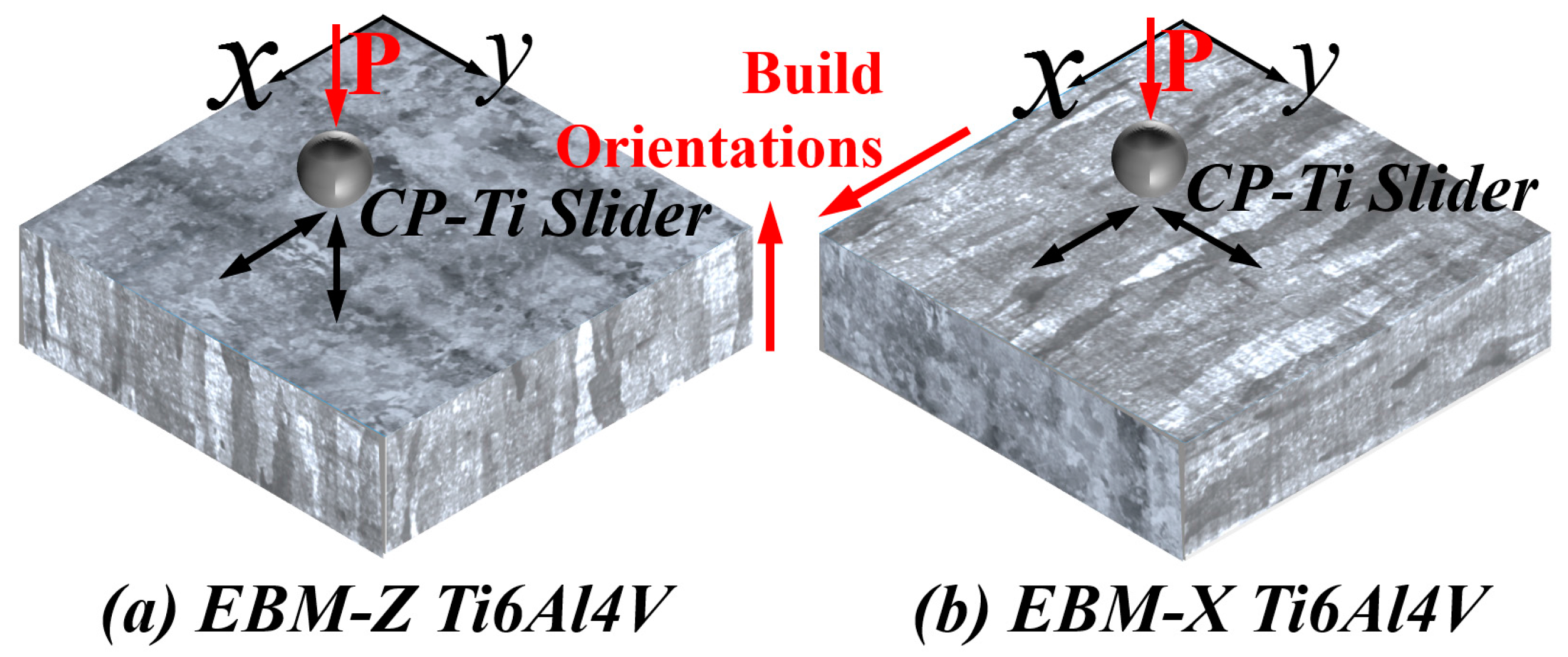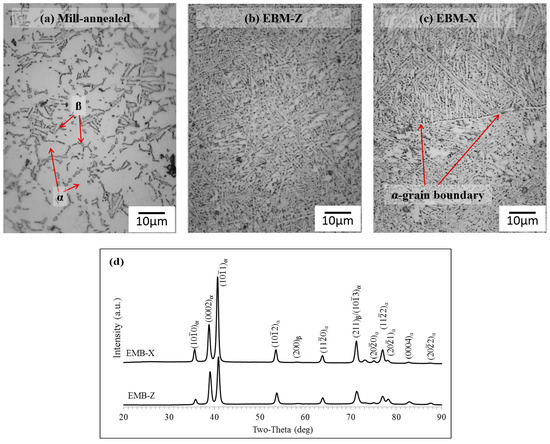 Figure 4. Microstructures of (a) Mill-annealed, (b) EBM-Z, and (c) EBM-X, and (d) X-ray diffraction patterns for EBM-Z and -X samples.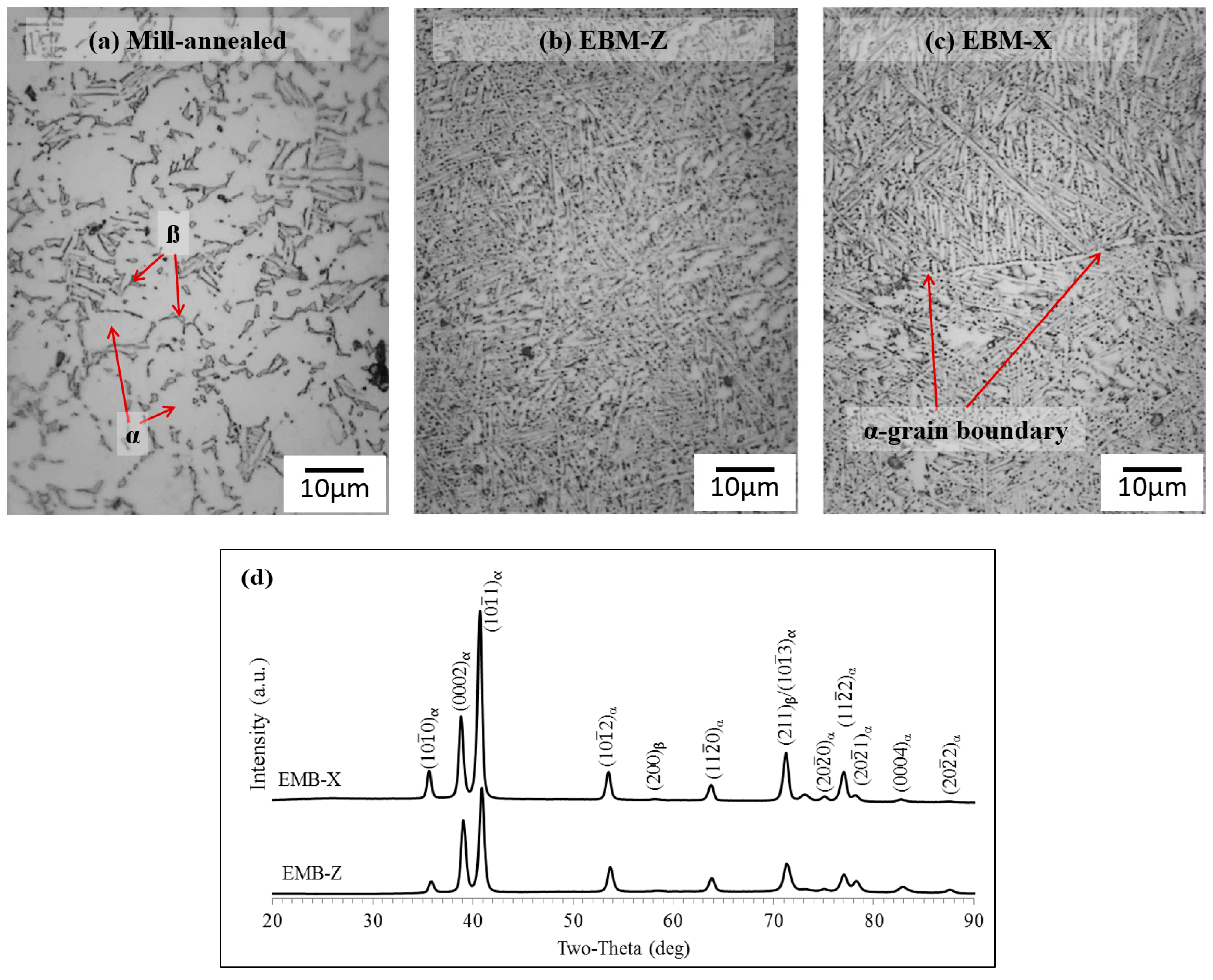 Figure 5. Comparison of representative load-displacement curve from (a) Berkovich indentation, (b) indentation hardness and elastic modulus, and (c) yield strength of mill-annealed, EBM-Z, and EBM-X Ti6Al4V.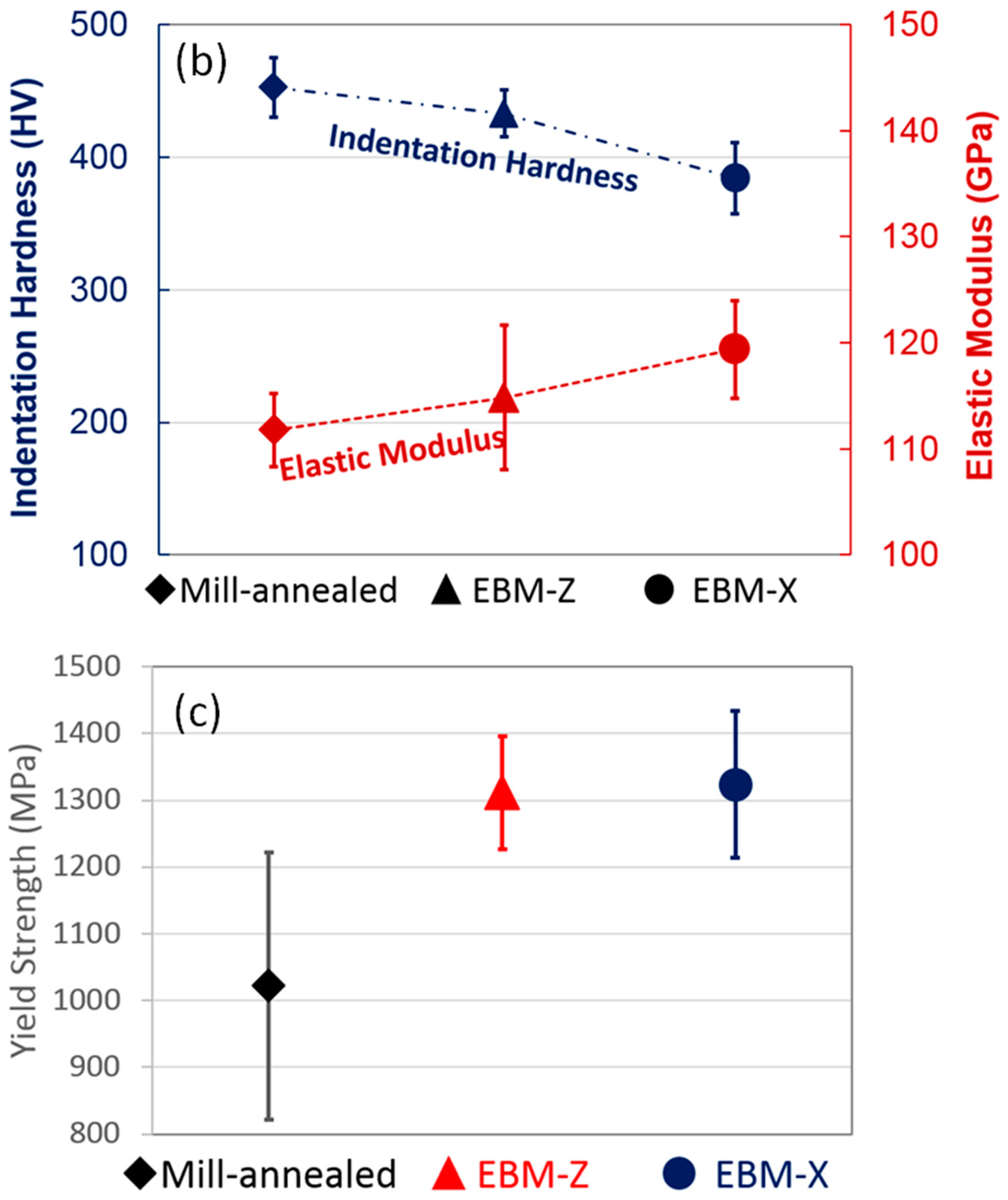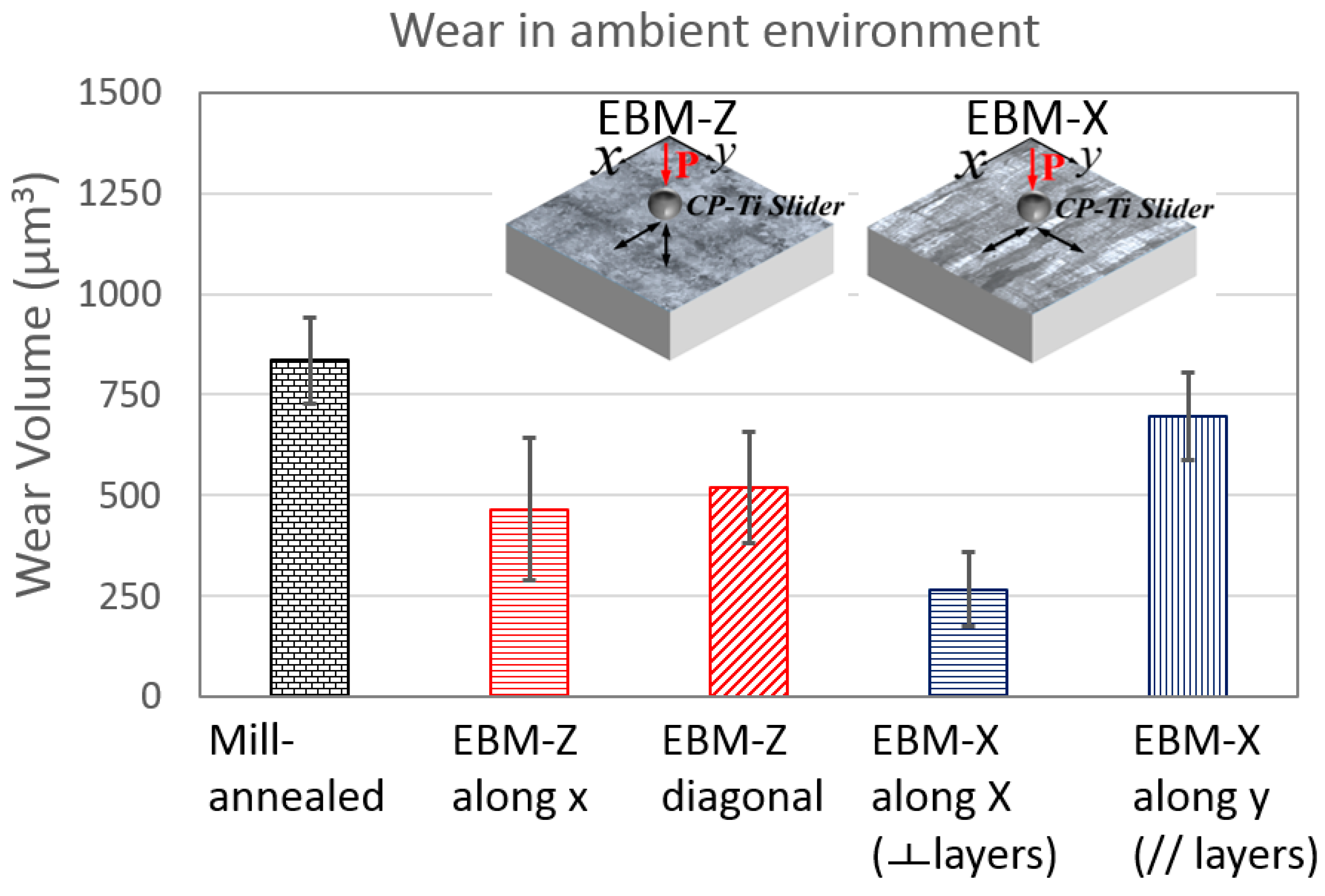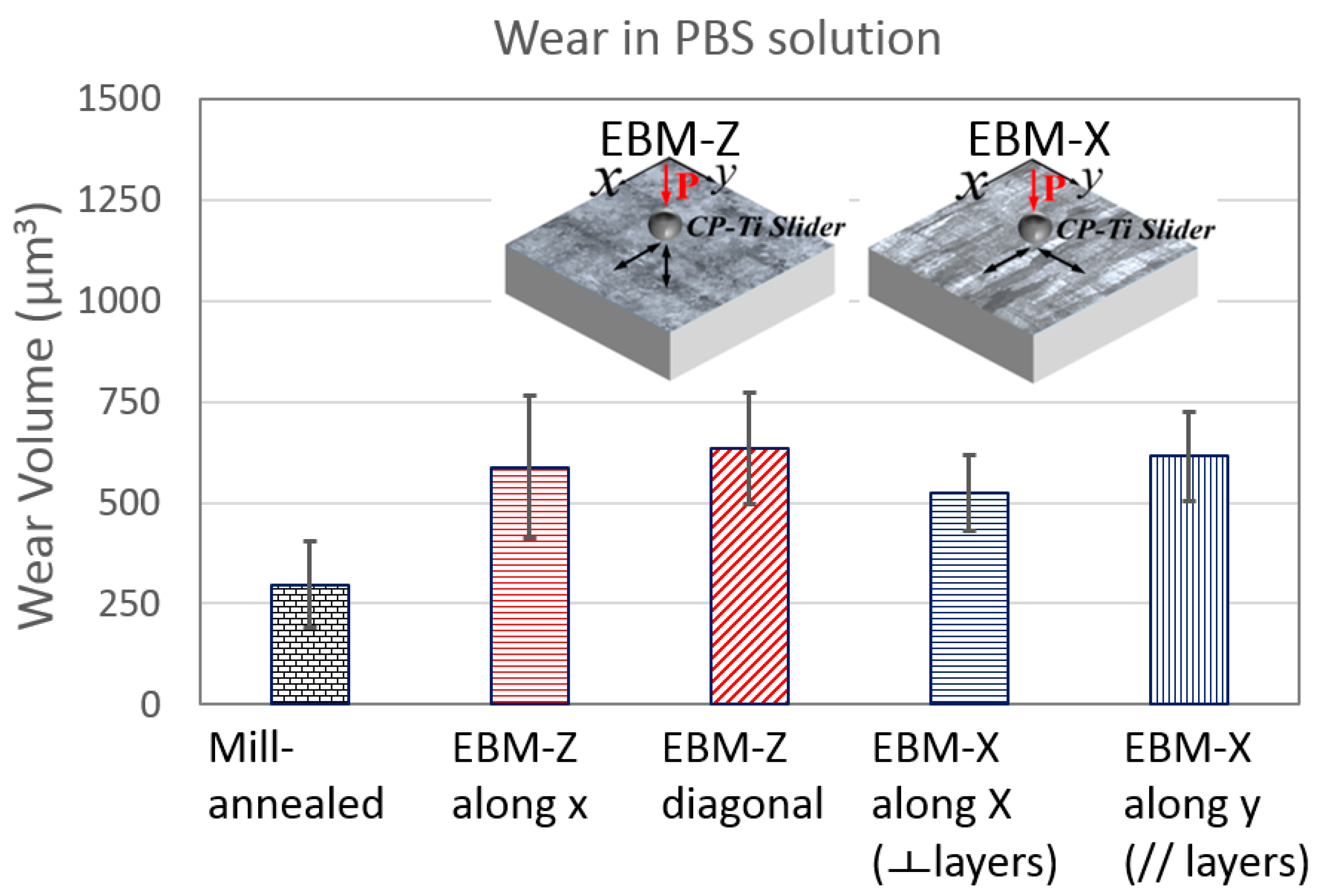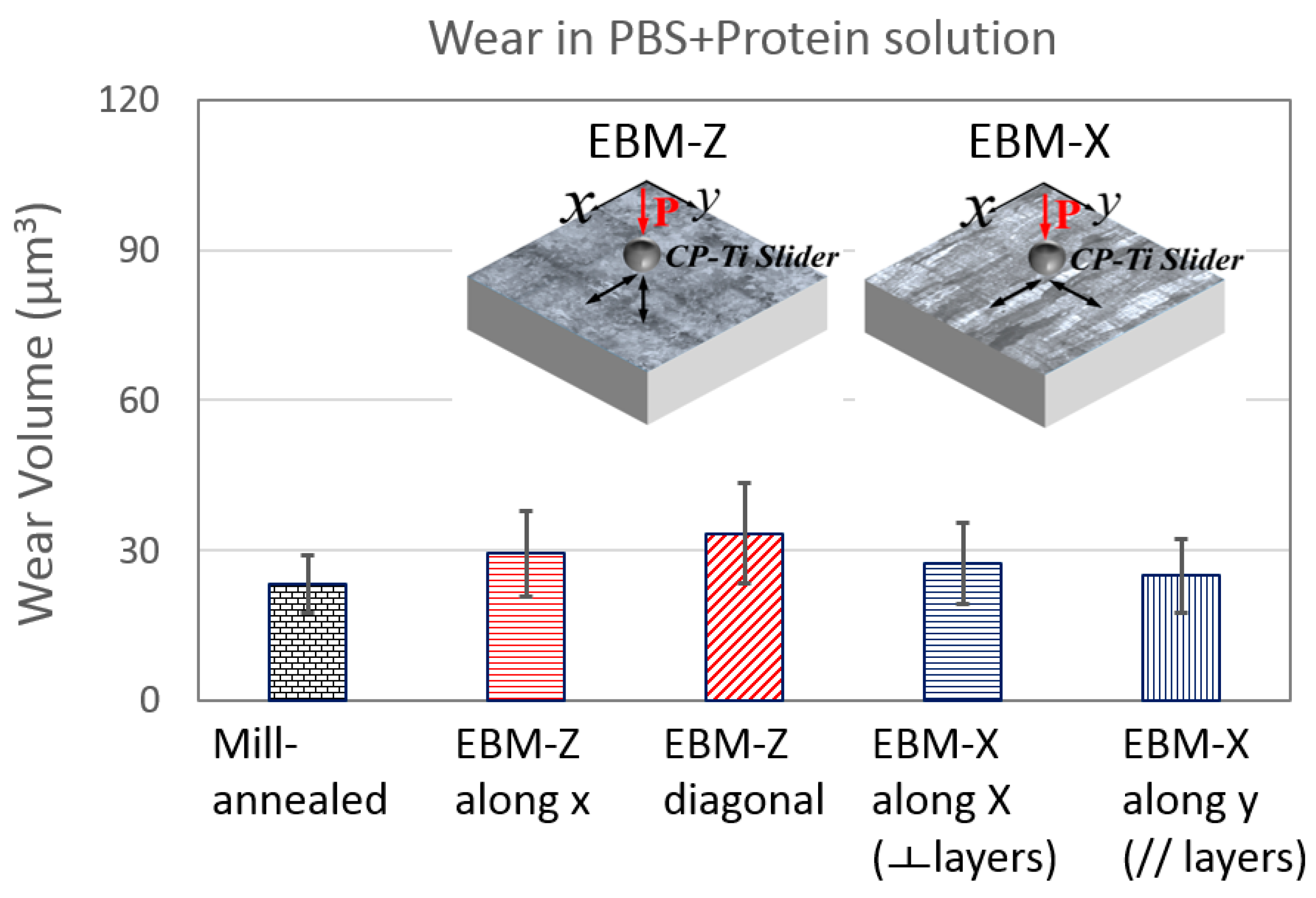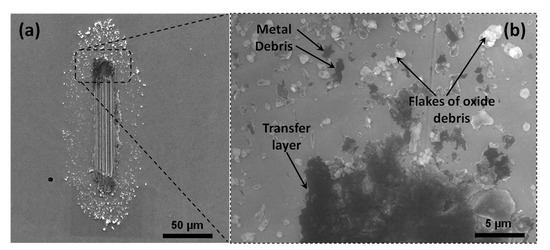 Figure 9. (a) Microscopic images of wear debris produced on EBM-X in dry condition; (b) magnified image of the highlighted wear pile-up.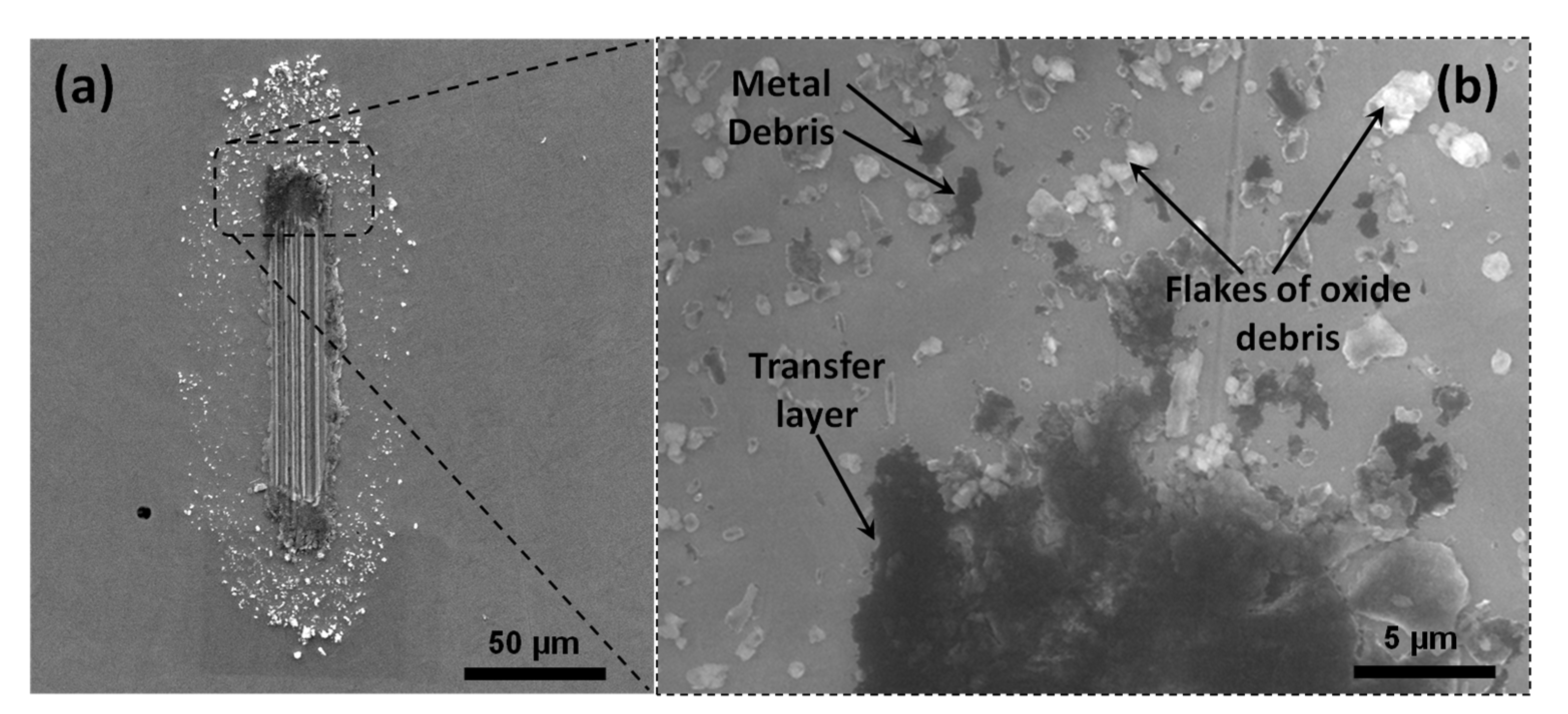 Figure 10. Evolution of friction coefficients: (a) Measured friction coefficients during dry sliding contact; (b) averaged friction coefficients in ambient; (c) averaged friction coefficients in PBS; (d) averaged friction coefficients in simulated synovial fluid.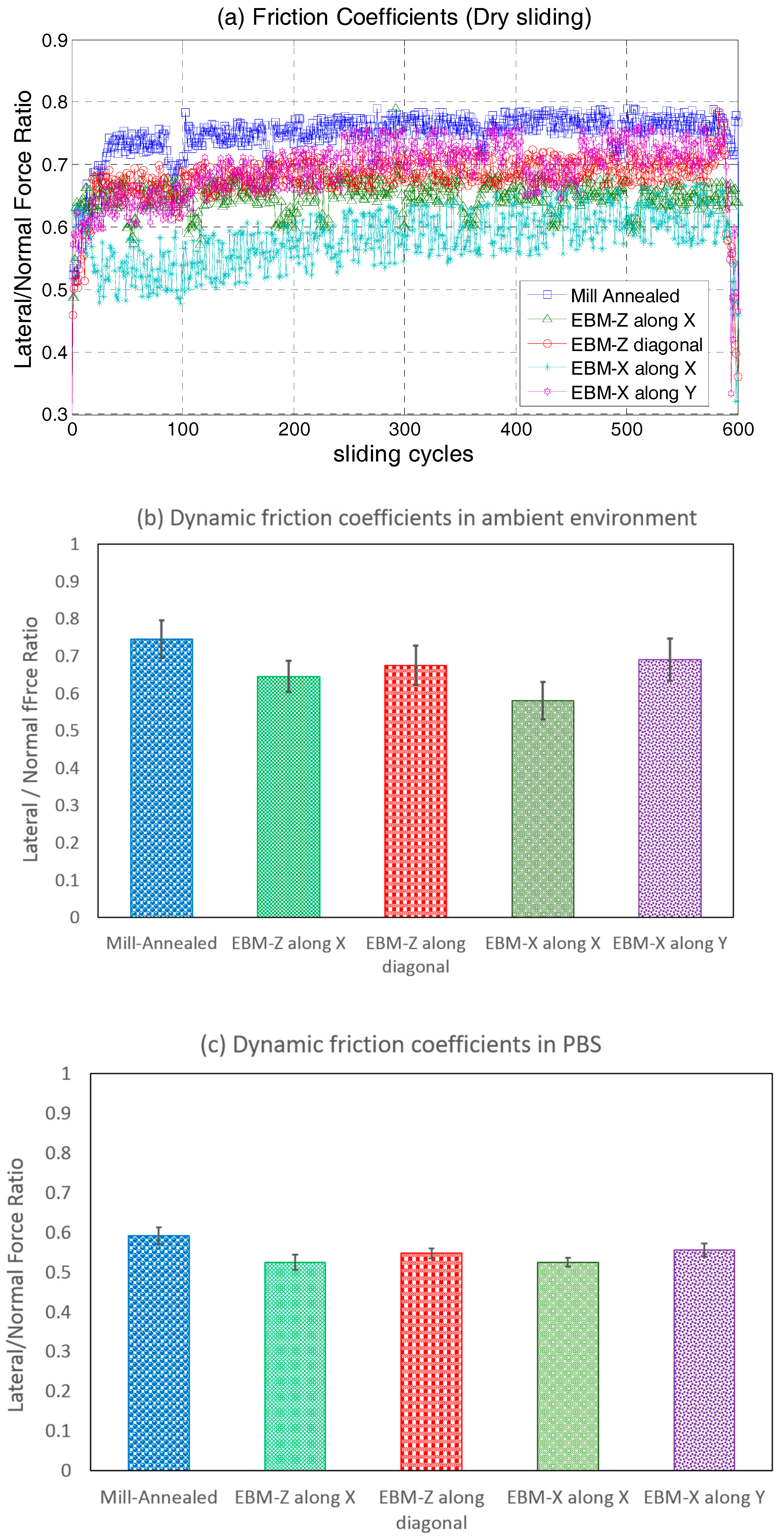 Figure 11. Wear damages on EBM-Z sample after reciprocating sliding contact in (a) ambient, (b) PBS, and (c) simulated synovial solution.

Percentage Weight Composition (%)
Elements
Aluminum (Al)
Vanadium (V)
Carbon (C)
Iron (Fe)
Oxygen (O)
Nitrogen (N)
Hydrogen (H)
Titanium (Ti)
EBM
6
4
0.03
0.1
0.15
0.01
0.0003
Balance
Mill-annealed
6.37
4.04
0.032
0.21
0.17
0.028
n/a
Balance
Modulus of Elasticity
Poisson's Ratio
Percentage Weight Composition (%) of Elements
103 GPa
0.35
Carbon 0.08
Iron 0.3
Oxygen 0.25
Nitrogen 0.03
Hydrogen 0.015
Titanium Balance

Table 3. The average element concentration of α and β phases, including statistical standard deviation (based on ten measurements).
Phases
Ti
Al
V
α phase
wt %
89.77 ± 0.74
6.04 ± 0.17
4.19 ± 0.82
at %
85.96 ± 0.64
10.26 ± 0.27
3.78 ± 0.74
β phase
wt %
86.29 ± 1.63
5.27 ± 0.24
8.44 ± 1.86
at %
83.29 ± 1.35
9.04 ± 0.39
7.67 ± 1.71

© 2018 by the authors. Licensee MDPI, Basel, Switzerland. This article is an open access article distributed under the terms and conditions of the Creative Commons Attribution (CC BY) license (http://creativecommons.org/licenses/by/4.0/).