An Orphan CpG Island Drives Expression of a
let-7

miRNA Precursor with an Important Role in Mouse Development

1

Wellcome Centre for Cell Biology, University of Edinburgh, Michael Swann Building, Max Born Crescent, Mayfield Road, Edinburgh EH9 3BF, UK

2

Wellcome Trust Sanger Institute, Hinxton, Cambridge CB10 1SA, UK

*

Author to whom correspondence should be addressed.

Received: 29 January 2019 / Revised: 26 February 2019 / Accepted: 5 March 2019 / Published: 13 March 2019
Abstract
Most human genes are associated with promoters embedded in non-methylated, G + C-rich CpG islands (CGIs). Not all CGIs are found at annotated promoters, however, raising the possibility that many serve as promoters for transcripts that do not code for proteins. To test this hypothesis, we searched for novel transcripts in embryonic stem cells (ESCs) that originate within orphan CGIs. Among several candidates, we detected a transcript that included three members of the
let-7
micro-RNA family:
Let-7a-1
,
let-7f-1
, and
let-7d
. Deletion of the CGI prevented expression of the precursor RNA and depleted the included miRNAs. Mice homozygous for this mutation were sub-viable and showed growth and other defects. The results suggest that despite the identity of their seed sequences, members of the
let-7
miRNA family exert distinct functions that cannot be complemented by other members.
View Full-Text
►

▼

Figures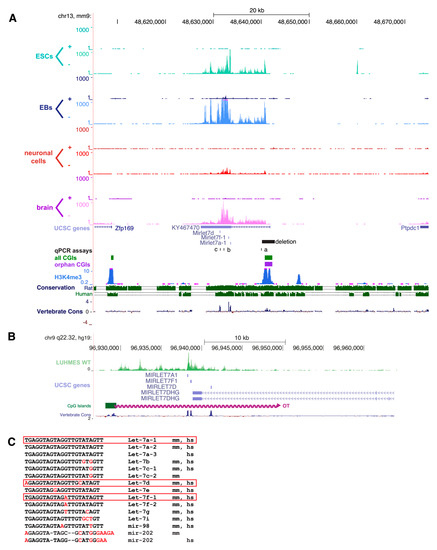 Figure 1
This is an open access article distributed under the
Creative Commons Attribution License
which permits unrestricted use, distribution, and reproduction in any medium, provided the original work is properly cited (CC BY 4.0).

Share & Cite This Article
MDPI and ACS Style
Koerner, M.V.; Chhatbar, K.; Webb, S.; Cholewa-Waclaw, J.; Selfridge, J.; De Sousa, D.; Skarnes, B.; Rosen, B.; Thomas, M.; Bottomley, J.; Ramirez-Solis, R.; Lelliott, C.; Adams, D.J.; Bird, A. An Orphan CpG Island Drives Expression of a let-7 miRNA Precursor with an Important Role in Mouse Development. Epigenomes 2019, 3, 7.
Note that from the first issue of 2016, MDPI journals use article numbers instead of page numbers. See further details here.
Comments
[Return to top]