Sucrose in Cyanobacteria: From a Salt-Response Molecule to Play a Key Role in Nitrogen Fixation
Instituto de Investigaciones en Biodiversidad y Biotecnología (INBIOTEC-CONICET) and Fundación para Investigaciones Biológicas Aplicadas (FIBA), Mar del Plata B7600DHN, Argentina
*
Author to whom correspondence should be addressed.
Academic Editors: John C. Meeks and Robert Haselkorn
Received: 10 November 2014 / Accepted: 19 December 2014 / Published: 6 January 2015
Abstract
In the biosphere, sucrose is mainly synthesized in oxygenic photosynthetic organisms, such as cyanobacteria, green algae and land plants, as part of the carbon dioxide assimilation pathway. Even though its central position in the functional biology of plants is well documented, much less is known about the role of sucrose in cyanobacteria. In those prokaryotes, sucrose accumulation has been associated with salt acclimation, and considered as a compatible solute in low-salt tolerant strains. In the last years, functional characterizations of sucrose metabolizing enzymes, metabolic control analysis, cellular localization of gene expressions, and reverse genetic experiments have revealed that sucrose metabolism is crucial in the diazotrophic growth of heterocystic strains, and besides, that it can be connected to glycogen synthesis. This article briefly summarizes the current state of knowledge of sucrose physiological functions in modern cyanobacteria and how they might have evolved taking into account the phylogenetic analyses of sucrose enzymes.
View Full-Text
►

▼

Figures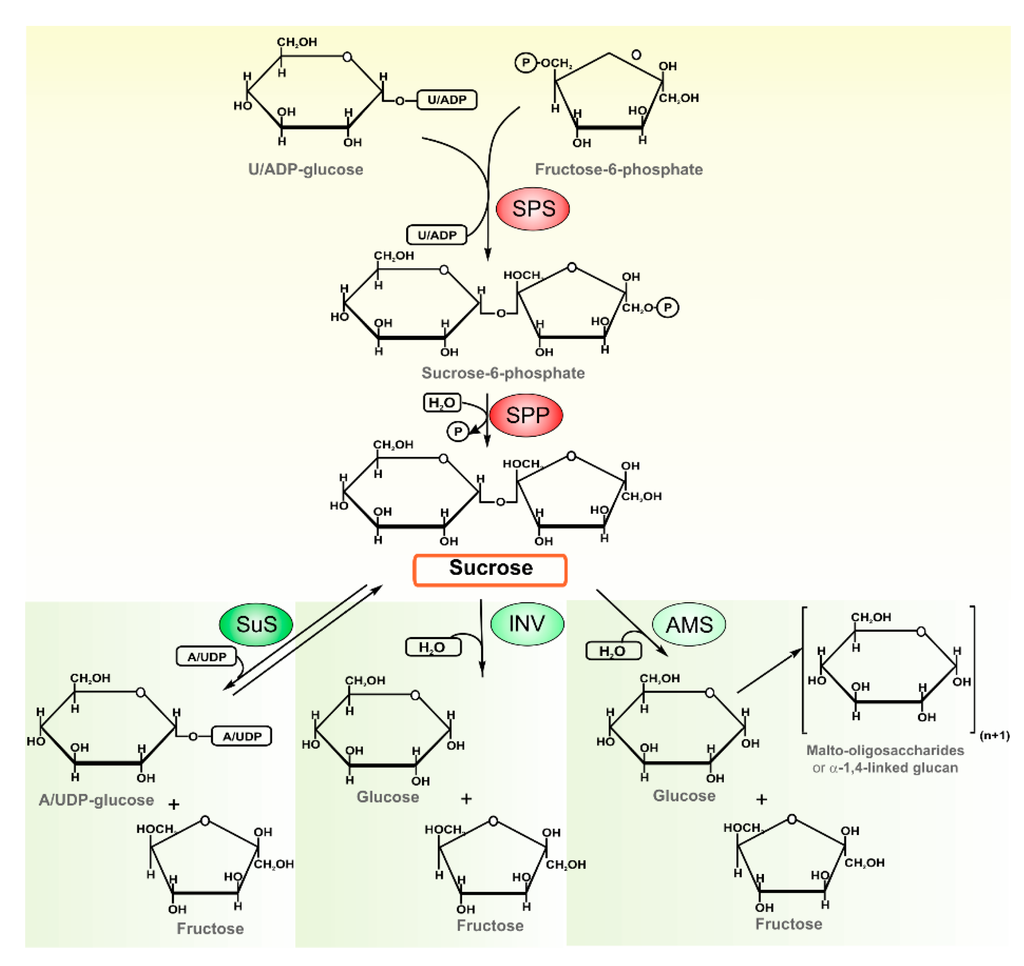 Figure 1
This is an open access article distributed under the
Creative Commons Attribution License
which permits unrestricted use, distribution, and reproduction in any medium, provided the original work is properly cited (CC BY 4.0).

Share & Cite This Article
MDPI and ACS Style
Kolman, M.A.; Nishi, C.N.; Perez-Cenci, M.; Salerno, G.L. Sucrose in Cyanobacteria: From a Salt-Response Molecule to Play a Key Role in Nitrogen Fixation. Life 2015, 5, 102-126.
Related Articles
Comments
[Return to top]