Pilin Processing Follows a Different Temporal Route than That of Archaellins in
Methanococcus maripaludis
Department of Biomedical and Molecular Sciences, Queen's University, Kingston, ON K7L 3N6, Canada
*
Author to whom correspondence should be addressed.
Academic Editors: Hans-Peter Klenk, Michael W. W. Adams and Roger A. Garrett
Received: 24 November 2014 / Accepted: 26 December 2014 / Published: 5 January 2015
Abstract
Methanococcus maripaludis
has two different surface appendages: type IV-like pili and archaella. Both structures are believed to be assembled using a bacterial type IV pilus mechanism. Each structure is composed of multiple subunits, either pilins or archaellins. Both pilins and archaellins are made initially as preproteins with type IV pilin-like signal peptides, which must be removed by a prepilin peptidase-like enzyme. This enzyme is FlaK for archaellins and EppA for pilins. In addition, both pilins and archaellins are modified with N-linked glycans. The archaellins possess an N-linked tetrasaccharide while the pilins have a pentasaccharide which consists of the archaellin tetrasaccharide but with an additional sugar, an unidentified hexose, attached to the linking sugar. In this report, we show that archaellins can be processed by FlaK in the absence of N-glycosylation and N-glycosylation can occur on archaellins that still retain their signal peptides. In contrast, pilins are not glycosylated unless they have been acted on by EppA to have the signal peptide removed. However, EppA can still remove signal peptides from non-glycosylated pilins. These findings indicate that there is a difference in the order of the posttranslational modifications of pilins and archaellins even though both are type IV pilin-like proteins.
View Full-Text
►

▼

Figures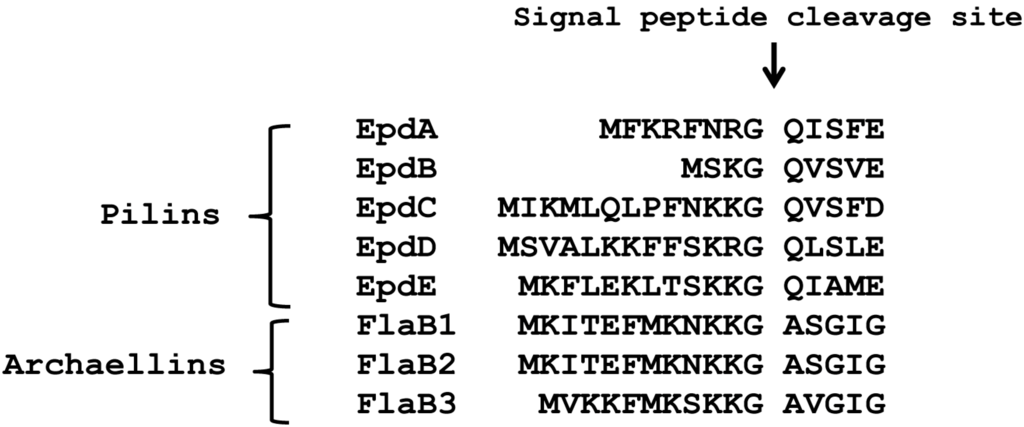 Figure 1
This is an open access article distributed under the
Creative Commons Attribution License
which permits unrestricted use, distribution, and reproduction in any medium, provided the original work is properly cited (CC BY 4.0).

Share & Cite This Article
MDPI and ACS Style
Nair, D.B.; Jarrell, K.F. Pilin Processing Follows a Different Temporal Route than That of Archaellins in Methanococcus maripaludis. Life 2015, 5, 85-101.
Related Articles
Comments
[Return to top]