Open Access This article is
freely available
re-usable
Article
The Characterization and Amoxicillin Adsorption Activity of Mesopore CaCO3 Microparticles Prepared Using Rape Flower Pollen
1
Key Laboratory of Ministry of Education for Solid Waste Treatment and Resource Recycle, Institute of Mineral Materials & Application, Sichuan Engineering Lab of Nonmetallic Mineral Powder Modification & High-quality Utilization, Center of Forecasting and Analysis, Southwest University of Science and Technology, Mianyang 621010, China
2
School of Chemistry and Chemical Engineering, Eastern Sichuan Sub-center of National Engineering Research Center for Municipal Wastewater Treatment and Reuse, Sichuan University of Arts and Science, Dazhou 635000, China
3
College of Chemistry and Chemical Engineering, Yangtze Normal University, Chongqing 408100, China
*
Author to whom correspondence should be addressed.
Received: 29 March 2019 / Accepted: 21 April 2019 / Published: 25 April 2019
Abstract
:
A precipitation reaction method was employed to prepare mesopore calcium carbonate (CaCO
3
) using rape flower pollen as the template. CaCO
3
adsorbent was characterized using X-ray diffraction (XRD), scanning electronic microscopy (SEM), and Brunner−Emmet−Teller measurements (BET). The equilibrium adsorption data on amoxicillin were explained using Langmuir, Freundlich, and Temkin adsorption isotherm models. The pseudo-first order, second order, pseudo-second order, and intra-particle diffusion kinetic models were used to explore adsorption kinetics. Equilibrium adsorption of as-prepared CaCO
3
was better depicted using the Langmuir adsorption model with an R
2
of 0.9948. The separation factor (
RL
) was found to be in the range of 0 <
RL
< 1, indicating the favorable adsorption of amoxicillin. The adsorption capacity of mesopore CaCO
3
reached 13.49 mg·g
−1
in 0.2 g∙L
−1
amoxicillin solution. The values of adsorption thermodynamic parameters (Δ
H
θ
, Δ
S
θ
, Δ
G
θ
) were obtained. In addition, the adsorption process turned out to be endothermic and spontaneous for the CaCO
3
product at 298 K, 308 K, and 318 K.
Keywords:
calcium carbonate; mesopore; amoxicillin; adsorption; kinetics; thermodynamics
1. Introduction
Calcium carbonate is an environmentally friendly and widely used material [
1
]. In nature, limestone, marble, and chalk are widely disseminated. Calcite, aragonite, and vaterite are three main kinds of anhydrous crystalline form [
1
]. Porous calcium carbonate is a modern multi-functional material and has developed quickly in last decade. An imposing specific surface area, good biocompatibility and non-toxic are the obvious features of porous calcium carbonate. Therefore, porous calcium carbonate is widely applied into all walks of life, such as drug carriers [
2
,
3
,
4
], bioceramics [
5
,
6
], biomicrocapsules [
7
,
8
], biosensors [
9
], bone repair [
10
], biomimetic mineralization [
6
,
11
], and so on. Generally, material structures and crystal forms, affected strongly by preparation and operation conditions, have rather significant effects on their application. Therefore, the fabrication of porous calcium carbonate has been a promising area of research. Up until now, the template-assisted method [
12
,
13
,
14
], mainly based on surfactants, polymers, and natural plant ingredients as a template agent, has become the mainstream method of porous calcium carbonate preparation. At the same time, coprecipitation [
15
], emulsion liquid membrane [
16
], solvent/hydrothermal method [
17
], and other methods have been improved, providing more preparation references for calcium carbonate.
Antibiotics are produced in bulk and used all over the world. A considerable amount of antibiotic wastewater is drained into rivers and lakes. Amoxicillin, a kind of beta-lactam-containing antibiotic, has been widely used in both human and veterinary medicine to treat infections caused by Gram-positive or Gram-negative bacteria. Though amoxicillin exhibits a short half-life, studies found that the amoxicillin degradation products remained toxic and may become more dangerous [
18
]. Thus, coagulation, adsorption, biofilm, and advanced oxidation were put forward and applied in order to effectively solve the antibiotic pollution. Of all the treatment methods, the adsorption process is highly beneficial due to the advantage of not being toxic or having the ability to degrade contaminants. Nevertheless, many adsorbents are difficult to recycle and reuse. In 2014, Shinya Yamanaka [
19
] and Kai Yin Chong [
20
] reported that porous calcium carbonate was used to treat formaldehyde vapor and disodium 3,3'-[biphenyl-4,4'-diyldi(E)diazene-2,1-diyl]bis(4-aminonaphthalene-1-sulfonate) (Congo red) solution, and the adsorption capacity of porous calcium carbonate was demonstrated to be excellent. It is reported that the structure of the rape flower pollen is a regular ellipsoidal shape with uniform particle size, a transparent porous structure on the surface, and the pores have high openness [
21
]. However, porous calcium carbonate used to treat antibiotic wastewater, being feasible based on these achievements, has not been reported.
In this work, rape flower pollen as a template agent was employed to synthesize mesopore calcium carbonate from eggshells at a specified temperature. The structure and morphology of calcium carbonate samples were characterized using XRD, SEM, and BET. The data for synthetic calcium carbonate adsorbing amoxicillin in an aqueous solution was studied using adsorption isotherms, thermodynamics analysis, and kinetic modeling with the aim of improving the data regarding its application.
2. Materials and Methods
2.1. Materials
All reagents except amoxicillin and eggshells were analytical reagents and supplied by Chengdu Kelon Chemical Reagent Co., Ltd., Chengdu, China. Amoxicillin (minimum 99.5%) was purchased from Shanghai Aladdin Biochemical Technology Co., Ltd., Shanghai, China. Eggshells were collected from the markets of Sichuan province in China. Distilled water was used for the preparation of all test solutions.
2.2. Characterization
The phase of the obtained calcium carbonate was determined using powder X-ray diffraction (D8 Advance, BRUKER AXS, Karlsruhe, Germany) with a range scan of 10° < 2θ < 90°. The estimated standard uncertainty of the 2θ measurement was 0.01°. The morphological features were determined using SEM (MERLIN Compact, Carl Zeiss AG, Oberkochen, Germany). The specific surface area, pore size, and other parameters were obtained using BET (V-Sorb 2800TP, Gold APP Instrument Corporation, Beijing, China).
3. Experimental
The waste eggshell as a calcium resource was used to produce calcium carbonate microparticles using rape flower pollen as a template at room temperature. The template containing the calcium carbonate microparticles was roasted to obtain a porous adsorbent for adsorbing amoxicillin in an aqueous solution. The flow chart is given in
Figure 1
.
3.1. Calcium Carbonate Fabrication
Mesopore calcium carbonate microparticles were prepared using eggshells. Before the experiment, a series of processes were carried on the eggshells as follows. First, the eggshells were cleaned using distilled water and the membranes were artificially removed. Then, the treated eggshell was dried in a drying oven at 105 °C for 120 min. Finally, an eggshell powder was obtained via grinding. The purchased rape flower pollen was dried at 50 °C in a drying oven for 24 h. The 0.1 g·L−1 solution was prepared by adding 0.05 g dry rape flower pollen in 500 mL distilled water. Five grams of eggshell powder was dissolved using 75 mL 10% (volume ratio) hydrochloric acid. After filtering, 4.4 g ammonium carbonate and 2 mL 0.1g·L−1 rape flower pollen aqueous solution were added into the filtrate to react for 45 min. At last, white precipitation was collected via filtration and dried at 105 °C for 60 min, and roasted at 500 °C for 90 min.
3.2. Amoxicillin Adsorption Experiment
A batch of amoxicillin adsorption experiments were carried out by adding 0.5 g prepared calcium carbonate with strong stirring for different contact times in a 200 mL amoxicillin aqueous solution under darkness for 30 min; the amoxicillin initial concentration varied from 0.01 to 0.2 g·L
−1
, and the reaction temperature was 298 K, 308 K, or 318 K. The chemical oxygen demand (COD) values were determined using a potassium permanganate method for the amoxicillin solution before and after adsorption, which was filtered using a 0.45 μm filter membrane. The adsorption capacity (
Γ
) was calculated using the followed formula:
where
c
0
and
c
t
are the concentrations of amoxicillin at initial and time
t
of the contact time, respectively (g∙L
−1
);
V
represents the volume of amoxicillin solution (mL); and
m
is the mass of calcium carbonate (g).
4. Results and Discussion
5. Conclusions
Mesopore calcium carbonate with a BET surface area of 144.38 m
2
∙g
−1
was produced successfully using rape flower pollen as a template for removing amoxicillin in aqueous solution. The results indicated that it is a favorable adsorbent, and its adsorption capacity reached 13.49 mg∙g
−1
. Langmuir, Freundlich, and Temkin isotherm models were used to interpret the adsorption phenomenon of the adsorbent. The Langmuir isotherm was the best fitting model for the equilibrium adsorption data gathered from the product. For low pressure (p/p
0
< 0.1), the monolayer adsorption was dominant, and in the following stage, multilayer adsorption dominated instead. Adsorption kinetics was demonstrated to follow a pseudo-second-order model. The negative value of Δ
G
θ
signified that the adsorption reaction was a spontaneous adsorption, and the positive value of Δ
H
θ
indicated the adsorption process was endothermic.
Author Contributions
L.Z. contributed to the literature search, study design, experimental study, data analysis, and writing—review and editing; T.P. contributed to the design of the work and data analysis; H.S., X.G., and D.F. contributed to the work of writing—review and editing.
Funding
This research was funded by the Opening Project of Key Laboratory of Green Catalysis of Sichuan Institutes of Higher Education (Grant No. LYJ1605); the program projects funded of Sichuan University of Arts and Science (Grant No.2018SCL001Y) and the Scientific and Technological Innovation Team Foundation of Southwest University of Science and Technology, China (Grant No.17LZXT11).
Conflicts of Interest
The authors declare no conflict of interest.
Figure 2. The XRD plots of calcium carbonate: (a) roasted calcium carbonate and (b) unroasted calcium carbonate.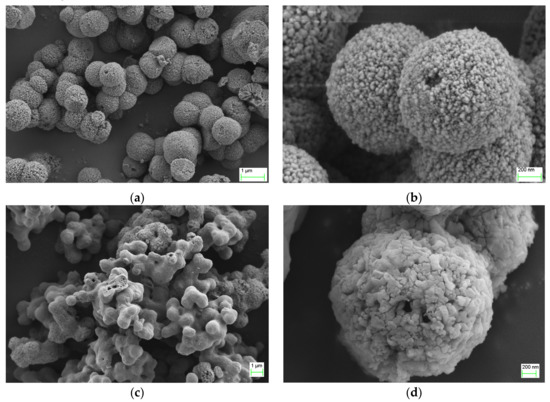 Figure 3. The SEM images of calcium carbonate: (a,b) unroasted calcium carbonate and (c,d) roasted calcium carbonate.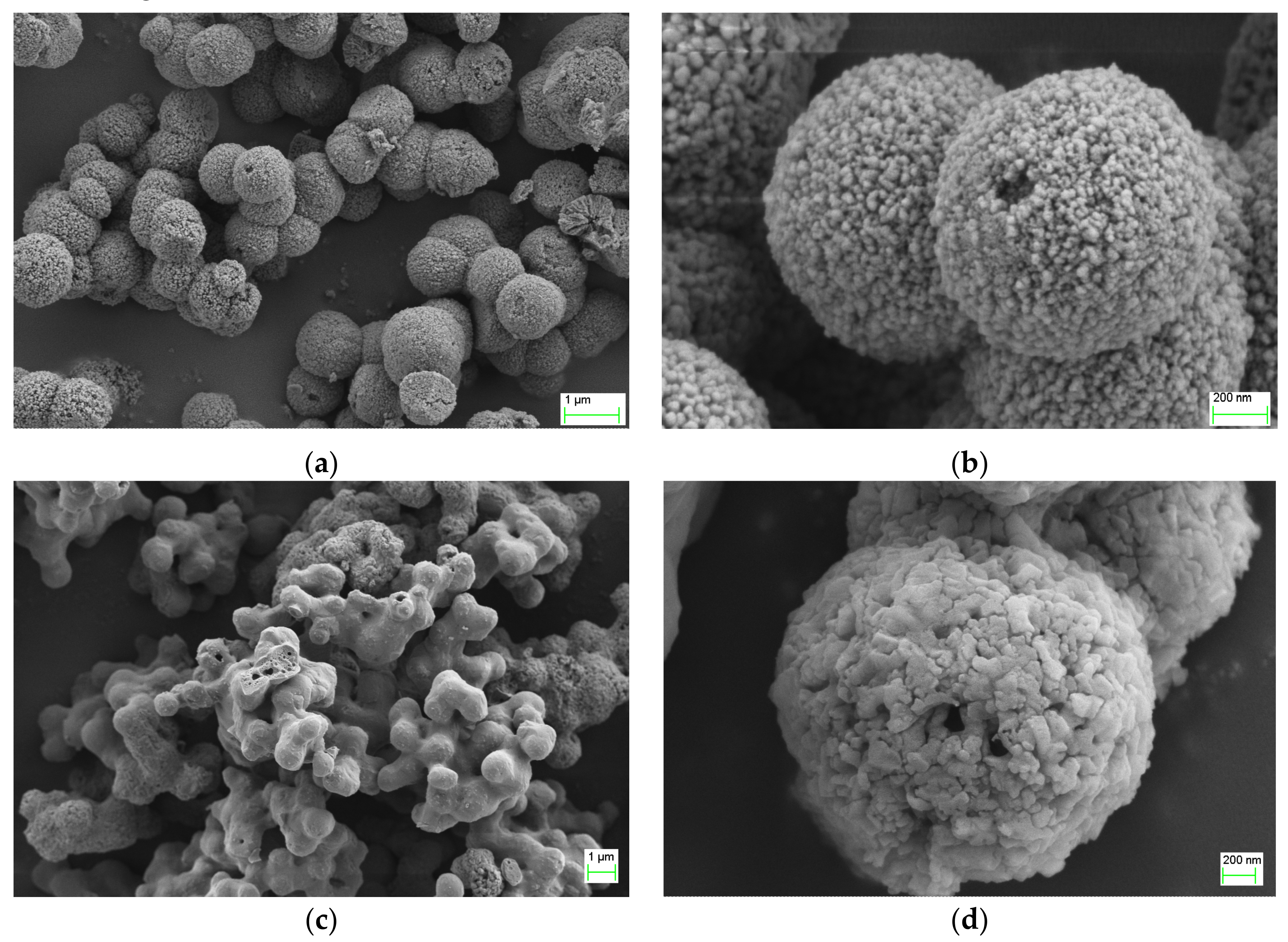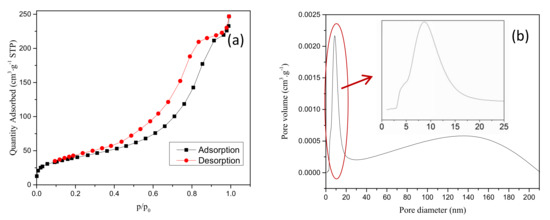 Figure 4. N2 adsorption/desorption isotherms (a) and pore size distribution curves (b) of the roasted calcium carbonate.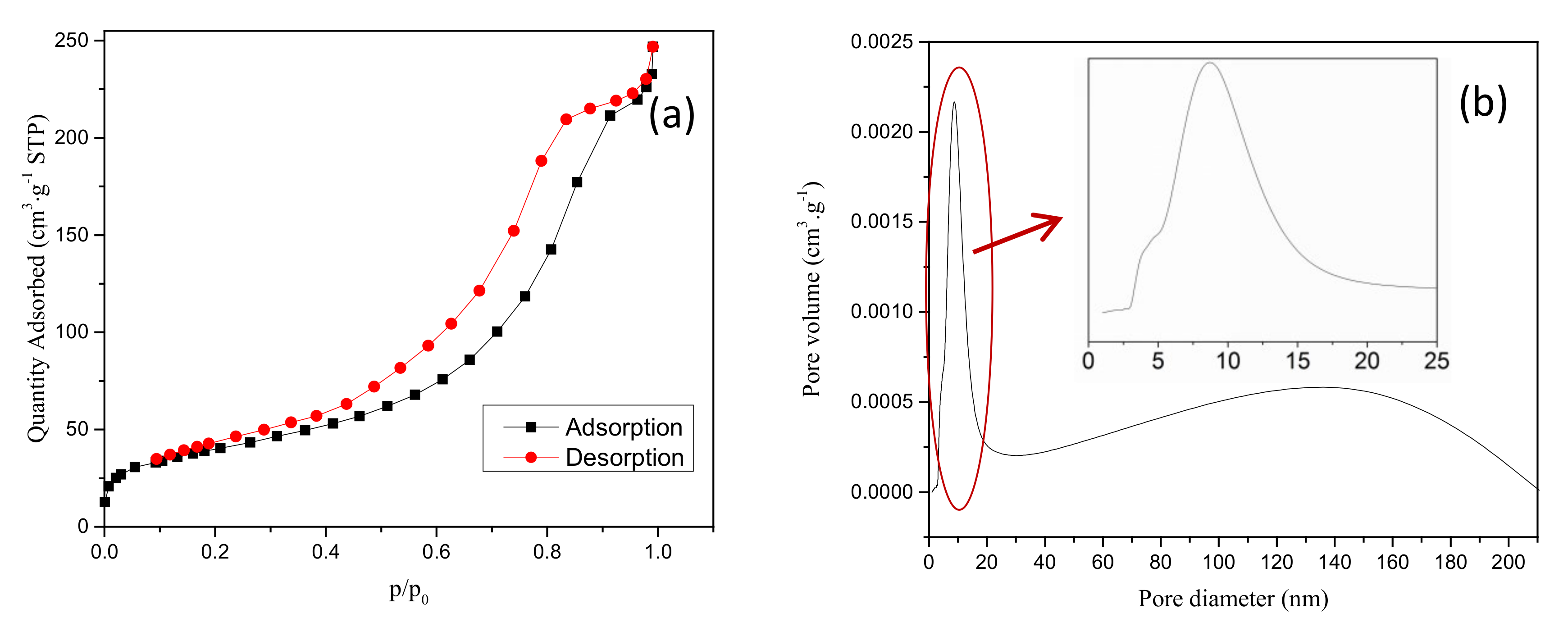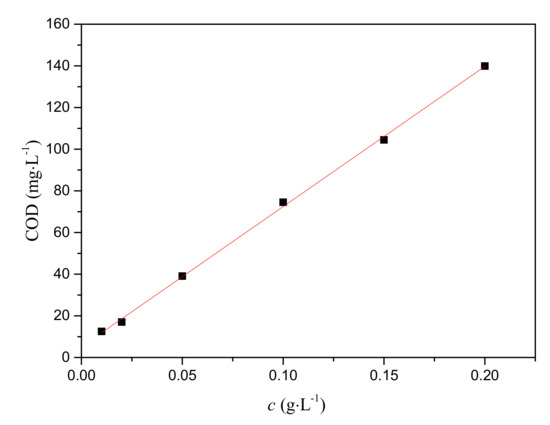 Figure 5.
The plot of COD versus
c
(amoxicillin concentration) for the amoxicillin standard solution.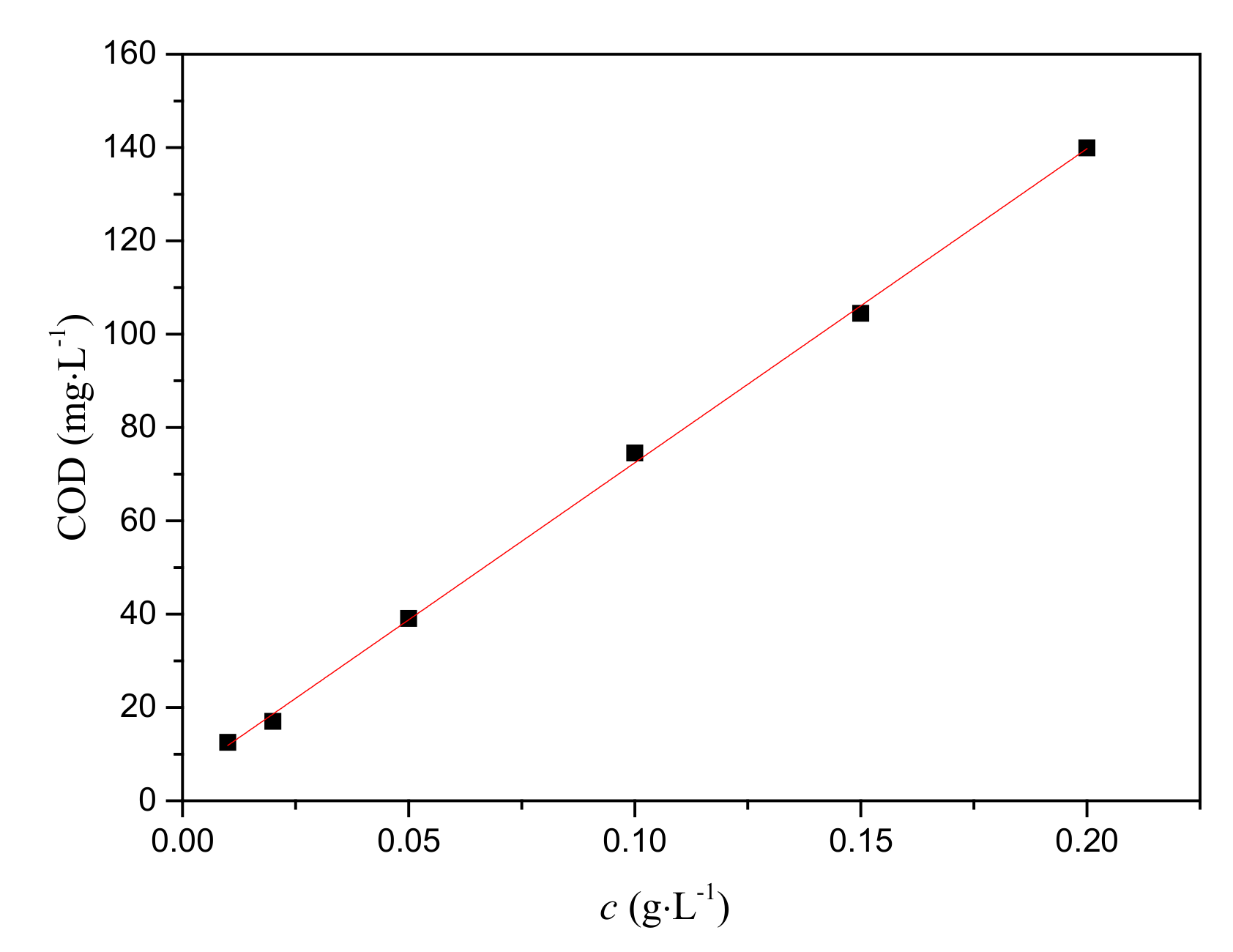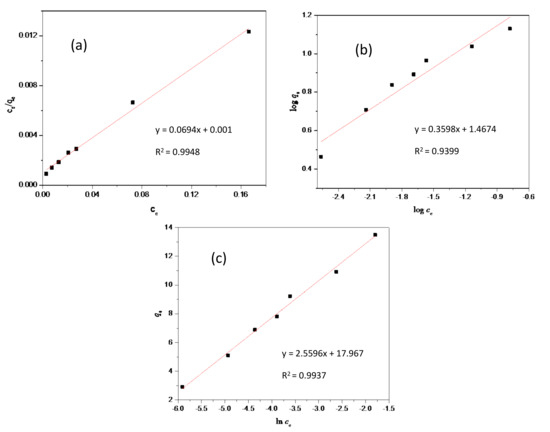 Figure 6. Adsorption isotherms of amoxicillin using calcium carbonate: (a) Langmuir isotherm, (b) Freundlich isotherm, and (c) Temkin isotherm.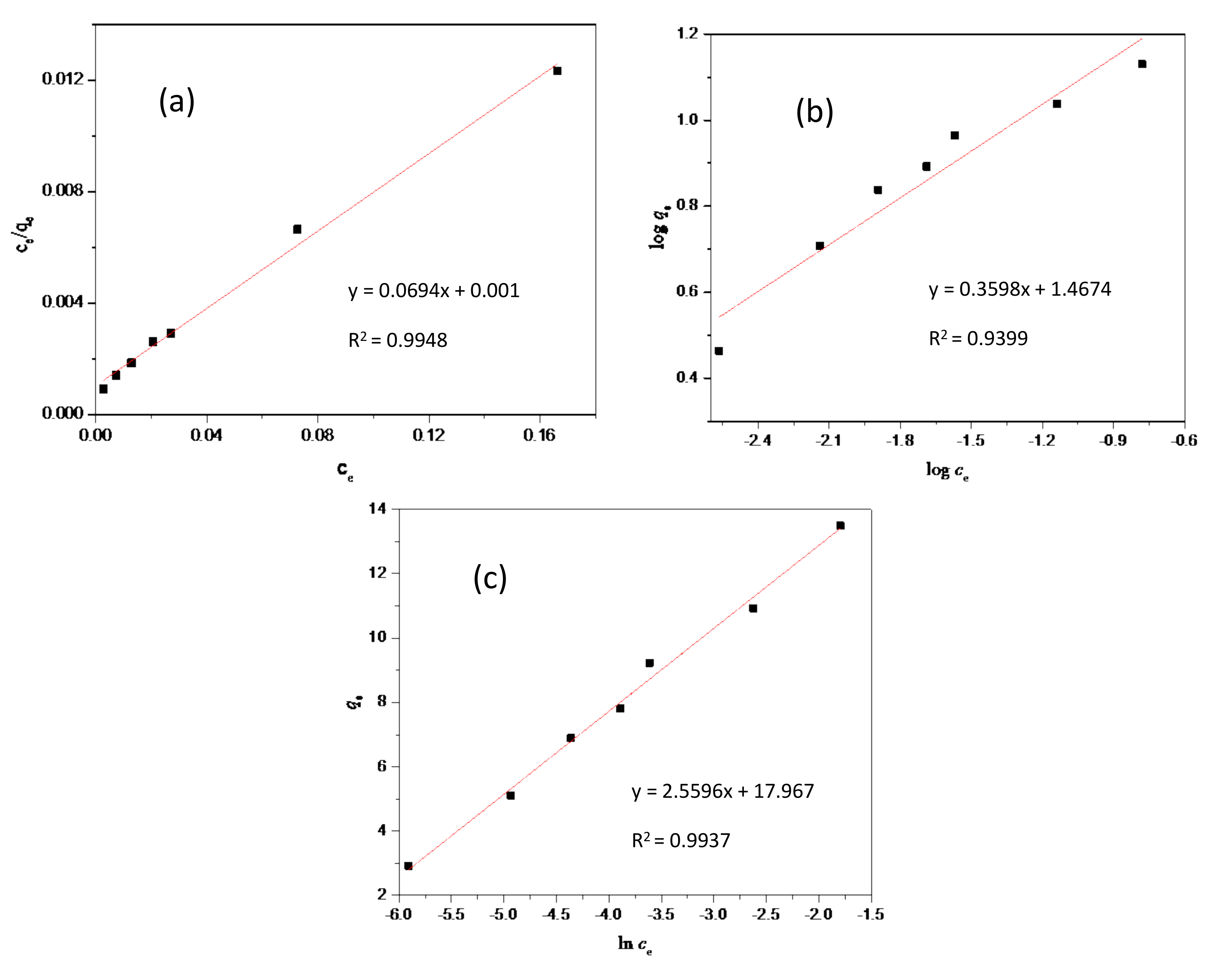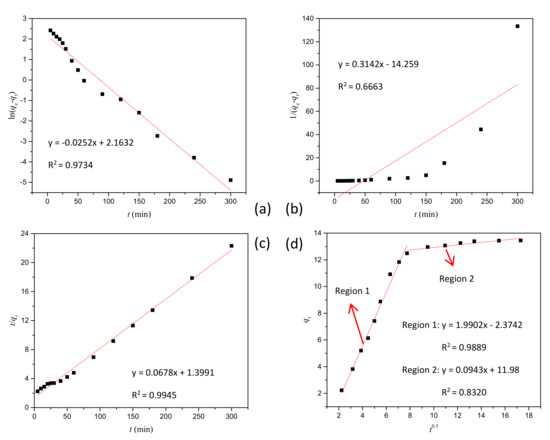 Figure 7. The plot of different kinetics models: (a) pseudo-first-order model, (b) second-order model, (c) pseudo-second-order model, and (d) intra-particle diffusion model.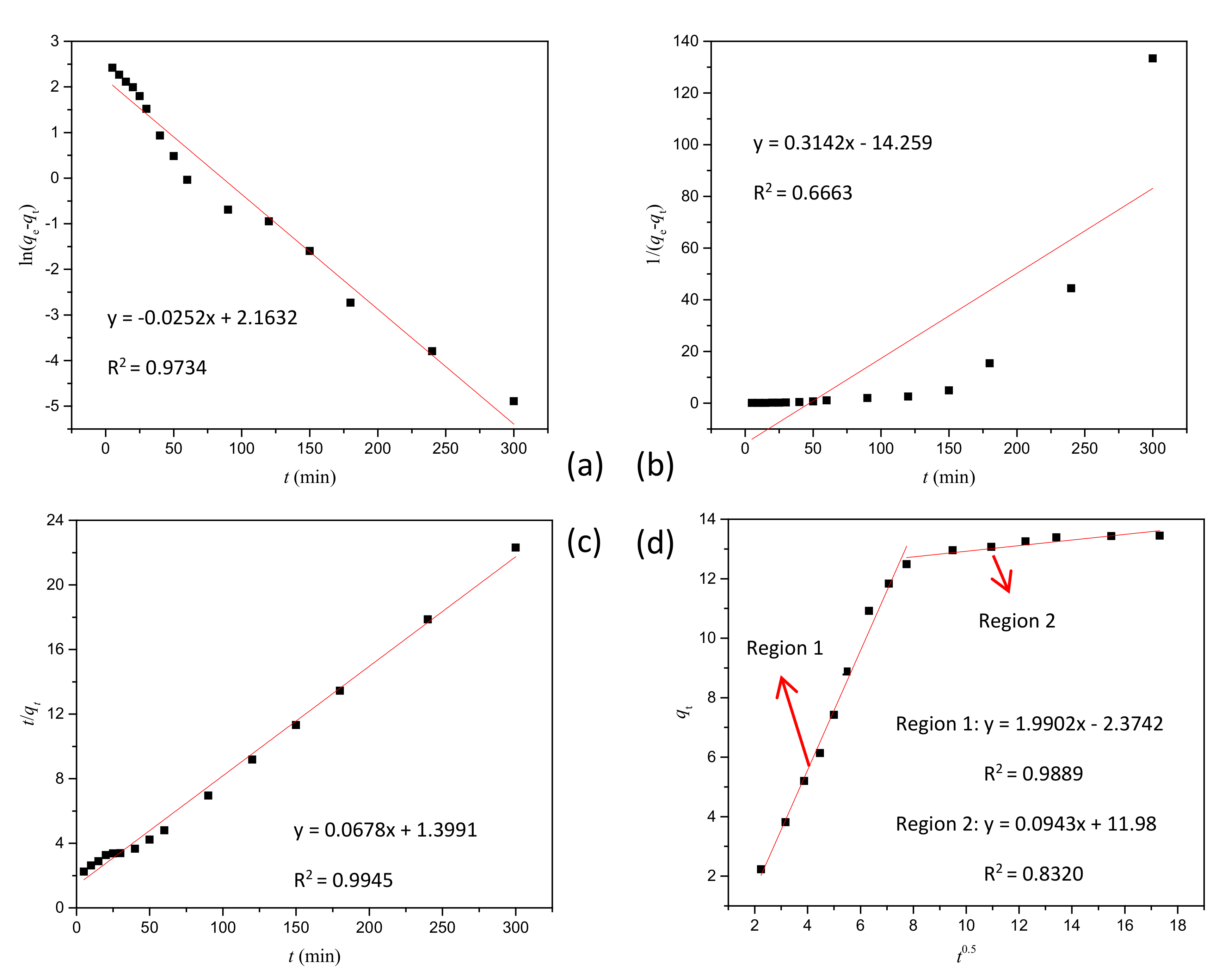 Table 1. The adsorption capacity of calcium carbonate at different contact times in 0.2 g·L−1 amoxicillin solution at 298 K.
t

(min)
ct (g·L−1)

q

t1 (mg·g−1)

t

(min)
ct (g·L−1)

q

t (mg·g−1)
5
0.1944
2.23
10
0.1905
3.82
15
0.1870
5.20
20
0.1847
6.14
25
0.1815
7.42
30
0.1778
8.88
40
0.1727
10.92
50
0.1704
11.83
60
0.1688
12.49
90
0.1676
12.96
120
0.1673
13.07
150
0.1669
13.25
180
0.1665
13.39
240
0.1664
13.43
300
0.1663
13.49
600
0.1663
13.49
1 The amount of adsorbate adsorbed at time

t

of the reaction time.

Table 2. The adsorption capacity of calcium carbonate in different amoxicillin concentrations for 300 min at 298 K.
c

0 (g·L−1)

c

e (g·L−1)

q

e (mg·g−1)

c

0 (g·L−1)

c

e (g·L−1)

q

e (mg·g−1)
0.01
0.0027
2.91
0.05
0.0270
9.22
0.02
0.0072
5.11
0.1
0.0727
10.93
0.03
0.0128
6.89
0.2
0.1663
13.49
0.04
0.0205
7.80
-
-
-

Table 3. The adsorption capacity of calcium carbonate at 298 K, 308 K, or 318 K for 300 min in 0.2 g·L−1 amoxicillin solution.
T

(K)

c

0 (g·L−1)

c

e (g·L−1)

q

e (mg·g−1)
298
0.2001
0.1664
13.48
308
0.2001
0.1615
15.68
318
0.2001
0.1569
17.28

Table 4. Thermodynamic parameters for the adsorption of amoxicillin on as-prepared calcium carbonate.
T

(K)
kD
Δ

H

θ (J∙mol−1)
Δ

S

θ (J∙mol−1∙K−1)
Δ

G

θ (J∙mol−1)
298
81.01
-
-
−10,897.10
308
96.02
12,108.51
77.20
−34,674.69
318
110.13
-
-
−59,224.29

© 2019 by the authors. Licensee MDPI, Basel, Switzerland. This article is an open access article distributed under the terms and conditions of the Creative Commons Attribution (CC BY) license (http://creativecommons.org/licenses/by/4.0/).