Facile Hydrothermal Synthesis of Nanocubic Pyrite Crystals Using Greigite Fe3S4 and Thiourea as Precursors
1
State Key Laboratory of Ore Deposit Geochemistry, Institute of Geochemistry, Chinese Academy of Sciences, Guiyang 550081, China
2
University of Chinese Academy of Sciences, Beijing 100049, China
3
Zunyi Normal College, Zunyi 563002, China
4
CAS Center for Excellence in Comparative Planetology, Hefei 230026, China
*
Author to whom correspondence should be addressed.
Received: 2 April 2019 / Revised: 28 April 2019 / Accepted: 29 April 2019 / Published: 1 May 2019
Abstract
Nanocubic pyrite (FeS
2
) crystals with exposed (100) crystal faces and sizes of 100–200 nm were successfully synthesized via a facile hydrothermal method using greigite (Fe
3
S
4
) as the iron precursor and thiourea (NH
2
CSNH
2
) as the sulfur source. When the concentration of thiourea was 40 mmol/L, both pyrite and hematite were observed in the as-prepared sample, indicating incomplete conversion of greigite into pyrite. With an increased thiourea concentration to 80 mmol/L, pyrite was found to be the only crystalline phase in the synthesized samples. All greigite could be transformed to pyrite within 24 h via the hydrothermal method, while further prolonging the hydrothermal time had insignificant effect on the crystal phase composition, crystallinity, and morphologies of the prepared nanocubic pyrite crystals. In contrast, when a mixture of Na
2
S and S powder was used to replace the thiourea as the sulfur source, tetragonal, orthorhombic, cubic, and irregular pyrite crystal particles with sizes of 100 nm–1 μm were found to co-exist in the prepared samples. These results demonstrate the critical influence of sulfur source on pyrite morphology. Furthermore, our hydrothermal process, using a combination of greigite and thiourea, is proved to be effective in preparing nanocubic pyrite crystals. Our findings can also provide new insight into the formation environments and pathways of nanocubic pyrite under hydrothermal conditions.
View Full-Text
►

▼

Figures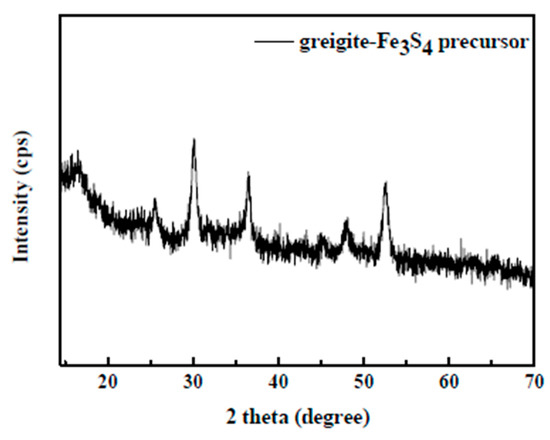 Figure 1
This is an open access article distributed under the
Creative Commons Attribution License
which permits unrestricted use, distribution, and reproduction in any medium, provided the original work is properly cited (CC BY 4.0).

Share & Cite This Article
MDPI and ACS Style
Nie, X.; Luo, S.; Yang, M.; Zeng, P.; Qin, Z.; Yu, W.; Wan, Q. Facile Hydrothermal Synthesis of Nanocubic Pyrite Crystals Using Greigite Fe3S4 and Thiourea as Precursors. Minerals 2019, 9, 273.
Note that from the first issue of 2016, MDPI journals use article numbers instead of page numbers. See further details here.
Related Articles
Comments
[Return to top]