Mechanism of Biomineralization Induced by
Bacillus subtilis

J2 and Characteristics of the Biominerals

1

Shandong Provincial Key Laboratory of Depositional Mineralization and Sedimentary Minerals, College of Earth Science and Engineering, Shandong University of Science and Technology, Qingdao 266590, China

2

Laboratory for Marine Mineral Resources, Qingdao National Laboratory for Marine Science and Technology, Qingdao 266237, China

3

Department of Bioengineering, College of Chemical and Environmental Engineering, Shandong University of Science and Technology, Qingdao 266590, China

4

School of Earth Sciences, University of Bristol, Bristol BS8 1RJ, UK

5

Cabot Institute, University of Bristol, Cantock's Close, Bristol BS8 1UJ, UK

6

Qingdao West Coast District No. 1 Senior High School, Qingdao 266555, China

*

Authors to whom correspondence should be addressed.

Received: 30 December 2018 / Revised: 25 February 2019 / Accepted: 4 April 2019 / Published: 6 April 2019
Abstract
Biomineralization induced by microorganisms has become a hot spot in the field of carbonate sedimentology; however, the mechanisms involved still need to be explored. In this study, the bacterium
Bacillus subtilis
J2 (GenBank MG575432) was used to induce the precipitation of calcium carbonate minerals at Mg/Ca molar ratios of 0, 3, 6, 9, and 12.
Bacillus subtilis
J2 bacteria released ammonia to increase pH, but the ammonia released only made the pH increase to 8.25. Carbonic anhydrase was also produced to catalyze the hydration of carbon dioxide, and this process released carbonate and bicarbonate ions that not only increased pH but also elevated carbonate supersaturation. The biominerals formed at a Mg/Ca molar ratio of 0 were spherulitic, elongated, dumbbell-shaped, and irregularly rhombohedral calcite; at a Mg/Ca molar ratio of 3, the biominerals were calcite and aragonite, the weight ratio of calcite decreased from 26.7% to 15.6%, and that of aragonite increased from 73.3% to 84.4% with increasing incubation time. At higher Mg/Ca molar ratios, the biominerals were aragonite, and the crystallinity and thermal stability of aragonite decreased with increasing Mg/Ca molar ratios. FTIR results showed that many organic functional groups were present on/within the biominerals, such as C–O–C, N–H, C=O, O–H, and C–H. HRTEM-SAED examination of the ultra-thin slices of
B. subtilis
J2 bacteria showed that nano-sized minerals with poor crystal structure had grown or been adsorbed on the EPS coating. The EPS of the
B. subtilis
J2 strain contained abundant glutamic acid and aspartic acid, which could be deprotonated in an alkaline condition to adsorb Ca
2+
and Mg
2+
ions; this made EPS act as the nucleation sites. This study may provide some references for further understanding of the mechanism of biomineralization induced by microorganisms.
View Full-Text
►

▼

Figures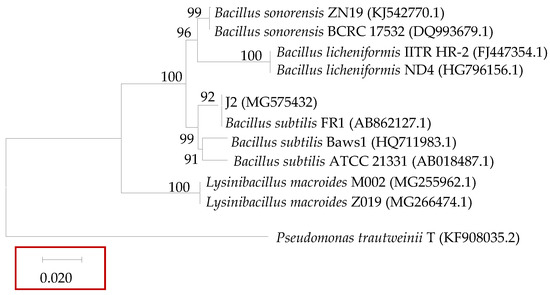 Figure 1
This is an open access article distributed under the
Creative Commons Attribution License
which permits unrestricted use, distribution, and reproduction in any medium, provided the original work is properly cited (CC BY 4.0).

Share & Cite This Article
MDPI and ACS Style
Han, Z.; Wang, J.; Zhao, H.; Tucker, M.E.; Zhao, Y.; Wu, G.; Zhou, J.; Yin, J.; Zhang, H.; Zhang, X.; Yan, H. Mechanism of Biomineralization Induced by Bacillus subtilis J2 and Characteristics of the Biominerals. Minerals 2019, 9, 218.
Note that from the first issue of 2016, MDPI journals use article numbers instead of page numbers. See further details here.
Related Articles
Comments
[Return to top]