Sm-Nd Dating and In-Situ LA-ICP-MS Trace Element Analyses of Scheelite from the Longshan Sb-Au Deposit, Xiangzhong Metallogenic Province, South China
1
MNR Key Laboratory of Metallogeny and Mineral Assessment, Institute of Mineral Resources, Chinese Academy of Geological Sciences, Beijing 100037, China
2
Centre for Ore Deposit and Earth Sciences (CODES), University of Tasmania, Hobart, TAS 7001, Australia
3
Tianjin Institute of Geology and Mineral Resources, Tianjin 300170, China
*
Author to whom correspondence should be addressed.
Received: 5 January 2019 / Revised: 26 January 2019 / Accepted: 28 January 2019 / Published: 30 January 2019
Abstract
Longshan is an important Sb-Au ore deposit (3.7 Mt @4.5 wt. % Sb and 4.6 g/t Au) in the Xiangzhong metallogenic province (XZMP), South China. In the present work, trace element composition, Sm-Nd isotope dating, and Sr isotope of scheelite from the Longshan Sb-Au deposit are used to constrain the genesis of the deposit. Based on mineral assemblages and geological characteristics, two types of scheelites can be distinguished (Sch1 and Sch2). Sch1 is granular and cemented by stibnite, while Sch2 is commonly present in stibnite, pyrite, calcite, and quartz veins, indicating that Sch2 is later than Sch1. The Sm-Nd isochron age defined by Sch1 is 210 ± 2 Ma (MSWD = 1.0, n = 4). This age is interpreted as the age of Sb-Au mineralization and overlaps with the 201–228 Ma granitic rocks in the XZMP. Sch1 exhibits high ΣREE + Y contents (43.5 to 104 ppm), low Sr values (2687 to 6318 ppm, average of 4018 ppm), and a narrow range of
87
Sr/
86
Sr values (0.7209 to 0.7210, average of 0.7209). In contrast, the elevated Sr abundance (4525 to 11,040 ppm, average of 6874 ppm) and wide
87
Sr/
86
Sr ratios (0.7209 to 0.7228, average of 0.7214) in Sch2 were possibly caused by fluid-rock interaction mixing with Sr-enriched basement rocks. Sulfides have a narrow range of δ
34
S values of −1.8‰ to 3.2‰, with an average value of 1.1‰ (n = 7). Geochronological, geochemical and isotopic data suggest that the Longshan Sb-Au deposit is possible genetically related to the Late Triassic granitic intrusion in the XZMP.
View Full-Text
►

▼

Figures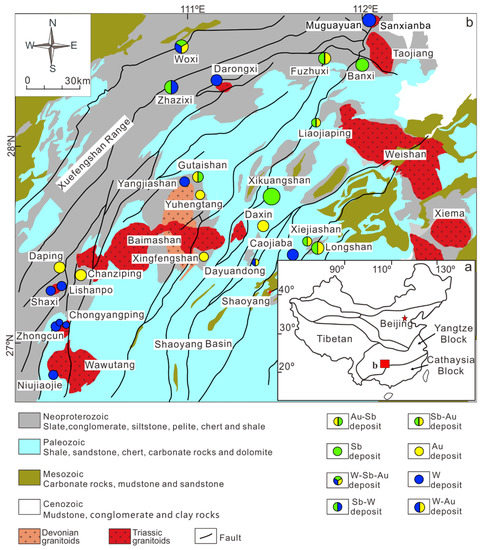 Figure 1
This is an open access article distributed under the
Creative Commons Attribution License
which permits unrestricted use, distribution, and reproduction in any medium, provided the original work is properly cited (CC BY 4.0).

Share & Cite This Article
MDPI and ACS Style
Zhang, Z.; Xie, G.; Mao, J.; Liu, W.; Olin, P.; Li, W. Sm-Nd Dating and In-Situ LA-ICP-MS Trace Element Analyses of Scheelite from the Longshan Sb-Au Deposit, Xiangzhong Metallogenic Province, South China. Minerals 2019, 9, 87.
Note that from the first issue of 2016, MDPI journals use article numbers instead of page numbers. See further details here.
Related Articles
Comments
[Return to top]