Jurassic Non-Carbonate Microbialites from the Betic-Rifian Cordillera (Tethys Western End): Textures, Mineralogy, and Environmental Reconstruction
Departamento de Geología and CEACT, Universidad de Jaén, Campus Las Lagunillas s/n, 23071 Jaén, Spain
*
Author to whom correspondence should be addressed.
Received: 12 December 2018 / Revised: 7 January 2019 / Accepted: 25 January 2019 / Published: 30 January 2019
Abstract
The term microbialite is commonly applied for describing carbonate organo-sedimentary deposits that have accreted as a result of the activity of benthic microbial communities (BMC). However, non-carbonate microbialites are progressively well-known and show a great diversity of organisms, processes, and mineralogical compositions. This article reviews three types of Jurassic microbialites from four different environmental contexts from the Betic-Rifian Cordillera (South Spain and North Morocco): marine hardgrounds, submarine caves, hydrothermal vents, and submarine volcanic deposits. The Middle-Late Jurassic transition in the External Subbetic (Betic Cordillera) and the Jbel Moussa Group (Rifian Calcareous Chain) was characterized by the fragmentation of the carbonate epicontinental platforms that favored these different settings: (A) Many stratigraphic breaks are recorded as hardgrounds with surficial hydrogenetic Fe crusts and macro-oncoids related to chemo-organotrophic behavior of BMC that served as a specific trap for Fe and Mn enrichment; (B) Cryptic hydrogenetic Fe-Mn crusts (or endostromatolites) grew in the walls of submarine cavities and fractures mainly constituted by
Frutexites
(chemosynthetic and cryptobiontic microorganism) locally associated to serpulids; (C) Hydrothermal Mn crusts are mainly constituted by different types of filaments and bacillus-shaped bacteria, whose mineralogy and geochemistry point to a submarine hydrothermal origin; (D) Finally, glauconite laminated crusts, constituted by branched cylindrical filaments, have grown in cryptic spaces among the pillow-lava bodies, probably related to the metabolism of chemo-organotrophic microbes under oxic conditions at temperatures between 30 and 90 °C. In most of the cases described in this work, microbial organisms forming microbialites were extremophiles.
View Full-Text
►

▼

Figures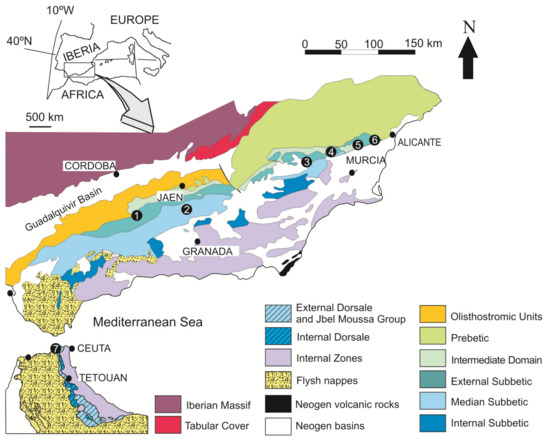 Figure 1
This is an open access article distributed under the
Creative Commons Attribution License
which permits unrestricted use, distribution, and reproduction in any medium, provided the original work is properly cited (CC BY 4.0).

Share & Cite This Article
MDPI and ACS Style
Reolid, M.; Abad, I. Jurassic Non-Carbonate Microbialites from the Betic-Rifian Cordillera (Tethys Western End): Textures, Mineralogy, and Environmental Reconstruction. Minerals 2019, 9, 88.
Note that from the first issue of 2016, MDPI journals use article numbers instead of page numbers. See further details here.
Related Articles
Comments
[Return to top]