Enantiomeric Separation of Tramadol and Its Metabolites: Method Validation and Application to Environmental Samples
1
Laboratório de Química Orgânica e Farmacêutica, Departamento de Ciências Químicas, Faculdade de Farmácia, Universidade do Porto, Rua de Jorge Viterbo Ferreira, 228, 4050-313 Porto, Portugal
2
CESPU, Instituto de Investigação e Formação Avançada em Ciências e Tecnologias da Saúde, Rua Central de Gandra, 1317, 4585-116 Gandra PRD, Portugal
3
Universidade Católica Portuguesa, CBQF—Centro de Biotecnologia e Química Fina—Laboratório Associado, Escola Superior de Biotecnologia, Rua Arquiteto Lobão Vital, apartado 2511, 4202-401 Porto, Portugal
4
Centro Interdisciplinar de Investigação Marinha e Ambiental (CIIMAR/CIMAR), Universidade do Porto, Rua dos Bragas 289, 4050-123 Porto, Portugal
*
Author to whom correspondence should be addressed.
Received: 30 July 2017 / Revised: 12 August 2017 / Accepted: 19 August 2017 / Published: 24 August 2017
Abstract
The accurate assessment of racemic pharmaceuticals requires enantioselective analytical methods. This study presents the development and validation of an enantioselective liquid chromatography with a fluorescence detection method for the concomitant quantification of the enantiomers of tramadol and their metabolites,
N
-desmethyltramadol and
O
-desmethyltramadol, in wastewater samples. Optimized conditions were achieved using a Lux Cellulose-4 column 150 × 4.6 mm, 3 µm isocratic elution, and 0.1% diethylamine in hexane and ethanol (96:4, v/v) at 0.7 mL min
−1
. The samples were extracted using 150 mg Oasis
®
mixed-mode cation exchange (MCX) cartridges. The method was validated using a synthetic effluent of a laboratory-scale aerobic granular sludge sequencing batch reactor. The method demonstrated to be selective, accurate, and linear (r
2
> 0.99) over the range of 56 ng L
−1
to 392 ng L
−1
. The detection and the quantification limits of each enantiomer were 8 ng L
−1
and 28 ng L
−1
for tramadol and
N
-desmethyltramadol, and 20 ng L
−1
and 56 ng L
−1
for
O
-desmethyltramadol. The feasibility of the method was demonstrated in a screening study in influent and effluent samples from a wastewater treatment plant. The results demonstrated the occurrence of tramadol enantiomers up to 325.1 ng L
−1
and 357.9 ng L
−1
, in the effluent and influent samples, respectively. Both metabolites were detected in influents and effluents.
View Full-Text
►

▼

Figures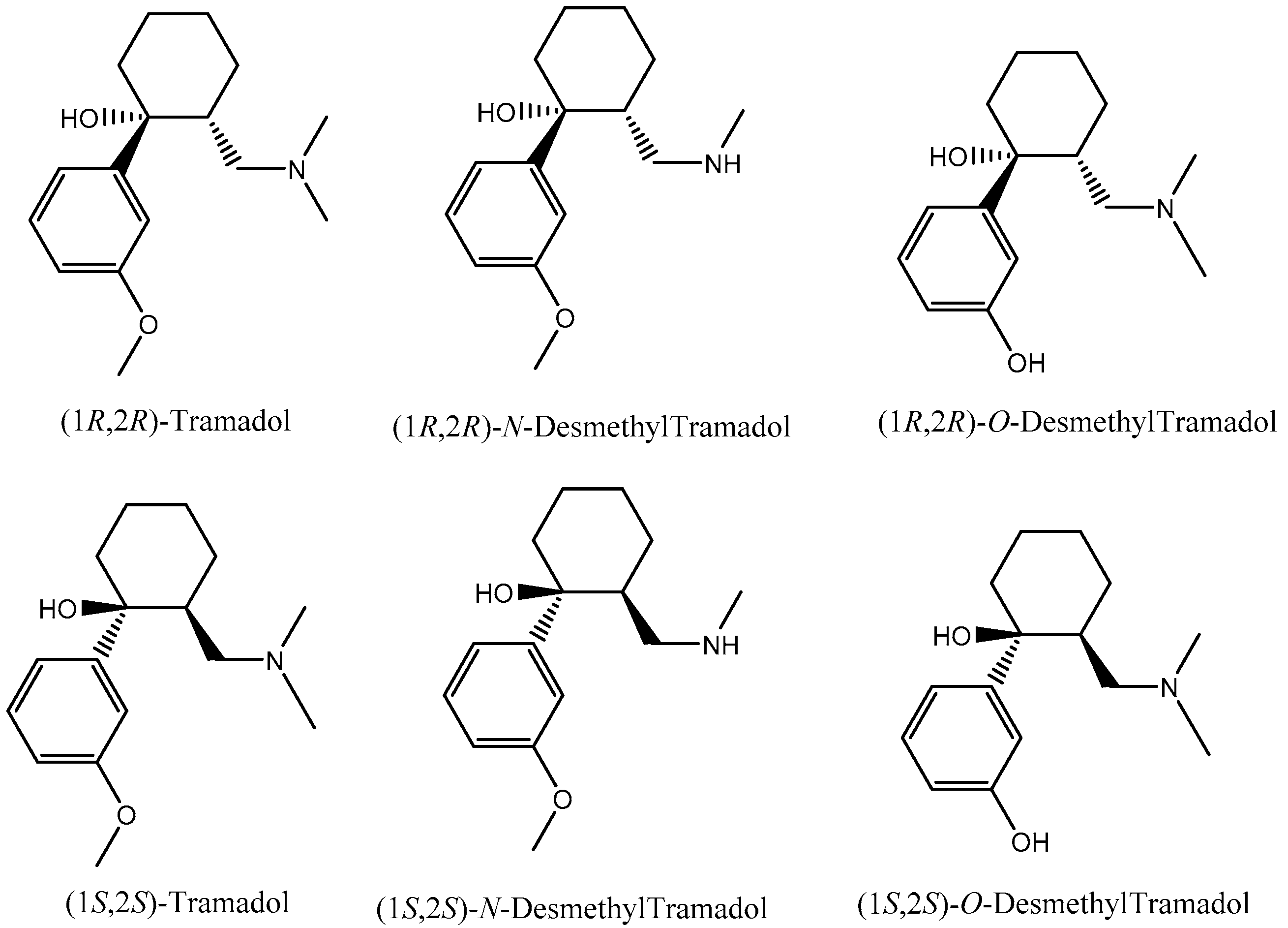 Figure 1
This is an open access article distributed under the
Creative Commons Attribution License
which permits unrestricted use, distribution, and reproduction in any medium, provided the original work is properly cited (CC BY 4.0).

Share & Cite This Article
MDPI and ACS Style
Silva, C.; Ribeiro, C.; Maia, A.S.; Gonçalves, V.; Tiritan, M.E.; Afonso, C. Enantiomeric Separation of Tramadol and Its Metabolites: Method Validation and Application to Environmental Samples. Symmetry 2017, 9, 170.
Note that from the first issue of 2016, MDPI journals use article numbers instead of page numbers. See further details here.
Related Articles
Comments
[Return to top]