Open Access This article is
freely available
re-usable
Article
3D Printed Personalized Corneal Models as a Tool for Improving Patient's Knowledge of an Asymmetric Disease
1
Department of Structures, Construction and Graphical Expression, Technical University of Cartagena, 30202 Cartagena, Spain
2
Technology Centre for IT and Communications (CENTIC), Scientific Park of Murcia, 30100 Murcia, Spain
3
Division of Ophthalmology, Miguel Hernández University, 03550 Alicante, Spain
4
Keratoconus Unit of Vissum Corporation, 03016 Alicante, Spain
5
Department of Refractive Surgery, Vissum Corporation, 03016 Alicante, Spain
*
Author to whom correspondence should be addressed.
Received: 19 December 2019 / Accepted: 9 January 2020 / Published: 11 January 2020
Abstract
:
Additive manufacturing is a vanguard technology that is currently being used in several fields in medicine. This study aims to evaluate the viability in clinical practice of a patient-specific 3D model that helps to improve the strategies of the doctor-patient assistance. Data obtained from a corneal topographer were used to make a virtual 3D model by using CAD software, to later print this model by FDM and get an exact replica of each patient's cornea in consultation. Used CAD and printing software were open-source, and the printing material was biodegradable and its cost was low. Clinic users gave their feedback by means of a survey about their feelings when perceiving with their senses their own printed cornea. There was 82 surveyed, 73.8% (9.74; SD: 0.45) of them considered that the model had helped them a lot to understand their disease, expressing 100% of them their intention of taking home the printed model. The majority highlighted that this new concept improves both quality and clinical service in consultation. Custom-made individualized printed models allow a new patient-oriented perspective that may improve the communication strategy from the ophthalmologist to the patient, easing patient's understanding of their asymmetric disease and its later treatment.
Keywords:
computer-aided geometric design (CAGD); additive manufacturing (AM); scheimpflug; low cost
1. Introduction
Thus, in this research work, it is proposed a new concept of patient information that uses 3D printed models of the cornea in the clinical practice of a hospital, using for its creation open-source software, both for the generation of the CAD models and the 3D printing files. The main objective pursued is improving the communication strategy of the ophthalmologist with the patient, easing the patient's process of understanding their disease and its later treatment, and avoiding a situation in which patients do not realize the real dimension of their disease, that could lead them to a scenario of frustration and poor outcomes.
2. Material and Methods
2.1. Patients
This article presents an observational comparative study that included 30 corneas of healthy patients (13 men and 17 women, average age 28.01 ± 14.19) and 52 of patients with keratoconus (22 men and 30 women, average age 26.71 ± 13.41). Keratoconus patients were also divided in several sub-groups, depending on the disease severity in the Amsler-Krumeich grading system [
2
,
35
]: 20 grade I, 14 grade II, 12 grade III and 6 grade IV.
The tenets of the Declaration of Helsinki (7th rev., Oct-2013, Fortaleza, Brazil) were followed for the development of the research, and it was backed up by the Committee of Ethics of the hospital participating in this study, signing all patients their consent to participate. The subjects whose data were used in this study were diagnosed in Vissum Corporation Alicante (a centre in affiliation with Miguel Hernández University of Elche, Spain), and their data is stored in the "Iberia" database of KC eyes that has been developed for the National Network for Clinical Research In Ophthalmology RETICS-OFATARED.
The procedure to discriminate between normal and KC patients was made according to validated up-to-date topographical and clinical verifications [
2
,
5
]. The exclusion criteria were the subsequent: contact lenses use in the thirty days that preceded their initial visit, ocular surface irritation, any previous ocular surgical procedure, mild or acute dry eye or presence of any other ocular comorbidity. Healthy eyes selected were all those that did not coincide with any of the exclusion criteria, while the diagnosis of keratoconus according to standard guidelines was the criterion to be included in the KC group.
2.2. Methods
I. Surface and 3D model generation. At this point, a volumetric dataset was calculated from the available CSV file. This task can be performed by several software applications. In this study, CloudCompare 2.9.1 open-source software was the one used to generate the 3D model, using its "Delaunay 2.5D (best fitting plane)" option to generate a mesh from the point cloud of each surface. Then, the perimeter surface was created and, using Boolean operations, it was merged with the anterior and posterior corneal surfaces to create the final volume, which was then cut by a sagittal plane that passed through the optical axis and the minimum thickness points (anterior/posterior) of the corneal surfaces. CloudCompare entities are saved as BIN files, a format that is highly compatible with most open source 3D graphics software, so they can be easily used by any collaborative research network.
As corneal real diameter is about 12 mm, and at that size corneal alterations were difficult to perceive, the use of a 1:1 scale for the model was discarded. Conversely, using big size models makes perception easier, but also significantly increases printing costs, so finally a 5:1 scale was used, as it was the smallest one that allowed an easy detection of slight changes in thickness and/or curvature.
The average time for all the process (3D modeling and 3D printing) was of 24.8 ± 3.4 min.
2.3. Questionnaire
Finally, in order to assess the usefulness of the 3D model, a questionnaire was passed to each patient (82 in total). If the patient suffered from keratoconus, his custom 3D printed model was compared with a typical healthy cornea model, and their condition was explained to them, filling the questionnaire just after finishing the explanation. Questions made can be seen in
Table 2
. When selecting the scale for each question, for Q1, Q2 and Q5 we used 10 levels Likert items instead of the most common five level ones, looking for minimizing central tendency bias, while for questions Q3 and Q4, we opted for an absolute scale (yes/no/neutral).
3. Results
The study lasted from January 2018 to March 2019, in Vissum Hospital in Alicante (Spain).
Table 3
reports the collected answers to the five questions proposed to the patients.
Results of Q1 show that the majority of patients found the 3D custom model "very useful", with more than half of the answers (69%) placed in top of the graduated scale (9.67; SD:0.53).
Similarly, 73.8% of patients considered that the use of the 3D personalized model had helped them "a huge lot" to understand their disease (9.74; SD: 0.45) when they answered question Q2.
In relation with question Q3, 100% of patients expressed their will to take the model home with them.
Results of question Q4 show that the vast majority of (95.2%) consider that the use of the personalized 3D model improves the clinical service rendered, being remarkable that only 4.8% believe that it does not make it better nor worse, and none of them consider that it makes it worse.
Finally, the results of question Q5 suggest that patients have considered that the use of personalized 3D models has improved the clinical service rendered in a high degree (8.62; SD:0.58).
To estimate the cost of realization of the 3D model, we considered the following: cost of data acquisition (0 €, included in consultation costs), proportional part of the cost of buying of the printer (120 € divided by 2000 h of life, 0.06 € per hour), labor of the laboratory technician (6 min at 5.66 €/hour, 0.57 €), software (0 €, as it was all open source) and material (30 g. of PLA at 18 €/kg, 0.47 €). The final estimated cost for each piece was around 1.10 €.
4. Discussion
In this research work, we describe our experience using AM techniques in ophthalmological clinical practice to obtain a custom-made individualized printed model, by means of a low-cost material, such as PLA. The objective is that patients acquire, basing on the physical model built, knowledge of the real dimension of the asymmetrical morphological changes that their cornea suffers when the disease progresses, and that affect their optical capacity, and therefore their quality of life.
From these patient-specific virtual models, and using open-source software, as well as low-cost and freely available manufacture hardware, the physical models used in this study were produced.
Our study has, however, some limitations. First, the cross-sectional nature of the study presents a limited extension of the patient's cohort due to the low prevalence of this corneal degeneration; and second, the use of patients of just one hospital for the study. A longitudinal study with a larger sample size and including patients from different hospitals would be needed to further investigate the clinical utility and viability, in clinical practice, of a patient-specific 3D model that helped to improve the strategies in doctor–patient assistance.
5. Conclusions
In this paper, the authors evaluated the possible benefits of using custom made 3D printed models of the cornea as a tool for increasing patient's knowledge and understanding of their asymmetric condition, with the aim of improving the level of quality perceived for the services rendered in medical consultations.
The results show that owning a custom 3D printed model of their cornea was considered interesting for the totality of the patients that participated in the study, and that the comparison of their pathologic cornea with the 3D model of a healthy one, helped them "a lot" (9.71/10, SD:0.45) to understand their disease, considering the vast majority (>95%) of the participants that using the 3D printed realistic models increased the quality of services rendered in the clinic.
In addition, the use of open-source and free software, as well as a RepRap 3D printer, whose drawings are available for everyone, make the approach described in this work accessible not only to high-end clinics, but to any clinic, whatever its budget is.
In conclusion, 3D printing has allowed the creation of precise physical models that reflects asymmetric modifications due to keratoconus pathology. The visual and tactile perception of these models allow patients to better understand and manage the perspective of treatment of their disease, making the clinicians job more efficient and therefore increasing the perception of quality of the service they render.
Although the use of 3D printing is increasing currently, the true potential of this technology will be achieved when function and form become fully integrated, as for example happens in the bio printing of tissues or organs, such as the cornea, that even if it has not been fully reached yet, the first steps have started to be successfully taken [
49
].
Author Contributions
Conceptualization, J.S.V. and F.C.; methodology, J.S.V., F.C. and J.L.A.; validation, J.S.V. and J.M.B.; analysis, F.C. and J.M.B.; investigation, J.S.V., F.C. and J.L.A.; resources, J.S.V. and F.C.; data curation, J.M.B. and J.L.A.; writing—original draft preparation, J.S.V. and F.C.; writing—review and editing F.C., J.M.B. and J.L.A.; supervision, J.L.A.; project administration, F.C. and J.L.A.; funding acquisition J.L.A. All authors have read and agreed to the published version of the manuscript.
Funding
This publication has been carried out in the framework of the Thematic Network for Co-Operative Research in Health (RETICS), reference number RD16/0008/0012, financed by the Carlos III Health Institute–General Subdirection of Networks and Cooperative Investigation Centers (R&D&I National Plan 2013–2016) and the European Regional Development Fund (FEDER).
Acknowledgments
The authors wish to thank all subjects participating in this study.
Conflicts of Interest
The authors declare no conflict of interest.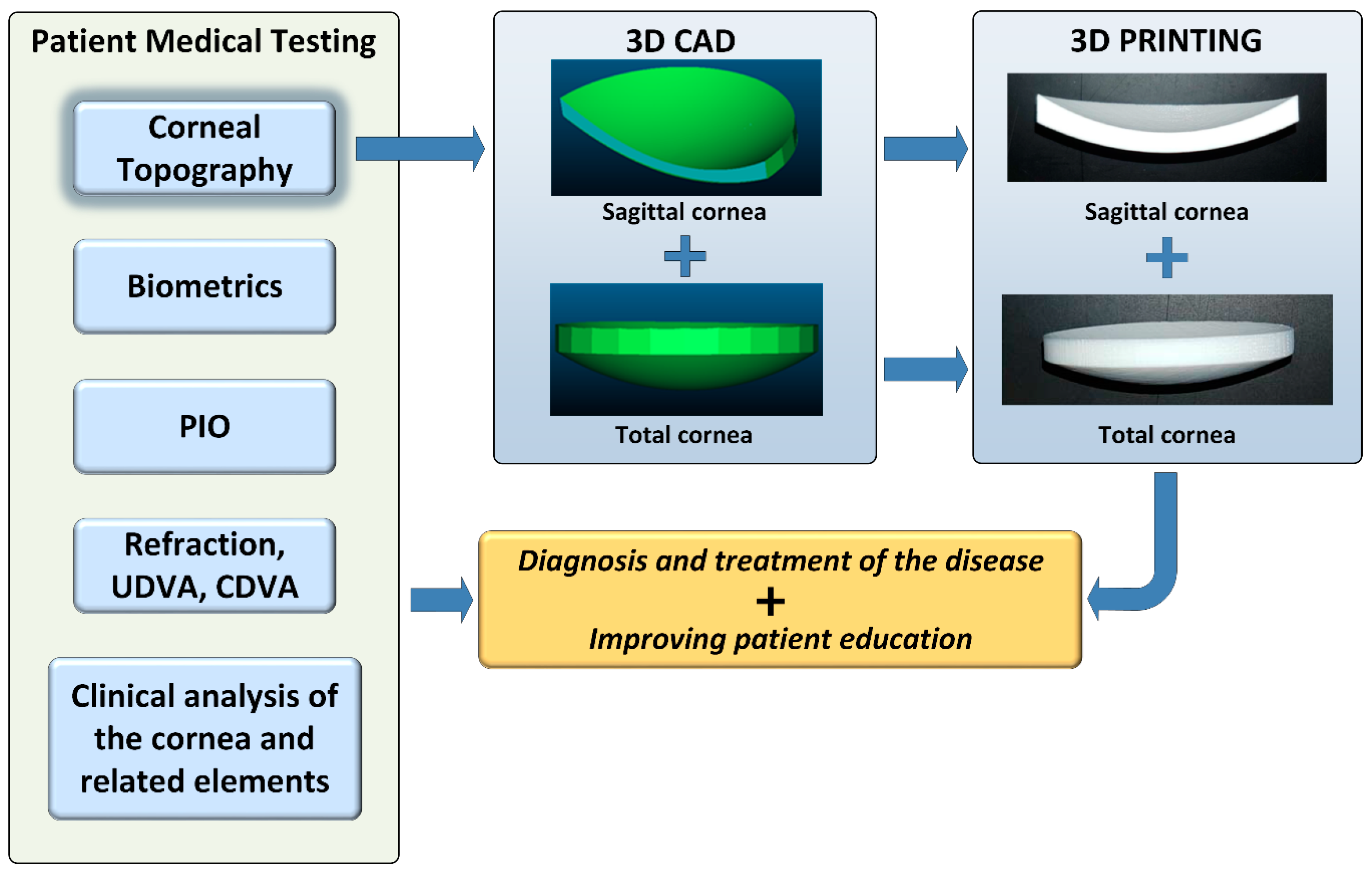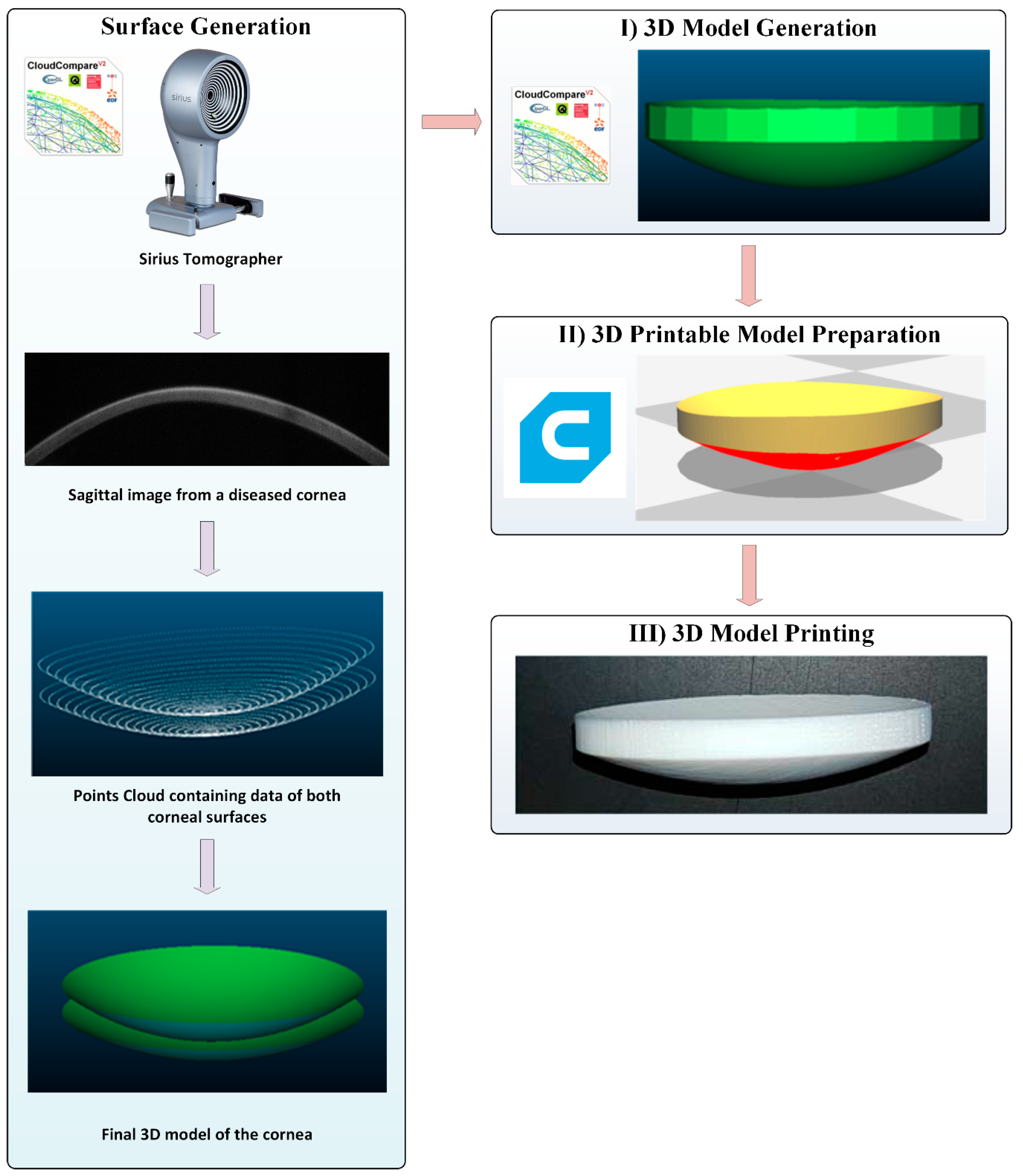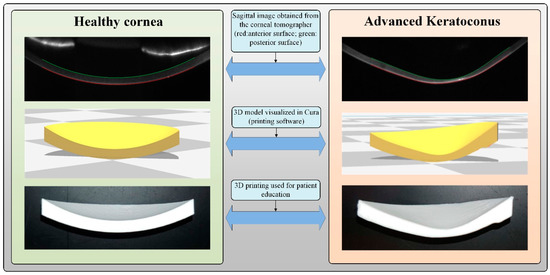 Figure 3. Healthy cornea (male patient of 24 years, Oculus Sinister (OS), Corrected Distance Visual Acuity (CDVA) = 1, astigmatism = 0.45, comma of like = 0.27, spherical-like = 0.23, Q8mm = −0.16 central thickness= 534). Advanced keratoconus (female patient of 20 years, Oculus Dexter (OD), CDVA =0.44, astigmatism = 1.17, comma of like = 2.27, spherical-like = 2.50, Q8mm = −2.42 central thickness = 402).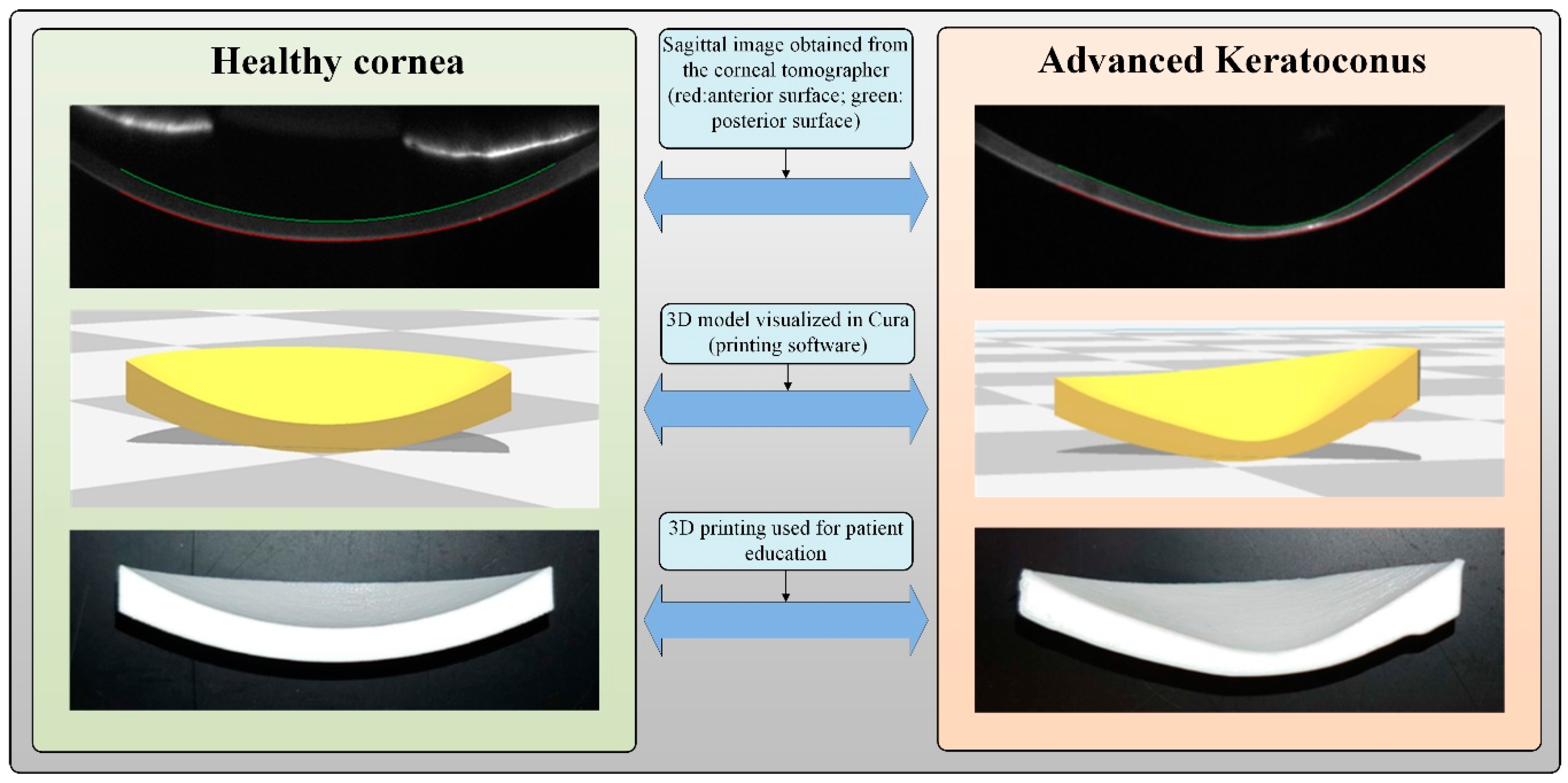 | Parameter | Values/Settings |
| --- | --- |
| Material | PLA |
| Quality: layer height | 0.2–0.3 mm |
| Fusing material density | 1.25 g/cm3 |
| Fusing material fusion point | 160 °C |
| Printing temperature | 225 °C |
| Nozzle diameter | 1 mm |
| Flow rate | 100% |
| Print speed | 500 mm/s |
| Travel speed | 130 mm/s |
| Printing area | 22 cm × 23 cm × 20 cm |
| Number | Question Test | Possible Answer |
| --- | --- | --- |
| Q1 | What usefulness do you attribute to this custom 3D model? | From 1 = not useful at all to 10 = very useful |
| Q2 | How much did the custom 3D model help you to better understand your condition? | From 1 = nothing at all to 10 = a huge lot |
| Q3 | Would you like to take the custom 3D model with you after the consultation? | Yes/No/Neutral |
| Q4 | Would you consider that using this custom 3D model improves the quality of our clinical service? | Yes/No/Neutral |
| Q5 | How much do you consider that patients would benefit from the use of these custom 3D models in consultations? | From 1 = nothing at all to 10 = a huge lot |
Number
Possible Answer
Percentage
Average
Standard Deviation (SD)
Q1
From 1 = not useful at all to 10 = very useful
-
9.67
0.53
Q2
From 1 = nothing at all to 10 = a huge lot
-
9.74
0.45
Q3
Yes
100.0
No
0.0
Neutral
0.0
Q4
Yes
95.2
No
0.0
Neutral
4.8
Q5
From 1 = nothing at all to 10 = a huge lot
-
8.62
0.58

© 2020 by the authors. Licensee MDPI, Basel, Switzerland. This article is an open access article distributed under the terms and conditions of the Creative Commons Attribution (CC BY) license (http://creativecommons.org/licenses/by/4.0/).