Effect of pH, Acid and Thermal Treatment Conditions on Co/CNT Catalyst Performance in Fischer–Tropsch Reaction
1
Nanotechnology & Catalysis Research Centre, University of Malaya, Kuala Lumpur 50603, Malaysia
2
Department of Fundamental and Applied Sciences, Universiti Teknologi PETRONAS, Bandar Seri Iskandar, Perak 32610, Malaysia
3
Department of Chemistry, University of Malaya, Kuala Lumpur 50603, Malaysia
*
Author to whom correspondence should be addressed.
Received: 1 December 2018 / Revised: 21 December 2018 / Accepted: 3 January 2019 / Published: 4 January 2019
Abstract
Multiwalled carbon nanotubes (CNT) supported cobalt oxide was prepared as a catalyst by strong electrostatic adsorption (SEA) method. The CNT support was initially acid- and thermal-treated in order to functionalize the support to uptake more Co clusters. The Co/CNT were characterized by a range of analytical methods including transmission electron microscopy (TEM), temperature programmed reduction with hydrogen (H
2
-TPR), X-ray diffraction (XRD), Fourier-transform infrared spectroscopy (FTIR), Raman spectroscopy, atomic absorption spectroscopy (AAS), Zeta sizer particle size analysis and Brunauer–Emmett–Teller (BET) surface area analysis. TEM images showed cobalt particles were highly dispersed and impregnated at both exterior and interior walls of the CNT support with a narrow particle size distribution of 6–8 nm. In addition, the performance of the synthesized Co/CNT catalyst was tested using Fischer–Tropsch synthesis (FTS) reaction which was carried out in a fixed-bed micro-reactor. H
2
-TPR profiles indicated the lower reduction temperature of 420 °C was required for the FTS reaction. The study revealed that cobalt is an effective metal for Co/CNT catalysts at pH 14 and at 900 °C calcination temperature. Furthermore, FTS reaction results showed that CO conversion and C
5+
selectivity were recorded at 58.7% and 83.2% respectively, which were higher than those obtained using a Co/CNT catalyst which pre-treated at a lower thermal treatment temperature and pH.
View Full-Text
►

▼

Figures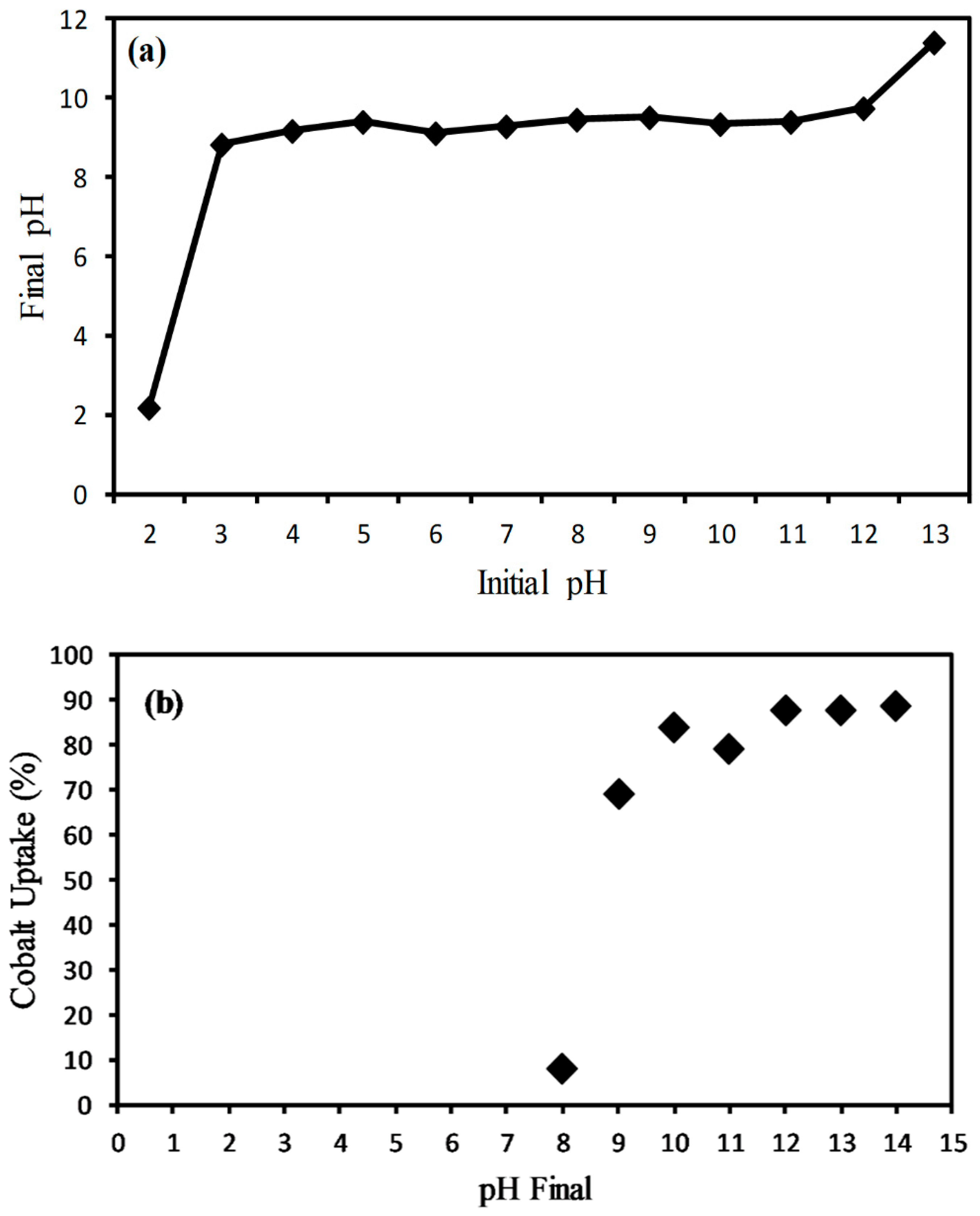 Figure 1
This is an open access article distributed under the
Creative Commons Attribution License
which permits unrestricted use, distribution, and reproduction in any medium, provided the original work is properly cited (CC BY 4.0).

Share & Cite This Article
MDPI and ACS Style
Akbarzadeh, O.; Mohd Zabidi, N.A.; Hamizi, N.A.; Abdul Wahab, Y.; Aljunid Merican, Z.M.; Yehya, W.A.; Akhter, S.; Shalauddin, M.; Rasouli, E.; Johan, M.R. Effect of pH, Acid and Thermal Treatment Conditions on Co/CNT Catalyst Performance in Fischer–Tropsch Reaction. Symmetry 2019, 11, 50.
Note that from the first issue of 2016, MDPI journals use article numbers instead of page numbers. See further details here.
Related Articles
Comments
[Return to top]