Open Access This article is
freely available
re-usable
Article
Reconciling High Glacier Surface Melting in Summer with Air Temperature in the Semi-Arid Zone of Western Himalaya
1
Earth System Science Organization (ESSO)–National Centre for Polar and Ocean Research, Headland Sada, Vasco-da-Gama 403804, India
2
Department of Civil Engineering, Dhanekula Institute of Engineering and technology, Vijayawada 521139, India
*
Author to whom correspondence should be addressed.
Received: 27 March 2019 / Accepted: 9 July 2019 / Published: 29 July 2019
Abstract
:
In Himalaya, the temperature plays a key role in the process of snow and ice melting and, importantly, the precipitation phase changes (i.e., snow or rain). Consequently, in longer period, the melting and temperature gradient determine the state of the Himalayan glaciers. This necessitates the continuous monitoring of glacier surface melting and a well-established meteorological network in the Himalaya. An attempt has been made to study the seasonal and annual (October 2015 to September 2017) characteristics of air temperature, near-surface temperature lapse rate (tlr), in-situ glacier surface melting, and surface melt simulation by temperature-index (T-index) models for Sutri Dhaka Glacier catchment, Lahaul-Spiti region in Western Himalaya. The tlr of the catchment ranges from 0.3 to 6.5 °C km
−1
, varying on a monthly and seasonal timescale, which suggests the need for avoiding the use of standard environmental lapse rate (SELR ~6.5 °C km
−1
). The measured and extrapolated average air temperature (t
avg
) was found to be positive on glacier surface (4500 to 5500 m asl) between June and September (summer). Ablation data calculated for the balance years 2015–16 and 2016–17 shows an average melting of −4.20 ± 0.84 and −3.09 ± 0.62 m w.e., respectively. In compliance with positive air temperature in summer, ablation was also found to be maximum ~88% of total yearly ice melt. When comparing the observed and modelled ablation data with air temperature, we show that the high summer glacier melt was caused by warmer summer air temperature and minimum spells of summer precipitation in the catchment.
Keywords:
Himalayan glaciers; summer melting; temperature lapse rate and high-altitude observations
1. Introduction
The Hindu Kush-Himalayan (HKH) region has been categorized into four major regional groups: the Karakoram, the north-western Himalaya, the central Himalaya, and the eastern Himalaya that shows distinct climatic conditions within homogeneous sets of glaciers heterogeneously responding to surface melting, hydrological response, and altitude-air temperature variation [
1
,
2
,
3
,
4
,
5
]. These glaciers have undergone thinning and surface lowering [
6
,
7
,
8
,
9
,
10
], leading to a gradual increase in recession rates [
10
,
11
,
12
,
13
,
14
], presumably because of rising air temperature that governs the generation of high meltwater discharge for a shorter time period [
5
,
15
].
The mass of a glacier growing in winter and shrinking in summer are a common phenomenon. However, when the mass loss continuously occurs for several years, it can be attributed to variations in the meteorological parameters (e.g., temperature and precipitation), which further has an immediate effect on the glacier volume and its dynamic properties (flow, reduction of area, and debris cover enhancement) [
16
,
17
]. Therefore, long-term ablation/accumulation observations coupled with the meteorological parameters need to be studied in order to understand the effects that are imposed over the Himalayan glaciers [
18
,
19
,
20
]. To date, a total of ~15–25 glaciers have been studied for glaciological mass balance and equivalently for in-situ meteorological observations [
6
,
21
]. Some significant observations were also made to extrapolate the meteorological data from the low-altitude station to the glacier region for glacial-hydrological modeling and to assess the basin-level surface mass balance [
22
,
23
]. The model-based mass balance results that were derived for catchment scale showed a continuous negative mass loss that agrees with the other glaciers with in-situ mass balance values being observed in the Indian Himalaya [
8
,
24
]. Furthermore, the historical meteorological data from high-altitude glacierized observatories revealed the climate change effects on the precipitation regime with rise in temperature (~1.6 °C) over the last century in north-western Himalaya [
25
,
26
]. The advancement in meteorological instrumentation, such as Automatic Weather Station (AWS), in-situ glaciological measurements, and empirical simulation of melt, has improved the necessary climatic information on the glacier melt and runoff model in the glacierized basin of the same climatic characteristics [
27
,
28
,
29
]. The site-specific air temperature and temperature lapse rate (tlr) can be used to develop the snow and ice melt model, hydrological model, as well as the seasonal and annual lapse rate data that may further be utilized for enhancing glacier melt models [
30
,
31
]. The decrease in air temperature with the altitude known as temperature lapse rate (tlr) [
32
,
33
] has shown large spatial variations, as well as temporally ranging from 0.3 °C to 11 °C km
−1
in the glaciated and glacierized region of the Himalaya [
22
,
29
,
34
,
35
,
36
].
Only a small portion of the Himalaya is covered with in-situ observations of surface melting, temperature variation, and seasonality runoff despite the necessity of high-resolution hydro meteorological measurements, which may not be enough for the prediction of their actual hydrological response [
37
,
38
]. The present study on Sutri Dhaka Glacier catchment draws particular attention due to its location in the monsoon rain shadow zone and in the zone of western disturbances. Therefore, the major source of freshwater to downstream regions is derived from snow and ice melt from the catchment glaciers. Moreover, an understanding of melting magnitude that is associated with temperature variation, its amount, and timing could serve important information for the planning, execution, and management of water resources.
This study deals with the reconciling of extrapolated air temperature while using the same catchment tlr to the observed and modelled glacier surface melting. This has proven to use in-situ air temperature data rather than the remote station data to predict the dependency of glacier surface melting on prevailing weather conditions. With this aim, the study has focused on understanding three issues: (i) spatio-temporal distribution of minimum, maximum and average air temperature, and temperature lapse rate (tlr) over the glacierized area, (ii) the annual, seasonal, and the maximum ablation period from in-situ measurements, together with the T-index model and its implication to identify the melting of glaciers in western Himalaya; and, (iii) to quantify temporal pattern of glacier ice melt. Furthermore, the temperature heat map with distinct isotherms over the glacier surface has also been prepared to understand the temperature variability and its influence on the glacier melt processes.
3. Results and Discussion
3.1. Air Temperature and Temperature Lapse Rate (tlr)
3.2. Spatial Distribution of Air Temperature
The spatial distribution of air temperature in the upper reaches of the Himalaya has greater value for defining the potential phase change of rain and snow and melt period, which generally tends to occur above °C isotherms Z
t = 0
[
28
,
29
]. Changes in temperature isotherms as a function of elevation and time can be assessed by extrapolating lower station temperature data based on the observed tlr. As known previously, the temperature gradient shows a decreasing trend, with increasing altitude making up a systematic linear trend and a quadratic fit with altitude [
63
]. Both linear and second order polynomial fit between the Hbc and Abc had a good agreement with R
2
= 0.95 for the model's validation (
Figure 5
). Therefore, the daily average temperatures that were calculated at two sites (i.e., 4052 and 4864 m asl) were extrapolated between 4052–4864 and 4864–5664 m asl using daily tlr. Although data from only two stations were used, potentially both of the stations are situated in the same glacierized valley (
Figure 1
).
Our study showed that the temperature gradually increased above freezing points (0.2–1.2 °C) by June, sustaining till the end of the ablation period (i.e., 30 September). The observed t
avg
of 3.7–5.0 °C at the Abc (4864 m asl) revealed sufficient melting temperature to change ice into water. As the slope of the Sutri Dhaka Glacier is ~20° (ablation zone), as soon the ice turns into water it either percolates or flows over the ice surface distributing its energy into ice during refreezing.
The white dotted line in
Figure 6
is the °C isotherm (Z
t = 0
), which signifies the period of melting under the positive condition for the Sutri Dhaka Glacier. The behavior of Z
t =0
over the glacier surface concurs with the phase (snow or rain) change, snow line fluctuation, and glacier surface melting condition [
64
,
65
,
66
]. From
Figure 6
, it is evident that the derived t
avg
ranged from 14.0 to −24.0 °C between the elevation of 4052 and 5664 m asl. Based on the extrapolated average temperature (t
avg
), the highest Z
t = 0
was found between 5200 and 5500 m asl, until it declined at the end of the ablation period. The Z
t = 0
sharply reacts to its maximum elevation (5500 m asl) in June and it remained there for the whole summer period. This suggests that the higher positive sensible and latent heat flux over the ablation zone of the glacier surface tend to enhance the ice ablation. The maximum range of Z
t = 0
was found to overlap with the equilibrium line altitude (ELA, average ~5365 m asl) that was observed at the end of ablation period through mass balance observation during 2015–17 (
Table 2
). Therefore, the estimation of Z
t = 0
over the glacier surface can be used as a marker of ELA in the absence of in-situ observations.
The observed Z
t = 0
sharply declined (negative) in the first week of October, which was probably because of the offset of monsoon and the onset of western disturbances. These results are similar to the air temperature that was observed over the Chhota Shigri Glacier in Chandra basin, which showed a sudden drop that was characterized by the change of summer monsoon to post-monsoon, followed by winter seasons [
67
]. This phenomenon was also observed in Bhagirathi basin, central Himalaya, concluding the short-lived transition phase between monsoon and post-monsoon season [
29
,
66
]. Unlike the sudden drop in Z
t = 0
during the summer period of 2017, we did not find any daily variation in the summer of 2016 (
Figure 6
). Previously, [
67
] have clearly correlated the sudden drop in the air temperature during summer with rainfall and snowfall events. The highest elevation of Z
t = 0
, ~5600 m was also found in 2016 when compared to 2017 summer. The higher and sustained Z
t = 0
in 2016 revealed higher melting days and probably high surface melt (
Table 2
).
3.3. Seasonal Variability in Surface Melting
3.4. Evaluation of Modeled and Observed Melting
An empirical relationship for ice melt (T-index model) is analyzed for the period from June to September (2016 and 2017) to standardize the observed melting and effects of air temperature. In-situ and remote sensing survey for supraglacial debris thickness and coverage measurement indicated that the maximum debris cover was limited to ablation zone between 4500 and 4600 m asl (
Figure 1
b). The melt factors calculated for Sutri Dhaka Glacier and the derived results modestly vary with the observed melting. The melting as a function of CPDD shows a linear decrease with elevation, whereas in lower reaches (4500–4600 m), debris plays a role in the reduction of ice melting underneath (
Figure 8
a,b).
The difference in modeled ablation based on DDF debris and in-situ debris ablation varies between 16% and 7% during 2016 and 2017, respectively (
Figure 8
a,b). However, the modeled ablation for the debris covered area when computed using DDFice varies between 14% and 23% to the in-situ debris ablation. When comparing the relative difference between clean ice melt (4600–4700 m asl) to the debris cover ice melt (4500–4600 m asl), the values vary from 6% to 27%. This is related to the insulation effects of debris thickness and distribution in the lower part of Sutri Dhaka Glacier. These findings are comparable to the results from other studies on Himalayan glaciers that found good relation between T-index simulated and measured melting [
22
,
59
,
70
]. It is obvious from the results that temperature is the dominant factor for ice melting, even for the debris-covered areas.
4. Conclusions
It is well known that glaciers melt water regulates the water availability in the downstream with a suitable dimension providing possibilities for hydropower generation. We have conceptualized the air temperature and glacier surface melting and highlight the higher melting rate during a very short summer (JJAS) in the monsoon-arid zone of western Himalaya. The tlr for the balance year 2015–16 and 2016–17 shows lowest <2 °C km−1 in the winter and highest 5.7 and 6.6 °C km−1 in post-monsoon and monsoon season. The annual tlr, including all season (winter, pre-monsoon, monsoon, and post-monsoon) was found to be 4.2 °C km−1. This reemphasizes the significance of using a catchment level determined lapse rate in place of a regional/global lapse rate for glacier and hydrological modelling.
A rapid increase in air temperature in June shows the onset of the summer monsoon period and then a sudden drop of temperature in the first week of October suggests the start of post-monsoon (cold and dry) season in the Sutri Dhaka Glacier catchment. In compliance with positive air temperature in JJAS, ablation was also found to be maximum ~88% of total ice melt in the four months and ~12% in the other eight months.
The analysis of °C isotherms shows a sharp incline of Zt = 0 that reacted to the maximum elevation (5000–5500 m asl) in June and sustained there for the full summer period. Later, Zt = 0 sharply declined in the first week of October, which was probably because of the offset of the monsoon and onset of the western disturbance.
Our study found a high correlation between mean annual ablation and altitude showing a pattern that was similar to the temperature and altitude relationship. The altitudinal T-index modelled and observed melting for June to September 2016 and 2017 are in close agreement, revealing the role of air temperature in glacier surface melting. Further, the detailed investigation of high temporal and spatial resolution relationship between melting and atmospheric enegry fluxes is required for understanding the response of glaciers towards climatic variations.
Author Contributions
B.P., P.S., and M.T. defined the objectives of the study and writing the manuscript. B.P., L.P., A.T.S., and S.O. collected data in the field and interpreted the results. V.K.G. generated the study area map and its attribute table using satellite images in ArcGIS version 10.4. All authors contributed to the data interpretation and discussion of the manuscript.
Funding
This research was funded by the Ministry of Earth Sciences (MoES), Government of India, through the project 'Cryosphere and Climate' under the 'Polar Science and Cryosphere Research (PACER)' scheme.
Acknowledgments
We are grateful to the Director, ESSO-NCPOR, Goa, India for providing facilities and support to carry out this work. The authors wish to express their gratitude to Mahalinganathan K. (NCPOR), and two anonymous reviewers for valuable comments and suggestions which improved the manuscript. Authors are thankful for the field support staff at the HIMANSH Station. This is NCPOR contribution no. J-15/2019-20.
Conflicts of Interest
The authors declare that they have no conflict of interest.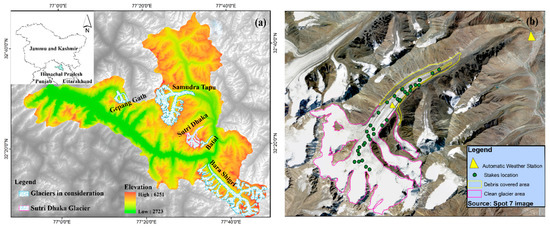 Figure 1. Location map of the Chandra basin and the Sutri Dhaka Glacier (a) location of glaciers in observation (Sutri Dhaka, Samundra Tapu, Batal, Bara Shigri and Gepang Gath) (b) Sutri Dhaka Glacier and the associated debris-covered and clean ice area with two Automatic Weather Stations (AWSs) (yellow triangle) located at HIMANSH Base Camp (Hbc; 4052 m asl) and Advance base camp (Abc; 4864 m asl). The green dots on the Sutri Dhaka Glacier are ablation stakes network.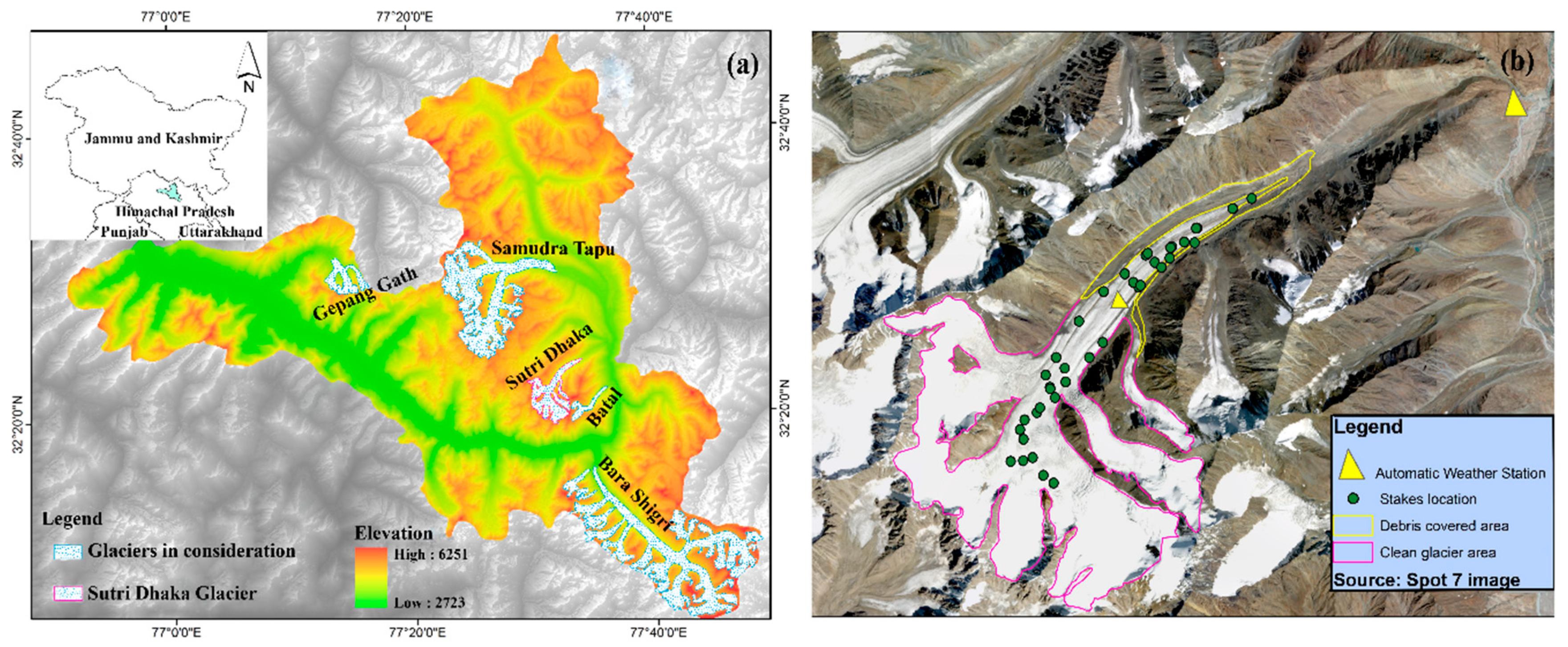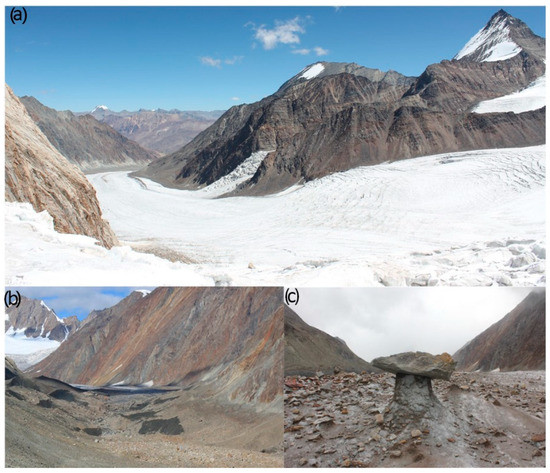 Figure 2. Pictorial view of the Sutri Dhaka Glacier (a) down glacier valley with a part of accumulation zone, ablation zone and dry deserted mountain ranges (photo taken in May, 2017); (b) Up view of the snout and the debris-covered area around it, (~14% ablation area is debris-covered); and, (c) area covered with undistributed big boulder forming the glacial features like ice table.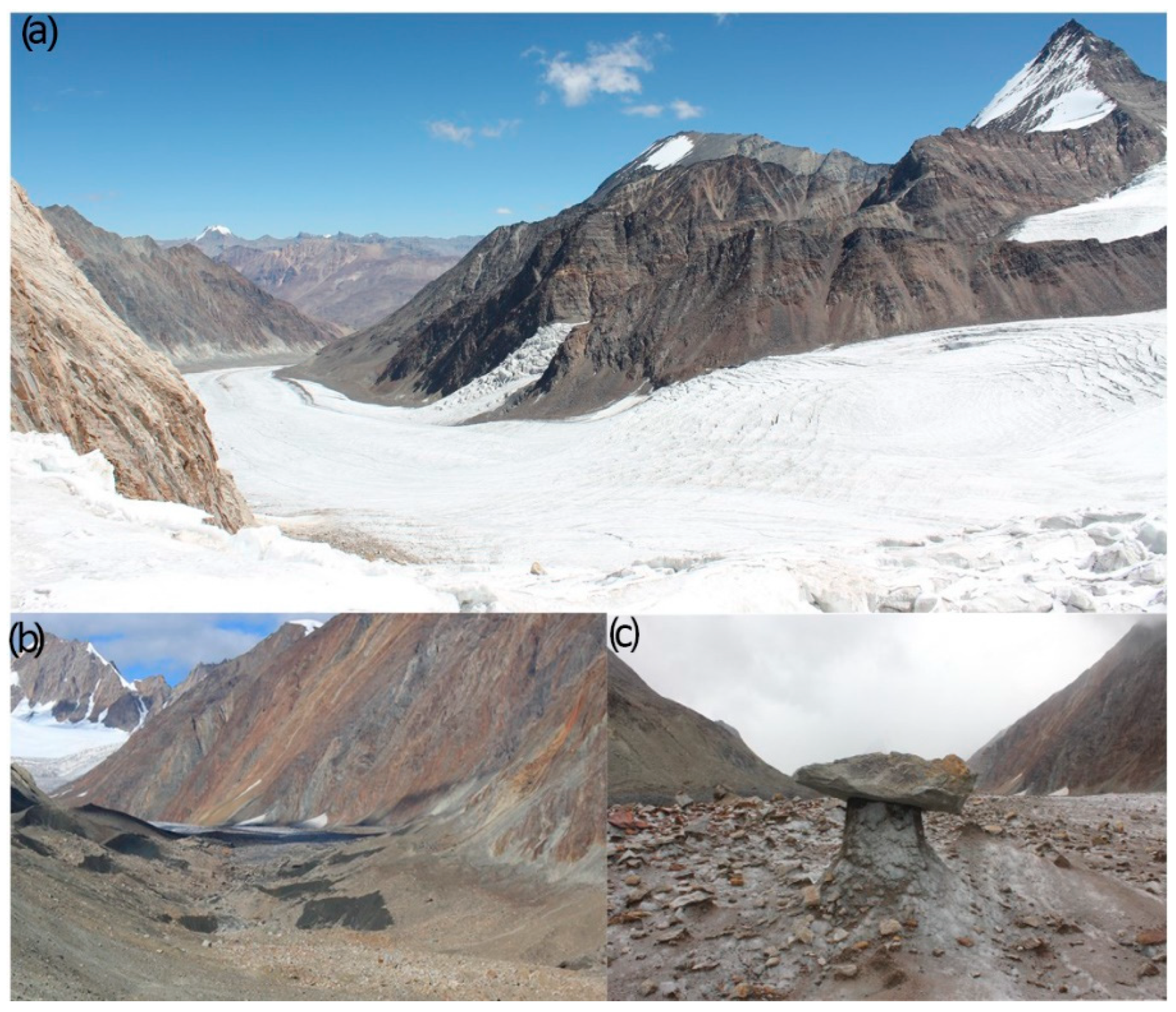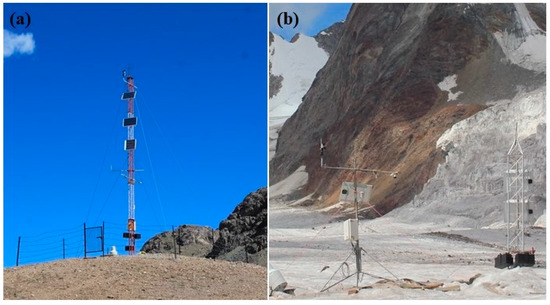 Figure 3. Automatic Weather Stations (AWS) (a) permanently installed on the barren land near HIMANSH station at 4052 m asl (b) fixed on the glacier surface at 4864 m asl. The elevation difference between Hbc and Abc is ~812 m.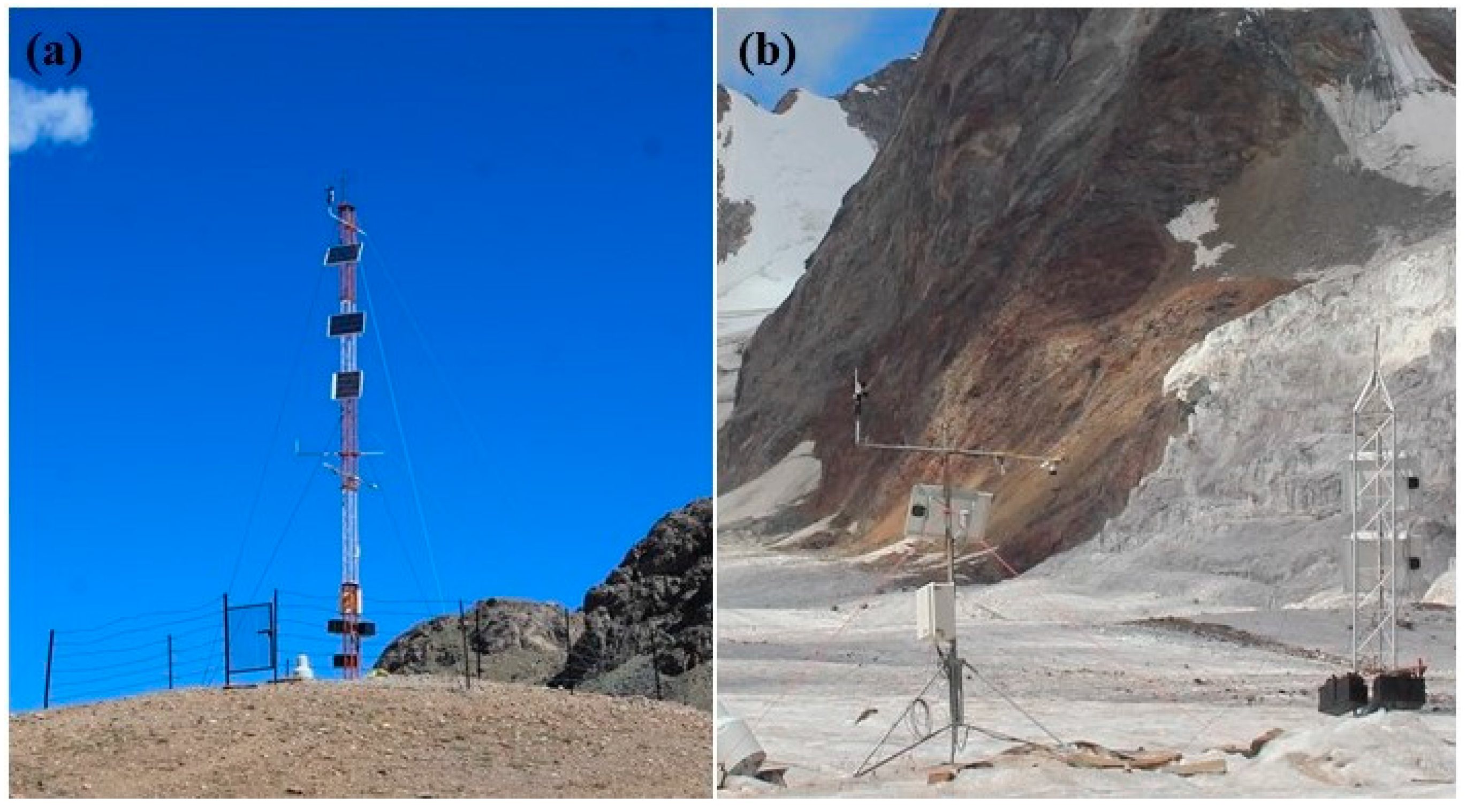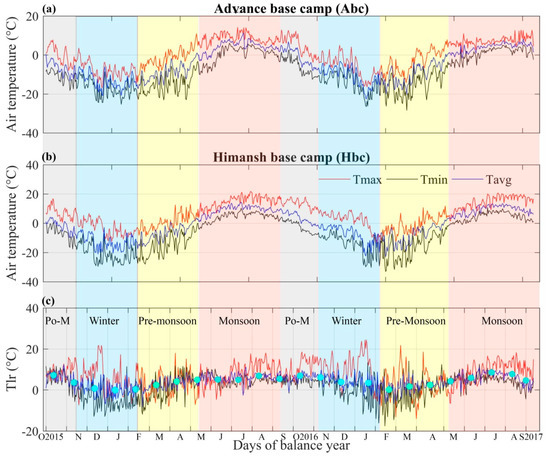 Figure 4.
Overview of the observed air temperature and tlr (
a
) Air temperature maximum (t
max
), minimum (t
min
) and average (t
avg
) at Abc and (
b
) at Hbc. (
c
) The temperature lapse rate (tlr) including monthly tlr (dot in cyan) during the balance years of 2015–16 and 2016–17.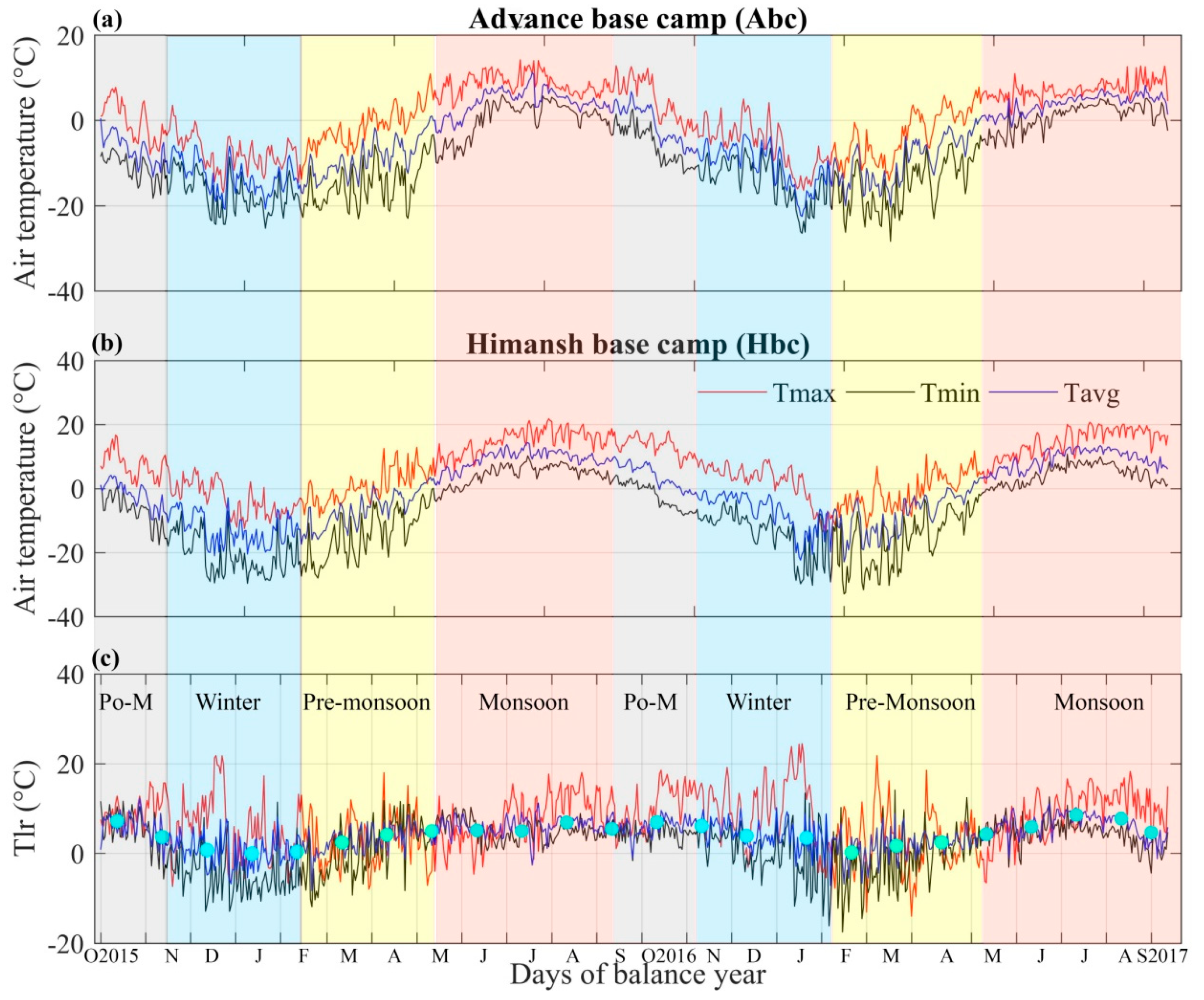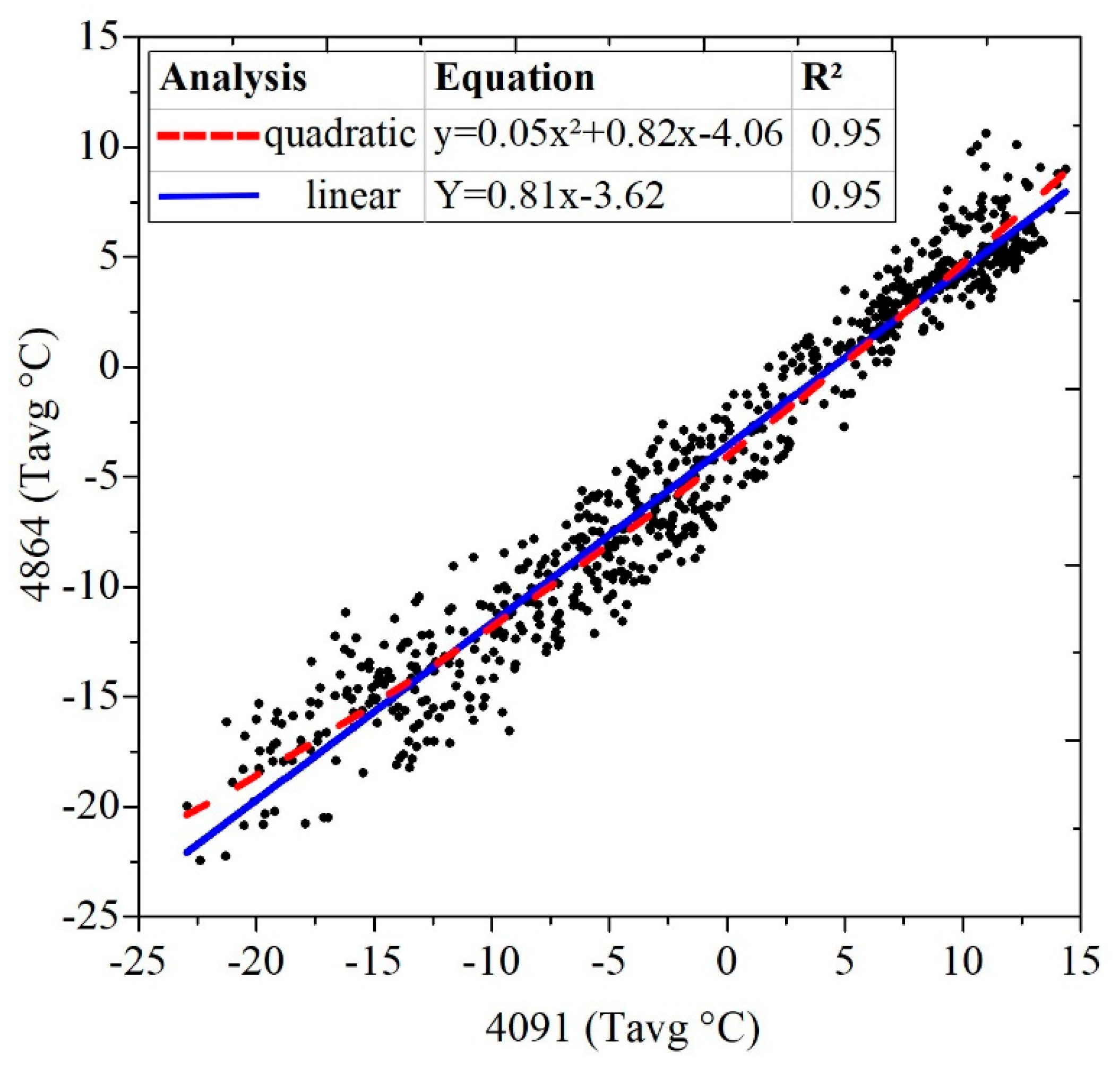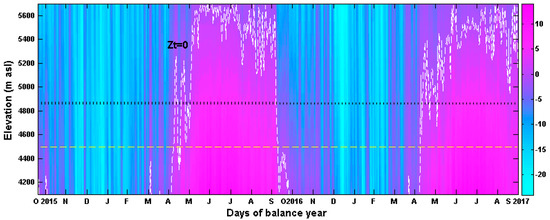 Figure 6. Temperature heat map between 4052 and 5664 m asl based on extrapolated average temperature using tlr between 4052 and 4864 m asl. The white dotted line shows °C isotherms (i.e., Zt = 0), yellow dash line is the present-day snout elevation (4500 m asl) and black dot line is the elevation of Advance camp AWS.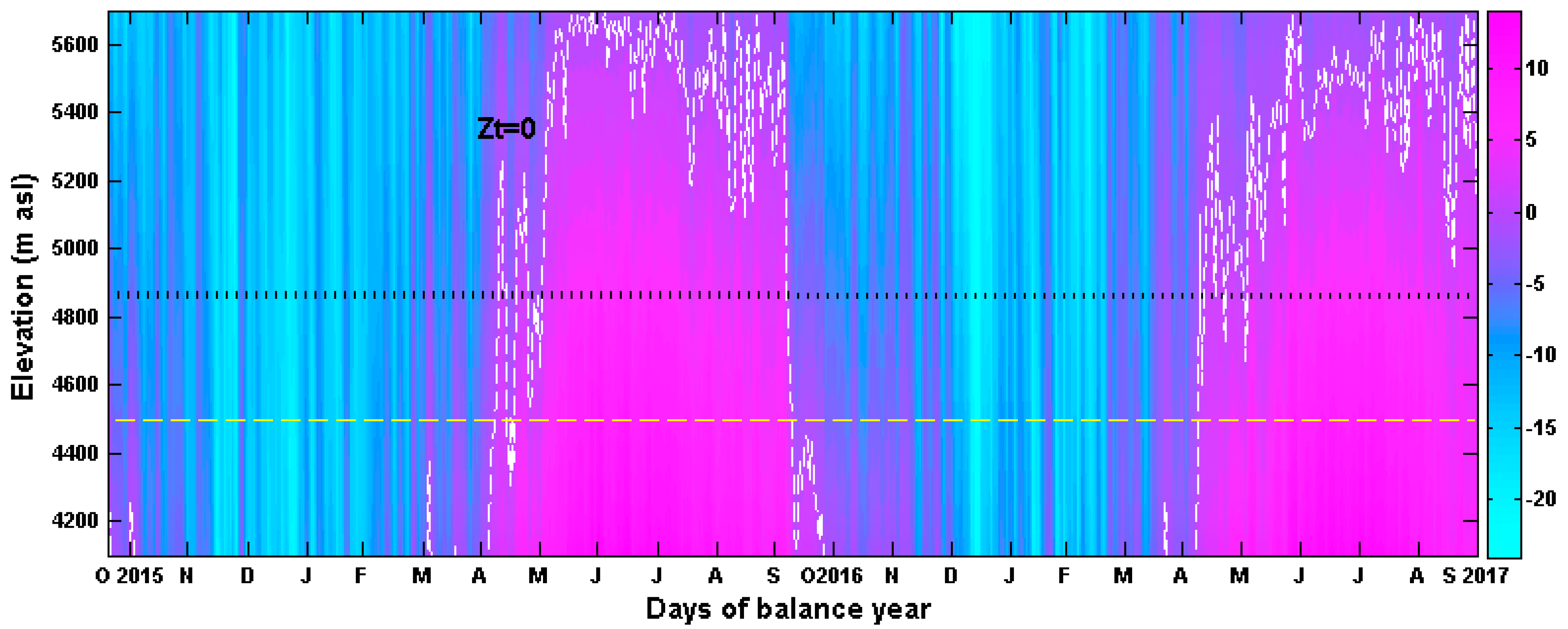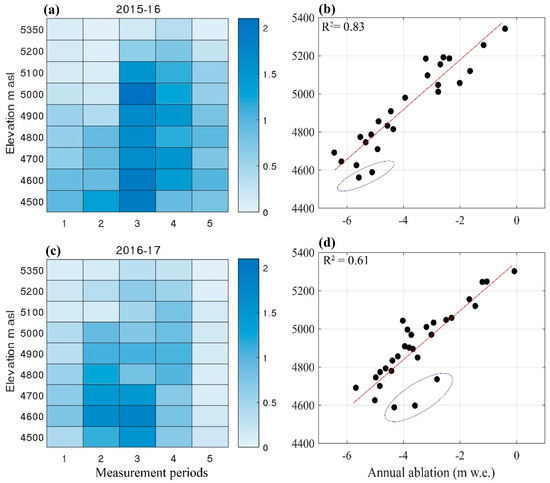 Figure 7.
Sutri Dhaka Glacier surface ice melts during 2015–16 and 2016–17 (
a
,
c
) cumulative winter and summer ablation (m w.e.) along with the elevation related to the period of measurement (see
Table 2
for measurement periods) (
b
,
d
) annual ablation at each stake, circled values are measurements at the stakes installed on the debris-covered parts of the glacier, i.e., lower ablation values.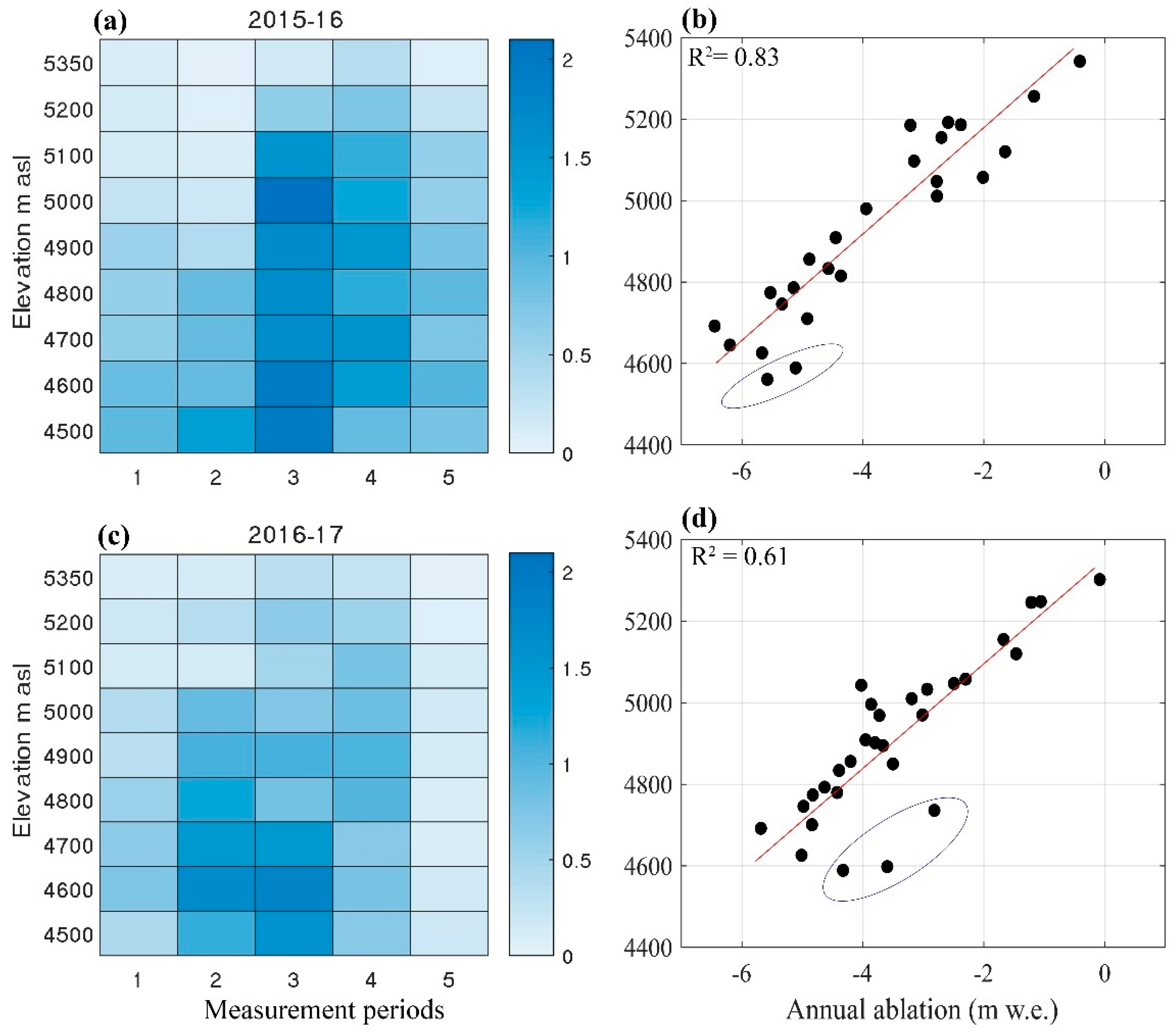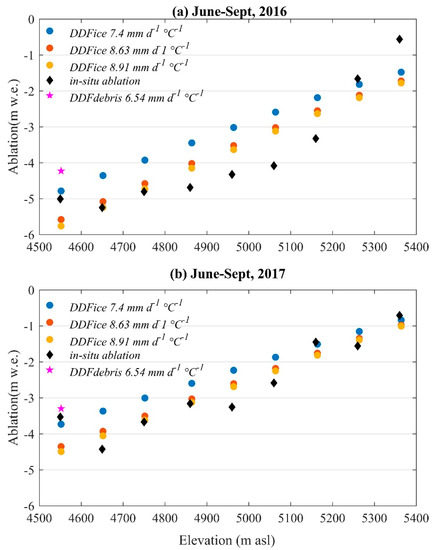 Figure 8. Comparative plot of observed and modeled surface melting for (a,b) Sutri Dhaka Glacier during June–September 2016, 2017 as a function of elevation corresponds to the cumulative positive degree days (CPDD) and degree day factor of ice and debris (DDFice/debris, 8.91/6.54 mm d−1 °C−1) including Dokriani Glacier, DDFice 7.4 mm d−1 °C−1 and Chotta Shigri Glacier, DDFice 8.63 mm d−1 °C−1).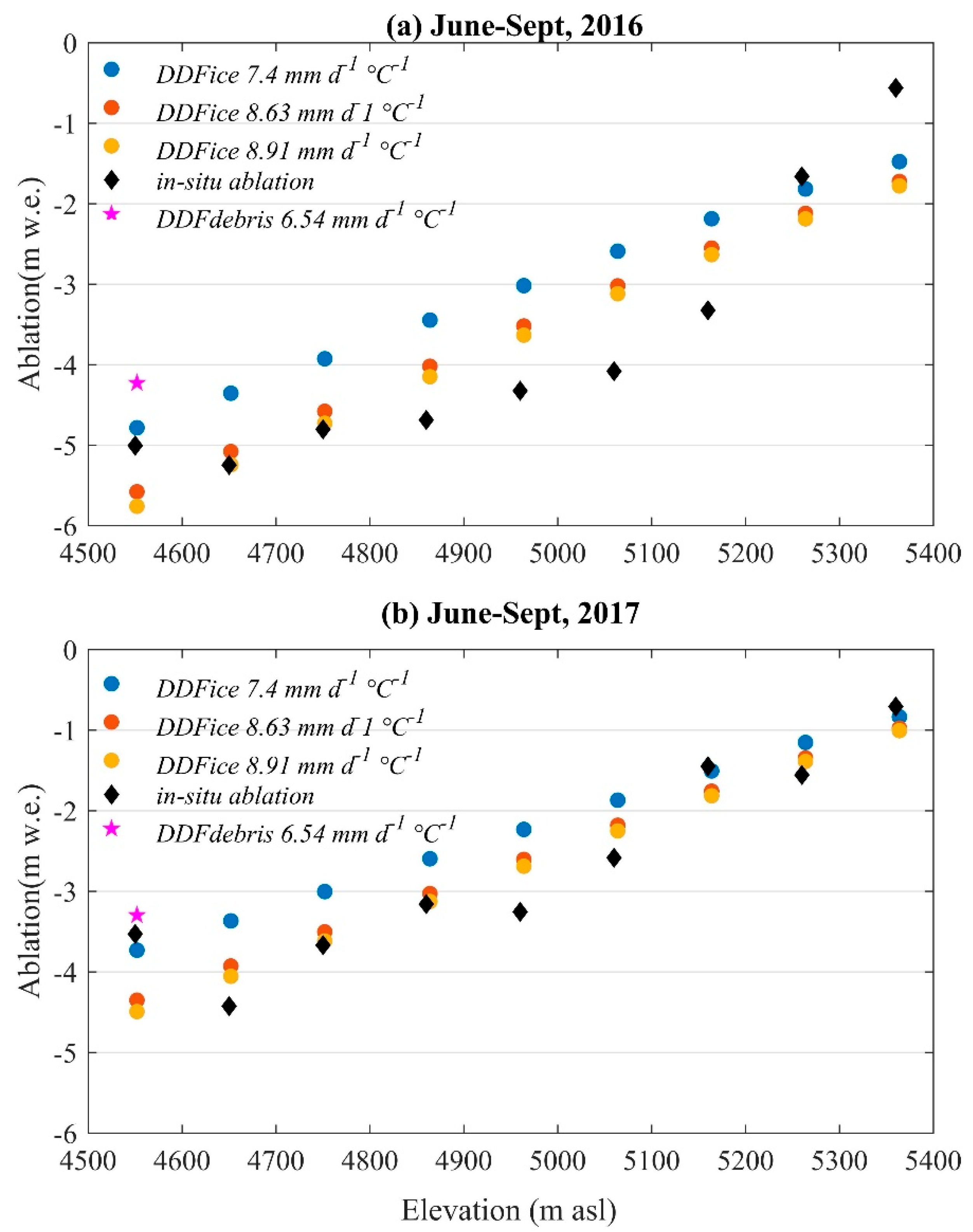 Table 1. Seasonal and annual tlr calculated using daily temperature dataset for different glacierized catchments of the western Himalaya with statistical analysis of standard deviation for the Sutri Dhaka Glacier Catchment.
Region
Glacier Catchment
Elevation Range
(m asl)
Year
Near-Surface (Slope) Lapse Rate °C km−1
References
December, January, February
March, April, May
June, July, August, September
October, November
Winter
Pre-Monsoon
Monsoon
Post-Monsoon
Annual
Chandra Basin, LahaulSpiti
Hamtah Glacier
3330–3940
2002–2006
-
-
11.4
-
-
[36]
Chandra River, Himachal Himalaya
Chhota Shigri, Lahaul-Spiti
-
-
-
-
3.8–6.7
[61]
1092–4863
2009–2012
-
-
6.4
[22]
Gilgit-Baltistan, Karakoram Himalaya
Baltoro Glacier
3048–4050
2003
6.9
7.7
7.2
8.8
7.5
[62]
Chandra Basin
Sutri Dhaka Glacier
4052–4864
2015–16
2016–17
0.35 ± 0.3
2.5 ± 1.9
3.8 ± 1.2
2.8 ± 1.3
5.6 ± 0.8
6.8 ± 0.1
6.5 ± 0.1
4.2 ± 2.4
4.6 ± 2.5
Present study
Year/Period of Measurements
No of Stakes
Winter Ablation
(m w.e.)
Summer Ablation
(m w.e.)
Annual Ablation
(m w.e.)
ELA
(m asl)
2015–16
Winter:

1.

1 October 2015 to 16 June 2016.

Summer:

2.

16 to 30 June 2016.

3.

1 to 3 July 2016.

4.

1 to 31 August 2016.

5.

1 September to 2 October 2016.

24
−0.46 ± 0.09
−3.74 ± 0.74
−4.20 ± 0.84
5410
2016–17
Winter:

1.

3 October 2016 to 25 June 2017.

Summer:

2.

26 June to 31 July 2017.

3.

1 to 31 August 2017.

4.

1 to 15 September 2017.

5.

16 to 30 September 2017

28
−0.38 ± 0.07
−2.71 ± 0.54
−3.09 ± 0.62
5320

© 2019 by the authors. Licensee MDPI, Basel, Switzerland. This article is an open access article distributed under the terms and conditions of the Creative Commons Attribution (CC BY) license (http://creativecommons.org/licenses/by/4.0/).