Assessing Groundwater Mineralization Process, Quality, and Isotopic Recharge Origin in the Sahel Region in Africa
1
Laboratory of Groundwater and Environment, Jilin University, Changchun 130021, China
2
College of Construction Engineering, Jilin University, Changchun 130021, China
3
National Directorate of Hydraulics, Square Patrice Lumumba BP 66, Mali
*
Author to whom correspondence should be addressed.
Received: 14 March 2019 / Revised: 11 April 2019 / Accepted: 12 April 2019 / Published: 16 April 2019
In the Sahel region in Africa, and in most arid regions, groundwater is the crucial source for water supply since surface water is scarce. This study aimed to understand a complex geochemical mechanism controlling the mineralization process in the Taoudeni Basin. A thousand randomly distributed groundwater samples acquired from different aquifers were used for this research. The results show that the majority of the samples observed are of the Ca2+-Mg2+-HCO3− and Na+-HCO3− types depending on the different aquifers. Mg2+ and Ca2+ may react with HCO3− precipitating as calcite and dolomite. The Na+-HCO3− groundwater type is mainly derived from the ion exchange process. This type indicates a paleo-marine depositional environment or that it passes through paleo-marine channels. Calcium of the standard Ca2+-HCO3− groundwater type exchanges with the sodium. Groundwater is characterized by the water-rock interactions that indicate the chemical alteration of the rock-forming minerals influencing its quality by a dissolution. The δ2H and δ18O stable isotopes designate the evaporation importance in the basin and recharge with recent rain. The bicarbonate-type presence in groundwater suggests that it is young and fresh water. Multivariate statistical methods, notably Principal Component Analysis and Hierarchical Cluster Analysis, confirm affinities among the aquifers and identify three main clusters grouped into two water types. Cluster 1 consists of Infra-Cambrian and Quaternary aquifers, whereas cluster2 includes the Precambrian basement and Permian-Triassic aquifers.
1. Introduction
Groundwater is a vital livelihood resource for economic and social development. These waters are generally the primary source of drinking water for the population living in the Sahel-Sudanian region. The population growth rate is increasing by 3% per year affecting the groundwater quality and quantity demand. The degradation of groundwater quality is due to human activities and the lack of environmental protection policies. The groundwater reserves are significant, but the current climatic conditions at the study area, with annual rainfall between 600 and 1000 mm, do not allow a complete reconstitution of the water extracted by human activities.
2. Materials and Methods
2.1. Study Area
The study area is located at the Taoudeni Basin's southern edge, which is the primary geological formation and sedimentary deposit in West Africa. It covers a large part of the West African craton bordering Mauritania, Mali, and the southwestern part of Burkina Faso (
Figure 1
).
2.2. Geology and Hydrogeology Setting
2.2.1. Geology of Study Area
The Taoudeni is the largest basin sedimentary syncline in the northwest part of Africa, formed in the middle of the Proterozoic (
Figure 1
). It continued to calm down until the middle of the Paleozoic when the deformation and uplift hercyniens took place. It contains up to 6000 m of sediments from the Late Precambrian and the Paleozoic. Thin deposits of continental Mesozoic-Cenozoic, including the Dunes Quaternary and lake systems, cover it partially. These deposits show a spatial continuity between different basins, namely, the Taoudeni and the Tanezrouft Basins in the northern region and the Iullemeden Basins in the eastern region.
2.2.2. Hydrogeology of the Study Area
Figure 2
shows the hydrogeology of the study area consisting of two principal aquifer systems according to the geological subdivision: the category of semi-continuous cracked aquifers (Neoproterozoic and Paleozoic) and the category of generalized aquifers (Quaternary). The semi-continuous or discontinuous fissured aquifer type, as a function of the density, the extent and the degree of intercalation of the crack networks, affects the host rock and the hydraulic relationships with the layers in the cover. This aquifer type is usually found in sedimentary, crystalline, Precambrian, and primary formations.
The tabular Infra-Cambrian outcrops (Neoproterozoic) mainly in the southern half of the study area contain the facies essentially sandstone and schists. The sandstone plateaus are composed of alternating sandstone benches. From the lithological point of view, the following succession is observed from bottom to top: the lower sandstone formation of the Sotuba Group with dolomitic sizes, and pelitic rock sequence intercalation, the Toun schists, the Koutiala sandstone, and the Bandiagara sandstone.
As for the Birimian Precambrian basement (Paleoproterozoic), it is flush with the south, southwest and west parts of the country and is the axial zone of the Iforas Adrar. In addition, the Precambrian basement is found in the extreme north of the study area, marking the northern limit of the Taoudeni Basin. The Birimian Precambrian basement (Paleoproterozoic) formations are either volcano-sedimentary or intrusive granitic. Thus, schists, greywackes, conglomerates, and quartzite, the facies of biotite granite, quartz diorites, and granodiorite, jasper, basalt, gabbro, dolerite, and tuff are observed. The generalized aquifer type is associated with the few consolidated formations with intergranular porosity, or none, encountered in the large sedimentary basins of the Secondary to Quaternary.
Quaternary aquifer outcrops in the study area. This aquifer is linked to the Niger River and contains the accompanying water table as it crosses the field of study. It covers the vast alluvial plains that extend on both sides of that river. The hydrogeological characteristics are related to the presence of permanent surface water and the extension of the flood zones covered by the floods in the Niger River. The average thickness of the continental formations is about 100 m. Continental deposits are often very clayey with depths ranging from 30 to 80 m.
2.3. Sampling and Analysis
A thousand hydrochemical and isotopic water samples collected on the Taoudeni Basin's southern border from 2014 to 2017 were used for this study (
Figure 3
). Their chemical and isotope analyses were carried out at the same time, and their analytical reports were collected from the National Directorate of Hydraulics in Mali. In 2016–2017, four hundred seventy-eight (478) samples were collected in Burkina Faso and Mali and analyzed at the Laboratory of Radio Analyses and Environment (LRAE, Tunisia), under the RAF/7/011 framework project in Mali and Burkina Faso [
3
]. In 2016–2017, one hundred and sixty-seven (167) samples acquired from another framework project called "PNMRE" [
20
] were also used for this research. In 2014–2015, one hundred and ten (110) samples from the PACTEA framework project [
21
] were as well included for this research. All 267 samples collected from Mali alone were analyzed at the National Laboratory of Water of Mali. The water samples collected from the southern edge of the Taoudeni Basin (Mali and Burkina Faso), mainly from boreholes, were analyzed in compliance with international standards. The sample points were randomly chosen depending on the aquifer type and frequency of use as a groundwater source by the population from the cities and/or villages. These samples were collected to enable an analysis of the groundwater mineralization processes and the origins of water pollution. Thirteen (13) hydrochemical parameters and two isotopic parameters were chosen for this study. The hydrochemical parameters are alkalinity, Electric Conductivity (EC), potential hydrogen (pH), Total Dissolved Solids (TDS), calcium (Ca
2+
), magnesium (Mg
2+
), chloride (Cl
−
), nitrate (NO
3
−
), Sulphur dioxide (SO
4
2−
), sodium (Na
+
), potassium (K
+
), bicarbonate (HCO
3
−
), and silicon oxide (SiO
2
). Some samples were collected at different times between 2014 and 2017 from every sample point. This was to determine the different hydrochemical parameters at each point.
2.4. Graphical Data Processing
The software "Rock Ware AQ.QA" was used to determine the groundwater type of different aquifers in the study area. The Piper and Schöeller diagrams were used to show the nature of the relationship between the groups, using the different hydrochemical settings. The Gibbs diagrams were utilized to enhance understanding of the hydrochemical process on the groundwater's chemistry in the study area. The oxygen and hydrogen stable isotopes were tested at the Laboratory of Radio Analyses and Environment (LRAE, Tunisia) under the RAF/07/011 framework project. The measures were standardized according to reports on the standard water average of Vienna (‰ vs. Smow). These stable isotopes were used to determine groundwater origins.
2.5. Multivariate Statistical Data Processing
The Minitab 18.1 and STATISTICA software were used to analyze the groundwater chemistry data in this study. Principal Component Analysis (PCA) [
15
,
22
,
23
] was applied to extract the main factors controlling the groundwater chemistry of each aquifer type and reduce the secondary factors. The rotation of the principal components (PCs) was performed using the varimax method. Factor Analysis (FA) highlights the critical factors responsible for the variation of groundwater quality. Factor analysis was implemented to extract the most significant elements and reduce the contribution of the less significant variables. These methods, which are generally used to examine the relationships among variables, are frequently used for environmental research with a high degree of temporal or spatial variation. Statistical approaches allow the conversion of geochemical data into an easily interpretable form (called factors).
Hierarchical Cluster Analysis (HCA) is a statistical approach that was used for grouping the groundwater sampling sites by aquifer type, clustering them together, and studying the hydrochemical parameters according to their origins. The results are displayed in a dendrogram of distance that is considered the best method to display the hierarchical cluster analysis results [
24
,
25
].
4. Discussion
This study incorporates hydrochemical, isotopic, and multivariate statistical methods to examine groundwater quality, endeavoring to understand the origin of the mineralization process and origin. Groundwater quality is controlled primarily by the dominance of the inter-water exchange rocks with some evaporated samples. The results indicate that groundwater in the southern edge of the Taoudeni Basin is generally alkaline, moderately saline, and heavily loaded in the Cambrian and to a lesser extent in the Permian-Triassic and Precambrian basement.
The Cambrian waters are sodium bicarbonate whose presence in natural waters can be attributed to the dissolution of the halite. Those of Infra-Cambrian, Quaternary, Precambrian basement, and Permian-Triassic are calcium bicarbonate and magnesium. The bicarbonate may be due to the demise of calcite CaCO3 found to be present throughout the Sahel region. The Ca2+ ion is derived from the alteration of calcium-containing minerals such as aluminum silicates that are present in rock magmatic. Magnesium can be caused by the hydrolysis of ferromagnesian minerals, which can undergo base exchange phenomena in clay levels.
There is an increase in salinity, sulfate, and nitrate, which is probably due to anthropogenic causes. Their concentrations are considerably high in some aquifers and can pose some problems related to consumption and domestic purposes. The calcium and magnesium bicarbonate types (Ca-HCO3 type) are identified in the Quaternary, Infra-Cambrian, Precambrian basement, and Permian-Triassic aquifers. As for the Cambrian aquifer, the water contains sodium bicarbonate (Na-HCO3 type) that indicates paleo-marine dispositional environment or that it passes through paleo-marine channels. Calcium of the standard Ca2+-HCO3− groundwater type exchanges with the sodium (Na+).
The Gibbs diagram suggests that the chemistry of water is mainly regulated by the dissolution of the minerals forming the rock. The results demonstrate that groundwater recharge in the study area is entirely through precipitation. The shallow groundwater of the continental Quaternary aquifer terminates evaporation, and the evaporation line is above the GMWL. The isotopic composition of groundwater samples from aquifers of the Infra-Cambrian fracture and isotope-depleted crystalline Precambrian basement suggests the presence of infiltrated groundwater during wintering.
The stable isotope δ18O and δ2H values of the measured groundwater are scattered around the LMWL, indicating that the water is of meteoric origin. The grouping of observed groundwater samples suggests that evaporation and isotopic exchange with aquifer minerals may occur in the system. Evaporation is more marked in shallow Quaternary, and there are some samples of Infra-Cambrian aquifers due to the proximity of the piezometric level to the soil surface in these aquifers. It is also noted that many wells are open in Quaternary aquifers. The disposition of some samples below the LMWL is depleted due to rain during transit or isotopic exchange with aquifer materials that are less in δ18O. The majority of Infra-Cambrian and Precambrian basement samples are found above LMWL, suggesting a recent recharge history, but they may have evaporation effects, resulting in some fractionation, leading to the enrichment of surface water. It is noted that recharge occurs mainly in Infra-Cambrian and Precambrian basement aquifers by significant fractures.
The PCA and HCA suggest that anthropogenic pollutants and all natural soluble levels explain most of the variations. The main problems affecting groundwater quality in the southern edge of the Taoudeni Basin are salinity and point pollutants, particularly in the Cambrian aquifer; this can lead to a deterioration of groundwater quality in the surrounding environment.
5. Conclusions
Taoudeni edge southern Basin in Africa is considering as an important agriculture, industry, livestock, and population areas. This research aims to determine the mineralization process, recharge condition, and quality origin of groundwater. The principal economic role of the aquifers is to provide high-quality drinking water for communities and towns as well as to supply water for agricultural and industrial use.
The methodology implemented in this paper allows a better evaluation of the different sources of groundwater and of the hydrochemical and anthropogenic processes impacting on the groundwater's chemistry. The results obtained can be used as a fundamental basis for transboundary water management in the Taoudeni Basin (1,500,000 km2), which is one of the biggest shared sedimentary basins in Africa. Most of the studies in the region focus on the pure determination of the water type in highly localized aquifers. The approach employed in this study gives relevant information according to the aquifer settings in the large Taoudeni Basin with a considerable number of samples. Hydrochemical classical analysis methods confirmed by multivariate statistics distinguish two main water types, namely, Ca2+-Mg2+-HCO3− and Na+-HCO3−. In particular, water-rock interactions indicate that chemical alteration of the rock-forming minerals influences the quality of the region's groundwater.
Moreover, these natural processes, the return flow of irrigation waters taking place within the region relating to agricultural practices, and the artificial recharge areas play a significant role in the salinization of the study area's groundwater. The highest mineralization is observed in the Cambrian aquifer in general. The stable isotope results show a significant recharge by recent rainwater and its highest variability is found in the Quaternary aquifer revealing the evaporation process as indicated by enriched values. A high level of contamination by nitrate and also by potassium, chloride, sulfate, and sodium is observed in the region.
Indeed, water availability in some regions is currently being affected severely by anthropogenic factors and climate change. Groundwaters' origin and their mineralization process determination are an essential aspect of hydrogeological investigations which allow the establishment of drinking water protection zones in the region. Furthermore, these investigations will help determine the possible geogenic or anthropogenic contamination potential and its impact on the extracted groundwater.
The information provided by this research may be useful in groundwater's quality management. It can also be used as an essential tool in groundwater monitoring to assist planners, decision-makers, managers, and local officials by supplying water for different uses. Policymakers can also use hydrochemical characteristics to develop a water management strategy according to ever-increasing water demands for different purposes.
We recommend further research on other aquifers within the Taoudeni Basin to confirm the general mineralization process mechanism and groundwater quality.
Author Contributions
S.K. performed all the hydrochemical and isotopic data collection. A.M.S. did the analysis and report writing under the supervision of X.L.
Funding
This research received no external funding.
Acknowledgments
Field research would not have been possible without the assistance of the National Directorate of Hydraulics of Mali. The authors sincerely thank the Chinese government through the Chinese Scholarship Council for supporting the thesis research. The University of Jilin provided us with expertise and an ideal framework for conducting studies, analysis, and research.
Conflicts of Interest
The authors declare no conflict of interest.
References
Dakoure, D.

Etude Hydrogeologique et Geochimique de la Bordure Sud-Est du Bassin Sedimentaire de Taoudeni (BURKINA FASO—MALI)—Essai de Modelisation

; Université Pierre et Marie Curie: Paris, France, 2003. [Google Scholar]
Mariko, A.; Lam, A.A.; Dridri, A.; Benaabidate, L.; Hamadoun, B.; DAO, A.; Kamagaté, B.; Seguis, L. Hydrogeochemical Characterization of Groundwater in Sandstone Fractured Media by Multivariate Statistical Analysis: A case study of Bani Basin, Mali.

Int. J. Eng. Res. Appl.

2012,

2

, 1211–1220. [Google Scholar]

REGIONAL TECHNICAL COOPERATION PROJECT RAF/7/011RAF/7/011 Integrated and Sustainable Management of Shared Aquifer Systems and Basins of the Sahel Region

; International Atomic Energy Agency: Vienna, Austria, 2017.
Guo, X.; Qi, F.; Liu, W.; Li, Z.; Wen, X.; Si, J.; Xi, H.; Guo, R.; Jia, B. Stable isotopic and geochemical identification of groundwater evolution and recharge sources in the arid Shule River Basin of Northwestern China: Constraining groundwater evolution and recharge sources in Arid China.

Hydrol. Process.

2015,

29

, 4703–4718. [Google Scholar] [CrossRef]
Join, J.L.; Coudray, I.; Longworkh, K. Using principal components analysis and Na/Cl ratios to trace groundwater circulation in a volcanic island: The example of Reunion.

J. Hydrol.

1997,

190

, 1–18. [Google Scholar] [CrossRef]
Voudouris, K.; Panagolous, A.; Koumantakis, J. Multivariate Statistical Analysis in the Assessment of Hydro chemistry of the Northern Korinthia Prefecture Alluvial Aquifer System (Peloponnese, Greece).

Nat. Resour. Res.

2000,

9

, 135–146. [Google Scholar] [CrossRef]
Meng, S.X.; Barry Maynard, J. Use of statistical analysis to formulate conceptual models of geochemical behavior: Water chemical data from the Botucatu aquifer in São Paulo state, Brazil.

J. Hydrol.

2001,

250

, 78–97. [Google Scholar] [CrossRef]
Papatheodurou, G.; Lambrakis, N.; Panagopoulos, G. Application of multivariate statistical procedures to the hydro chemical study of a coastal aquifer: An example from Crete, Greece.

Hydrol. Process.

2007,

21

, 1482–1495. [Google Scholar] [CrossRef]
Boyer, N.J.; Fourqurean, J.W.; Jones, R.D. Spatial characterization of water quality in Florida Bay and Whitewater Bay by multivariate analyses: Zones of similar influence.

Estuaries

1997,

20

, 743–758. [Google Scholar] [CrossRef]
Guler, C.; Thyne, G.D. Hydrologic and geologic factors controlling surface and groundwater chemistry in Indian Wells-Owens Valley area, southeastern California, USA.

J. Hydrol.

2004,

285

, 177–198. [Google Scholar] [CrossRef]
Kim, K.H.; Yun, S.T.; Park, S.S.; Joo, Y.; Kim, T. Model-based clustering of hydrochemical data to demarcate natural versus human impacts on bedrock groundwater quality in rural areas, South Korea.

J. Hydrol.

2014,

519

, 626–636. [Google Scholar] [CrossRef]
Athavale, R.N.; Rangarajan, R. Natural Recharge Measurements in the Hard Rock Regions of Semi-Arid India Using Tritium Injection—A Review. In

Estimation of Natural Groundwater Recharge

; Springer: Dordrecht, The Netherlands, 1988; ISBN 978-94-015-7780-9. [Google Scholar]
Healy, R.W.; Scanlon, B.R.

Estimating Groundwater Recharge

; Cambridge University Press: Cambridge, UK, 2010; Volume 1, ISBN 9788578110796. [Google Scholar]
Négrel, P.; Petelet-Giraud, E. Géochimie et compositions isotopiques (δ18O, δ2H, 87Sr/86Sr, 143Nd/144Nd) des eaux souterraines de Guyane comme indicateurs de leur origine et interrelations.

Comptes Rendus—Geosci.

2010,

342

, 786–795. [Google Scholar] [CrossRef]
Zhang, X.; Qian, H.; Chen, J.; Qiao, L. Assessment of groundwater chemistry and status in a heavily used semi-arid region with multivariate statistical analysis.

Water

2014,

6

, 2212–2232. [Google Scholar] [CrossRef]
Gibbs, R.J. Mechanisms Controlling World Water Chemistry.

Science

1970,

170

, 1088–1090. [Google Scholar] [CrossRef]
Vadillo, I. Limitations of climatic changes on aquifer vulnerability assessment.

Geogaceta

2005,

37

, 135–138. [Google Scholar]
Allisson, G.B.; Barmes, C.J.; Hughes, M.W. Leaney Effect of climate and vegetation on oxygen-18 and deuterium profiles in soils. In

Isotopes Hydrology

; IAEA: Vienna, Austria, 1984; pp. 105–122. [Google Scholar]
Li, R.; Merchant, J.W. Modeling vulnerability of groundwater to pollution under future scenarios of climate change and biofuels-related land use change: A case study in North Dakota, USA.

Sci. Total Environ.

2013,

447

, 32–45. [Google Scholar] [CrossRef]
PNMRE-Mali.

Programme National de Mobilisation des Ressources en Eau—Réalisation D'adductions d'eau potables (AEP) et D'assainissement dans les Centres Semi-urbains en 2ième et 5ième Région

; The Malian Government Department DNH (Direction Nationale de l'Hydraulique): Bamako, Mali, 2014. [Google Scholar]
PACTEA-Mali.

Programme d'Appui aux Collectivités Territoriales pour l'Eau Potable et l'Assainissement

; Directorate General for International Cooperation and Development: Brussels, Belgium, 2016. [Google Scholar]
Homa, R.; Abrishamchi, A.; Torkian, A. Evaluation of spatial and temporal variation in water quality by pattern recognition techniques: A case study on Jajrood River (Tehran, Iran).

J. Environ. Manag.

2010,

91

, 852–860. [Google Scholar]
Keita, S.; Zhonghua, T. The assessment of processes controlling the spatial distribution of hydrogeochemical groundwater types in Mali using multivariate statistics.

J. Afr. Earth Sci.

2017,

134

, 573–589. [Google Scholar] [CrossRef]
Cloutier, V.; Lefebvre, R.; Therrien, R.; Savard, M.M. Multivariate statistical analysis of geochemical data as indicative of the hydrogeochemical evolution of groundwater in a sedimentary rock aquifer system.

J. Hydrol.

2008,

353

, 294–313. [Google Scholar] [CrossRef]
Eang, K.E.; Igarashi, T.; Kondo, M.; Nakatani, T.; Tabelin, C.B.; Fujinaga, R. Groundwater monitoring of an open-pit limestone quarry: Water-rock interaction and mixing estimation within the rock layers by geochemical and statistical analyses.

Int. J. Min. Sci. Technol.

2018. [Google Scholar] [CrossRef]
Piper, M.A. A graphic procedure in the geochemical interpretation of water analyses.

EOS Trans. Am. Geophys. Union

1944,

25

, 914–928. [Google Scholar] [CrossRef]
Binq-Qi, Z.; Wang, Y.-L. Statistical study to identify the key factors governing ground water recharge in the watersheds of the arid Central Asia.

Environ. Monotoring Assess.

2016,

188

, 66. [Google Scholar]
Tang, Y.; Zhou, J.; Yang, P.; Yan, J.; Zhou, N.

Groundwater Engineering

; Springer: Singapore, 2017; ISBN 978-981-10-0668-5. [Google Scholar]
Kehew, A.E.

Applied Chemical Hydrogeology

; Prentice Hall: Upper Saddle River, NJ, USA, 2000; ISBN 978-0132709279. [Google Scholar]
Carol, E.; Kruse, E.; Mas-Pla, J. Hydrochemical and isotopical evidence of ground water salinization processes on the coastal plain of Samborombón Bay, Argentina.

J. Hydrol.

2009,

365

, 335–345. [Google Scholar] [CrossRef]
Craig, H. Isotopic variations in meteoric waters.

Science

1961,

133

, 1702–1703. [Google Scholar] [CrossRef]
Saffran, J.R. Words in a sea of sounds: The output of infant statistical learning.

Cognition

2001,

81

, 149–169. [Google Scholar] [CrossRef]
Grasby, S.E.; Hutcheon, I.; Krouse, R. Application of the stable isotope composition of S04 to tracing anomalous TDS in Nose Creek, southern Alberta, Canada.

Appl. Geochem.

1997,

12

, 567–575. [Google Scholar] [CrossRef]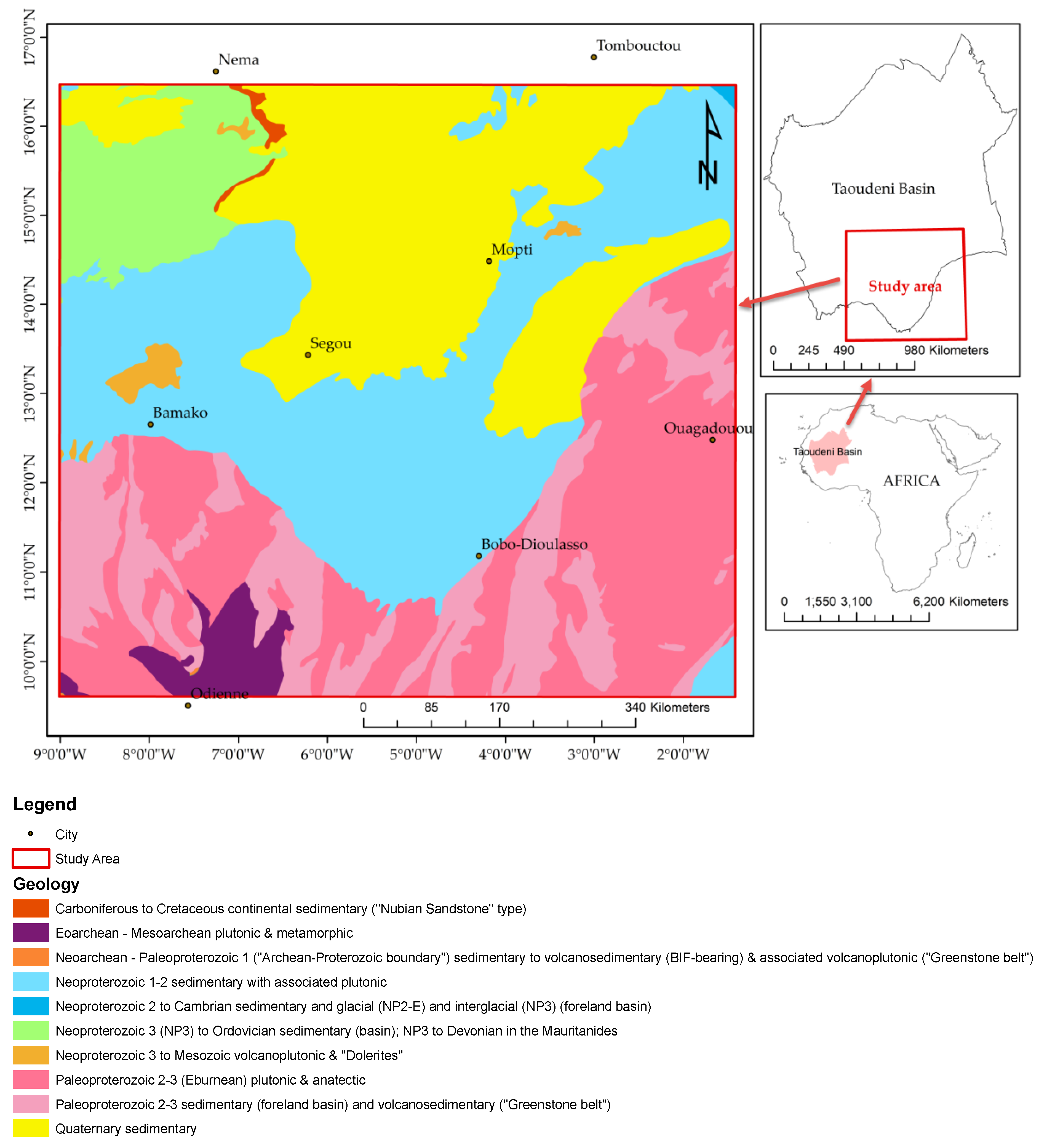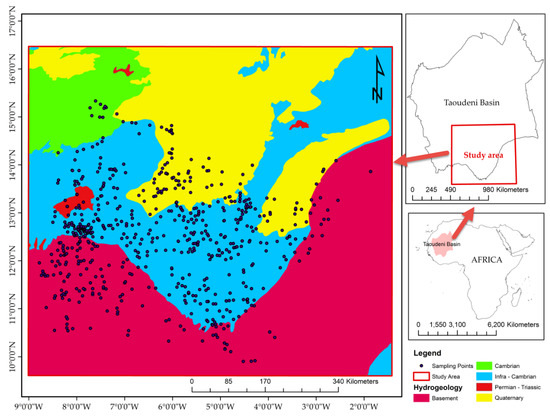 Figure 2. Hydrogeological map and sample location of the study area in the Taoudeni Basin's southern edge.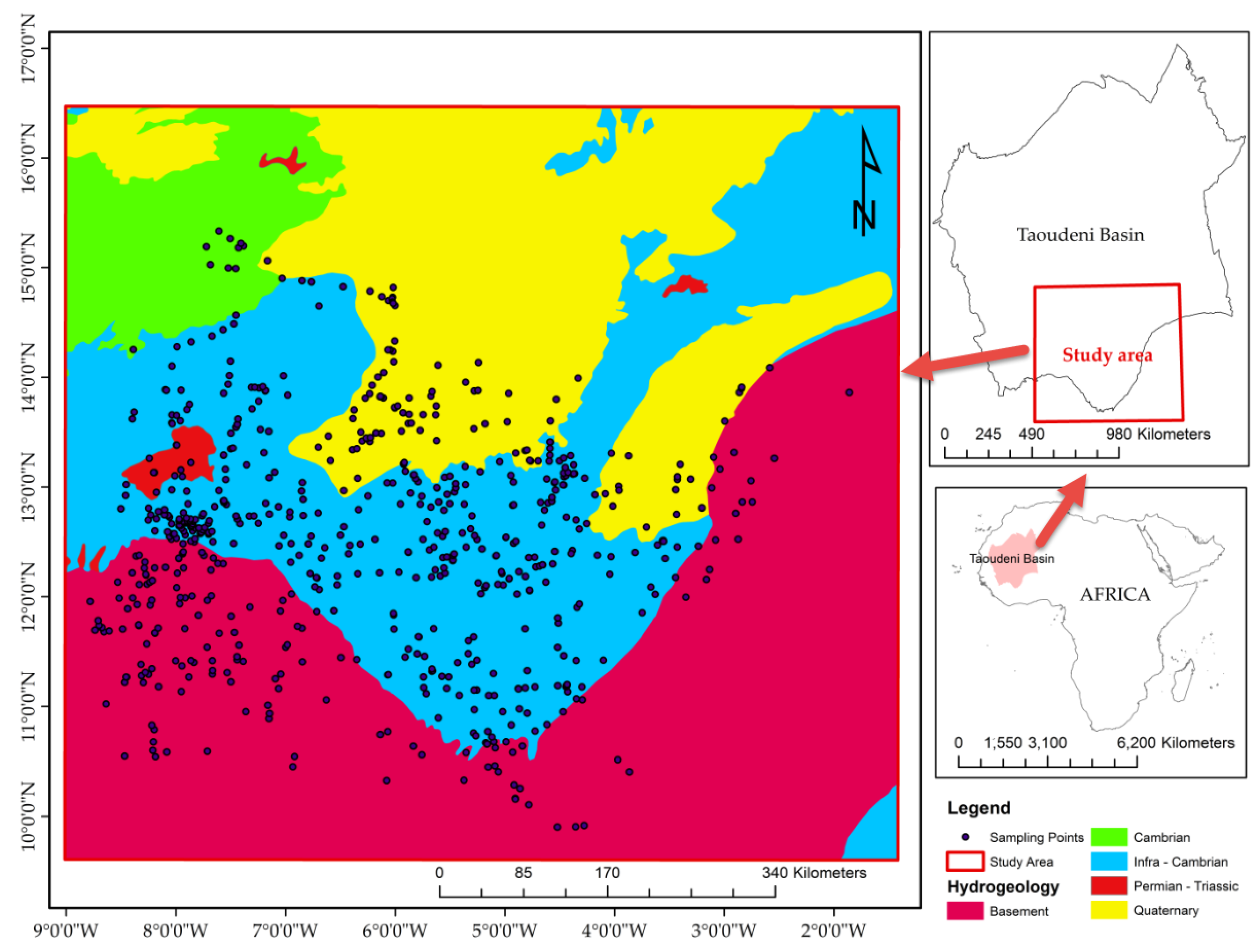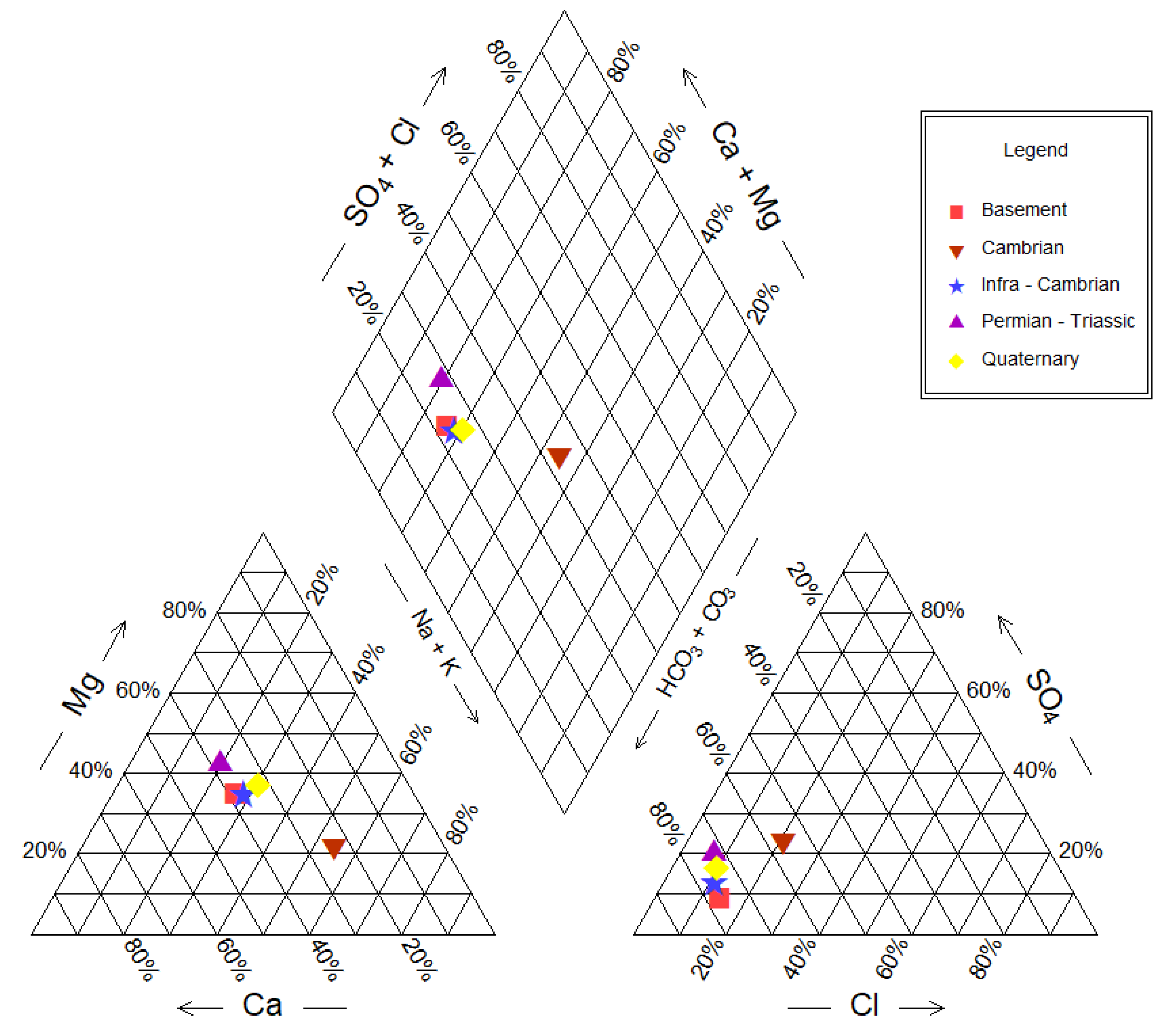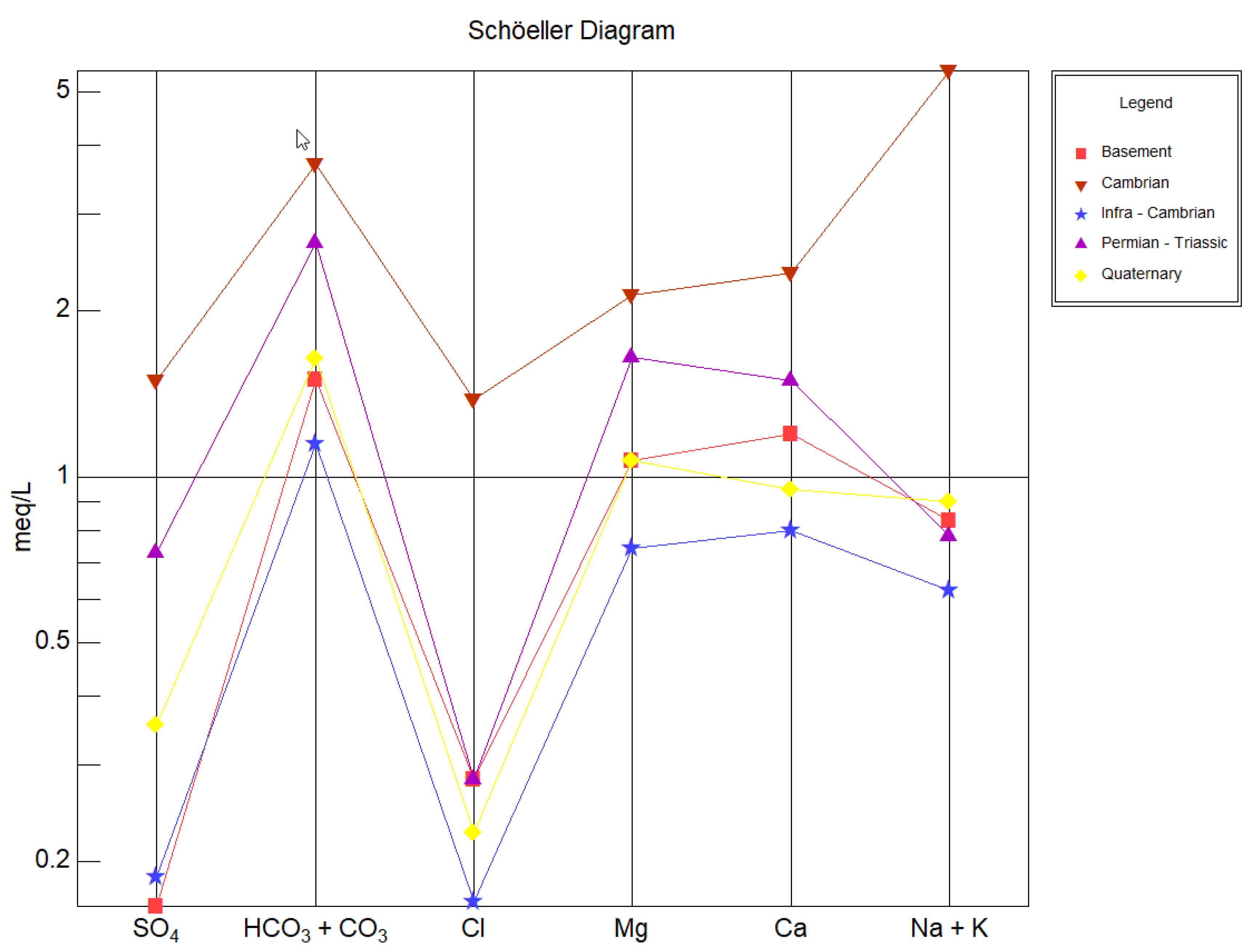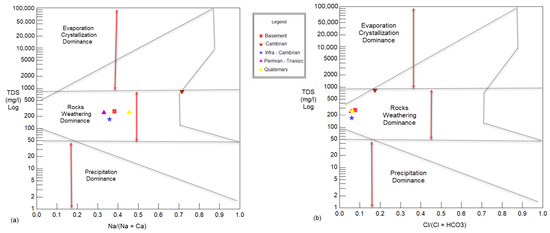 Figure 5. Mechanisms governing groundwater chemistry according to a Gibbs diagram: (a) TDS vs. Na+/(Na+ + Ca2+); (b) TDS vs. Cl−/(Cl− + HCO3−).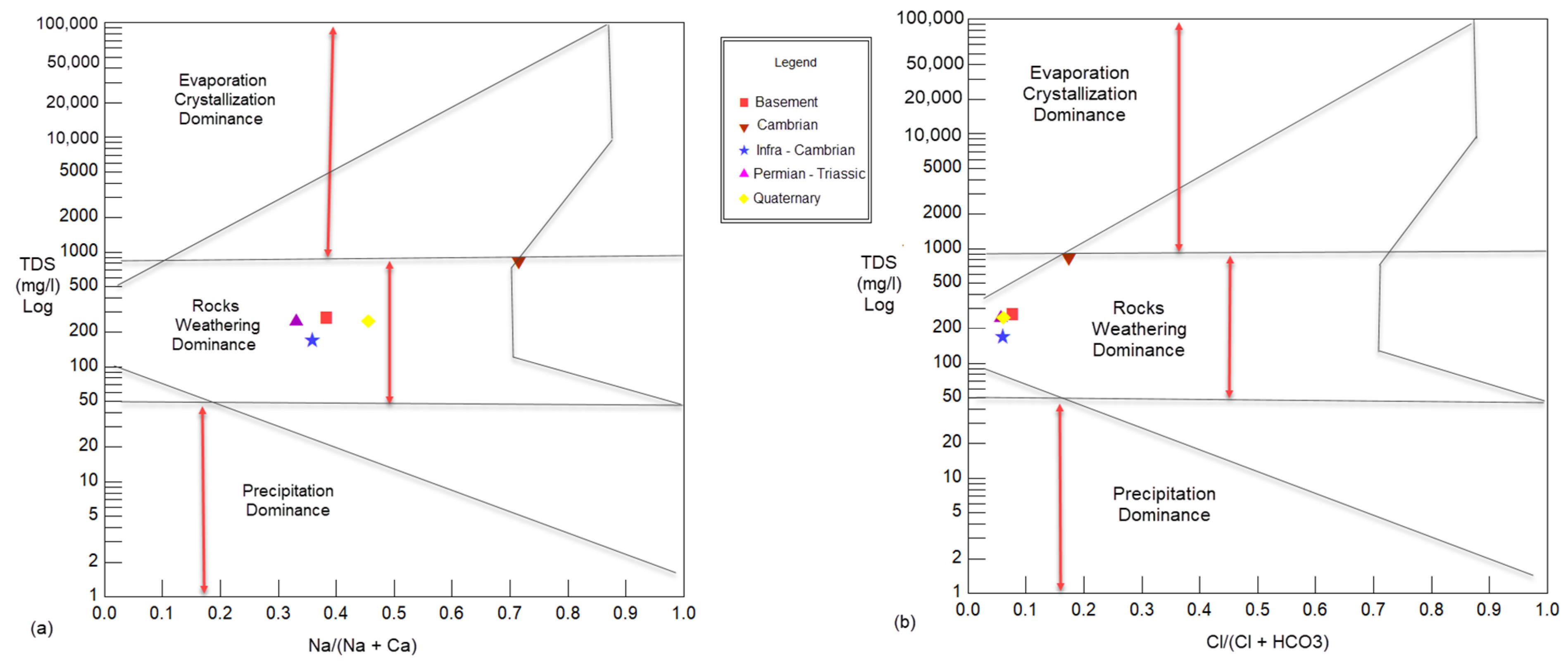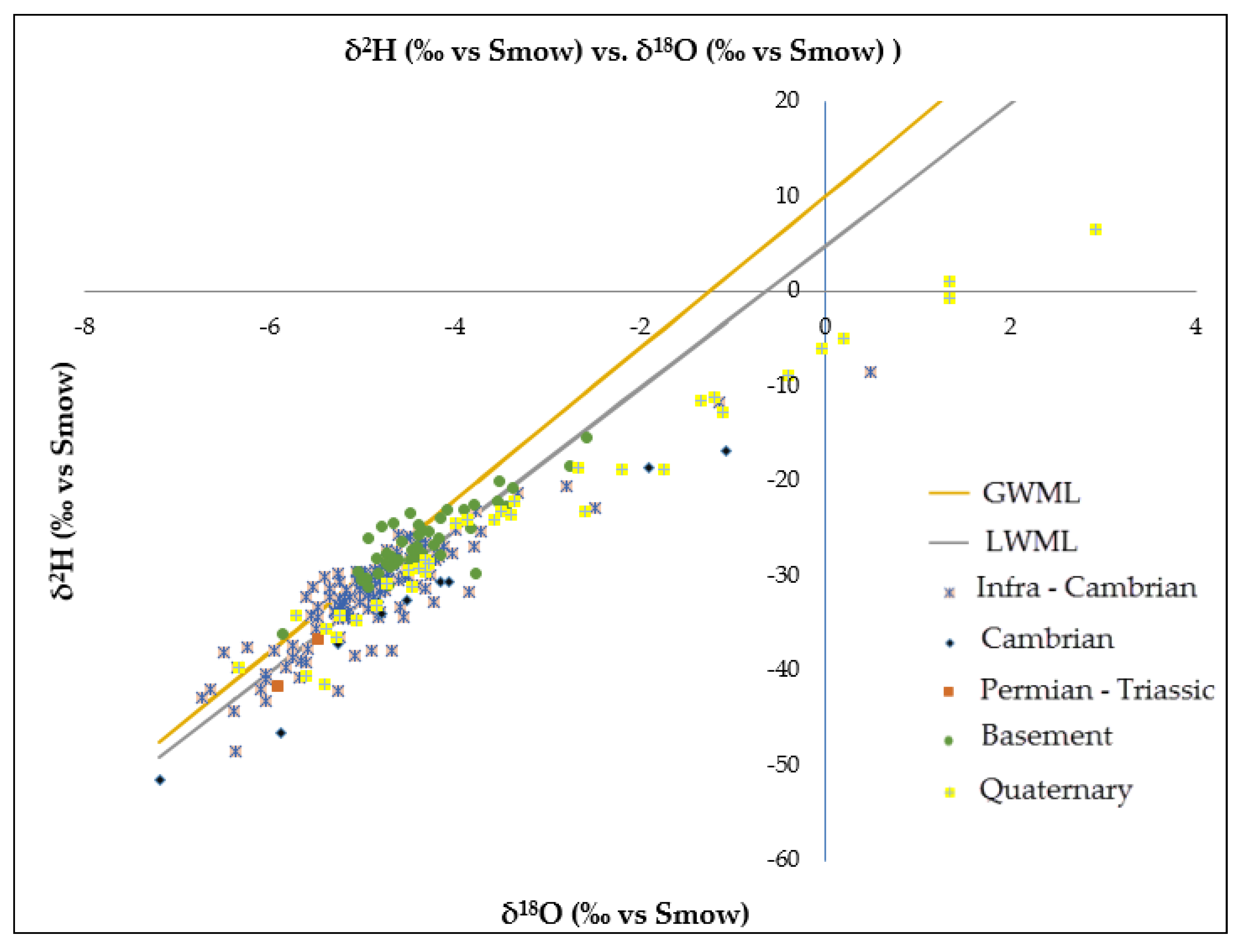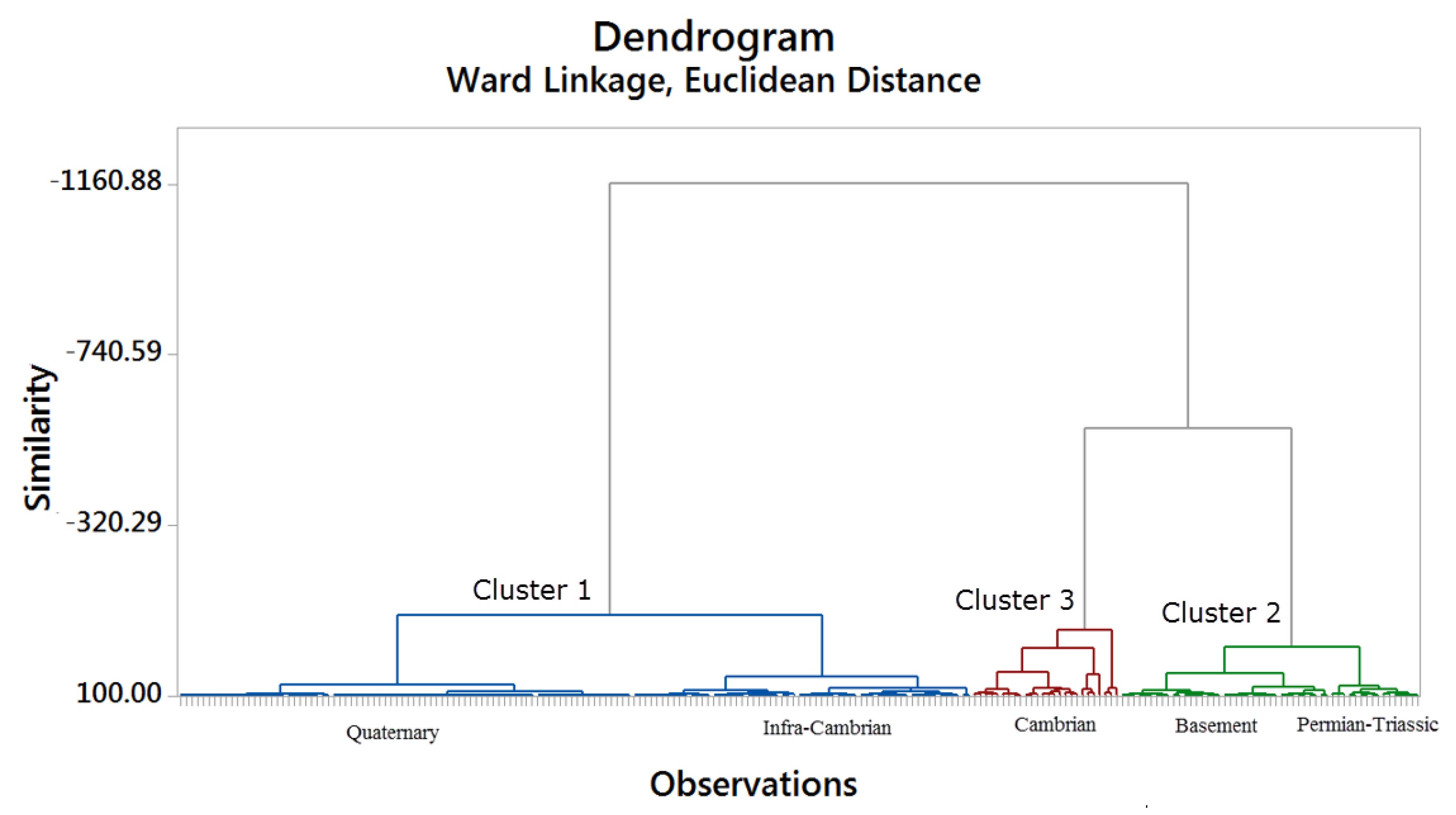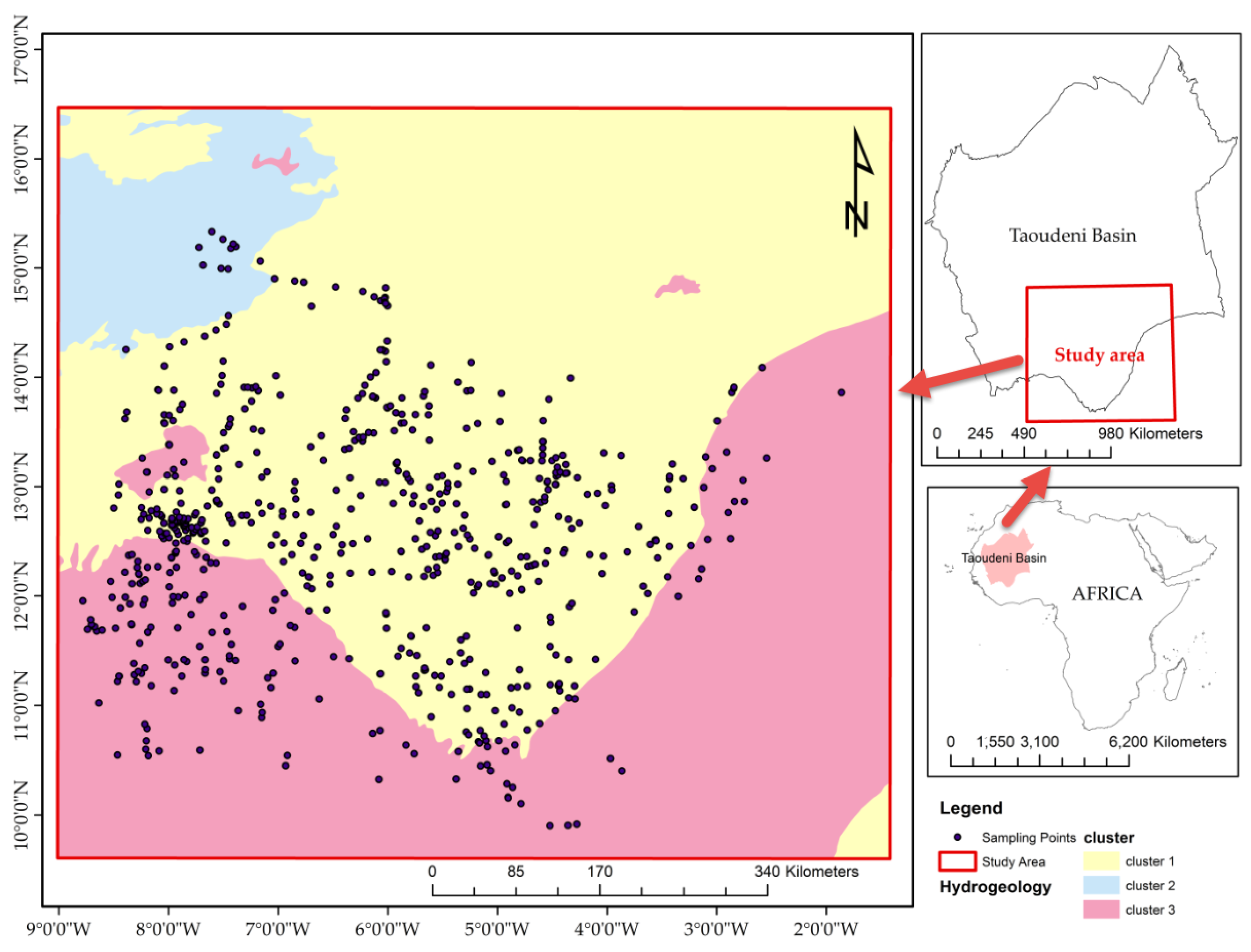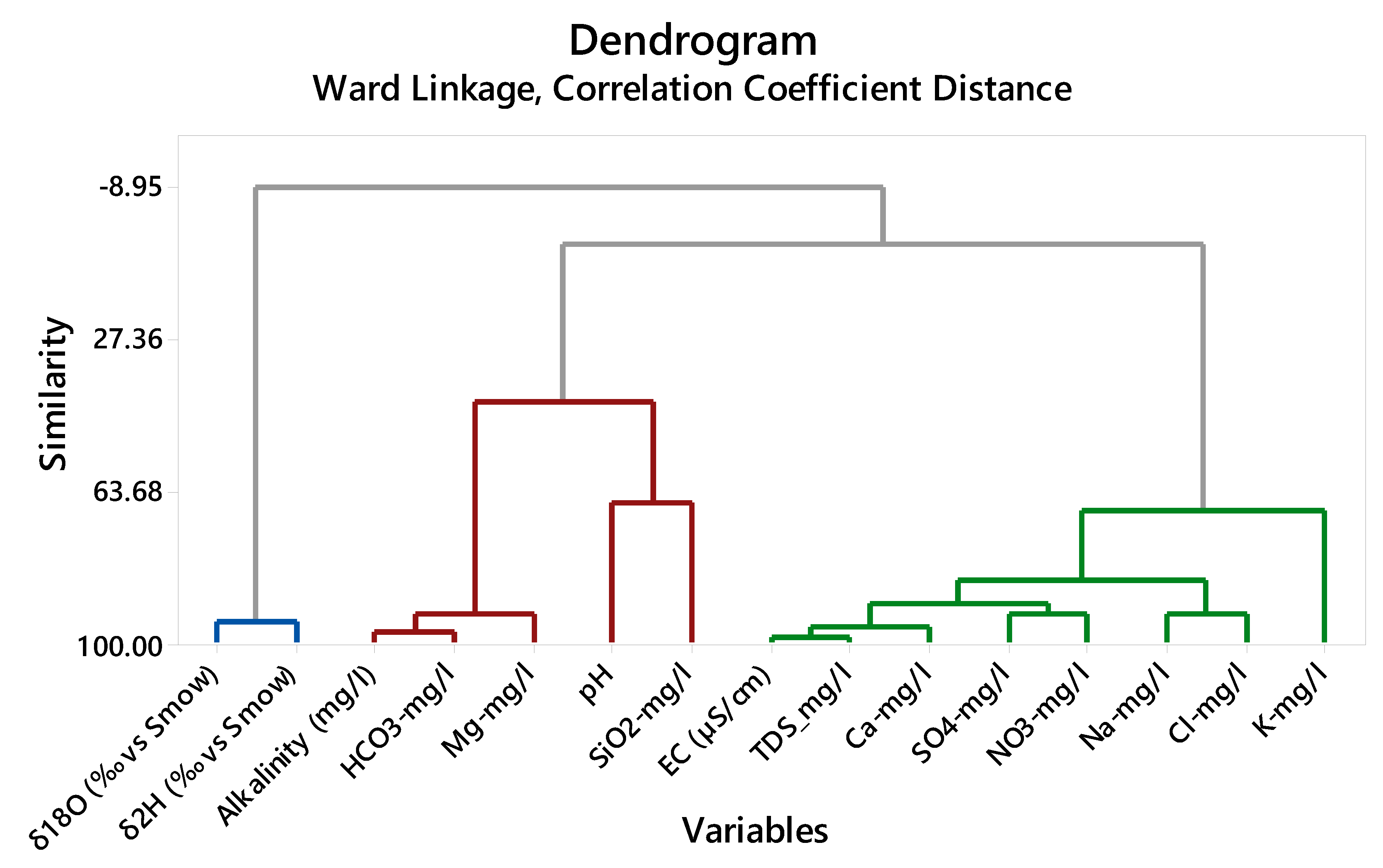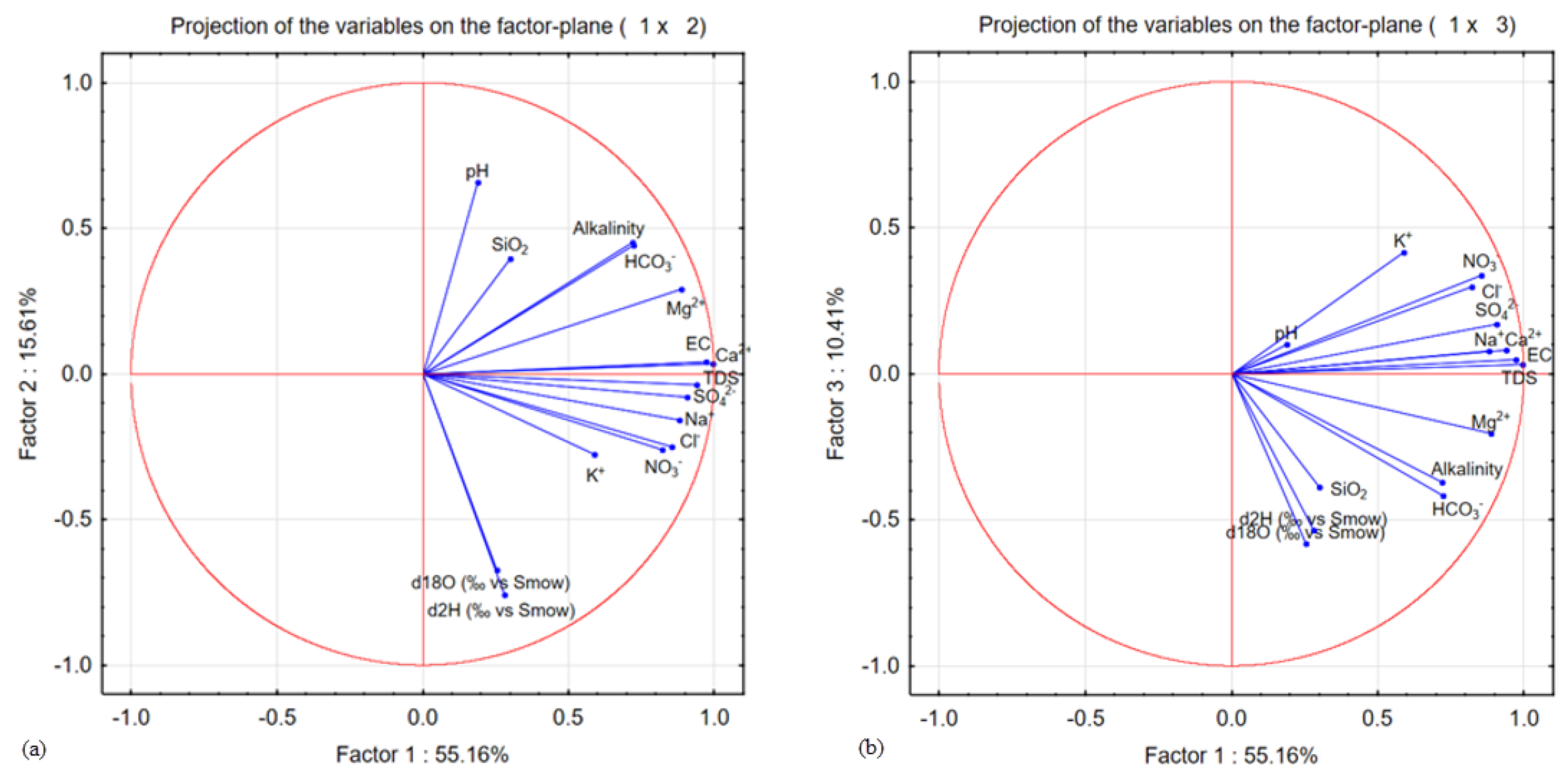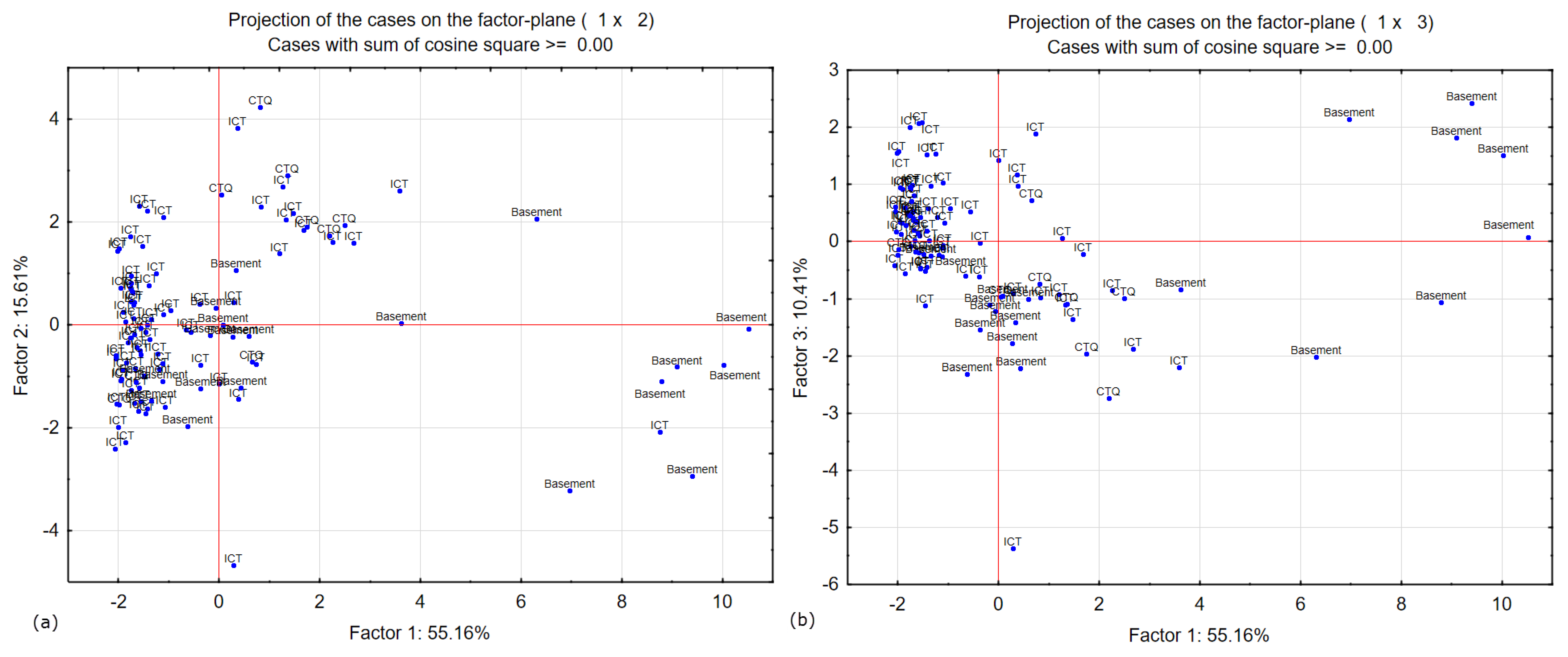 Table 1. Descriptive statistics of the hydrochemical parameters. Alkalinity; Electric Conductivity (EC,) potential hydrogen (pH); Total Dissolved Solids (TDS), calcium (Ca2+); magnesium (Mg2+); sodium (Na+); potassium (K+); chloride (Cl−); Sulphur dioxide (SO42−); nitrate (NO3−); bicarbonate (HCO3−); silicon oxide (SiO2).
| Variable | Mean | Standard Deviation | Coefficient of Variation | Minimum | Median | Maximum | Range |
| --- | --- | --- | --- | --- | --- | --- | --- |
| Alkalinity | 52.67 | 83.46 | 158.45 | 0.16 | 13.05 | 397 | 396.84 |
| EC | 263.9 | 314.7 | 119.23 | 2.5 | 177.5 | 2660 | 2657.5 |
| pH | 6.93 | 0.93 | 13.47 | 3.6 | 7.13 | 9.35 | 5.75 |
| TDS | 220.5 | 252.8 | 114.64 | 5 | 149.3 | 1988.2 | 1983.2 |
| Ca2+ | 18.57 | 22.18 | 119.42 | 0.33 | 11.49 | 251.02 | 250.69 |
| Mg2+ | 11.1 | 13.49 | 121.46 | 0.146 | 6.58 | 116.96 | 116.96 |
| Na+ | 13.08 | 27.4 | 209.48 | 0.02 | 5.2 | 358.56 | 358.56 |
| K+ | 8.32 | 53.36 | 641.48 | 0.09 | 3.78 | 1392 | 1391.91 |
| Cl− | 8.27 | 19.45 | 235.19 | 0.1 | 4.24 | 315.08 | 315.08 |
| SO42− | 11.38 | 39.26 | 344.95 | 0.1 | 2 | 458.72 | 458.72 |
| NO3− | 17.68 | 68.83 | 389.26 | 0.1 | 2.25 | 926.62 | 926.62 |
| HCO3− | 105.11 | 91.98 | 87.5 | 1 | 83.98 | 460 | 459 |
| SiO2 | 11.95 | 8.61 | 72.08 | 2 | 9.19 | 51.1 | 49.1 |
| | Alkalinity | EC | pH | TDS | Ca2+ | Mg2+ | Na+ | K+ | Cl− | SO42− | NO3− | HCO3− |
| --- | --- | --- | --- | --- | --- | --- | --- | --- | --- | --- | --- | --- |
| EC | 0.57 | | | | | | | | | | | |
| pH | 0.07 | 0.36 | | | | | | | | | | |
| TDS | 0.52 | 0.85 | 0.34 | | | | | | | | | |
| Ca2+ | 0.43 | 0.73 | 0.31 | 0.84 | | | | | | | | |
| Mg2+ | 0.71 | 0.78 | 0.32 | 0.84 | 0.66 | | | | | | | |
| Na+ | 0.29 | 0.6 | 0.29 | 0.73 | 0.33 | 0.41 | | | | | | |
| K+ | 0.16 | 0.07 | 0.01 | 0.11 | 0.11 | 0.06 | 0.05 | | | | | |
| Cl− | 0.21 | 0.68 | 0.16 | 0.76 | 0.56 | 0.58 | 0.5 | 0.1 | | | | |
| SO42− | 0.34 | 0.49 | 0.19 | 0.7 | 0.36 | 0.56 | 0.69 | 0.06 | 0.6 | | | |
| NO3− | 0.27 | 0.62 | 0.04 | 0.77 | 0.73 | 0.51 | 0.42 | 0.13 | 0.64 | 0.35 | | |
| HCO3− | 0.63 | 0.65 | 0.54 | 0.61 | 0.56 | 0.73 | 0.44 | 0.03 | 0.23 | 0.31 | 0.1 | |
| SiO2 | 0.33 | 0.45 | 0.37 | 0.52 | 0.39 | 0.48 | 0.49 | 0.11 | 0.35 | 0.46 | 0.3 | 0.54 |
Value
Eigenvalues Extraction: Principal Components
Eigenvalue
% Total (variance)
Cumulative (Eigenvalue)
Cumulative (%)
1
8.273532
55.15688
8.27353
55.15688
2
2.341451
15.60967
10.61498
70.76655
3
1.562250
10.41500
12.17723
81.18155
Variable
Factor Loadings (Varimax Raw) Extraction: Principal Components (Marked Loadings Are > 0.700000)
Factor (1)
Factor (2)
Factor (3)
δ18O (‰ vs. Smow)
0.104068
0.917797
0.077950
δ2H (‰ vs. Smow)
0.171700
0.956457
0.015448
Alkalinity
0.315608
−0.007108
0.874186
EC
0.831634
0.069975
0.505878
pH
0.040812
−0.535040
0.433144
TDS
0.842157
0.088729
0.521957
Ca2+
0.839073
0.102251
0.419566
Na+
0.819606
0.188765
0.318467
Mg2+
0.578335
0.030601
0.760625
K+
0.762966
0.025085
−0.112112
Cl−
0.899772
0.118096
0.094088
SO42−
0.864434
0.076224
0.322779
NO3−
0.942556
0.090697
0.094161
HCO3−
0.299246
0.030762
0.895932
SiO2
−0.031617
−0.010778
0.627712
Explained Variance
6.370608
2.132948
3.673677
Prp. Totl
0.424707
0.142197
0.244912

© 2019 by the authors. Licensee MDPI, Basel, Switzerland. This article is an open access article distributed under the terms and conditions of the Creative Commons Attribution (CC BY) license (http://creativecommons.org/licenses/by/4.0/).