Process Optimization Study of Zn2+ Adsorption on Biochar-Alginate Composite Adsorbent by Response Surface Methodology (RSM)
1
Department of Chemical Engineering, Indian Institute of Technology (IIT) Kharagpur, West Bengal 721302, India
2
Chemical Engineering, CWASM: Minerals, Energy & Chemical Engineering, Curtin University, Perth, GPO BOX U 1987, 6845 WA, Australia
*
Author to whom correspondence should be addressed.
Received: 23 November 2018 / Revised: 25 January 2019 / Accepted: 12 February 2019 / Published: 14 February 2019
Abstract
A novel biochar alginate composite adsorbent was synthesized and applied for removal of Zn
2+
ions from aqueous solution. Kinetics, equilibrium and thermodynamic studies showed the suitability of the adsorbent. From a Langmuir isotherm study, the maximum monolayer adsorption capacity of the composite adsorbent was found to be 120 mg/g. To investigate the effect of process variables like initial Zn
2+
concentration (25–100 mg/L), adsorbent dose (0.4–8 g/L) and temperature (298–318 K) on Zn
2+
adsorption, response surface methodology (RSM) based on a three independent variables central composite design of experiments was employed. A quadratic model equation was developed to predict the relationship between the independent variables and response for maximum Zn
2+
removal. The optimization study reveals that the initial Zn
2+
concentration and adsorbent dose were the most effective parameters for removal of Zn
2+
due to higher magnitude of F-statistic value which effects to a large extent of Zn
2+
removal. The optimum physicochemical condition for maximum removal of Zn
2+
was determined from the RSM study. The optimum conditions are 43.18 mg/L initial metal ion concentration, 0.062 g adsorbent dose and a system temperature of 313.5 K. At this particular condition, the removal efficiency of Zn
2+
was obtained as 85%.
View Full-Text
►

▼

Figures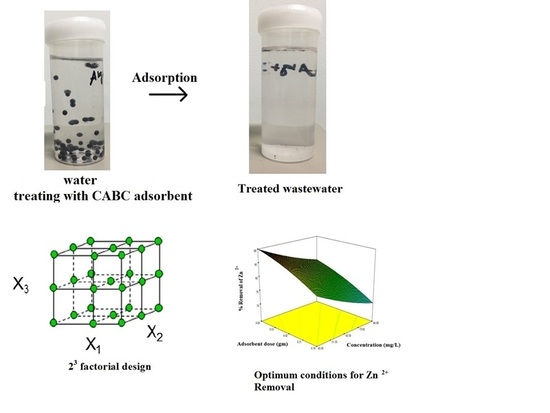 Graphical abstract
This is an open access article distributed under the
Creative Commons Attribution License
which permits unrestricted use, distribution, and reproduction in any medium, provided the original work is properly cited (CC BY 4.0).

Share & Cite This Article
MDPI and ACS Style
Biswas, S.; Bal, M.; Behera, S.K.; Sen, T.K.; Meikap, B.C. Process Optimization Study of Zn2+ Adsorption on Biochar-Alginate Composite Adsorbent by Response Surface Methodology (RSM). Water 2019, 11, 325.
Note that from the first issue of 2016, MDPI journals use article numbers instead of page numbers. See further details here.
Related Articles
Comments
[Return to top]