Open Access This article is
freely available
re-usable
Article
Assessing Future Impacts of Climate Change on Water Supply System Performance: Application to the Pozzillo Reservoir in Sicily, Italy
Department of Civil Engineering and Architecture, University of Catania, 95123 Catania, Italy
†
Currently a private consultant.

Received: 8 November 2019 / Accepted: 27 November 2019 / Published: 29 November 2019
Abstract
:
Climate change induced by greenhouse gas emissions is expected to alter the natural availability of water, affecting domestic, agricultural and industrial uses. This work aims at assessing the possible future impacts of climate change on precipitation, temperature and runoff, and to simulate the effects on reservoir demand–performance curves. To this aim, a modeling chain is set up, based on the combined use of regional climate models (RCMs) and water supply system simulation models. The methodology is applied to the Pozzillo reservoir, located in Sicily (Italy), which has experienced several droughts in the past. We use an RCM model that, based on a previous study, has proved to be the most reliable in the area, among those of the EURO-CORDEX initiative. RCM precipitation and temperature monthly time series are used to generate future reservoir inflow data, according to two representative concentration pathways, RCP4.5 (intermediate emissions scenario) and RCP8.5 (high emissions scenario) and a two-step bias correction procedure. Simulation of the reservoir indicated that, due to reservoir inflow reduction induced by climate change, performances of the Pozzillo reservoir are predicted to decrease significantly in the future, with impacts of RCP8.5 generally higher than RCP4.5.
Keywords:
water supply systems; Mediterranean climate; irrigation; reliability; vulnerability; RCM; RCP; EURO-CORDEX
1. Introduction
Climate change, related to greenhouse gas emissions, potentially modifies the spatial and temporal distribution of water resources, and thus increases problems in their management [
1
,
2
]. In arid regions, which are more prone to droughts and water deficit, and water management is already challenged by many problems, climate change adaptation is of special concern [
3
,
4
,
5
]. Adaptation choices cover a wide range of options, from adaptive demand management to utilization of remaining marginal water sources [
6
,
7
]. Starting from the first decade of the 21st century, highly developed countries have implemented adaptation measures, which include optimization of reservoir operation taking into account of modified water resource availability scenarios [
8
,
9
,
10
], though transferring advanced tools for water management to decision makers may be challenging [
11
].
Several studies have attempted to assess the potential future impacts of climate change on the natural availability of water resources and demands, relatively to various areas of the globe: central Mexico [
12
], southwestern United States [
13
], Malaysia [
14
], West Bank in Israel [
15
], Corfu [
16
], and Turkey [
17
]. These studies are based on the analysis of climate projections obtained by perturbing Global Climate Models (GCMs) with greenhouse gas emission scenarios defined internationally by climate experts. GCMs provide, for a range of scenarios, climate projections up to the end of the present century. Currently, the scenarios are defined as representative concentration pathways (RCPs) which are characterized by the radiative forcing in W/m
2
reached at year 2100. RCP4.5 and RCP8.5 are assumed as intermediate and extreme scenarios. Given the low spatial resolution of GCMs, Regional climate models (RCMs) based on dynamical downscaling of the former are often used in studies at the catchment scale. Most of the studies find a significant modification of the hydrological cycle components, and in particular of annual flows and groundwater availability. The impacts on the water cycle may be exacerbated by the projected increase of irrigation demands, due to rising mean temperatures and thus higher evapotranspiration rates [
18
]. The impacts on the performances of water supply systems under the changed scenarios of water availability have been studied in some research works, which however are mostly outdated because referred to the IPCC fourth assessment report (AR4). Christensen et al. [
19
] analyzed the effects of climate change on the hydrology and water resources of the Colorado River basin, finding a reduction of annual hydropower production under the future climate scenarios of the AR4. Minville et al. [
20
] evaluated the impacts on hydropower, power plant efficiency, unproductive spills and reservoir reliability due to changes in the hydrological regimes induced by climate change in the Peribonka River water resource system (Quebec, Canada). Adamec et al. [
21
] evaluated the impacts of climate change on reservoir operations within the Connecticut River Basin, considering two dams that operate to meet hydropower and flood control objectives, finding that climate change impacts depend significantly on what are the management goals to pursue. Ashofteh et al. [
22
] studied the impact of climate change on the inflow volume to a reservoir and the volume of downstream water demand in an East Azerbaijan river basin. Garrote et al. [
23
] performed a quantitative assessment of climate change vulnerability of irrigation demands in Mediterranean Europe, based on the Water Availability and Adaptation Policy Analysis (WAAPA) model that allows the estimation of demand-reliability curves, analyzing over sixty river basin districts of Southern Europe. The analysis of reservoir performance can allow to derive reservoir operating rules that optimize the performances of reservoirs in the future scenarios, as illustrated by Wurbs et al. [
24
], that discussed on how to incorporate climate change in water availability modeling, based on a modeling strategy combining climate, watershed hydrology, and water-management models. For, instance Raje et al. [
25
], studied climate change impacts on a multipurpose reservoir performance and derived adaptive policies for possible future scenarios, carrying out an application to a case study of Hirakud reservoir on the Mahanadi river in Orissa, India, a multipurpose reservoir serving flood control, irrigation and power generation. Ashofteh et al. [
26
] used multi-objective genetic programming to calculate optimal reservoir-operating rules under baseline and climatic-change conditions, with applications to the Aidoghmoush Reservoir (located in East Azerbaijan, Iran).
In this paper, we propose a methodology for assessing the impacts of climate change on reservoir performance based on the use of RCMs of the AR5 and demand-performance curves. These curves are plots of the value of a performance indicator as a function of the total annual demand, and allow understanding which modifications of the performance are expected in the future if the demand remains equal to current, or which changes of the demand are required to keep the current performance in the future. The methodology is applied to the Pozzillo reservoir, which is the main reservoir of the most important water supply system in Sicily, a region that suffers water scarcity and droughts [
27
,
28
,
29
], but for which no specific studies about the future impacts of climate change have been carried out to date. The work also aims at assessing the potential future changes in precipitation, temperature, and streamflow (reservoir inflows) in the relative catchment. For the purposes of this study, we use the RCM data of the Euro-CORDEX initiative [
30
], and refer to both future scenarios RCP4.5 and RCP8.5. The impacts are assessed at three future time horizons: 2040, 2070 and 2100. The methodology includes the application of a parsimonious bias correction to both the primary meteorological data (rainfall and temperature) and the hydrological data (streamflows). The results of this study can help water resource managers in the region to develop specific climate change adaptation measures.
3. Case Study and Data
The Pozzillo reservoir is the largest in Sicily, with a net capacity of 123.50 . The reservoir is within the Salso-Simeto system that is part of the more complex water supply system of the Catania Plain [
47
], located in the eastern part of the island (
Figure 3
).
The main storage infrastructures of the entire system—in addition to the Pozzillo reservoir—are: the Ancipa reservoir, the S. Domenica, Contrasto and Ponte Barca intakes, the Lentini reservoir and some hydroelectric power plants. The Salso-Simeto system comprises the Pozzillo and Ancipa reservoirs, which serve the Land reclamation consortium 9 (LRC9) of Sicily, and the municipal demand of nine municipalities in the Caltanissetta province. In this paper we consider only the irrigation demand of the LRC9, as done in other previous studies [
47
,
48
,
49
]. This demand amounts in average 88 hm
3
yearly and is concentrated only in the period May–October, where is distributed as in
Table 1
. When performing the analysis of performances by varying the demand level, the yearly total was distributed according to the monthly percentages shown in the table.
To apply Equation (15) for estimating evaporation, the function that relates reservoir storage and area of the free water surface is needed. This is derived from the most recent bathymetric survey campaign data available. The following equation provides a good approximation of the measured data:
with A in km
2
and S in hm
3
.
Regarding the climate projections, in a previous study we have analyzed in detail the reliability of 14 RCMs from the Euro-CORDEX initiative [
50
]. In particular, the performances were assessed by comparing the historical RCM data with observations in the baseline period. We then apply the subset approach for the particular case of m = 1, i.e., use the model that performs the best. As already mentioned, this generally provides more reliable results than considering the ensemble of all available models [
31
]. From this mentioned previous study the SMHI-RCA4 RCM [
51
] nested on the CNRM-CM5 GCM, revealed to be the most reliable RCM in our study area, which is thus the model by which we perform our impact assessments.
Observed monthly precipitation and mean temperature data have been retrieved from the Meteorological Network of the Sicilian Water Observatory, previously managed by the National Hydrographic and Mareographic Service. Areal precipitation and temperature has then been computed from the weather stations within the catchment that drains into the reservoir (area 577 km
2
) using the Thiessen polygons method. Inflows were derived from [
45
], based on the analysis of monitoring data of the historical activity of the reservoir. Observed areal precipitation, temperature and reservoir inflows data, have allowed together to calibrate the regressive model for indirect inflow estimation. The following equation has been obtained by optimizing all four parameters via the MS Excel
®
Solver tool:
The model had the following performances in reproducing the observations: 3.050, 0.195, 15.72, and 0.680. In particular, with reference to the value of the Nash Sutcliffe efficiency E, these performances can be deemed satisfactory for the purpose of this work, and in line with previous studies [
42
,
43
,
52
].
4. Results
4.1. Impact of Climate Change on Hydrological Variables
Monthly precipitation of the selected RCM data have been corrected for their bias, and a comparison of the current and future data for both scenarios is presented in
Figure 4
. Specifically, three 30-year future periods have been considered, namely 2011–2040, 2041–2070, and 2071–2100. Mean annual precipitation in scenario RCP4.5 increases in all three future periods, though the increase is less significant moving forward in time: 691.9 mm for 2011–2040, 687.6 mm for 2041–2070, and 684.0 mm for 2071–2100, against 679.5 mm in the control period. For RCP 8.5, precipitation decreases to 694.7, 641.7 and 629.4 mm, respectively, for the three subsequent future periods. However, at the monthly scale it can be seen that in certain months precipitation is expected to increase in both RCPs. This is the case of October and some future periods of November and September. On the other hand, precipitation in spring months tends to decrease for both RCPs. Predictions of temperature appear more consistent, since an increase in both scenarios is observed for all months and for all future periods, with a positive trend (
Figure 5
).
Such changes in temperature clearly have impacts on river streamflow (
Figure 6
). In particular, an increase of temperature causes higher evapotranspiration and thus a decrease of streamflow, as correctly reflected by the negative exponent of the empirical model of Equation (22). On the other hand, a decrease of precipitation causes a decrease of baseflow and surface runoff, which yields a decrease in streamflows (positive exponent of precipitation in Equation (22)). Given the expected future decrease in precipitation and increase in temperature for scenario RCP8.5, a marked streamflow decrease is to be expected (
Figure 6
b). For scenario RCP4.5 (
Figure 6
a), annual runoff decreases for all future periods as well, although for the near future 2011–2040, in some months (e.g., January) the effect of increasing precipitation seems to prevail on the increase of temperature. Nevertheless, this is not the case for the remainder of the months, so it can be concluded that for RCP4.5 a decrease in runoff is expected for all future periods.
4.2. Impacts of Climate Change on Reservoir Performance
Once all the data for application of Equations (14)–(17) have been obtained, the Pozzillo reservoir has been simulated for all the periods of interest and for both RCP4.5 and 8.5 scenarios.
Figure 7
shows the impacts of climate change on reservoir temporal reliability. In particular, temporal reliability is plotted against total annual demand, always assumed with the same monthly distribution as in
Table 1
. From the Figure, a significant future decrease of temporal reliability can be inferred, which becomes more so moving forward in time. As expected, the RCP8.5 produces much more severe impacts than scenario RCP4.5. As shown in
Table 2
, under the optimistic hypothesis that total irrigation demand remains unchanged respect to the control period, temporal reliability decreases down to 60.6% (−20.4% variation respect to control period) and 44.4% (−41.6% variation), respectively for RCP4.5 and 8.5. Conversely, if in the future the same performances of the control period want to be attained, a reduction in demand down to 68.9 hm
3
and 53.5 hm
3
, will be necessary, respectively for RCP4.5 and 8.5.
The impacts of climate change on volumetric reliability are shown in
Figure 8
. Plots confirm a general decreasing pattern in the future as in the case of temporal reliability, although decreases are less marked. This is reasonably due to the fact that temporal availability is a measure of deficit occurrence regardless of their entity. With reference to current demand (88 hm
3
), the reduction in reliability is down to 67.6 % (−20.3% variation) and 49.6% (−41.5%) for RCP4.5 and 8.5 respectively. On the other hand, the demand should reduce down to 67.8 hm
3
(−23.0%) and 49.2 hm
3
(−44.1%) for the two scenarios to maintain the same volumetric reliability as in the control period.
In
Figure 9
similar plots are shown with reference to vulnerability. From the plots significant increases of vulnerability can inferred, which indicates that climate change is expected to severely aggravate impacts of deficits. With reference to RCP4.5 scenario, the vulnerability curves show limited change between periods 2011–2040 and 2041–2070. On the other hand, as expected, for RCP8.5 the increase of vulnerability is very high with reference to the same periods.
Under the hypothesis that the demand remains stable in the future and equal to 88 hm3, vulnerability increases from 11.2% to 18.9% (+69.1%), 28.7% (+155.8), 34.8% (+211.0%), respectively for the subsequent three future periods. In order to maintain the future the same vulnerability of the control period, demand should decrease up to 68.2 hm3 (−22.4%) for RCP4.5 and to 50.0 hm3 (−43.2%) for RCP8.5.
The above results have been synthesized in
Table 2
and
Table 3
. In particular,
Table 2
shows the reduction of performances for a demand that does not change in the future, in both RCPs and for any period.
Table 3
reports the demand level needed in the future to have performances unchanged respect to historical values of each index.
As can be seen from
Table 2
, the Beard vulnerability index has the highest variations of performances, for both RCP4.5 and RCP8.5. However, these do not correspond to the highest demand reductions needs, which are instead associated to volumetric vulnerability, except for period 2011–2040 in RCP4.5 where temporal vulnerability is more restrictive in this sense (
Table 3
).
6. Conclusions
In this research we have analyzed how climate change induced by greenhouse gas emissions may affect the performance of reservoirs in semi-arid Mediterranean areas, with a specific application to the Pozzillo reservoir in Sicily. Results show that precipitation is expected to slightly increase annually for the RCP4.5 (intermediate emission scenario), and to significantly decrease for RCP8.5 (high emission scenario), while temperature increases in both scenarios, with a clear positive trend, and at a higher rate for RCP8.5. For both scenarios, these changes in the meteorological variables cause a decrease of reservoir inflows, which is more pronounced again for RCP8.5. The impacts of climate change on reservoir inflows also increase moving toward 2100, and so are the impacts on reservoir performance. If one desires no reduction of performances of the Pozzillo reservoir (i.e., equal to those in the control period 1971–2001), then the demand should decrease significantly: down to −23.0% for RCP4.5 and to −44.1% for RCP8.5. These results indicate that measures for climate change adaptation should be implemented soon, in order to avoid socio-economic impacts. Further research may focus on analyzing more explicitly the impacts of climate modeling uncertainty on the results of the present study, for instance, by presenting the range of performance curves obtained using all the CORDEX models available.
Author Contributions
Conceptualization, D.J.P. and A.C.; Formal analysis, D.J.P. and R.M.; Funding acquisition, A.C.; Investigation, D.J.P., R.M. and A.C.; Methodology, D.J.P. and A.C.; Project administration, A.C.; Resources, A.C.; Supervision, D.J.P. and A.C.; Visualization, D.J.P. and R.M.; Writing—original draft, D.J.P.; Writing—review and editing, D.J.P. and A.C.
Funding
This research was partially funded by the European Union for the LIFE 17 CCA/IT/000115 SimetoRES project and by University of Catania, Department of Civil Engineering and Architecture, for the PANTA REI research project. D.J.P. conducted this research within the post-doctoral research program "Studio dei processi idrologici relativi a frane superficiali in un contesto di cambiamenti climatici" funded by University of Catania.
Acknowledgments
The authors will like to thank the five referees that helped to improve the paper with their comments.
Conflicts of Interest
The authors declare no conflict of interest.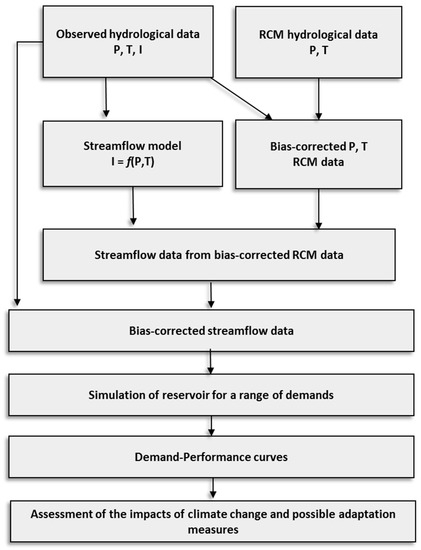 Figure 1. Steps of the proposed methodology for assessing the impact of climate change scenarios on reservoir performance.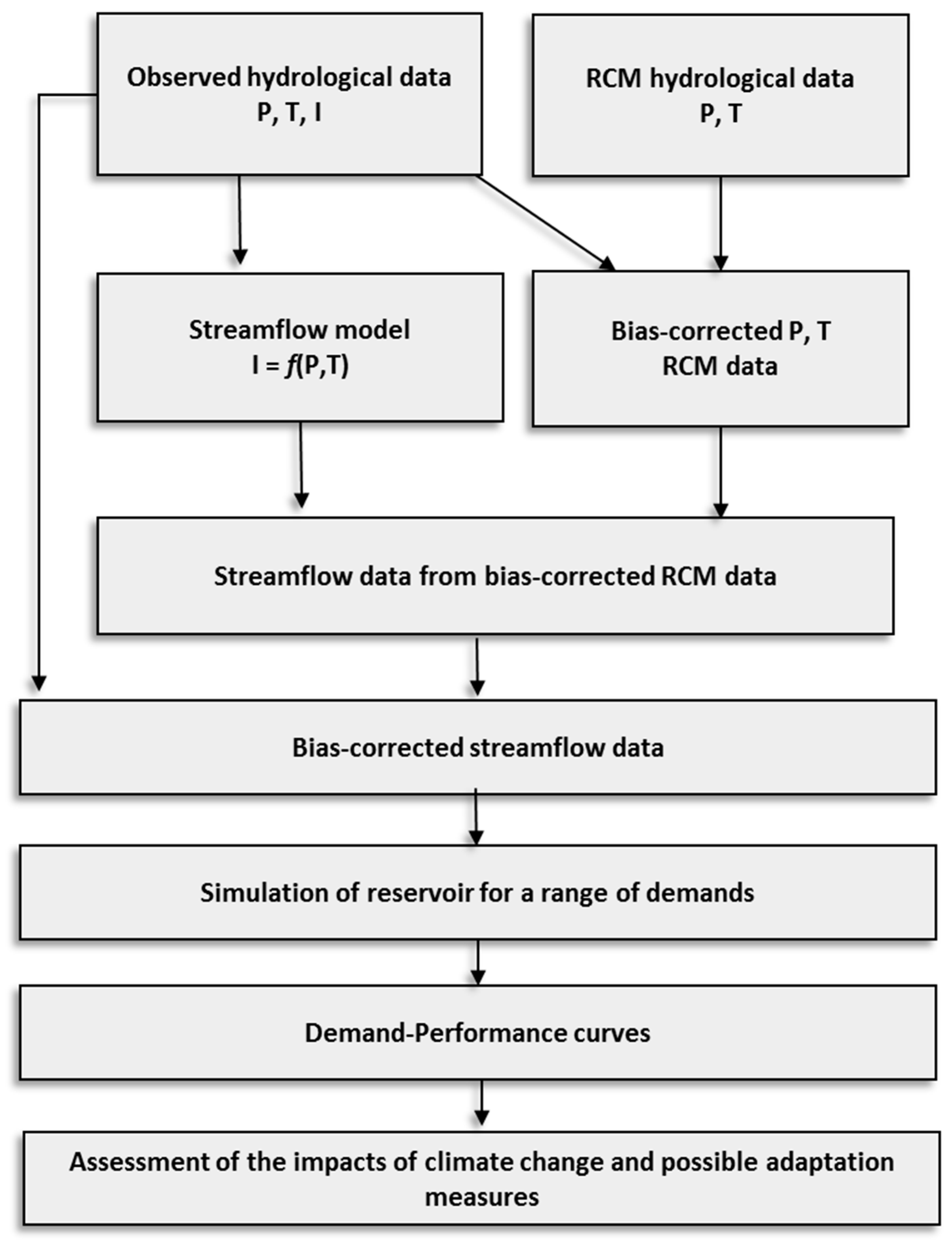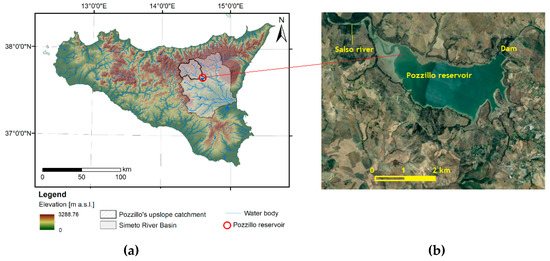 Figure 3. Location of the Pozzillo reservoir in Sicily (Italy) (a), and an aerial view of the reservoir (b).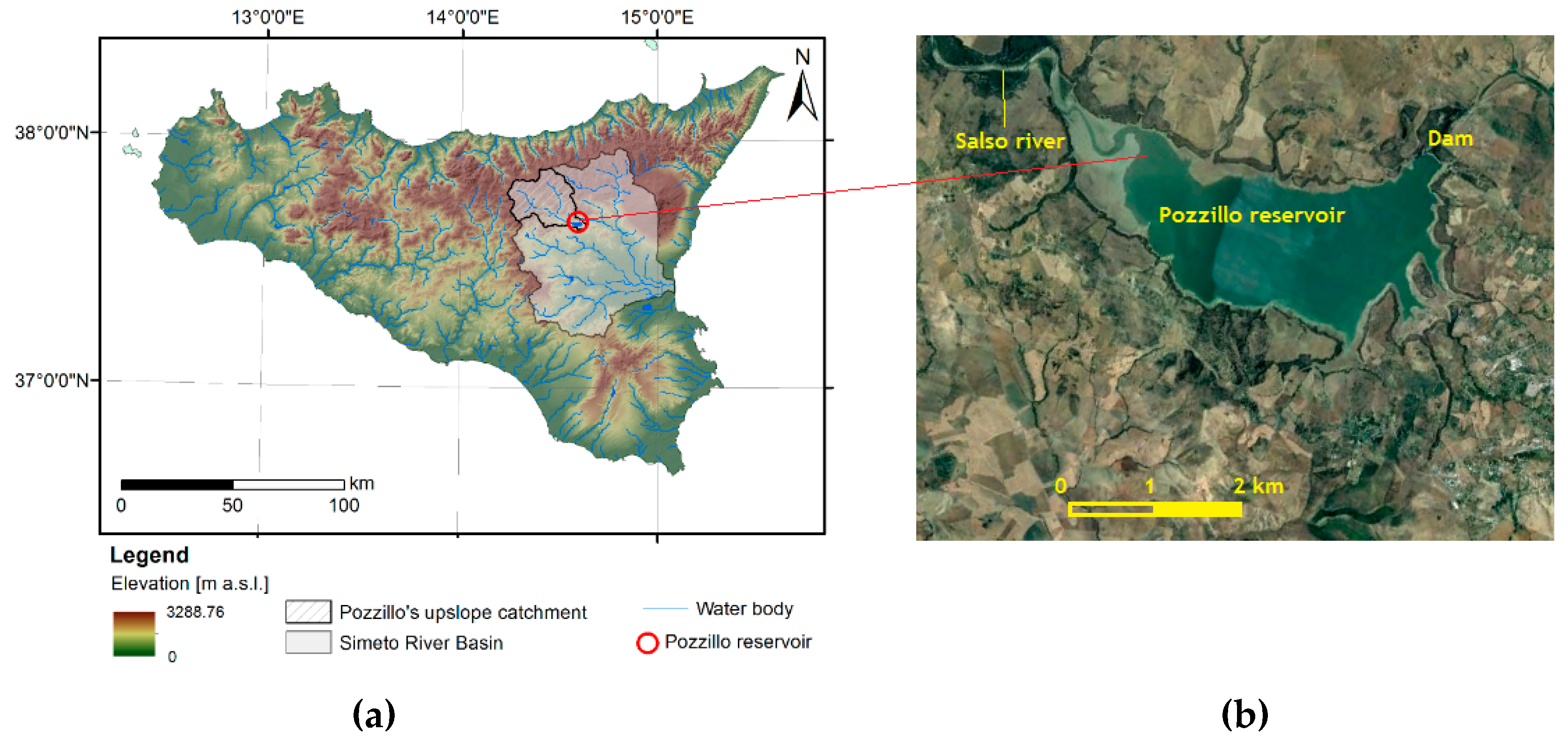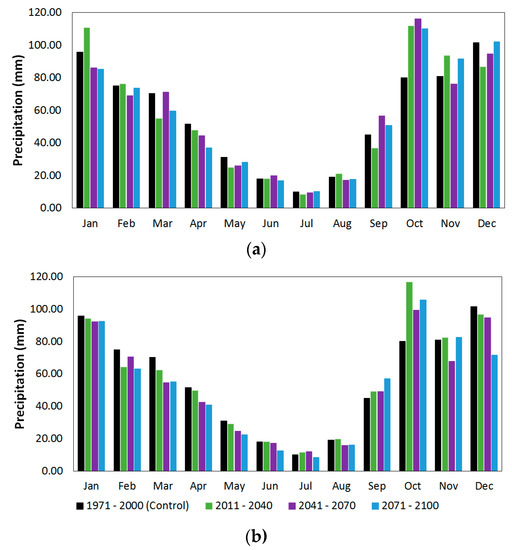 Figure 4. Future vs. control mean monthly precipitation for two climate change scenarios: (a) RCP4.5 and (b) RCP8.5.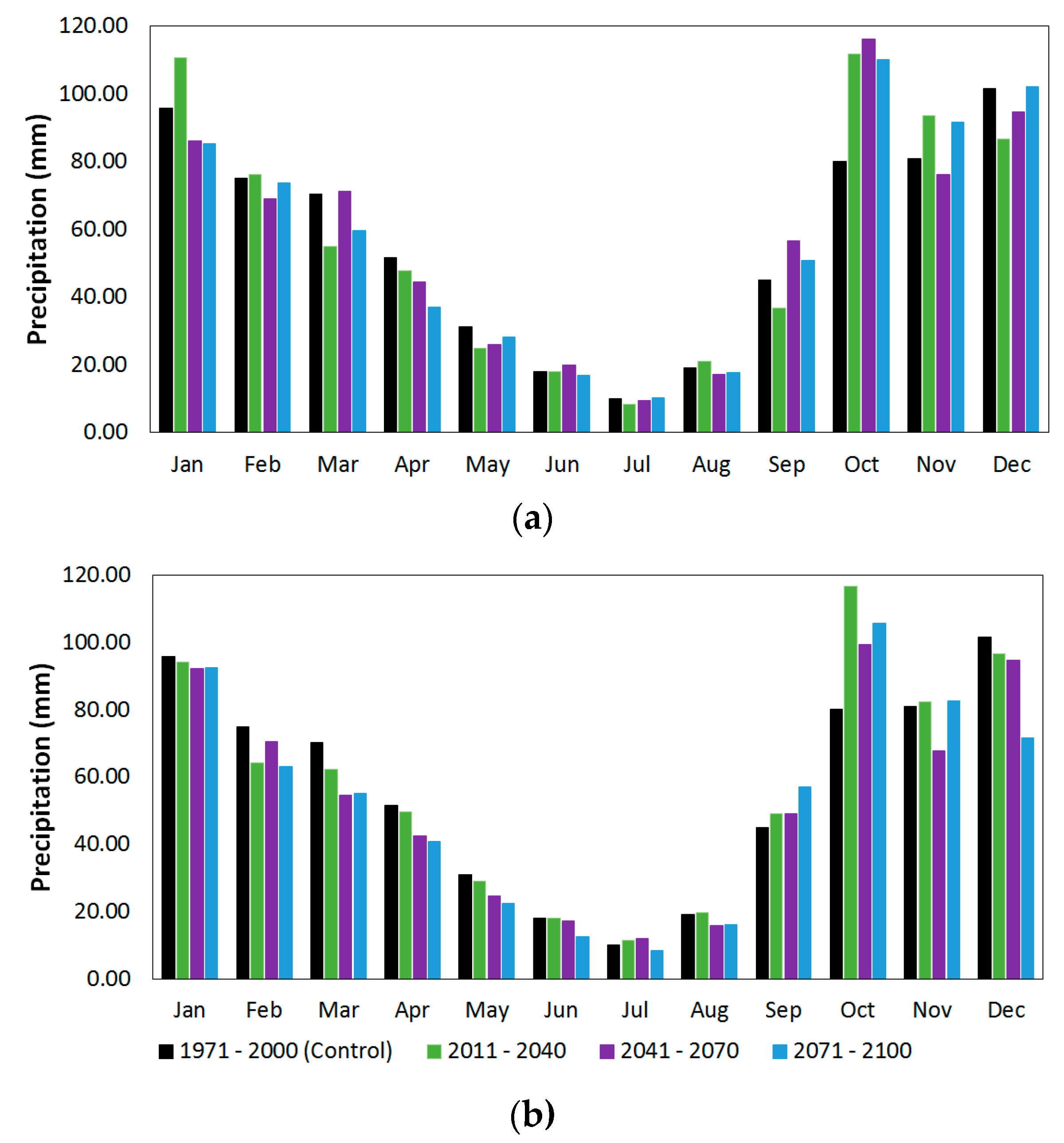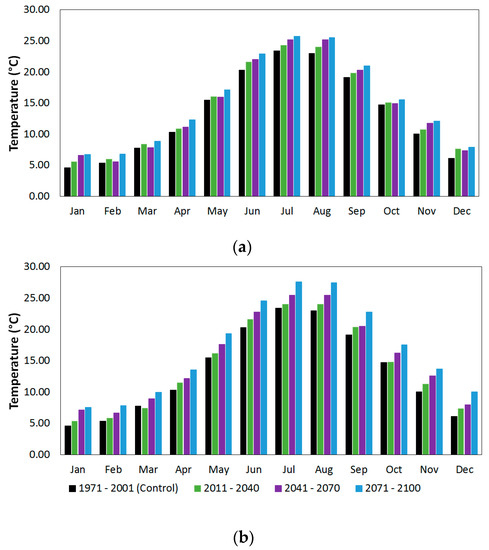 Figure 5. Future vs. control mean monthly temperature for two climate change scenarios: (a) RCP4.5 and (b) RCP8.5.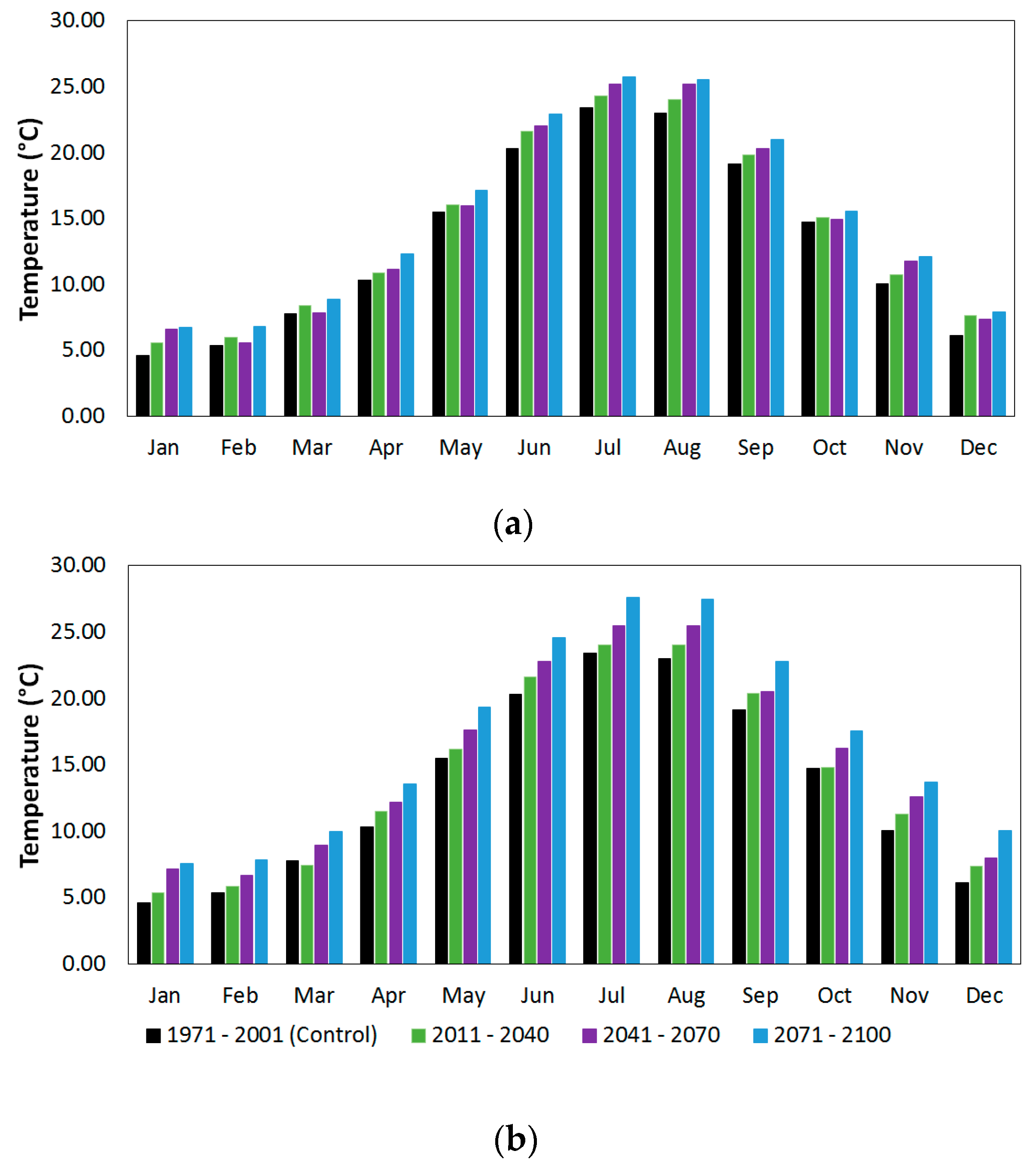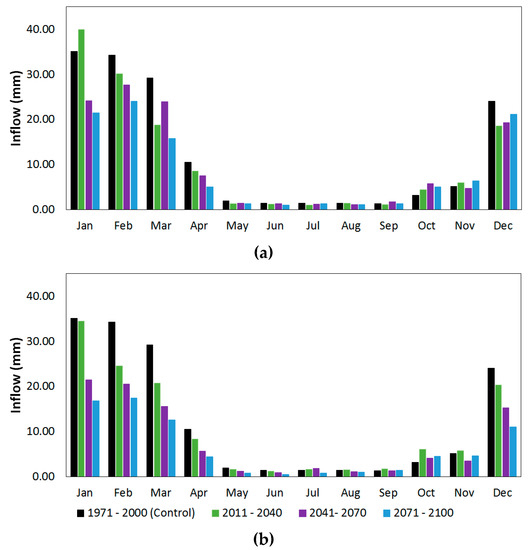 Figure 6. Future vs. control mean monthly reservoir inflow for two climate change scenarios: (a) RCP4.5 and (b) RCP8.5.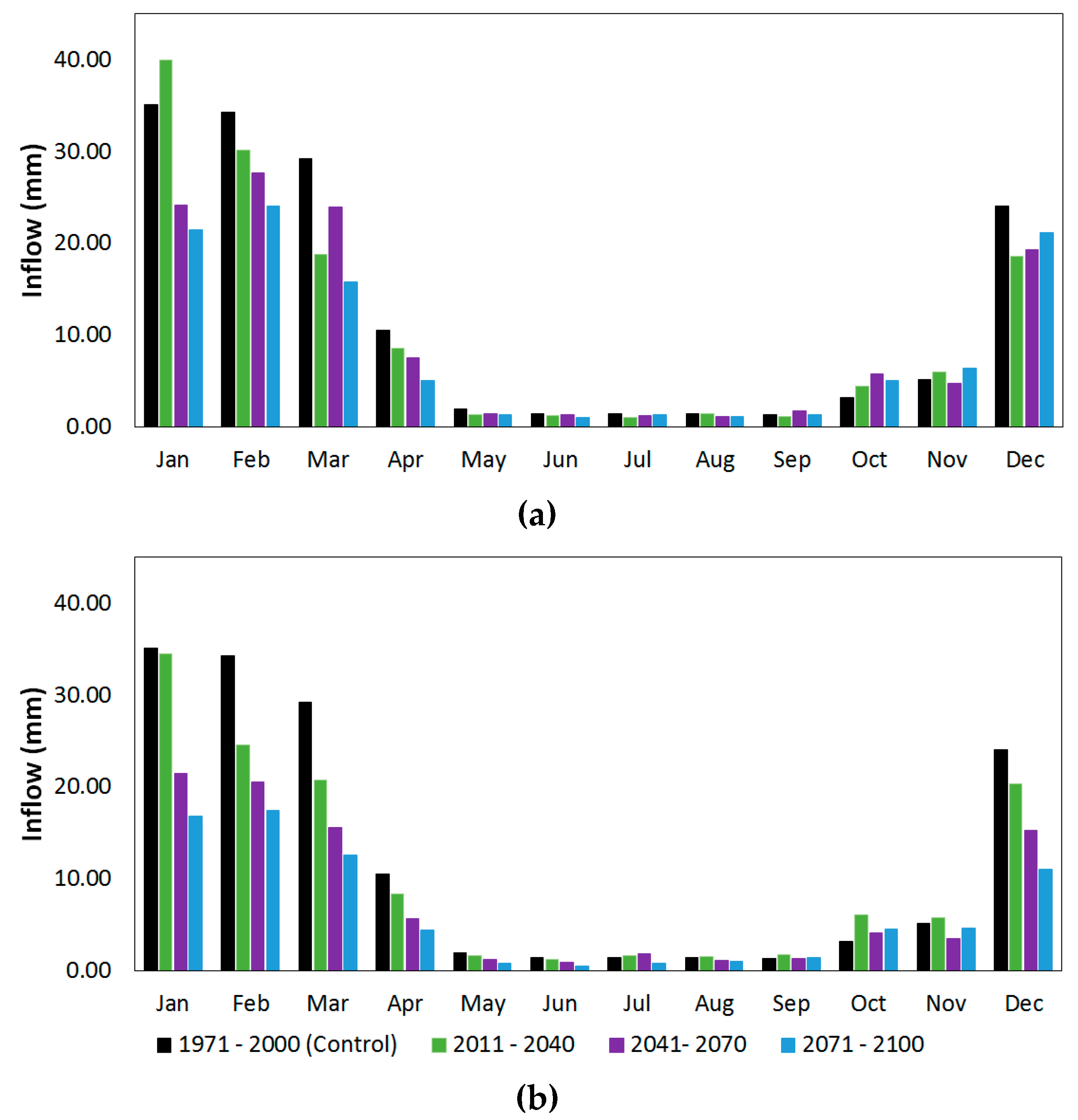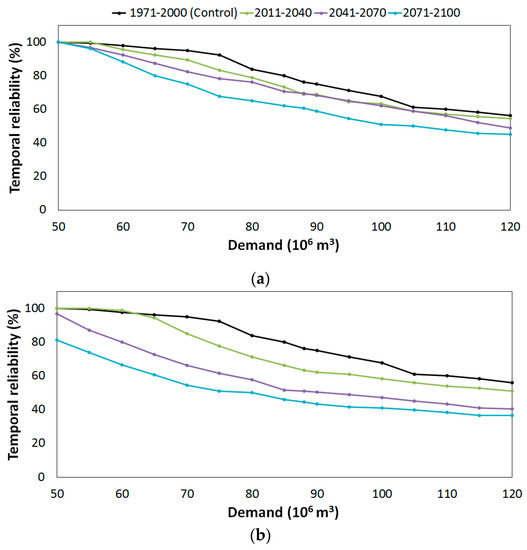 Figure 7. Future vs. control mean monthly Pozzillo's reservoir temporal reliability for two climate change scenarios: (a) RCP4.5 and (b) RCP8.5.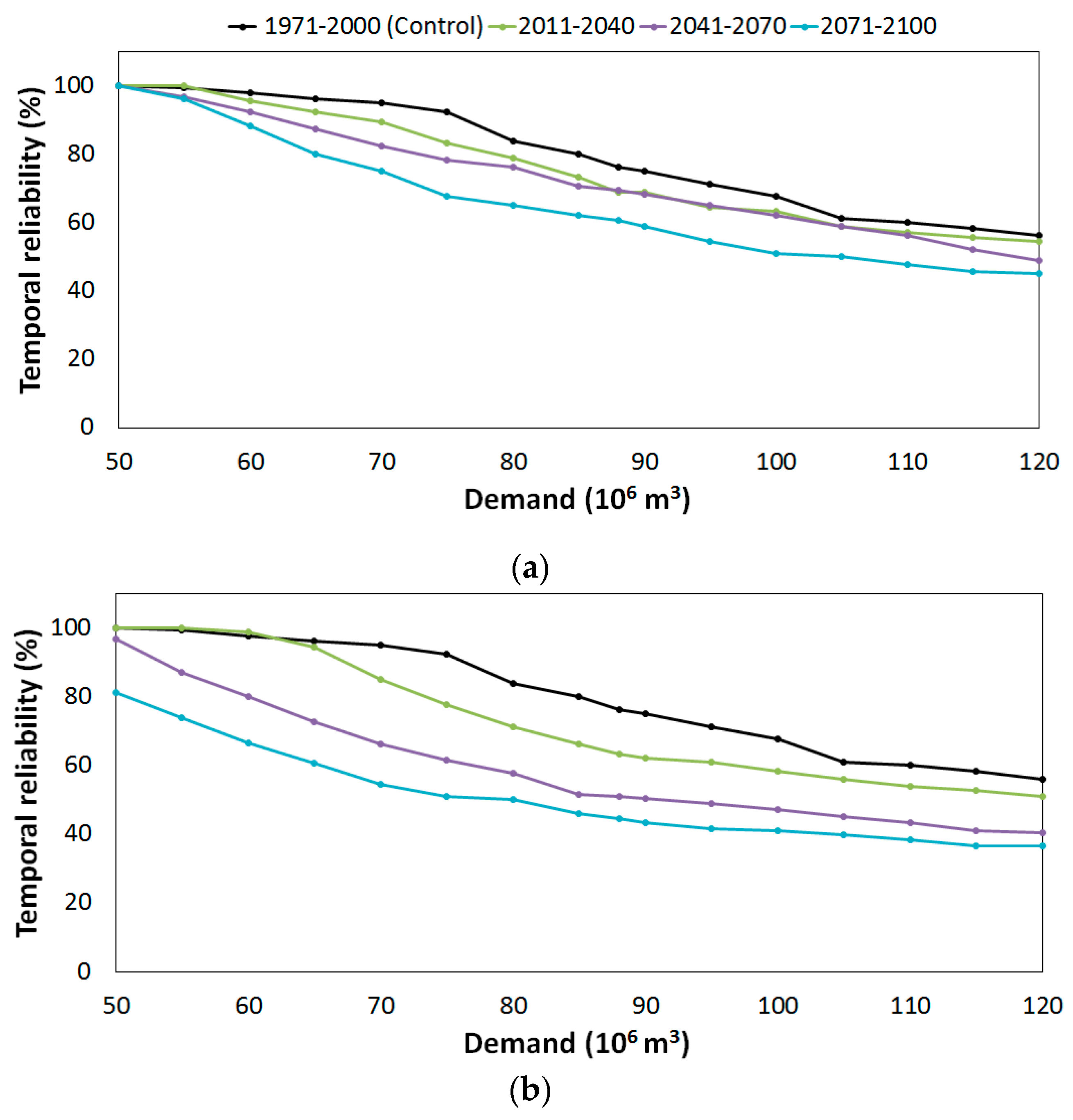 Figure 8. Future vs. control mean monthly Pozzillo's reservoir volumetric reliability for two climate change scenarios: (a) RCP4.5 and (b) RCP8.5.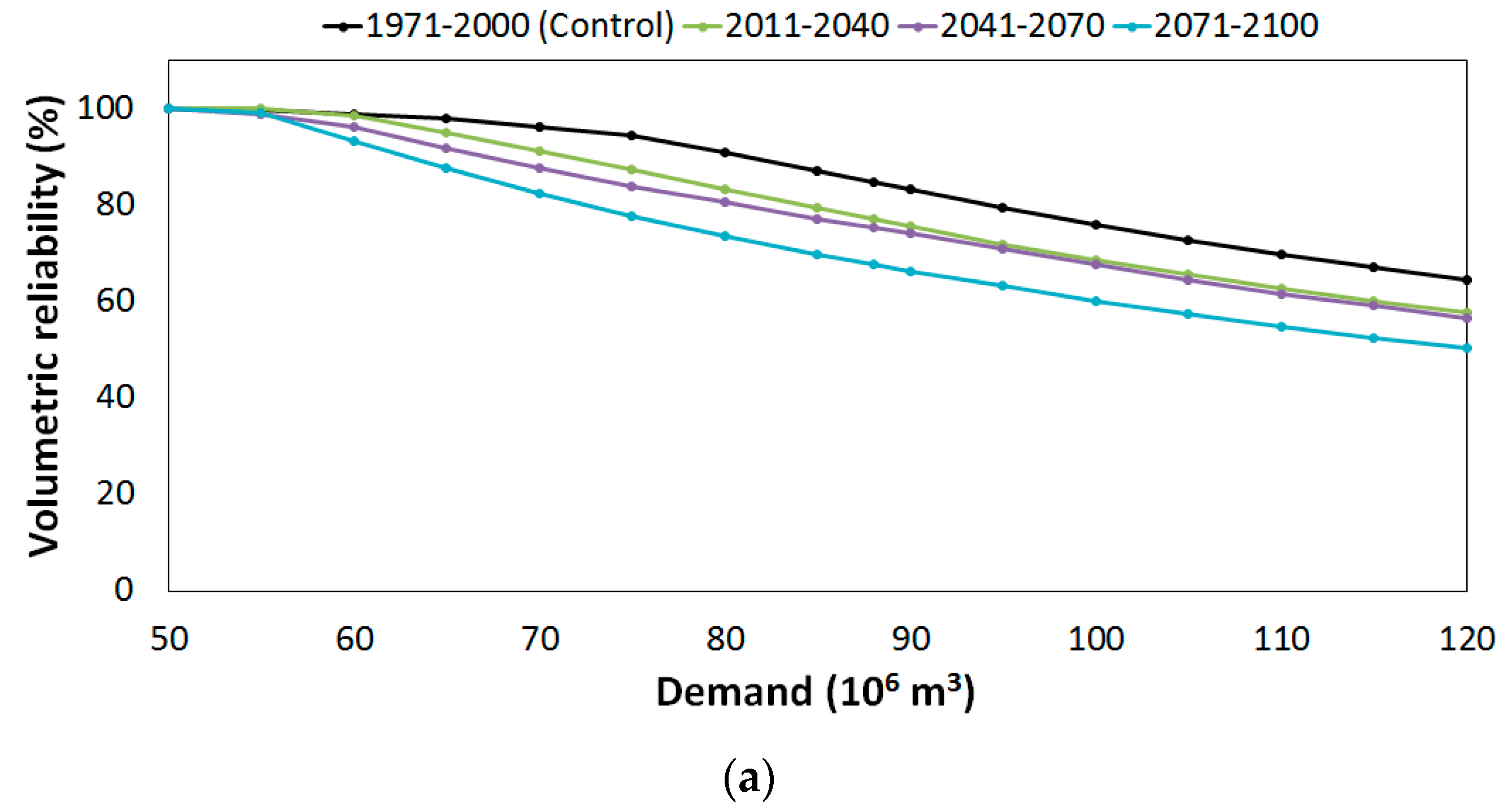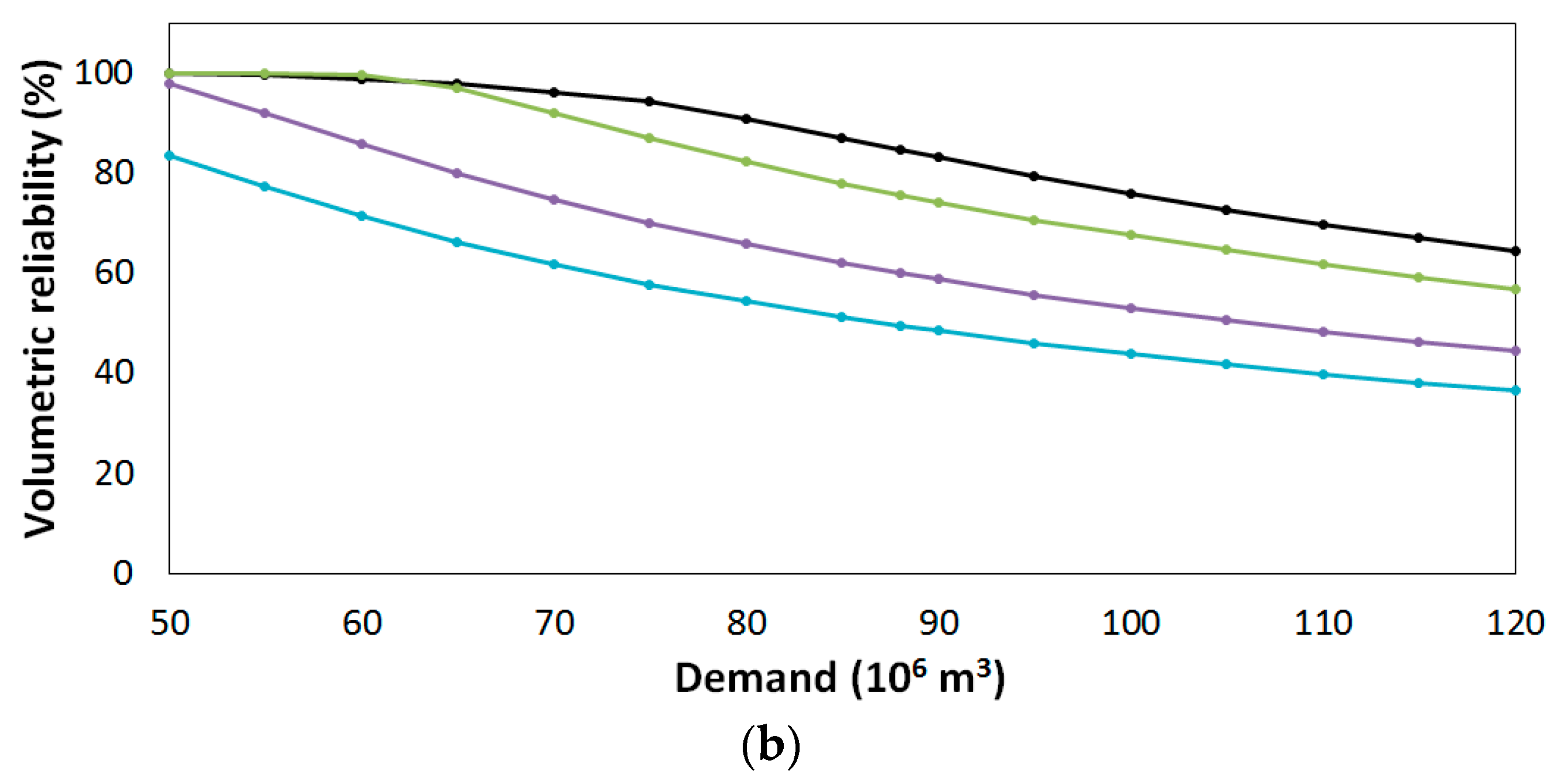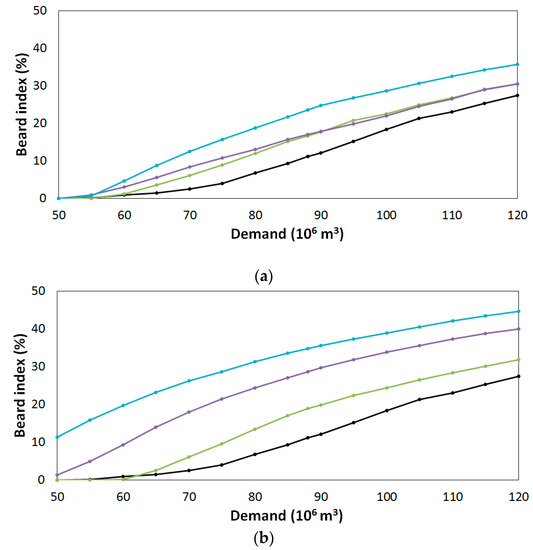 Figure 9. Future vs. control mean monthly Pozzillo's reservoir vulnerability, in terms of the Beard Index, for two climate change scenarios: (a) RCP4.5 and (b) RCP8.5.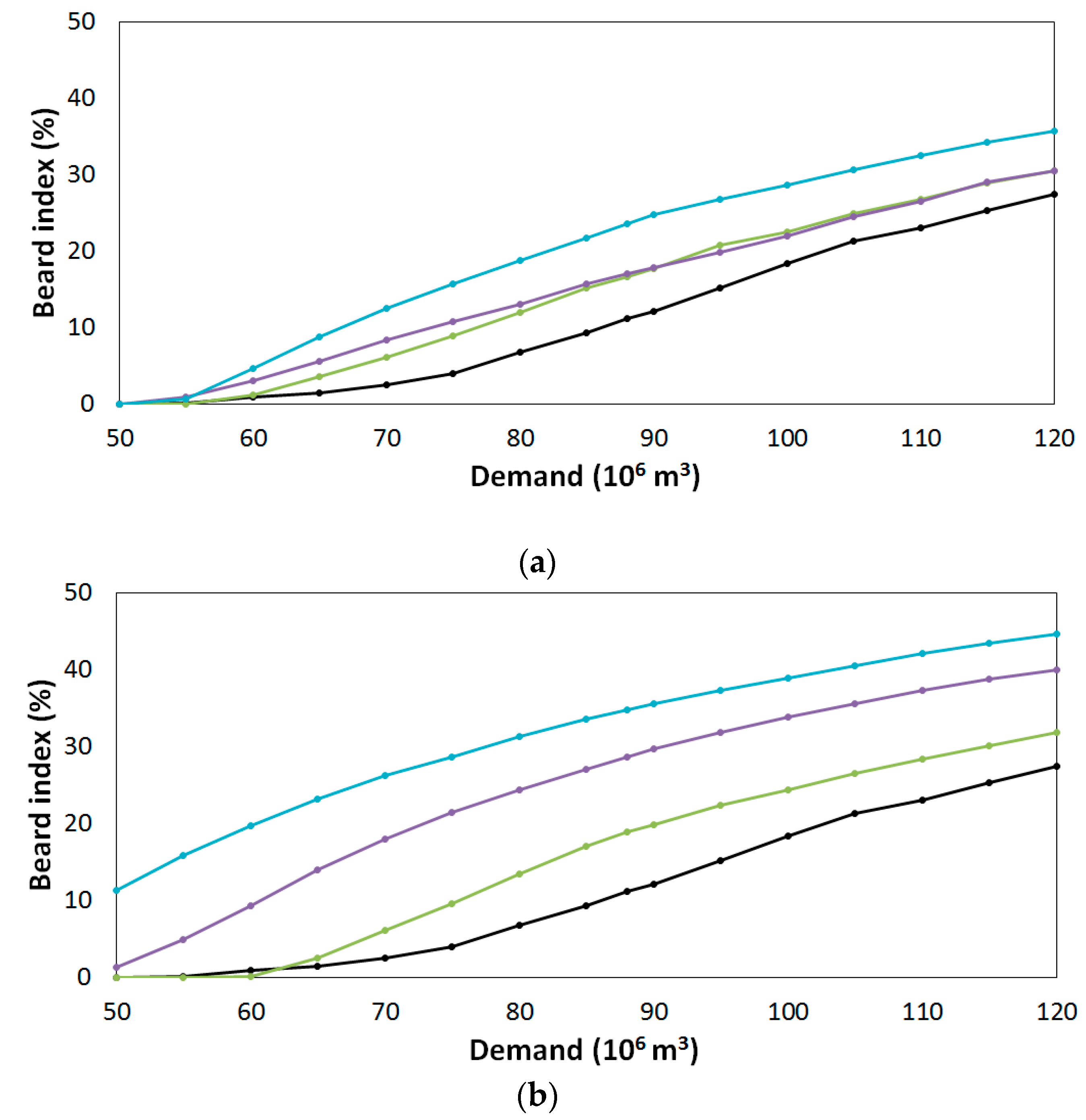 Table 1.
Distribution of monthly irrigation demands, expressed as percentage of the yearly total, for the Pozzillo reservoir (after [
48
]).
| May. | Jun. | Jul. | Aug. | Sep. | Oct. |
| --- | --- | --- | --- | --- | --- |
| 3.98% | 13.18% | 27.95% | 28.98% | 19.66% | 6.25% |

Table 2. Performances corresponding to a future yearly demand equal to the one in the control period (88 hm3). In brackets, the variations of each indicator respect to the value in the control period. Values in bold indicate maximum variations.
Period
RT (%)
RV (%)
IB (%)
RCP4.5
RCP8.5
RCP4.5
RCP8.5
RCP4.5
RCP8.5
1971–2001 (control)
76.1
76.1
84.8
84.8
11.2
11.2
2011–2040
68.9 (−9.5%)
63.3 (−16.8%)
77.1 (−9.1%)
75.7 (−10.7%)
16.7 (+48.8%)
18.9 (+69.1%)
2041–2070
69.4 (−8.8%)
51.1 (−32.8%)
75.3 (−11.2%)
60.1 (−29.1%)
17.1 (+52.4%)
28.7 (+155.8%)
2071–2100
60.6 (−20.4%)
44.4 (−41.6%)
67.6 (−20.3%)
49.6 (−41.5%)
23.6 (+110.7%)
34.8 (+211.0%)

Table 3. Future demands corresponding to the performances in the control period. In brackets, the variations respect to the demand in the control period. Values in bold indicate maximum negative variations.
Period
D(RT) (hm3)
D(RV) (hm3)
D(IB) (hm3)
RCP4.5
RCP8.5
RCP4.5
RCP8.5
RCP4.5
RCP8.5
2011–2040
82.5 (−6.3%)
76.3 (−13.4%)
78.0 (−11.3%)
77.4 (−12.0%)
78.7 (−10.5%)
77.1 (−12.4%)
2041–2070
80.0 (−9.1%)
62.7 (−28.8%)
73.8 (−16.2%)
60.9 (−30.8%)
75.8 (−13.9%)
62.0 (−29.5%)
2071–2100
68.9 (−21.7%)
53.5 (−39.2%)
67.8 (−23.0%)
49.2 (−44.1%)
68.2 (−22.4%)
50.0 (−43.2%)

© 2019 by the authors. Licensee MDPI, Basel, Switzerland. This article is an open access article distributed under the terms and conditions of the Creative Commons Attribution (CC BY) license (http://creativecommons.org/licenses/by/4.0/).