Open Access This article is
freely available
re-usable
Article
Behavioural Perspectives of Outdoor Thermal Comfort in Urban Areas: A Critical Review
1
College of Engineering, Applied Science University (ASU), 601 Sitra, Bahrain, in partnership with London South Bank University, London SE1 0AA, UK
2
The Faculty of Engineering, October University for Modern Sciences and Arts (MSA), 12566 Cairo, Egypt
3
School of Architecture, Planning and Landscape, Newcastle University, Newcastle upon Tyne NE1 7RU, UK
*
Author to whom correspondence should be addressed.
Received: 17 October 2019 / Accepted: 24 December 2019 / Published: 31 December 2019
Abstract
:
The thermal characteristics of outdoor urban spaces and the street networks connecting them are vital to the assessment of the liveability and sustainability of cities. When urban spaces are thermally comfortable, city dwellers spend more time outdoors. This has several benefits for human health and wellbeing, also reducing indoor energy consumption and contributing to local economy. Studies on outdoor thermal comfort have highlighted the need to develop interdisciplinary frameworks that integrate physical, physiological, psychological, and social parameters to assist urban planners and designers in design decisions. In this paper, an extensive literature review of outdoor thermal comfort studies over the past decade was undertaken, including both rational and adaptive thermal comfort approaches, from the contextualize the behaviour perspectives related to the use of urban space. Consequently, the paper suggests a comprehensive framework for evaluating the relationship between the quantitative and qualitative parameters linking the microclimatic environment with subjective thermal assessment and social behaviour. The framework aims to contribute to the development of exclusive thermal comfort standards for outdoor urban settings.
Keywords:
thermal comfort; subjective thermal assessment; urban planning; urban space; microclimate; temperature; urban design
1. Introduction
The Intergovernmental Panel on Climate Change (IPCC, 2018) warns that anthropogenic activities have caused a rise of around 1 °C in global warming. Climate change predictions point to a high probability of a further increase in global temperatures by 1.5 °C between 2030 and 2052 if the current rate is unmanaged [
1
]. A further rise in global temperatures will accordingly lead to exceptional and progressively more regular and longer heat waves [
2
]. The week-long European heat waves of 2003 and 2017 are alarming instances, and such occurrences are likely to increase progressively, with air temperatures 20%–30% above average [
3
,
4
]. In hot climates, heat waves increase human heat stress and morbidity, and decrease productivity [
5
,
6
,
7
]. The United States Center for Disease Control (2004) states that the United States witnessed more than 8000 premature fatalities between 1979 and 1999 because of the heat waves. This figure exceeds all other natural disasters combined, including hurricanes, lightning, tornadoes, floods, and earthquakes [
8
]. The health implications of climate change and rising high temperatures are accompanied by high humidity levels, low wind speed, and minimal cloud cover [
9
,
10
].
Urban environments present a higher threat of thermal stress than rural environments, particularly around evening time. This phenomenon is referred to as an urban heat island (UHI) [
11
,
12
,
13
,
14
,
15
]. These occur due to accelerated urbanisation leading to changes in the natural air circulation, prevailing wind speed and course, and solar radiation levels [
16
,
17
]. In order to minimise negative climatic effects on urban communities, urban design and planning professionals should integrate atmospheric information into design strategies and create interfaces between the microclimate, outdoor thermal comfort, design guidelines, and urban planning regulations. However, the reconciliation of the climatic aspects within the planning and design process is challenging due to both the poor understanding of outdoor thermal indices, and a need for interdisciplinary collaboration between climatologists, urban planners, and urban simulation experts [
18
,
19
,
20
,
21
,
22
]. Accordingly, urban regulations and designs in hot climates, particularly in undeveloped countries, have usually been inspired by urban design principles and ideas from temperate climates. Consequently, the application of these principles fits poorly with different climatic, cultural, and economic contexts, leading to uncomfortable local outdoor conditions [
23
,
24
].
In this context, the paper critically assess the outdoor thermal comfort studies literature from a behavioural point of view, including common evaluation techniques and outdoor thermal comfort studies, paying particular attention to perceptions of outdoor thermal comfort and the use of outdoor space in the context of urban planning. The identification of knowledge gaps is followed by the proposal of a comprehensive framework for examining the behavioural aspect of outdoor thermal comfort.
1.1. Thermal Comfort Theories
Table 1
summarises studies on the theories applied to outdoor thermal comfort. Shooshtarian (2019) categorised the most well-known theories, based on how Bandura (1986) followed social cognitive theory [
25
,
26
]. The categorisation is composed of three mechanisms that shape exchanges between the urban environment, behavioural reactions, and perceptual development:
Environmental drivers, referring to spatial features such as shade behaviour in a space, and the sociocultural dimension (e.g., the materials and equipment used in a place and the cultural background);

Personal drivers relating to the human condition, including physical, physiological, and psychological personal aspects;
1.2. Thermal Comfort: International Standards Orgainzation ISO 7730 (2005) Indices of Thermal Comfort
Thermal comfort (International Standards Orgainzation ISO 7730 (2005) [
45
]) is known as the state of mind that expresses satisfaction with the surrounding environment, implying that comfort is a physiological and psychological condition. Numerous researchers have argued that thermal sensations differ among individuals occupying the same place, due to the combination of a number of variables, including state of mind, culture, and social perceptions [
22
]. In spite of the fact that this depiction suggests psychological influences, thermal comfort has been examined exclusively from a physical point of view [
46
]. According to Epstein and Moran. (2006) [
47
], in 1905, the measurement of wet bulb temperature, first suggested by Haldane (1905) [
48
], was the most appropriate expression of heat stress. Ever since, a list of thermal indices has been developed, primarily dependent on combining the effect of environmental factors. Later on, other personal parameters, such as human activity and clothing level, were included. Examples are the effective temperature index (ET) [
49
], predicted mean vote (PMV) [
50
], physiological equivalent temperature (PET) [
51
,
52
,
53
], the universal thermal climate index (UTCI) [
54
], and the COMFA (outdoor thermal comfort model) [
55
], inter alia.
Although these indices provide near accurate expectations of human thermal sensation, the different approaches underlying the generation of these indices, either by relying on the principles of human thermal exchange or the human response to various environmental factors, have been progressively criticised for disregarding numerous subjective, social, and cultural dimensions. Additionally, these indices were exclusively designed on hypothetical examinations of occupant experience in the mid-latitude climates of North America and Europe, for example, American Society of Heating, Refrigeration, and Air-Conditioning Engineers (ASHRAE) and the ISO [
56
] (Han, 2007). However, certain other investigations in various climatic regions have demonstrated a more extensive scope of adaptation and acceptance to local climate. Currently, there are two different approaches that consider the determination of thermal comfort, known as the steady-state and non-steady-state approaches, and each has its limitations and possibilities [
57
]. The steady-state or rational approach uses the data obtained from climate chambers to assist its hypothesis, and is best known in the work of Fanger (1970) [
50
]. The non-steady-state or empirical approach is based on information gathered from field investigations of people in space. These approaches will now be addressed in turn.
1.2.1. Steady-State Evaluation
This method is based on an analysis of heat exchange mechanisms, hypothesising that people's exposure to an ambient climatic environment enables a person to reach thermal equilibrium by habituation [
58
,
59
]. The approach is based on models such as the Fanger (1970) [
50
] heat balance equation for comfort model, which integrates both environmental (air temperature, mean radiant temperature, humidity, and wind speed) and personal factors (human activity and clothing level). In addition, the two-node model, also known as the Pierce two-node model, was developed by Gagge et al. (1986) [
60
]. This model deals with the human body as two isothermal parts, one representing the core and the other the skin, based on which thermoregulation is constructed between the two parts for the passive state. It takes into account the deviations of the core, skin, and mean body temperature weighted by alpha from their respective set points [
61
].
One of the most commonly used indices is Fanger's PMV (1970 [
50
], which predicts the mean response of a larger population of people based on an ASHRAE seven-point scale, varying from hot (+3) to cold (−3). In practice, PMV also leads to estimating the predicted percentage dissatisfied index (PPD), which is defined as the quantitative estimation or assumption of the percentage of thermally dissatisfied people at each PMV scale, predominantly based on climate chamber experiments with occupants. It is essential to mention that PMV was initially produced for indoor thermal comfort, and therefore its application for outdoor studies is questionable. However, it has been widely used to assess outdoor thermal comfort in research, combined with a large sample of users interviewed to assess the sociocultural influences on thermal comfort of actual outdoor inhabitants [
62
,
63
,
64
]). The latter approach reported discrepancies between predicted PMV and the votes of outdoor users [
57
]. Therefore, preference has generally been given to field studies and actual conditions over climate chamber experiments [
65
].
Table 2
below summarises the most commonly used indices. Physiological equivalent temperature (PET) is another rational index [
66
], in which PET is defined as the air temperature at which, in a typical indoor setting, the heat budget of a human body is maintained by the core and skin temperature under complex outdoor conditions [
67
]. PET is preferred over other indices, such as PMV, because of its unit of measurement (°C), making it easier for urban planners and designers to interpret without needing advanced meteorological or physiological knowledge. It translates the complexity of outdoor settings into a simple indoor setup on a physiologically equivalent basis that can realistically be comprehended and understood [
52
,
64
,
68
,
69
,
70
]. Although the validity of PMV and PET for outdoor studies has been criticised in many studies, German guidelines for urban and regional planners [
59
] recommend both PET and PMV to predict changes in the thermal element of regional or urban climates [
71
]. Moreover, while ISO 7730 (2005) [
45
] and ASHRAE 55 (2017) [
72
] both suggest PMV for indoor thermal comfort assessment, current regulations and standards contain no references regarding how to calculate outdoor neutral and preferred index temperatures [
73
] (Johansson et al., 2014).
1.2.2. Non-Steady-State Evaluation Approaches
Based on laboratory and controlled experimental conditions, the steady-state approach alone is insufficient in assessing thermal comfort conditions outdoors, as it fails to account for the dynamic aspects of the course of human thermal adaptation [
76
]. Therefore, it has to be combined with the non-steady-state, also known as the adaptive approach, which includes behaviour adjustment, and physiological and psychological factors. The adaptive approach was brought into field studies [
77
] to provide a more realistic analysis of acceptability levels in the thermal environment, as related to a specific context, and occupant behaviour and expectations [
57
,
70
,
78
,
79
]. The adaptive approach can explain the crucial discrepancies within the comfort temperature range between cities sharing the same climate, and also sometimes between two different zones located in the same city. For instance, Lin (2009) assessed human thermal sensation in the humid climate of Taiwan, and concluded that the acceptance range was 21.3–28.5 °C PET for the whole year. This approach recorded a fundamentally higher range than the European reported comfort temperature range of 18–23 °C PET [
70
]. In another study, Cohen et al. (2013) found that Mediterranean Tel Aviv reported a temperature 3 °C higher on the PET scale than the European boundary, and lower by 5 °C PET than Taiwan [
75
]. In the hot arid climate of Cairo, another study found that the thermal comfort range was 23–32 °C PET, higher than that of the temperate climates and the European range [
20
]. These discrepancies indicate the need for in situ questionnaires and participant observation research to collect data on outdoor users' perceptions, including their subjective sensation of urban surroundings, to reveal a wider perspective of the evaluation of outdoor thermal comfort [
75
,
80
].
Numerous researchers have, therefore, reported the unfeasibility of developing generally valid rating systems for heat stress because of the complexity and number of interrelated factors [
47
,
81
]. Recently, scholars such as De Dear (2004), Nikolopoulou and Lykoudis (2006), Lin and Matzarakis (2008), Kántor et al. (2012), and Cohen et al. (2013) have recommended that field studies are conducted in tandem with laboratory studies, to present a more comprehensive point of view regarding urban comfort and the influence of cultural and habitual variables [
80
,
82
,
83
,
84
,
85
].
2. Subjectivity and Context-Based Recent Outdoor Thermal Comfort Adaptive Approaches
3. Studying the Outdoor Environment: Methods and Limitations
In accordance with the above, three main gaps have been identified regarding outdoor thermal comfort in comparison with the extensively investigated indoor thermal comfort, and these are as follows:
4. Thermal Comfort: Integrating the Socio-Cultural Aspect
Outdoor (or urban thermal) comfort is an interdisciplinary study, incorporating phenomena such as meteorology, urban structure, psychology, and social behaviour. The local microclimate has environmental parameters that are of the utmost importance in the assessment of thermal sensation and comfort. However, any thermal comfort evaluation cannot solely be explained by objective parameters, as subjective responses to the environment and the urban configurations of a place also need to be considered. In addition to this, other physical and social parameters play a major role in shaping people's perceptions during their outdoor activities. Accordingly, the proposed framework is comprehensively based on the interoperability of the four different levels of assessment—namely physical, physiological, psychological, and social/behavioural—compiled in one structure (
Figure 1
), as well as four methodology phases: preliminary data collection, on-site field measurements, a social survey, and micro-urban performance simulation.
5. Conclusions
The proposed framework is expected to contribute to the development and standardisation of outdoor thermal comfort studies, enabling researchers to extend the implications of their findings. By comparing results with other studies that have applied the same techniques, and developing a platform for outdoor thermal comfort studies, new knowledge can be established. The framework also opens the door for current standards and guidelines regarding outdoor thermal comfort (such as ISO 7730, ASHRAE 55, and CEN (Comité Européen de Normalisation) Standard EN 15251 [
45
,
72
,
123
,
133
], which heavily rely on the physiological and adaptive approaches) to reconsider the conventional philosophy and well-founded theories regarding outdoor thermal comfort. They can then guide the design and method of data collection and interpretation in order to build an understanding of the true relationship between the various determinants of thermal satisfaction [
42
,
134
].
The paper conducted a literature review of outdoor thermal comfort during the last decade, including both rational and adaptive thermal comfort approaches, and drew the following conclusions:
The significant influence of the microclimate in shaping people's behaviours and usage of outdoor spaces;

The lack of standardisation of methodology and data processing, such as comparing the thermal acceptance range with another different climate zone or study, or finding discrepancies in the comfort index scale due to either variations in techniques used to define neutral temperature or variations in data collection methods;

The lack of incorporation of theoretical frameworks based on well-founded outdoor thermal comfort theories to support data interpretation, such as the psychological and behaviour aspects or lack of consideration of climate background during a survey.
Based on our critical review of the literature, three main gaps were identified in research on outdoor urban environments:
The application of the climate aspect within the design process is still lacking as a result of poor interdisciplinary work, for example the incorporation of climate knowledge into urban planning is often missing [

19

];

Many comfort indices and models developed to predict the perception of heat exchanges between the human body and the surrounding environment were originally developed for indoor thermal comfort analysis; after some amendment, these indices were extended for outdoor studies, but their creditability for outdoor conditions remains questionable;

There is no framework based on a combination of qualitative and quantitative research tools that can provide a valid methodology for interpreting the data collected from physical measurements and their correlations in conjunction with subjective thermal assessments, such as social and behavioural factors.
In this context, the paper proposes a comprehensive framework that contextualizes both spatial and temporal aspects of thermal sensations, to a particular urban climate, and the usage pattern of that space. To create an effective decision-making framework for designers and planners, the comfort index used must be augmented by field measurements and thermal sensation questionnaires.
The output from the preliminary data gathering of the physical attributes of the urban space will serve to determine the locations and timings of the field measurement. Observations and questionnaires will delineate the anthropometric profile of a specific urban location.e. The proposed framework suggests that in order to assess the perception of outdoor thermal comfort in terms of behavioural aspects, an assessment framework should work on four levels: physical, physiological, psychological, and socio- behavioural aspects. This framework should allow the static and objective characteristics (physical and physiological features) to be measured and modelled effectively to provide microclimatic knowledge; at the same time, the dynamic and subjective characteristics (psychological and social or behavioural features) can be clearly identified and analysed to provide grounded theory for assessing and designing habitable outdoor spaces.
Author Contributions
Conceptualization, M.H.E.; methodology, M.H.E. and N.H.; formal analysis, M.H.E. and N.H.; resources, M.H.E.; data curation, M.H.E. and N.H.; writing—review and editing, M.H.E.; supervision, N.H. All authors have read and agreed to the published version of the manuscript.
Funding
This research received no external funding.
Conflicts of Interest
The authors declare no conflict of interest.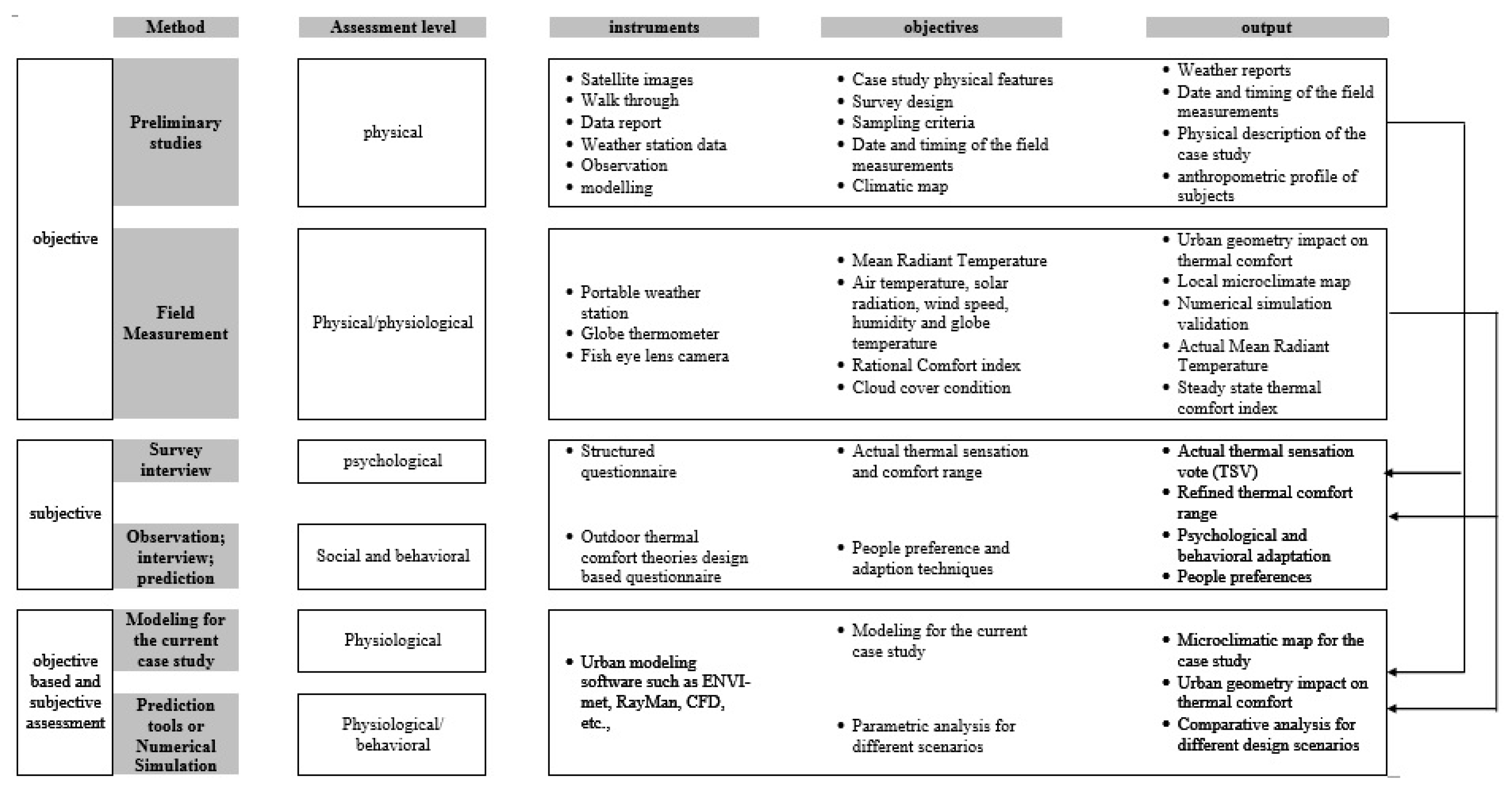 Table 1.
Summary of indoor thermal comfort studies as a theoretical framework [
25
].
Definition of the Theory
Application

Personal

Alliesthesia

[30]
This concerns the psychological (perceptual alliesthesia) and physiological (interaction with environmental stimulus) dimensions of thermal satisfaction. It potentially represents a unique way of considering comfort in thermal conditions.
The two main applications of alliesthesia are: long-term, an explanation of thermal comfort requirements in different seasons; short-term, perceptions of transient thermal environments. These applications correspond to the psychological and physiological dimensions of alliesthesia, respectively.

Environmental perception theory

[31]
Objects are perceived based on the meaning, action, and behaviour involved, not simply according to their physical characteristics.
The theory hypothesises that when attending open spaces, people begin to develop meteorological "images" or "schemata" about them, and these images reflect the environmental circumstances. These schemata are either based on individuals' repetitive experience of similar stimuli, or simply reflect a bias established through salient events.
Definition of the theory
Application

Environmental

Ecological systems theory (EST)

[32]
EST consists of a multilayered framework that assumes that people are influenced through a set of "environments", which, together with their personal characteristics, create knowledge of reality.
EST has been adopted in many studies in which the main focus was interactions between humans (organisms) and the surrounding ecology. This study demonstrated that these layers can modify people's thermal perceptions to varying extents. The model is comprehensive and can be used in other thermal comfort studies.

Theory of Semiotics

(Charles Sanders Peirce, 1867 and Ferdinand de Saussure, 1857–1913) [33]
This theory is basically the study of environmental signs, or an epistemology about the actual existence of signs in societal life. Environmental signs such as smell, sound, light, and heat are the focal points of this theory and are essential for people's perceptions of their surroundings. It is the theory of meaning and how these meanings can be linked to the real environment.
Drawing on this theory, Cortesão et al. (2018) adopted a framework to study the processes of the visual interpretation of built and vegetated materials in relation to people's outdoor thermal perceptions in Porto, Portugal [34]. The visual interpretation was made by participants using a photographic comparison of environmental signs in three outdoor spaces.

Theory of Place

[35,36]
The theory presumes that a place's character can play a key role in shaping people's attitudes, perceptions, and behaviours. The theory distinguishes "place" and "space".
The theory is proposed as a product of two integrated frameworks [37].
The first framework involves three architectural discourses of space, form, and function [38]. These map the different types of design issues with which environmental and behavioural research must connect. The three components are then translated into the physical (form and space), psychological (cognition and emotions), and functional (activity) dimensions of an open space [39]. The second framework consists of the three paradigms in the process of a person–place transaction (i.e., the personal, social, and cultural aspects that embrace the three broad psychological processes connected to the design issues) [40].

Theory of Rising Expectations

[41]
The theory describes how people's unmet rising expectations lead to public dissatisfaction, or even a revolution in more extreme cases.
Shooshtarian and Rajagopalan (2017) applied the theory in Melbourne, Australia. Participants' thermal comfort requirements were represented through different indicators of thermal satisfaction. Among others, thermal preference (Tpref: representative of thermal expectations) and thermal sensation (Tn: representative of actual momentary thermal sensations) were the main indicators. The study found that participants' Tpref was lower than Tn in summer, and vice versa in autumn [42].
Definition of the theory
Application

Behavioural

Theory of Public Space and Public Life

[43]
This theory hypothesises that typical activities in outdoor environments can be classified into the main categories of necessary, optional, and social.
The application aims to understand human–place relationships with reference to outdoor activity types.

Environmental Behavioural Learning Theory

[44]
This theory assumes that people in a society may adopt a behaviour present in the predominant culture and its associated social learning processes, including observation and education.
The theory functions through the concept of positive reinforcement, which states that the reception of positive feedback for certain behaviour can increase the frequency of developing similar behaviours.
| Index | Definition |
| --- | --- |
| ET* (°C): New Effective Temperature | The temperature of a standard environment (Mean Radinat temperature (MRT) = Air Temperature (Ta); Relative Humidity (RH) = 50%; Wind Speed (WS) < 0.15 ms−1) in which a subject would experience the same skin wetness and mean skin temperature as in the actual environment. Limited to low activity and light clothing. |
| SET* (°C): Standard Effective Temperature | Similar to ET* but with a clothing variable. Extends to include a range of activities and clothing levels |
| OUT_SET* (°C): Outdoors Standard Efficient Temperature | Similar to SET* but adapted to outdoors as it takes into account solar radiation fluxes. Reference indoor conditions are: MRT = Ta; RH = 50%; WS = 0.15 ms−1. |
| PMV: Predicted Mean Vote | Based on the human heat balance, this expresses thermal comfort on a scale from −3 to +3. Uses both environmental (air temperature, mean radiant temperature, humidity and wind speed) and personal factors (human activity and clothing level). |
| PET (°C): Physiological Equivalent Temperature | Temperature at which, in a typical indoor setting (MRT = Ta; vapour pressure (VP) = 12 h Pa; wind speed (WS) = 0.15 ms−1), the heat balance of the human body (work metabolism 80 W of light activity, clothing of 0.9 clo_ insulation effect of clothes) is maintained, with a core and skin temperature equal to those under actual conditions. |
| UTCI: Universal Thermal Climate Index | Intended for outdoors; no information on the clothing insulation level of the surveyed population is required. Reference condition for activity: metabolic rate of 135 W/m2 and a walking speed of 1.1 m/s [75]. |
Source
Location and Climate Type
Methodology
Conclusions
Lin (2009) [70]
Taichung City, Taiwan. Hot and humid subtropical climate
Physical measurements, observations, and interviews
The results confirm the existence of thermal adaptation, as the thermal acceptance range was higher than the European scale, showing that people living in different climates might have different thermal preferences.
The study lacked a standardised methodology when comparing the thermal acceptance range with a different climate zone.
Al Jawabra and Nikolopoulou (2009, 2018) [90,91]
Phoenix in North America, and Marrakech in North Africa. Hot, arid climate
Field questionnaire, user activity observations, and on-site field measurements
The analysis showed that individuals from various social backgrounds situated in a similar atmosphere have various ways of adapting.
The study lacked a reflection of socio-economic background, as it could have applied a theoretical framework for data interpretation [25].
Yahia and Johansson, (2013) [92]
Damascus, Syria. Cold, arid steppe
Field measurements for the main micro meteorological parameters, in addition to field questionnaires and observations
The calculated neutral temperature values presented an opposing trend: in winter the PET value was higher than in summer.
The study ignored previous thermal pleasure in the questionnaire, which might have affected the results.
Yang et al. (2013) [78]
Singapore. Tropical rainforest climate
Field measurements, observations, and social surveys
People in outdoor conditions may be more tolerant of heat stress than those indoors.
Cohen et al. (2013) [85]
Israel. Mediterranean climate
Field measurements, observations, and social surveys
Although the most objectively comfortable thermal conditions were found in the urban park site, park visitors' tolerance of hot temperatures was lowest in comparison to respondents at other sites.
Chen et al. (2015) [95]
Shanghai, China. Humid subtropical climate
Meteorological measurements, questionnaire surveys, and unobtrusive observations
Duration of stay and length of residence affected visitors' thermal adaptation.
Elnabawi et al. (2016) [20]
Cairo, Egypt. Hot, arid climate
Physical measurements, observations, and interviews
The study noted changing behaviour and adaptation to the microclimate based upon the study context.
Kenawy and Elkadi (2018) [96]
Melbourne, Australia. Temperature, oceanic climate
Field measurements, questionnaires, and observations
The results endorse the significant impact of thermal adaptation factors on the users' comfort levels and acceptability in micrometeorological environments.
The study's aim might be irrelevant, and there were no criteria regarding the survey's participants, as most were tourists from different climate backgrounds visiting a Melbourne tourist destination.
Cohen et al. (2019) [100]
Beer Sheva, Israel. Hot, arid climate
Field survey, on-site measurements, and analysis of other studies on similar climates
The authors claimed that the modified comfort range for arid zones is wider than the original scale for temperate climates.
The discrepancies in the PET index scale, compared to other studies on similar climates, was justified due to variations in techniques used to define neutral temperature, or variations in data collection methods.
Lu et al. (2019) [97]
Severe cold climate of Harbin, China
Field measurements and field questionnaires
The findings confirmed previous studies' suggestions that people living in severe cold areas are better adapted to the cold climate, but the study linked these findings to physical adaptation only, without considering other studies, which confirmed the importance of psychological and social or behavioural parameters.
Canan et al. (2019) [98]
Konya (Central Anatolia, Turkey). Cold semi-arid climate
Field survey of randomly chosen participants, and on-site field measurements
The findings highlighted the importance of built material and design on meteorological conditions and thermal perceptions.
The study sample was young, and there was a lack of consideration of climate background, as the sample was randomly chosen.
Peng et al. (2019) [101]
Eindhoven, the Netherlands. Temperate, oceanic climate
Path analysis method to examine direct and indirect effects of various factors on subjective comfort in urban public spaces
The findings stated that the incorporation of both objective indicators and individuals' subjective factors are fundamental to effective analysis of actual comfort in urban public spaces.
The lack of consideration of climate background and the inability to explain thermal comfort in genders might have affected the results.
Shooshtarian and Rajagopalan (2017) [42]
Temperate setting in Australia
Questionnaire survey, field measurements, on-site observations, and a theoretical framework
The study applied a multi-model framework, including the socio-ecological system model, alliesthesia, and the theory of rising expectations, to justify the thermal satisfaction patterns of the target samples.
The most interesting finding was the validity of theoretical models in calculating outdoor thermal comfort requirements.

© 2019 by the authors. Licensee MDPI, Basel, Switzerland. This article is an open access article distributed under the terms and conditions of the Creative Commons Attribution (CC BY) license (http://creativecommons.org/licenses/by/4.0/).