Open Access This article is
freely available
re-usable
Article
Capturing Plume Rise and Dispersion with a Coupled Large-Eddy Simulation: Case Study of a Prescribed Burn
Department of Earth, Ocean and Atmospheric Sciences, The University of British Columbia, Vancouver, BC V6T 1Z4, Canada
*
Author to whom correspondence should be addressed.
Received: 16 August 2019 / Accepted: 23 September 2019 / Published: 25 September 2019
Abstract
:
Current understanding of the buoyant rise and subsequent dispersion of smoke due to wildfires has been limited by the complexity of interactions between fire behavior and atmospheric conditions, as well as the uncertainty in model evaluation data. To assess the feasibility of using numerical models to address this knowledge gap, we designed a large-eddy simulation of a real-life prescribed burn using a coupled semi-emperical fire–atmosphere model. We used observational data to evaluate the simulated smoke plume, as well as to identify sources of model biases. The results suggest that the rise and dispersion of fire emissions are reasonably captured by the model, subject to accurate surface thermal forcing and relatively steady atmospheric conditions. Overall, encouraging model performance and the high level of detail offered by simulated data may help inform future smoke plume modeling work, plume-rise parameterizations and field experiment designs.
Keywords:
wildfire plume rise; smoke modeling; large eddy simulation; emissions dispersion; WRF-SFIRE; RxCADRE
1. Introduction
Wildland fires cover a broad range of spatiotemporal scales and are shaped by the complex interaction of fuel, terrain, and meteorological conditions. While scientific understanding of wildland fires and associated smoke plumes are central to the successful mitigation of negative air-quality impacts, the complex and highly dynamic nature of fires presents a challenge for modeling. Existing smoke plume prediction models span a vast range of complexity from simple empirical relations to the more recent coupled fire–atmosphere numerical approaches. Often the choice of model is dictated by the context of its application, subject to the trade-off between fidelity and timely execution.
Large eddy simulation (LES) is a method that uses computational fluid dynamics at a very fine spatial and temporal resolution to simulate a wide range of scales of atmospheric motions down to the size of large turbulent eddies. The Weather Research and Forecasting Model, combined with a semi-empirical fire-spread algorithm (WRF-SFIRE), allows two-way coupling between an LES and a fire behavior model [
1
,
2
,
3
]. Several studies have examined the ability of WRF-SFIRE to capture the ground-spread behavior of a fire line, near-surface temperatures and winds [
1
,
4
,
5
]. Large-scale simulations of two real fires were carried out by Kochanski et al. [
6
], comparing modeled plume tops with satellite data. To the authors' best knowledge, very limited consideration has been given to assessing the ability of WRF-SFIRE to simulate wildfire smoke plume dynamics, and vertical rise and distribution of emissions on a local scale. This is the central motivation for this study.
As noted by Mallia et al. [
7
], there is a general lack of research focusing on modeling the vertical distribution of smoke emissions as a result of wildfires. This knowledge gap can, in part, be explained by the difficulty of constraining potential sources of error in both inputs and models themselves. Until recently, evaluation of coupled fire–atmosphere models required a combination of studies, as no dataset was complete enough to rigorously constrain the problem [
1
]. Comprehensive field observations were needed to better our understanding of the interactions between fuels, fire behavior and meteorology.
In response, the Prescribed Fire Combustion and Atmospheric Dynamics Research Experiment (RxCADRE) was designed to address this critical research need [
8
]. The project brought together researchers from a wide range of disciplines to collect data on fuel, meteorology, fire behavior, energy, smoke emissions and fire effects. Simultaneous measurement of multiple fire aspects on the same prescribed burns provided a detailed model evaluation dataset, while also capturing the effects of fire–atmosphere coupling [
9
]. Data from this comprehensive experiment offers a unique opportunity to assess the accuracy WRF-SFIRE simulated plume rise and dynamics.
In addition, the modeling work we present may help inform future observational studies by identifying key aspects of experimental design. Note that the focus of this work is the evaluation of the LES ability to capture the atmospheric response to a simulated fire of known bulk properties, rather than the fire behavior itself. Effectively, the work aims to validate the relationship between the simulated surface forcing due to a fire and the resultant turbulent convection.
The findings are likely to be of interest for atmospheric and air-quality modelers, as detailed measurements of wildfire smoke plumes are scarce. "Synthetic" plume data from an LES would provide researchers with an alternative resource for validating their models. Therefore, the broad goal of this work is to assess the utility of WRF-SFIRE for improving plume rise and dispersion parameterizations.
2. Methods
2.1. Observational Data
The RxCADRE campaign consisted of 10 operational and 6 small replicate prescribed fires. Collected data are accessible via a US Forest Service online repository, as referenced below. Smoke dispersion and emissions measurements are available for three large fires: L1G and L2G grass fires and L2F sub-forest canopy surface fire. For the purpose of model evaluation, we selected L2G (10 November 2012) for our case study, based on its reported uniformity and consistency of flame propagation [
10
].
Figure 1
shows a sample snapshot of the burn plot during the ignition. The overall meteorological conditions and instrumental design of the L2G experimental burn are described in detail in [
9
]. The individual datasets obtained from the US Forest Service online archive used for this study are summarized below.
Georeferencing data, including plot location and burn perimeters, are available from Hudak and Bright [
11
]. Analysis of fire rate of spread (ROS) and intensity as well as a detailed description of three Highly Instrumented Plots (HIPs) used to produce the estimates can be found in [
10
]. Locations of HIPs are available from Hudak et al. [
12
]. HIP1, used for this evaluation, is shown in
Figure 1
. Near-surface wind and temperature sonic anemometer time series for in-situ and background locations are available from Seto and Clements [
13
,
14
]. Ignitions timing and locations were obtained from field-grade GPS units, mounted on-board firing vehicles [
15
]. Fuel data used for this evaluation study included photographs of pre-burn samples, as well as measurements of size, loading and moisture content of species groups. Data collection methodology is detailed in [
16
]. Dispersion and emissions measurements included volume-mixing ratio of CO, CO, CH, and water vapor at a rate of 2 s, obtained from aircraft-mounted sensors [
17
]. The georeferenced data consisted of horizontal transects at multiple elevations, as well as "corkscrew" and "parking garage" flight profiles.
2.2. Numerical Setup
Ignited cells in WRF-SFIRE proceeded to spread, while each fire line continued to advance until reaching the opposite end of the L2G lot. Subsequent upwind ignitions of the remaining lot area were excluded to reduce the computational load of the simulation. Taking into account the downwind location and timing of smoke plume observations, this simplification should have no effect on the proposed evaluation. The simulation was allowed to proceed for 49 min, until the emissions reached the downwind end of the domain.
3. Results
The overall evolution of the simulated L2G burn and the associated smoke plume is best visualized with a 3D animation (see
Animation S1 in the Supplementary Materials
). The
Supplementary Materials
also includes an animated view of the cross-wind modeled CO mixing ratio (
Animation S2
). The latter demonstrates the ability of the LES to capture common plume behavior. As seen in the animation, the initial rise of moist buoyant air results in a temporary overshoot of the equilibrium plume height, followed by the gradual settling of the plume to its final injection height near the top of the boundary layer for this case. While the ability of WRF-SFIRE to qualitatively capture typical plume dynamics is reassuring, the following sections take a more quantitative approach to model evaluation.
4. Discussion
The aim of our WRF-SFIRE evaluation was to assess its ability to capture fire-generated emissions in the context of air quality. Hence, we examined the implications of the above results based on their potential applications for wildfire smoke plume rise and dispersion modeling. The following sections discuss model performance and accuracy from the perspective of atmospheric dynamics, as well as address potential implications of uncertainty in fire behavior and the associated input parameters.
5. Conclusions
This work aimed to assess the ability of a coupled fire–atmosphere WRF-SFIRE LES model to simulate a case study of fire smoke plume growth and dispersion. We examined the L2G burn from the RxCADRE 2012 campaign—a comprehensive experiment combining simultaneous monitoring of fuel, fire behavior, meteorology and emissions.
Our model evaluation demonstrates good overall agreement between the LES and the observations, subject to accuracy and timeliness of model initialization data. Using the emissions and dispersion data collected from an airborne platform during the RxCADRE experiment, we show that LES reasonably captures the timing, rise and dispersion of the fire plume. We examined the possible relationships among model biases, fire behavior and changes in ambient atmospheric conditions.
The work demonstrates the utility of WRF-SFIRE LES in studying some aspects of fire plume dynamics. The scarcity of detailed plume observations presents one of the central challenges for smoke-model development. WRF-SFIRE's ability to capture the rise and spread of fire emissions for cases such as studied here has the potential to address this critical research need and provide alternative "synthetic" data for future development of parameterizations for wildfire smoke plume rise.
Supplementary Materials
The following are available online at
https://www.mdpi.com/2073-4433/10/10/579/s1
, Animation S1: WRF-SFIRE simulated fire and smoke over real terrain. Visualization produced using VAPOR software. Animation S2: Cross section of WRF-SFIRE simulated emissions along mean wind direction. WRF-SFIRE_init_files.zip: All files required to initialize and run the model simulation.
Author Contributions
Conceptualization, N.M. and R.S.; Formal analysis, N.M.; Funding acquisition, R.S.; Methodology, N.M.; Resources, R.S.; Supervision, R.S.; Visualization, N.M.; Writing—original draft, N.M.; and Writing—review and editing, R.S.
Funding
This work was funded by grants from Natural Sciences and Engineering Research Council of Canada (NSERC) and BC Clean Air Research Fund (CLEAR).
Acknowledgments
The authors would like to acknowledge Brian Potter, Ronan Paugam, Ruddy Mell, Derek McNaran and Adam Kochanski for their input and collaboration. Thanks are also given to Daisuke Seto and Craig Clements for their help with obtaining RxCADRE sounding data and the UBC Weather Research and Forecasting Team for their ongoing support.
Conflicts of Interest
The authors declare no conflict of interest.
References
Coen, J.L.; Cameron, M.; Michalakes, J.; Patton, E.G.; Riggan, P.J.; Yedinak, K.M. WRF-Fire: Coupled Weather—Wildland Fire Modeling with the Weather Research and Forecasting Model.

J. Appl. Meteorol. Climatol.

2012,

52

, 16–38. [Google Scholar] [CrossRef]
Mandel, J.; Beezley, J.D.; Kochanski, A.K. Coupled atmosphere-wildland fire modeling with WRF 3.3 and SFIRE 2011.

Geosci. Model Dev.

2011,

4

, 591–610. [Google Scholar] [CrossRef]
Mandel, J.; Amram, S.; Beezley, J.; Kelman, G.; Kochanski, A.; Kondratenko, V.; Lynn, B.; Regev, B.; Vejmelka, M. Recent advances and applications of WRF–SFIRE.

Nat. Hazards Earth Syst. Sci.

2014,

14

, 2829–2845. [Google Scholar] [CrossRef]
Kochanski, A.K.; Jenkins, M.A.; Mandel, J.; Beezley, J.D.; Clements, C.B.; Krueger, S. Evaluation of WRF-SFIRE performance with field observations from the FireFlux experiment.

Geosci. Model Dev.

2013,

6

, 1109–1126. [Google Scholar] [CrossRef]
Kochanski, A.; Jenkins, M.; Mandel, J.; Beezley, J.; Krueger, S. Real time simulation of 2007 Santa Ana fires.

For. Ecol. Manag.

2013,

294

, 136–149. [Google Scholar] [CrossRef]
Kochanski, A.K.; Jenkins, M.A.; Yedinak, K.; Mandel, J.; Beezley, J.; Lamb, B. Toward an integrated system for fire, smoke and air quality simulations.

Int. J. Wildland Fire

2016,

25

, 534–546. [Google Scholar] [CrossRef]
Mallia, D.; Kochanski, A.; Urbanski, S.; Lin, J. Optimizing smoke and plume rise modeling approaches at local scales.

Atmosphere

2018,

9

, 166. [Google Scholar] [CrossRef]
Ottmar, R.D.; Hiers, J.K.; Butler, B.W.; Clements, C.B.; Dickinson, M.B.; Hudak, A.T.; O'Brien, J.J.; Potter, B.E.; Rowell, E.M.; Strand, T.M.; et al. Measurements, datasets and preliminary results from the RxCADRE project—2008, 2011 and 2012.

Int. J. Wildland Fire

2016,

25

, 1–9. [Google Scholar] [CrossRef]
Clements, C.B.; Lareau, N.P.; Seto, D.; Contezac, J.; Davis, B.; Teske, C.; Zajkowski, T.J.; Hudak, A.T.; Bright, B.C.; Dickinson, M.B.; et al. Fire weather conditions and fire–atmosphere interactions observed during low-intensity prescribed fires–RxCADRE 2012.

Int. J. Wildland Fire

2016,

25

, 90–101. [Google Scholar] [CrossRef]
Butler, B.; Teske, C.; Jimenez, D.; O'Brien, J.; Sopko, P.; Wold, C.; Vosburgh, M.; Hornsby, B.; Loudermilk, E. Observations of energy transport and rate of spreads from low-intensity fires in longleaf pine habitat–RxCADRE 2012.

Int. J. Wildland Fire

2016,

25

, 76–89. [Google Scholar] [CrossRef]
Hudak, A.T.; Bright, B.C. RxCADRE 2008, 2011, and 2012: Burn Blocks. 2014. Available online: https://doi.org/10.2737/RDS-2014-0031 (accessed on 16 July 2019).
Hudak, A.T.; Bright, B.C.; Kremens, R.L.; Dickinson, M.B. RxCADRE 2011 and 2012: Wildfire Airborne Sensor Program Long Wave Infrared Calibrated Image Mosaics. 2015. Available online: https://doi.org/10.2737/RDS-2016-0008 (accessed on 16 July 2019).
Seto, D.; Clements, C.B. RxCADRE 2012: CSU-MAPS Wind LiDAR Velocity and Microwave Temperature/Relative Humidity Profiler Data. 2015. Available online: https://doi.org/10.2737/RDS-2015-0026 (accessed on 16 July 2019).
Seto, D.; Clements, C.B. RxCADRE 2012: In-Situ Wind, Air Temperature, Barometric Pressure, and Heat Flux Time Series Data. 2015. Available online: https://doi.org/10.2737/RDS-2015-0048 (accessed on 16 July 2019).
Hudak, A.T.; Bright, B.C.; Williams, B.W.; Hiers, J.K. RxCADRE 2011 and 2012: Ignition Data. 2017. Available online: https://doi.org/10.2737/RDS-2017-0065 (accessed on 16 July 2019).
Ottmar, R.D.; Restaino, J.C. RxCADRE 2008, 2011, and 2012: Ground Fuel Measurements from Prescribed Fires. 2014. Available online: https://doi.org/10.2737/RDS-2014-0028 (accessed on 16 July 2019).
Urbanski, S.P. RxCADRE 2012: Airborne Measurements of Smoke Emission and Dispersion from Prescribed Fires. 2014. Available online: https://doi.org/10.2737/RDS-2014-0015 (accessed on 16 July 2019).
Kartsios, S.; Karacostas, T.; Pytharoulis, I.; Dimitrakopoulos, A. Coupled Weather-Wildland Fire Model for fire behavior interpretation. In Proceedings of the 12th International Conference on Meteorology, Climatology and Atmospheric Physics, Heraklion, Greece, 28–31 May 2014. [Google Scholar]
Anderson, H.E.

Aids to Determining Fuel Models for Estimating Fire Behavior

; General Technical Report INT-122; U.S. Department of Agriculture: Washington, DC, USA, 1982; p. 22.
Overholt, K.; Cabrera, J.; Kurzawski, A.; Koopersmith, M.; Ezekoye, O. Characterization of fuel properties and fire spread rates for little bluestem grass.

Fire Technol.

2014,

50

, 9–38. [Google Scholar] [CrossRef]
Prichard, S.; O'Neill, S.; Urbanski, S.

Evaluation of Revised Emissions Factors for Emissions Prediction and Smoke Management

; United States Environmental Protection Agency: Washington, DC, USA, 2017.
Val Martin, M.; Kahn, R.; Tosca, M. A Global Analysis of Wildfire Smoke Injection Heights Derived from Space-Based Multi-Angle Imaging.

Remote Sens.

2018,

10

, 1609. [Google Scholar] [CrossRef]
Kartsios, S.; Karacostas, T.S.; Pytharoulis, I.; Dimitrakopoulos, A.P. The Role of Heat Extinction Depth Concept to Fire Behavior: An Application to WRF-SFIRE Model. In

Perspectives on Atmospheric Sciences

; Karacostas, T., Bais, A., Nastos, P.T., Eds.; Springer International Publishing: Cham, Switzerland, 2017; pp. 137–142. [Google Scholar]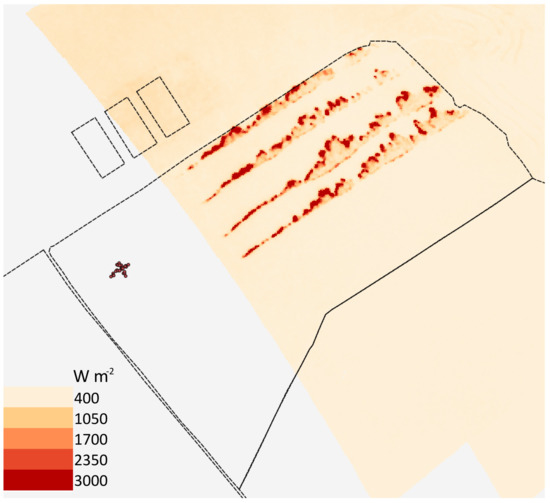 Figure 1. Long wave infra-red (LWIR) image of L2G lot during ignition (12:32:02 CST) with dashed black lines denoting burn perimeters. Red scatter points correspond to Highly Instrumented Plot (HIP) #1 fire behavior packages (FBP), each containing a system of airflow, temperature and energy sensors.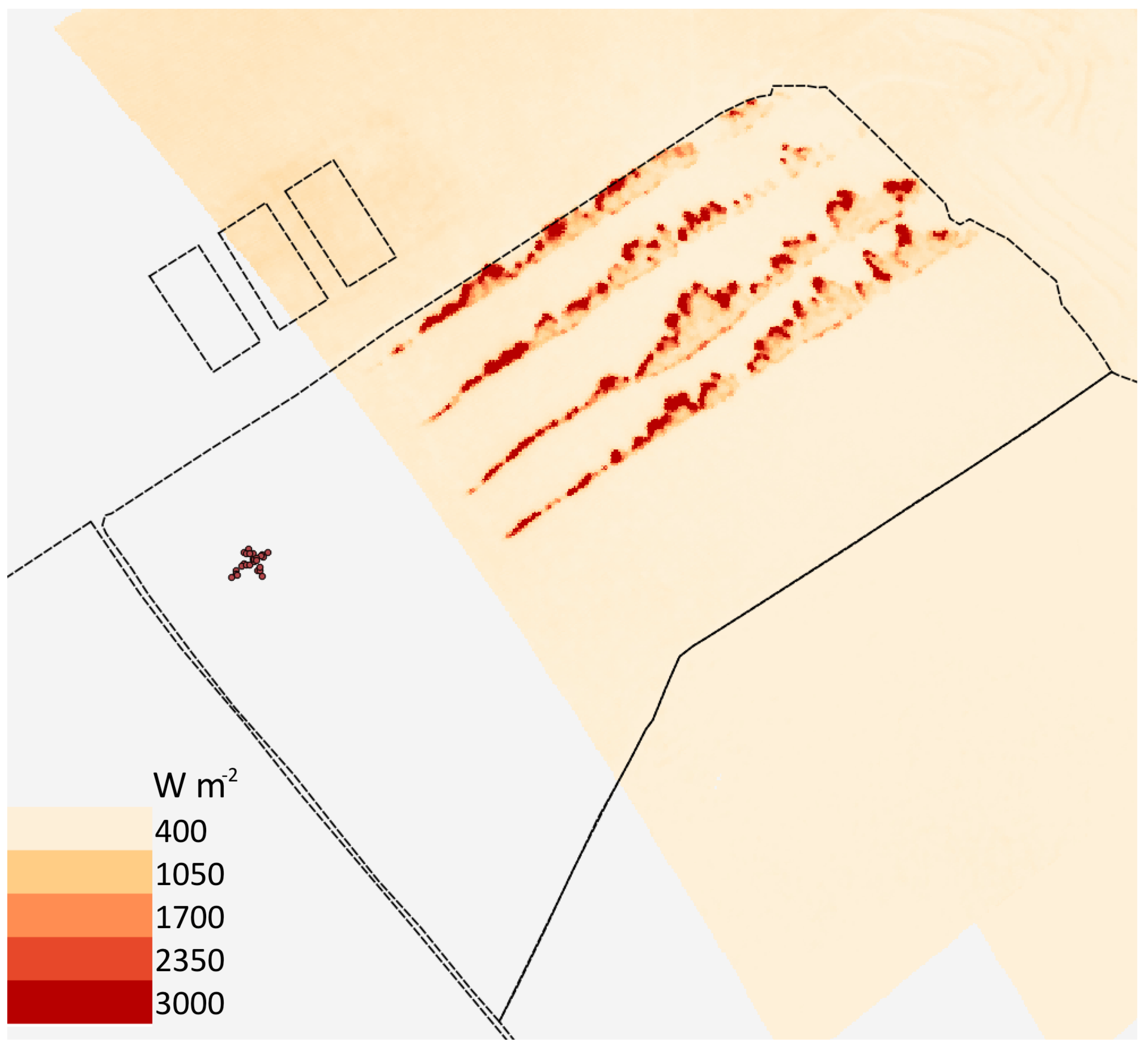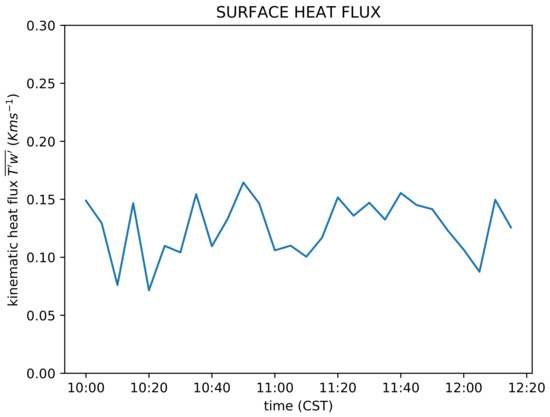 Figure 2. Five-minute averaged kinematic surface heat flux derived from 1 Hz wind and temperature sonic anemometer time series of the background ambient environment.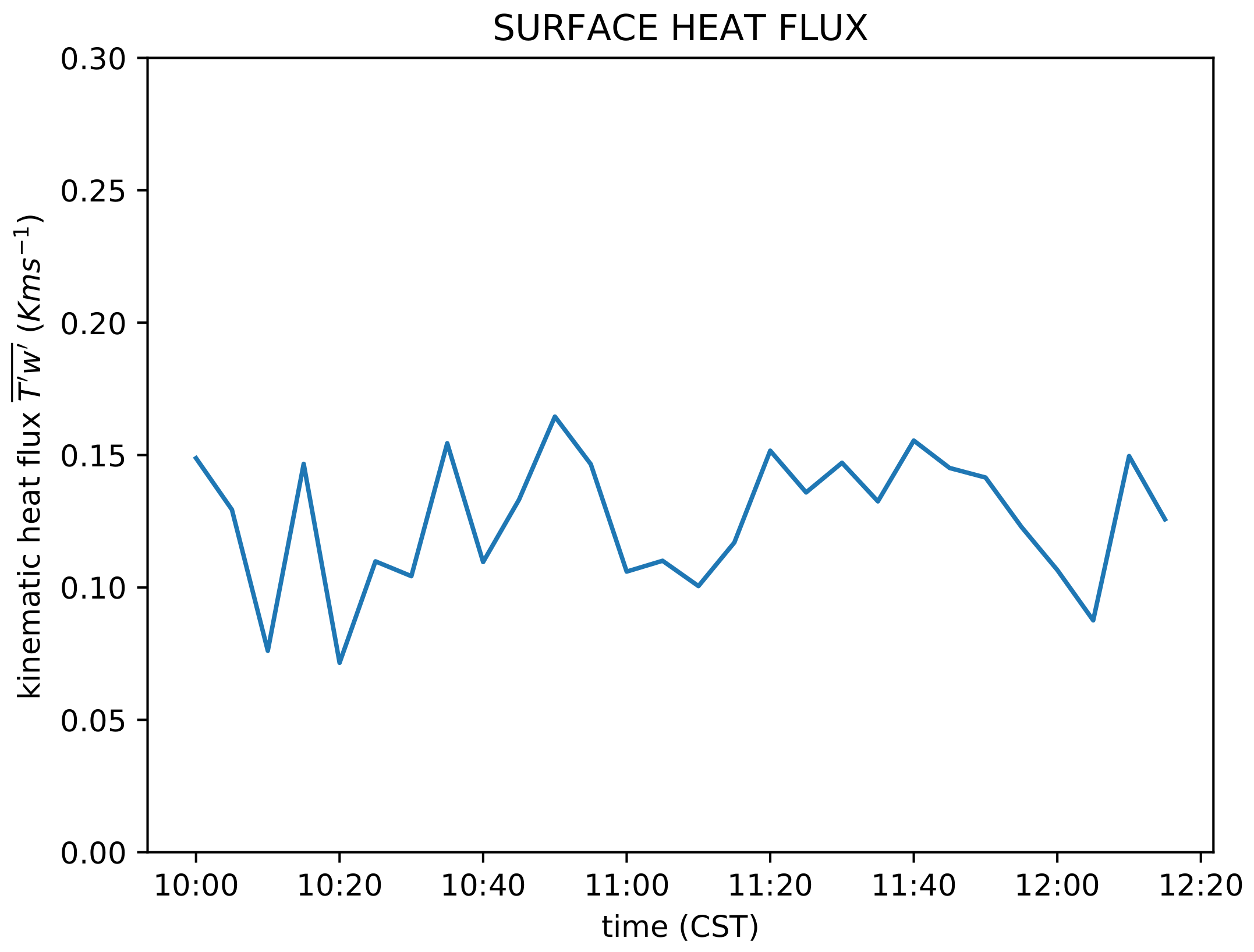 Figure 3. Comparison of observed (blue) and modeled (red) fire behavior. The box and whiskers span interquartile range (IQR) and 1.5 × IQR, respectively, with the notch denoting the 95% confidence interval of the median (median × IQR/n). Red line and green triangle correspond to median and mean, respectively. (a) Average heat flux during flaming period. (b) Peak fire heat flux during flaming period. (c) Rate of spread.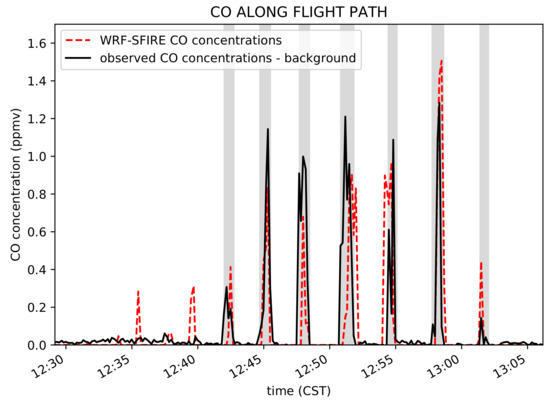 Figure 4. Simulated CO mixing ratio along RxCADRE flight path. Red dashed and solid black lines correspond to LES-derived and observed values, respectively. Gray shading indicates observed smoke time periods (not magnitudes) as identified from CO measurements along the flight path.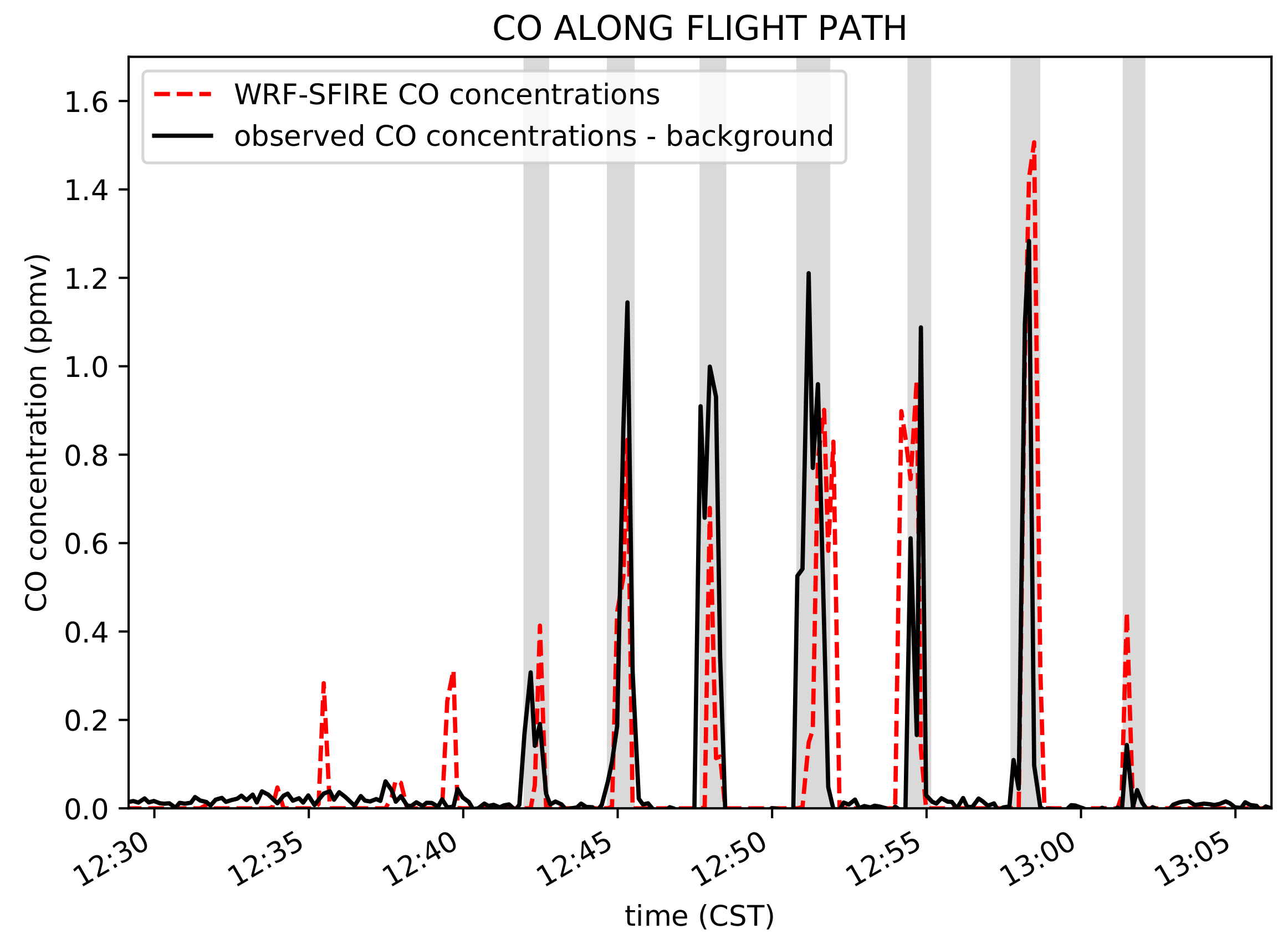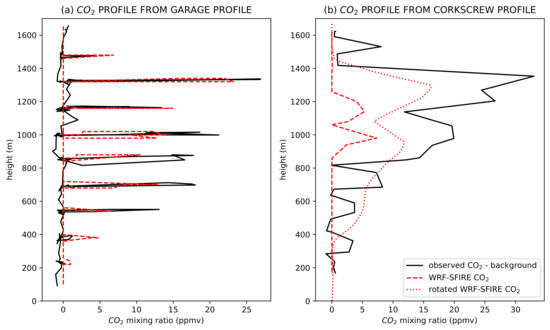 Figure 5. Observed (black) and modeled (red) vertical CO emissions distribution during: (a) "parking garage" maneuver; and (b) corkscrew maneuver.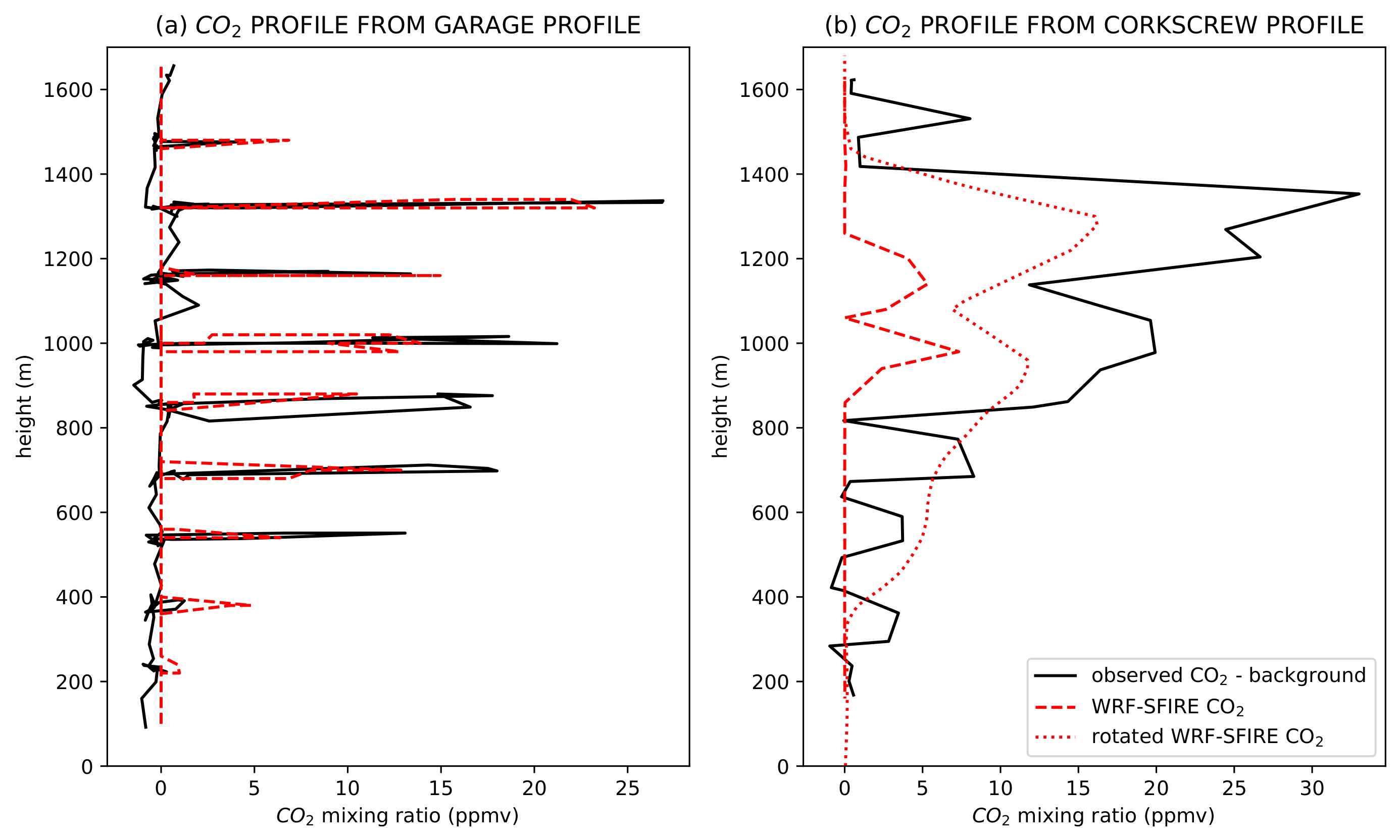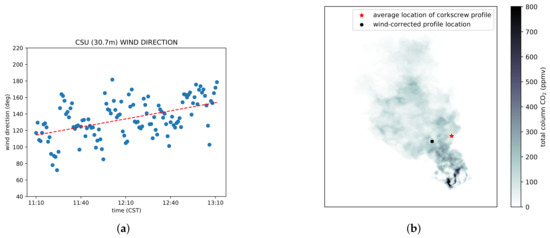 Figure 6. The effects of changing mesoscale wind conditions on plume observations (a) Observed change in 30 m wind direction prior to and during the burn. Significant linear trend is shown with a red dashed line. (b) Top view of modeled smoke plume during the "corkscrew" maneuver by the instrumented aircraft. Black dot and red star indicate the average location of the "corkscrew" profile from flight with and without wind-correction, respectively.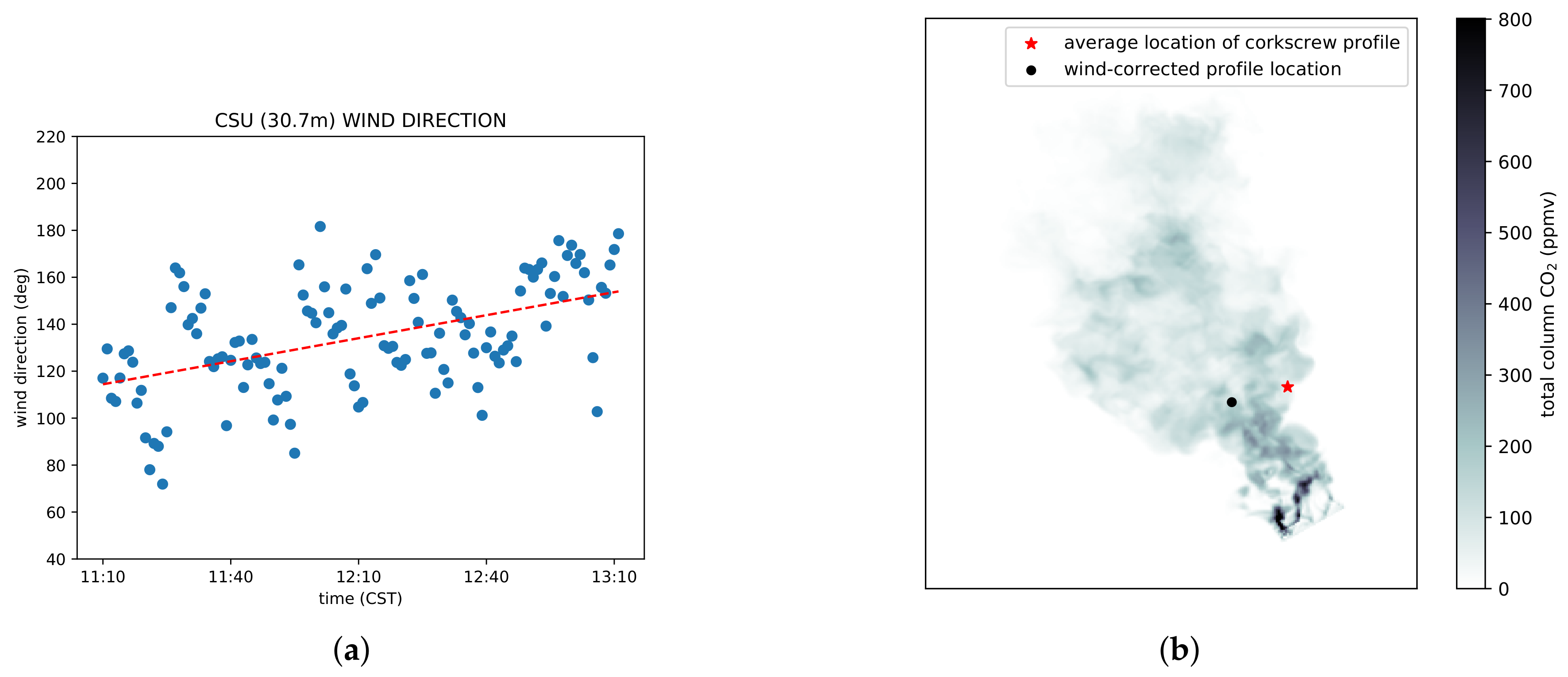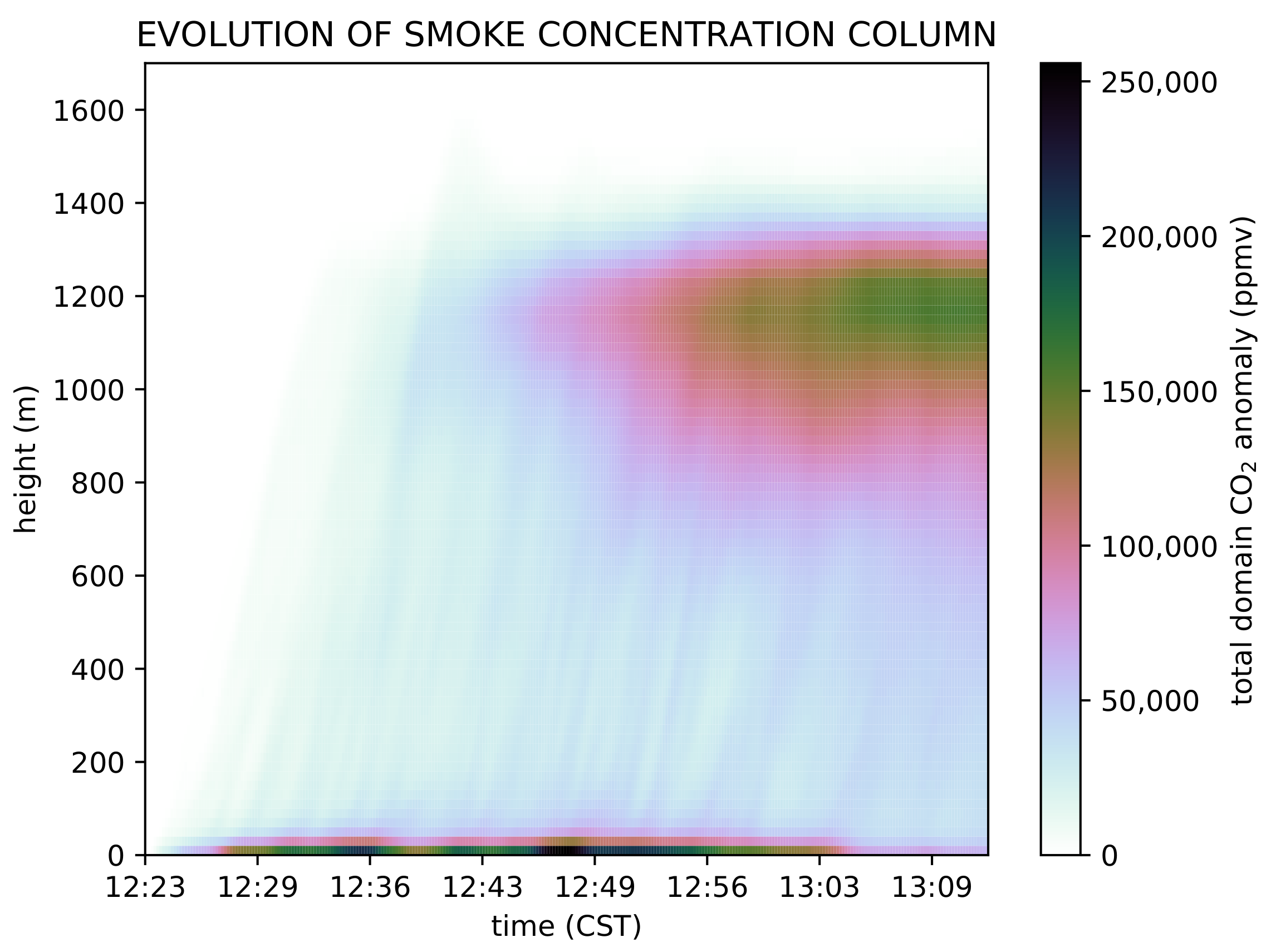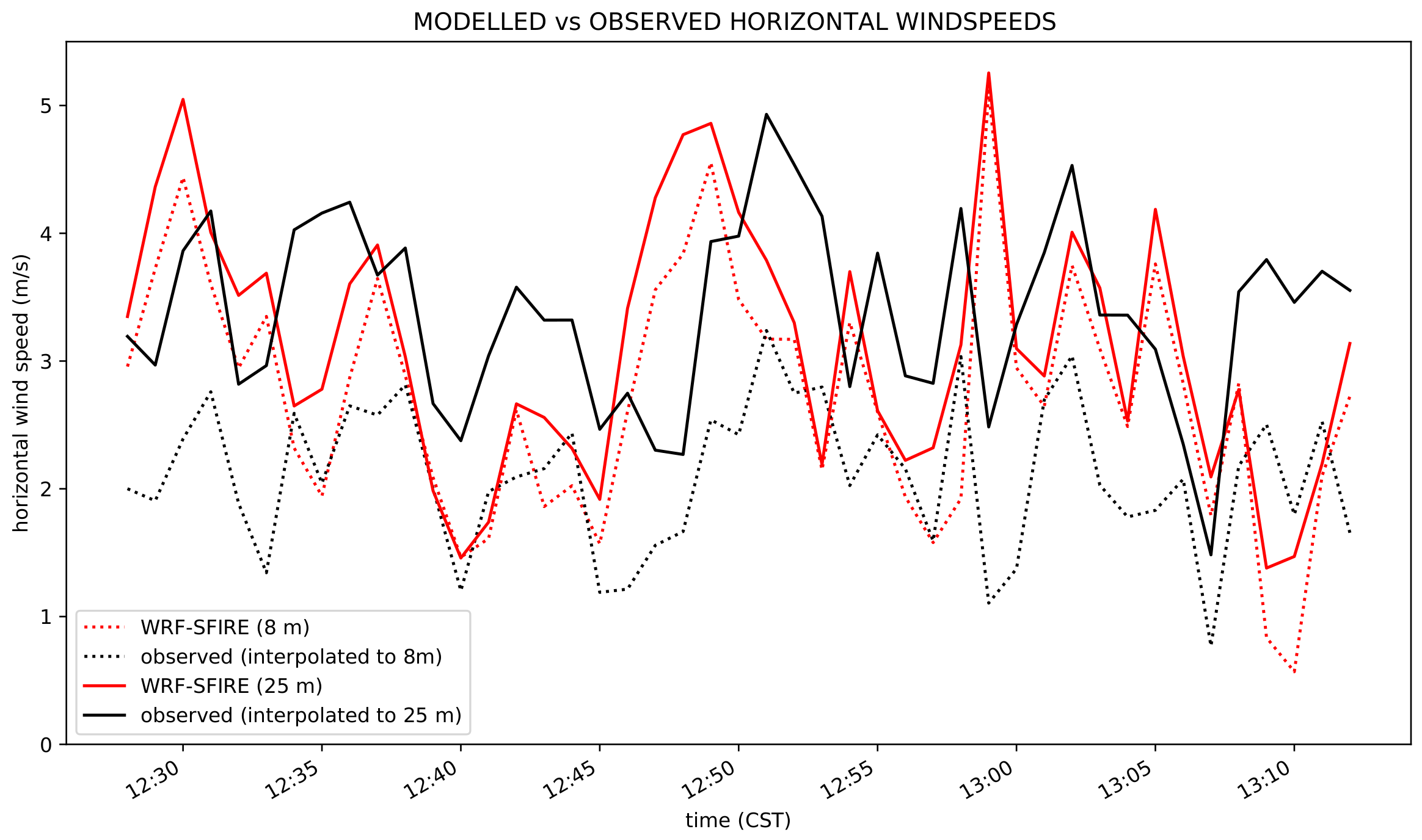 | Simulation Parameter | Value/Description |
| --- | --- |
| Model version | 24 May 2019 |
| | (git https://github.com/openwfm/wrf-fire/tree/ced5955b23cfa9bc0f937783c1c63ff7aa1bc2fa) |
| Horizontal grid spacing | 40 m |
| Domain size | 260 grids (east-west) × 350 grids (north-south) |
| Time step | 0.1 s |
| Model top | 3000 m AGL |
| Spinup timing | 10:00:00–12:23:00 CST (CST = UTC − 6 h) |
| Fire (restart) simulation timing | 12:23:00–13:12:00 CST |
| Sub-grid scale closure | 1.5 TKE (TKE = Turbulence kinetic energy) |
| Lateral boundary conditions | periodic |
| Surface physics | Monin–Obukhov similarity (sf_sfclay_physics = 1) |
| Land surface model | thermal diffusion (sf_surface_physics = 1) |
| Surface heat flux | 160 W m (tke_heat_flux = 0.13) |
| Simulation Parameter | Value |
| --- | --- |
| Fire mesh refinement | 10 |
| Ignition duration | 12:23–12:36 CST (varied for each fire line) |
| Rate of spread during ignition | 0.2 m s |
| Fuel category | 1 (short grass) |
| Surface dead fuel moisture | 8.46% |
| Heat of combustion of dry fuel | 16.4 × 107 J kg |

© 2019 by the authors. Licensee MDPI, Basel, Switzerland. This article is an open access article distributed under the terms and conditions of the Creative Commons Attribution (CC BY) license (http://creativecommons.org/licenses/by/4.0/).