ACTN3

R577X Genotype and Exercise Phenotypes in Recreational Marathon Runners

1

Exercise Physiology Laboratory, Camilo José Cela University, 28692 Madrid, Spain

2

Sports Research Centre, Miguel Hernandez University of Elche, 03202 Alicante, Spain

3

Sport Science Department, Francisco de Vitoria University, 28223 Madrid, Spain

4

Faculty of Sport Sciences, Research Institute i+12, Universidad Europea de Madrid, 28670 Madrid, Spain

5

Centro de Investigación Biomédica en Red de Fragilidad y Envejecimiento Saludable, 28029 Madrid, Spain

*

Author to whom correspondence should be addressed.

Received: 11 April 2019 / Revised: 22 May 2019 / Accepted: 23 May 2019 / Published: 29 May 2019
Abstract
Background
: Homozygosity for the X-allele in the
ACTN3
R577X (rs1815739) polymorphism results in the complete absence of α-actinin-3 in sarcomeres of fast-type muscle fibers. In elite athletes, the
ACTN3
XX genotype has been related to inferior performance in speed and power-oriented sports; however, its influence on exercise phenotypes in recreational athletes has received less attention. We sought to determine the influence of
ACTN3
genotypes on common exercise phenotypes in recreational marathon runners.
Methods
: A total of 136 marathoners (116 men and 20 women) were subjected to laboratory testing that included measurements of body composition, isometric muscle force, muscle flexibility, ankle dorsiflexion, and the energy cost of running.
ACTN3
genotyping was performed using TaqMan probes.
Results
: 37 runners (27.2%) had the RR genotype, 67 (49.3%) were RX and 32 (23.5%) were XX. There was a difference in body fat percentage between RR and XX genotype groups (15.7 ± 5.8 vs. 18.8 ± 5.5%; effect size, ES, = 0.5 ± 0.4,
p
= 0.024), whereas the distance obtained in the sit-and-reach-test was likely lower in the RX than in the XX group (15.3 ± 7.8 vs. 18.4 ± 9.9 cm; ES = 0.4 ± 0.4,
p
= 0.046). Maximal dorsiflexion during the weight-bearing lunge test was different in the RR and XX groups (54.8 ± 5.8 vs. 57.7 ± 5.1 degree; ES = 0.5 ± 0.5,
p
= 0.044). Maximal isometric force was higher in the RR than in the XX group (16.7 ± 4.7 vs. 14.7 ± 4.0 N/kg; ES = −0.5 ± 0.3,
p
= 0.038). There was no difference in the energy cost of running between genotypes (~4.8 J/kg/min for all three groups, ES ~0.2 ± 0.4).
Conclusions
: The
ACTN3
genotype might influence several exercise phenotypes in recreational marathoners. Deficiency in α-actinin-3 might be accompanied by higher body fatness, lower muscle strength and higher muscle flexibility and range of motion. Although there is not yet a scientific rationale for the use of commercial genetic tests to predict sports performance, recreational marathon runners who have performed such types of testing and have the
ACTN3
XX genotype might perhaps benefit from personalized strength training to improve their performance more than their counterparts with other
ACTN3
genotypes.
View Full-Text
►

▼

Figures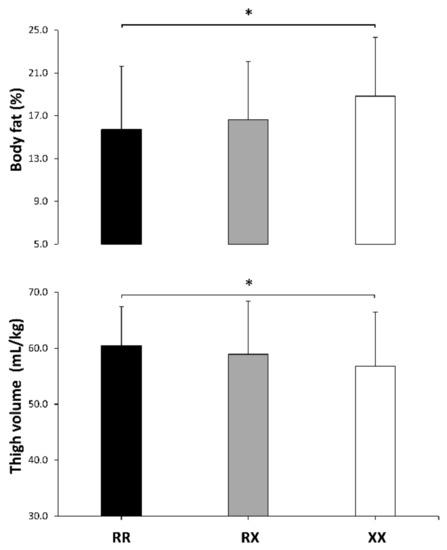 Figure 1
This is an open access article distributed under the
Creative Commons Attribution License
which permits unrestricted use, distribution, and reproduction in any medium, provided the original work is properly cited (CC BY 4.0).

Share & Cite This Article
MDPI and ACS Style
Del Coso, J.; Moreno, V.; Gutiérrez-Hellín, J.; Baltazar-Martins, G.; Ruíz-Moreno, C.; Aguilar-Navarro, M.; Lara, B.; Lucía, A. ACTN3 R577X Genotype and Exercise Phenotypes in Recreational Marathon Runners. Genes 2019, 10, 413.
Note that from the first issue of 2016, MDPI journals use article numbers instead of page numbers. See further details here.
Related Articles
Comments
[Return to top]