Perinatal Lead (Pb) Exposure and Cortical Neuron-Specific DNA Methylation in Male Mice
1
Department of Epidemiology, School of Public Health, University of Michigan, Ann Arbor, MI 48109, USA
2
Department of Pediatrics, Cincinnati Children's Hospital Medical Center, Cincinnati, OH 45229, USA
3
Department of Environmental Health Sciences, School of Public Health, University of Michigan, Ann Arbor, MI 48109, USA
4
Department of Animal Science, College of Food, Agricultural, and Natural Resource Sciences, University of Minnesota, St. Paul, MN 55108, USA
5
Department of Pediatrics, University of Minnesota Masonic Children's Hospital, Minneapolis, MN 55454, USA
6
Department of Nutritional Sciences, School of Public Health, University of Michigan, Ann Arbor, MI 48109, USA
*
Authors to whom correspondence should be addressed.
Received: 4 February 2019 / Revised: 25 March 2019 / Accepted: 29 March 2019 / Published: 4 April 2019
Abstract
Lead (Pb) exposure is associated with a wide range of neurological deficits. Environmental exposures may impact epigenetic changes, such as DNA methylation, and can affect neurodevelopmental outcomes over the life-course. Mating mice were obtained from a genetically invariant C57BL/6J background agouti viable yellow
Avy
strain. Virgin dams (
a
/
a
) were randomly assigned 0 ppm (control), 2.1 ppm (low), or 32 ppm (high) Pb-acetate water two weeks prior to mating with male mice (
Avy
/
a
), and this continued through weaning. At age 10 months, cortex neuronal nuclei were separated with NeuN
+
antibodies in male mice to investigate neuron-specific genome-wide promoter DNA methylation using the Roche NimbleGen Mouse 3x720K CpG Island Promoter Array in nine pooled samples (three per dose). Several probes reached
p
-value < 10
−5
, all of which were hypomethylated: 12 for high Pb (minimum false discovery rate (FDR) = 0.16, largest intensity ratio difference = −2.1) and 7 for low Pb (minimum FDR = 0.56, largest intensity ratio difference = −2.2). Consistent with previous results in bulk tissue, we observed a weak association between early-life exposure to Pb and DNA hypomethylation, with some affected genes related to neurodevelopment or cognitive function. Although these analyses were limited to males, data indicate that non-dividing cells such as neurons can be carriers of long-term epigenetic changes induced in development.
View Full-Text
►

▼

Figures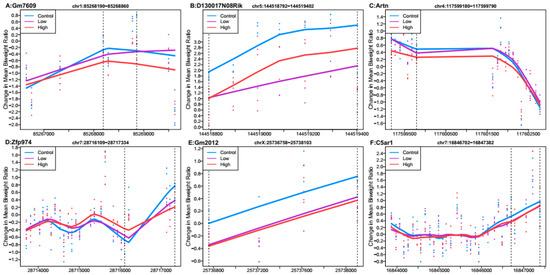 Figure 1
This is an open access article distributed under the
Creative Commons Attribution License
which permits unrestricted use, distribution, and reproduction in any medium, provided the original work is properly cited (CC BY 4.0).

Share & Cite This Article
MDPI and ACS Style
Dou, J.F.; Farooqui, Z.; Faulk, C.D.; Barks, A.K.; Jones, T.; Dolinoy, D.C.; Bakulski, K.M. Perinatal Lead (Pb) Exposure and Cortical Neuron-Specific DNA Methylation in Male Mice. Genes 2019, 10, 274.
Note that from the first issue of 2016, MDPI journals use article numbers instead of page numbers. See further details here.
Related Articles
Comments
[Return to top]